(1) ALWAYS TO CALL IT RESEARCH. An appeals court affirmed that Luc Besson's Lockout plagiarized John Carpenter's Escape From New York.
The French filmmaker will have to fork over nearly half a million dollars

An appeals court has ruled that French filmmaker Luc Besson is guilty of plagiarizing from John Carpenter's 1981 classic "Escape From New York" and must now pay the fellow filmmaker nearly half a million dollars.

As Yahoo reports, Besson has long denied that his 2012 thriller, "Lockout," was a copy of Carpenter's Kurt Russell-starring actioner. In Carpenter's film, Russell plays a former government agent who is tasked with retrieving the U.S. president from the island of Manhattan — which has been turned into a massive prison — after his plane crashes there (thanks, Air Force One, thanks a lot). In "Lockout," Pearce is a convict sent to a giant space jail who is given the chance to win back his freedom if he can rescue the U.S. president's daughter, who is trapped in said giant space jail.

The court ruled that Besson's film had "massively borrowed key elements" of Carpenter's feature…
[Via Ansible Links.]
(2) MIDAMERICON LOSES HOTEL. The MidAmeriCon II committee announced on Facebook that one of its hotels will be unavailable, and members who reserved there are being shifted elsewhere:
HOTEL UPDATE: The Courtyard/Residence Inn has let us know that their construction has run over schedule and they will not be open in time for MidAmeriCon II. We have been working with their staff and Passkey to contact those displaced to advise them of the situation and to find our members a hotel room with one of our other contracted properties. Please be aware that the new reservations will not be in the individual hotel systems until later this week. Once that occurs, the affected members will be contacted with information on where they have been relocated and provided new confirmations. Any questions can be sent to [email protected].
(3) FURNISHING THE NEXT STAR TREK. iDigital Times learned that "'Star Trek: Discovery' Ship Has Its Captain's Chair".
Star Trek: Discovery showrunner Bryan Fuller revealed the captain's chair aboard the starship U.S.S. Discovery NCC-1031. It's very much in line with classic captains' seats, with the swept open armrests of Jean-Luc Picard's luxurious, tan cathedra.
BUCKLE UP #SDCC @StarTrek 50th ANNIVERSARY PANEL #UnderConstruction @WilliamShatner @JeriLRyan @BrentSpiner @akaWorf pic.twitter.com/PvzvgALWuQ

— Bryan Fuller (@BryanFuller) July 18, 2016
(4) THE PRICE OF FAME. Of course, by "the price of fame" we mean what price the fans will pay. CNN Money has the going rates: "Want a picture with Captain Kirk? That'll be $100".
Star Trek's massive 50th anniversary convention starts next week in Las Vegas, and celebrities have posted their prices for photos with fans.

…Resistance is, of course, futile.

Older actors who starred in Star Trek: The Original Series from the 1960s charge higher prices. And the clairvoyant Whoopi Goldberg tops the charts.
(5) OWL SERVICE. A gig on Fiverr: "I will design a Harry Potter Hogwarts Personalized Acceptance Letter for $5".
Have you been waiting forever for your special letter to come? OMG! Don't wait anymore! You can receive your very own letter, stating that you've been accepted to Hogwarts and feel the magic! Makes the perfect Hogwarts gift for anyone of any age and it is fully personalised with their very own name and address.!
What you get is a PDF file – when you pay only $5, you have to provide your own bells and whistles….
(6) THE DISNEY-TOLKIEN INTERSECTION. The original story is on Cracked, but this Hello Giggles writer explains it more clearly. Maybe that's because she's sober. "This insane theory says 'Snow White' is a sequel to 'Lord of the Rings'" —
While Snow White's dwarfs seem pretty standard—they're short, unsocial, and obsessed with treasure—Diplotti explains that Tolkien took many of the names of his dwarves from a centuries-old Norse epic called the Voluspa, which has a section devoted to dwarf names and their meanings. Durin? That's "Sleepy," thank you very much. Dwalin, or "Dvalinn" in the "Voluspa," is torpid, lazy, or sleepy. Oin? That would be "shy," a.k.a. "bashful." Well, that's creepy!
(7) LIFE IS NOT A REHEARSAL. As Kameron Hurley frees herself, she offers hope to other writers: "You Don't Owe Anyone Your Time".
Certainly one in a position of privilege does have a moral imperative to state, "This atrocity is wrong." But when you buckle down to engage the haters on any issue, consider what your end goal is in having that conversation, and consider what other valuable work you could be doing with that time. I can pretty much guarantee you that, say, writing The Geek Feminist Revolution and getting it into people's hands was worth about a billion times more than spending that time arguing with dudes on the internet who were just there to distract me. They aren't here to change minds. They are here to keep us from doing the work that changes the world.

We all have a finite amount of time on this earth. Those of us with chronic illness or who have had near-death experiences appreciate that more than others. I feel that it's my moral imperative to remind you that you could get hit by a bus tomorrow. And if you did, would you regret how you'd spend the hour, the day, the week, the month, the year before?

My goal is to live the sort of life where I won't feel I've wasted my time if I die tomorrow. It has kept me on target through a lot of bullshit. The truth is that all this shit is made up, and because it's made up, it can be remade. But only if we focus our efforts on creating the work that moves the conversation forward, instead of letting ourselves get caught up in the distraction.
(8) TODAY IN HISTORY
July 30, 1932 — Walt Disney released his first color cartoon, "Flowers and Trees," made in three-color Technicolor.
July 30, 1999 — Blair Witch Project released
(9) TODAY'S BIRTHDAY TERMINATOR
Born July 30, 1947 — Arnold Schwarzenegger
(10) BANG THE GAVEL SLOWLY. Frank Darabont is auctioning off rare Hollywood memorabilia. The Hollywood Reporter explains:
Frank Darabont, the filmmaker behind The Shawshank Redemption who helped launch The Walking Dead on AMC, is parting ways with some of his most prized possessions.

The director is putting more than two dozen rare items up for the gavel Saturday as part of Profiles in History's art and movie memorabilia auction — including plenty of items that would make fanboys and fangirls weak in the knees.

"One thing I've always known is this amazing art wouldn't be mine forever. It couldn't be. We don't own these things. We can only be their caretakers for a time, enjoying them as much as possible until inevitably they must pass on to the next caretaker" Darabont said in a statement. "For me, that time has come. I won't lie to you and say that parting with these things is easy. Trust me, it really, really isn't. But the time for everything passes, and so has my position as caretaker. I will be ever grateful for the joy these wonderful pieces of art have brought me. I can only hope that they will bring their next caretakers (and all caretakers after that, ad infinitum) equal or greater joy."
And Art Daily has more details about the items going up for auction.
Following the hugely successful sale of Frank Frazetta art from the collection of Dave Winiewicz, this unique auction will be presented in two sessions. Session One, The Frank Darabont Collection, includes original works by master artists Bernie Wrightson, Mike Mignola, Sanjulian, Jack Davis, Will Eisner, Eric Powell, Bob Peak, Rich Corben, Vaughn Bode, a bronze of the "Cyclops" creature by Ray Harryhausen, and rare movie posters including the only known Frankenstein 1941 Italian 4-fogli, and much more.

Session Two comprises a superb collection of vintage comic and illustration artwork featuring the finest original oil paintings by Frank Frazetta ever offered at auction, including "Sea Witch" (pre-sale estimate of $1,000,000 – $1,500,000) and "Bran Mak Morn" (pre-sale estimate of ($450,000 – $550,000), the most expensive Frazetta paintings ever offered at auction. These two paintings have never been offered for sale. The sale also features a wealth of works by "The Studio" artists Bernie Wrightson, Mike Kaluta, Jeffery Jones, and Barry Windsor-Smith, as well as Spider-Man art by John Romita, a Golden Age cover by Jack Kirby, horror and fantasy art by Richard Corben, an important work by John Buscema, among many other pieces by notable masters of the comic medium. Most of these works have been hidden away in private collections for decades, and this sale represents the first and likely only chance to obtain them.
(11) AUSTRALIA IS ON THE MOVE – LITERALLY. The BBC tells why "Australia plans new co-ordinates to fix sat-nav gap"
Because of the movement of the Earth's tectonic plates, these local co-ordinates drift apart from the Earth's global co-ordinates over time.

"If you want to start using driverless cars, accurate map information is fundamental," said Mr Jaksa.

"We have tractors in Australia starting to go around farms without a driver, and if the information about the farm doesn't line up with the co-ordinates coming out of the navigation system there will be problems."

The Geocentric Datum of Australia, the country's local co-ordinate system, was last updated in 1994. Since then, Australia has moved about 1.5 metres north.

So on 1 January 2017, the country's local co-ordinates will also be shifted further north – by 1.8m.
Chip Hitchcock commented, when he sent the link: "A fascinating reminder that the world we live on is still changing. (I'd love to see comparable numbers for the US, cf the Grand Canyon docent snarking 'If you want to go to Europe this is the year, because it will never be any closer.') The story also quotes a claim that this inaccuracy affects self-driving cars, but I'd hope such cars would rely on immediate observation rather than stored memories of coordinates of fixed objects like curbs."
(12) THE SHARK, DEAR. The Wrap reviews the sequel a day before it airs on SyFy: "'Sharknado 4' Review: This Joke Has No Teeth Anymore".
A joke might be funny the first time, but by the fourth time you hear it, the punchline gets tired.

"Tired" is a good description for "Sharknado 4: The 4th Awakens," which premieres Sunday on Syfy. Although the parody movie is as absurd and silly as the first three installments were, this time around the whole thing feels forced.

On one hand, you can tell stars Ian Ziering, Tara Reid and David Hasselhoff are having fun. Ziering even manages to mock his stint as a Chippendales dancer. But the novelty of this campy killer-shark franchise has clearly worn off, and now the nudges and winks from the made-for-TV flick's cast and writers border on punishing.
(13) SOUTH KOREA'S GAMERGATE? NPR raises the spectre that "South Korea Is Contending With A 'Gamergate' Of Its Own – Over A T-Shirt".
An online controversy over a South Korean voice actress's tweeted image of a T-shirt has escalated into what is now being called East Asia's version of Gamergate — a reference to the vitriolic controversy that pitted gamers, largely men, against women in tech.

Twelve hours after posting a photo of a shirt reading "Girls Do Not Need A Prince," Kim Jayeon — who had been providing a voice for the popular video game Closers — was out of her job.

Part of the problem was the source of the shirt. It's put out by Megalia4, a South Korean feminist group.

When Kim's tweet surfaced on July 18, scores of male gamers demanded that she apologize for supporting what they call a "anti-man hate group." When Kim refused to budge, they bombarded Nexon, her employer and publisher of Closers, with complaints and refund requests, and soon, she was out.

"We have to be responsive to our customers' opinions," Nexon told The Hankyoreh, a South Korean news outlet. "The voice actress exacerbated the issue by posting inflammatory tweets such as 'what's wrong with supporting Megalia?'"
(14) HANDICAPPING THE HUGOS: This reader predicts Chuck Tingle will get a rocket.
Chuck Tingle is the fav for the Short Story category at the Hugo Awards this year. pic.twitter.com/2bQFowQLfz

— EscapeVelocity (@EscapeVelo) July 30, 2016
(15) MACII ONLINE PRE-REG ENDS AUGUST 5.
MidAmeriCon II will be closing online pre-registration for all classes of membership on Friday, August 5, 2016.  Fans planning to attend the convention are encouraged to buy their membership before this date, both to take advantage of the best membership rates and for maximum convenience when they arrive at the convention. Full (five-day) Adult Attending Membership rates will increase from $210 now to $240 at the door, while Young Adult and Military Attending Membership rates will increase from $100 now to $120 at the door. Pre-registered members may collect their badges and other membership materials from 5 p.m. to 7 p.m. on Monday, August 15 and 10 a.m. to 7 p.m. on Tuesday, August 16.  Members who can collect their materials on these days can expect to benefit from reduced waiting times.

Full details of all MidAmeriCon II membership categories and rates, as well as at-con opening hours, can be found on the convention website at http://midamericon2.org/home/registration-hotel-member-information/registration/.
(16) YELLOW F&SF DAYS. Paul Fraser at About SF Magazines provides a retro review of "The Magazine of Fantasy and Science Fiction #5, December 1950".
(17) TREK BREW. The Nerdist relays plans to "Celebrate 50 years of Star Trek with golden anniversary beer".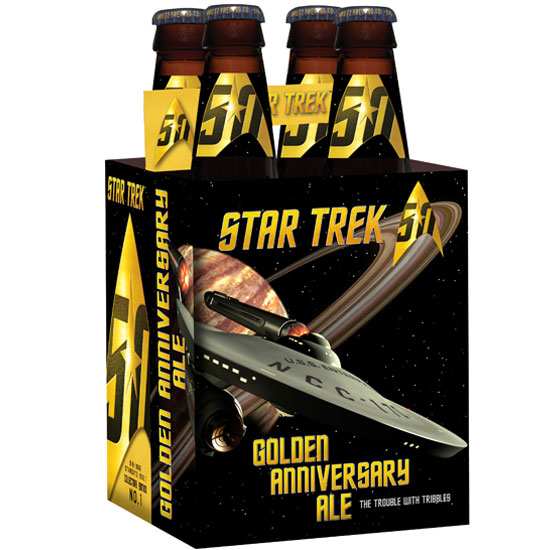 A quote:

"Star Trek Golden Anniversary Ale: The Trouble With Tribbles" will debut at the premiere of Star Trek Beyond, at the IMAX Embarcadero Marina Park on July 20, and Comic-Con at the San Diego Convention Center on July 21 – 24. It will also available at the "Star Trek Las Vegas" convention at the Rio Hotel & Casino from August 3 – 7, 2016. Then in the fall, Shmaltz will bring Voyage to the Northeast Quadrant to the Mission New York Convention at the Javits Center from September 2 – 4, 2016.
(18) JULES VERNE MOVIE. The Galactic Journey crew was among the first to see what they dubbed "[July 30, 1961] 20,000 Leagues in a Balloon (Jules Vern's Mysterious Island)".
Perhaps the most famous of Verne's protagonists is Captain Nemo, skipper of the magnificent submarine, the Nautilus.  In 20,000 Leagues under the Sea, adapted to film in 1953, Nemo led a one-man crusade against war, sinking the world's warships in the cause of pacifism.

My daughter and I just came back from the premiere of Mysterious Island, the latest translation of a Verne novel.  It is a sequel of sorts to 20,000 Leagues, though this is not immediately apparent from the beginning.  The initial setting is the siege of Richmond at the end of the American Civil War.  Four Yankee prisoners make a daring escape in a balloon along with an initially wary, but ultimately game, Confederate prisoner.  The film begins with no indication of where it's going other than the title (and the mention of Nemo in the cast list – an unfortunate spoiler).
(19) APOLLO TREK. Space.com's Leonard David has a piece about how George Takei and Buzz Aldrin got an assist from William Shatner to celebrate the 47th anniversary of the Apollo 11 landing and the 50th anniversary of Star Trek at Cape Canaveral.
An audience of some 250 people took part in the evening event, which was dominated by a huge Saturn 5 moon rocket perched overhead. The occasion raised funds for Apollo 11 astronaut Buzz Aldrin's ShareSpace Foundation, a nonprofit organization dedicated to inspiring children to be passionate about science, technology, engineering, the arts and math.

The anniversary gala was hosted by George Takei, best known for his portrayal of Mr. Sulu in the original "Star Trek" TV series and movies….

Takei had a special surprise video beamed in from one of his "Star Trek" crewmates — William Shatner, who played USS Enterprise Capt. James T. Kirk.

Shatner said he wished he could be present at the Apollo 11 anniversary event. He was in Los Angeles, tied to a previous engagement with the other starship captains of "Star Trek" celebrating the past 50 years, Shatner said.
(20) UNSPARING CHANGE. Black Gate's Derek Kunsken experiences "A Tremendously Disappointing Re-Read: The Soaked-in Misogyny of Piers Anthony's Xanth"
How bad is the sexism and misogyny? I mean, can we cut it some slack because it was published in 1977?

Um. No. The 1970s were the 1970s, but there were still lots of remarkable writers creating compelling stories with well-rounded characters back then.

All the female characters in the first two novels occupy a narrow range of man-created stereotyped roles that were already fossils in the 1970s. Anthony has:

the dumb love interest,
the smart love interest,
the nagging love interest, and
the cautionary tales for Bink's choice of love interest.
[Thanks to John King Tarpinian, Cat Eldridge, Keith Kato, Martin Morse Wooster, Dawn Incognito, and Chip Hitchcock for some of these stories. Title credit goes to File 770 contributing editor of the day Bill.]