(1) BLYLY IN STAR-TRIBUNE AGAIN. Uncle Hugo's Bookstore owner Don Blyly, who made the front page in Minneapolis yesterday, was back in the news today when the city announced it has reversed a policy that has made it hard to get demolition permits: "City removes tax demand that was blocking rebuilding of riot-torn Minneapolis".
Minneapolis officials will no longer require property owners to prepay the second half of their property taxes in order to start removing rubble from sites damaged in the May riots.

Mayor Jacob Frey announced the change Thursday after the Star Tribune reported on the controversy.

…Minneapolis property owners have complained that the policy was slowing the pace of recovery and turning piles of debris into public safety hazards. The situation is different in St. Paul, which has been issuing demolition permits without requiring the prepayment of the second half of 2020 property taxes, which are due in October.

…"This will remove one small roadblock, but I am not sure how much it will actually speed up the entire rebuilding process," said Don Blyly, owner of Uncle Hugo's and Uncle Edgar's bookstores in Minneapolis, which were destroyed in the riots. "You are still going to have the problem of a whole lot of demolition permits being handled by people who are working at home because of COVID-19."

Blyly, who hired a contractor to remove the rubble from his lot a month ago, still doesn't have his demolition permit, even though he paid his taxes last week.

Minneapolis City Council Member Andrew Johnson said he will introduce legislation at Friday's council meeting that would require city officials to expedite the approval process for riot-damaged properties and waive all administrative fees.

"We should be processing their applications first, in front of everyone else's, and they shouldn't be subject to any unnecessary steps that are slowing stuff down," Johnson said. "We need to bend over backward and do everything possible to help them with rebuilding."
(2) F&SF COVER. The Magazine of Fantasy and Science Fiction's Sept/Oct 2020 cover art is by Bob Eggleton for "The Shadows of Alexandrium" by David Gerrold.
(3) QUITE A FASCINATING ARTICLE. In "My First Thriller: David Morrell" on CrimeReads, Rick Pullen interviews Morrell, who explains that sf writer and Penn State English professor Philip Klass not only inspired Morrell to find the path he needed to complete First Blood (whose protagonist was John Rambo) but also introduced Morrell to his first agent.
…He read the show's credits, noting that Stirling Silliphant was the creator. His local library found the address for the "Route 66" production company (the beginning of Morrell's love affair with libraries). He mailed Silliphant a hand-written letter, saying "I want to be you." Surprisingly, Silliphant wrote back with a single-spaced, two-page letter within the week. (The framed letter now hangs in Morrell's office.)

"I wish I had some specific advice for you or encouragement," wrote Silliphant, "but what I have to say is certainly not new. Keep writing…eventually if you have something of promise to say, someone will help you or hire you."

…While at Penn State, he met science fiction writer Philip Klass, better known by the pseudonym William Tenn, who taught the basics of fiction writing.

"It was astonishing that a university would hire a real writer. He did not have a degree. He was the backbone of their creative writing department…I couldn't get into his classes. They filled up right away. So Klass agreed to meet me during office hours."

To test Morrell, Klass instructed him to turn in a short story every week, and every week he did.

Eventually Klass summoned Morrell to his office and begged him to stop writing fiction. "You're terrible," he said.

"He was right," Morrell says. "I was writing bad Joyce and Faulkner."

From Klass, he learned "every writer has a dominant emotion." Morrell's was fear. Maybe if he wrote honestly about fear, Klass told him, he would stop writing all of his horrible imitation fiction.

"I took him at his word."…
(4) HELP NEEDED. Filer Lenora Rose hopes someone can lend a hand:
I have a writer's issue to do with language — specifically semi-Nordic language — and I think this might be the right place to ask for help?

So I'm dealing with a fantasy setting that is used for the course of at least three books. One of the countries major characters come from speaks something I have been rendering, for the purpose of getting through the rough drafts, as quasi-Nordic — sometimes actually looking up words in Swedish or Norwegian or Icelandic and picking the one that sounds the least like English, and also going a Germanic style take two or three words and squish them together. It didn't help that I decided they were the culture where the names of humans mostly translate to other nouns (Snow, Willow, etc) and the names of the non-human sapient race are usually those Germanic-style squished-together compounds (Bright Witty Magpie is one, as is Stream in Spring Flood). The protagonist is a multi-linguist and cares about this stuff.

Well, the story is now getting into final draft stages in every other way, and the placeholder language is still something that would almost certainly give any linguist or speaker of any of the related Scandinavian languages creeping horrors.

It certainly bothers me, because in the "I don't know what I don't know" way, I'm terrified I am going to end up, (as one author did when inventing names she thought sounded Welsh), naming someone a slang term for women's hygiene products or something similarly terrible.

So basically I need a consult with someone who speaks a related language and would be willing to make non-painful translations or naming suggestions, or a linguist to do the same. *I am assuming this is something where I should pay for their time in some way*, at least if it goes past an initial consultation.

If anyone is willing to help, please relay your email through OGH – mikeglyer (at) cs (dot) com
(5) HUGO RIPPLES. The KPBS website keeps the story alive: "Criticism Of 2020 Hugo Awards Spotlights A Lack Of Inclusivity In Literary Fiction World".
….With 2020 seeing the re-emergence of the Black Lives Matter movement, leading to many conversations about inclusivity, [George R.R.] Martin's mispronunciations have taken on a deeper meaning.

"The backlash is absolutely justified," said Hugo award winner and British fantasy author Jeanette Ng. "But I am sometimes frustrated that it gets reduced down to an anger about him mispronouncing names rather than this deeper tension between competing visions of the genre and the award…Whilst the mispronunciations matter, they are ultimately a symptom of that deeper disconnect of what the [awards are meant to do]."
(6) ASFA SPONSORS BIPOC MEMBERSHIPS. The Association of Science Fiction & Fantasy Artists is offering "Sponsored Memberships For BIPOC". Donations have raised the number available to 15.
In recognition of systemic biases against BIPOC (Black, Indigenous, & other People of Color) both within the Speculative Fiction & Fantasy communities and without, the Association of Science Fiction & Fantasy Artists intends to sponsor memberships in the organization for BIPOC artists. These sponsorships will be open to up-and-coming artists as well as established artists, and each membership will convey voting rights in the annual Chesley Awards in addition to periodic opportunities to exhibit in shows with other ASFA artists. Additionally, ASFA encourages its BIPOC members to participate in our Board elections, as candidates for Board positions and as voters, to ensure that the organization's representatives are truly representative of our membership and our aspirations for the community overall.

If you are interested in receiving one of these memberships please fill out this form: https://forms.gle/YF23aYPvMPe4mob86
(7) MARK ON HISTORY. "NASA wants nuclear-contaminated Santa Susana site to be made a historic landmark". I guess that this is the first time I ever heard about the meltdown is inherently explained by the cover-up. But I grew up at the other end of the San Fernando Valley feeling the earth tremble when they used to test rockets over there.
The site of America's first nuclear meltdown — and subsequent cover-up — in the picturesque hills of Ventura County may soon join Hearst Castle, the cable cars of San Francisco, and the Santa Barbara Mission as an official landmark in the National Register of Historic Places.

In what some have described as a cynical attempt by a U.S. government agency to avoid a long-promised cleanup of toxic and radioactive contaminants, NASA has nominated the Santa Susana Field Laboratory for official listing asa traditional cultural property.

…Hidden within the chaparral and rocky peaks of the Simi Hills, the Santa Susana Field Lab conducted research that was critical to the nation's Cold War ambitions, yet toxic to the Earth. The partial meltdown released radioactive gasses that the public was never warned about, and spent rocket fuel, heavy metals and other toxins contaminated the soil and groundwater.

…Now, NASA and a coalition of Native American groups have proposed the area be designated a traditional cultural district. The move has been opposed by critics, who fear that strict laws protecting Native American artifacts, combined with terms of the 2010 agreement, could make it difficult to clean up contamination.
(8) WHY JUST BEING NOMINATED IS A PLUS. The Dragon Awards nominations inspired John Scalzi to signal boost his 2019 post "Hey, Let's Talk Awards For a Bit: A Handy Guide For Dealing With Them". He makes many points drawn from his experience as a nominated writer. For example —
4. Winning an award is not always as important as being a finalist. I can speak to this personally: In terms of my career, it was far more important for me to have been nominated for the Best Novel Hugo award in 2006, than it was for me to win it in 2013. Why? Because in 2006 I was new to the field, and having my first novel nominated was a thing, especially when coupled with the nomination for the Campbell Award for Best New Writer. I was the first person in more than twenty years to get nominated for the Campbell and Best Novel in the same year, and it changed my status in the field from "who is John Scalzi" to "oh, that's John Scalzi."

I didn't win the Hugo that year (nor should I have: Spin by Robert Charles Wilson won, and deservedly so), but it didn't matter because the boost put me in a different career orbit. When I did win the Best Novel award, several years later, it was great, and I loved it, and I wouldn't trade the experience. But careerwise, it wasn't a transforming event. It was a confirming event. My professional career didn't change all that much after I won. Whereas being nominated earlier was transforming, and ultimately more important to my career.
(9) BOOKS ARE FLYING OUT THE DOOR. Entertainment Weekly reports "Twilight companion novel Midnight Sun sells 1 million copies in first week".
…The novel, which follows the love story between vampire Edward Cullen and high schooler Bella Swan that fans originally fell for in the first Twilight book back in 2005, is currently No. 1 on USA Today's Best-Selling Books List as well as on The New York Times's Children's Series List. While the original book series —which was adapted into a franchise of movies starring Kristen Stewart and Robert Pattinson in the leading roles — was told from the point of view of Bella, this version takes readers inside the mind of her bloodsucking boyfriend, Edward.
Something about that last line sounds a little off….
(10) BITING FOR BYTES. What made me think of that headline, I wonder, "The Big Idea: Julie E. Czerneda" at Whatever.
…Esen the Living Archive

When I first envisioned Web-beings, it was a thought experiment on a biological basis for being semi-immortal. I arrived at the notion of organisms who manipulate their molecular structure using energy to repair aging and damage. It led me to aliens who'd hide themselves by cycling, as I called it, into the form of shorter-lived intelligent species. To be convincing, they'd need to know how to behave as one. Thus I had them (there were six at the start) collect and share everything they discovered about a species, from its biology (and thus how to be that form) to every aspect of society and culture.

When your memory consists of your flesh, you're able to store vast amounts of information, which Web-beings exchange by biting off bits of one another. (I love my job.)…
(11) A CONZEALAND SOUVENIR. W.O.O.F. #45 put together by the Worldcon Order of Fan-Editors for CoNZealand is a free download from eFanzines [PDF file]. It boasts a cover by Tim Kirk, and contributions from John Purcell, Chris Garcia, Rich Lynch, Chuck Connor, Ahrvid Engholm, Evelyn & Mark Leeper, David Schlosser, Mark Blackman, Andrew Hooper, Murray Moore, Kees van Toorn, Wolf von Witting, R. Laurraine Tutihasi, Roger Hill, Alan Stewart, and Phil Wlodarczyk. Guy H. Lillian III served as the Offcial Editor.
(12) I DON'T KNOW — THIRD BLAST! On the Dragon Awards site: "A Blast from the Past (Winners) – Part 3" with Kevin J. Anderson, Nick Cole, Larry Correia, Richard Fox, Claudia Gray, Brian Niemeier, S.M. Stirling, and Harry Turtledove.
If you were a voting electorate of one, what book by any other author would you give a Dragon Award to? What books by other authors would you recommend to those who voted for or enjoyed your book?

Nick Cole: I'm going to decline naming any authors because I have too many talented friends. If you enjoyed Ctrl Alt Revolt!, I guess I would recommend that you read any book by any author who's been cancelled. Instead of just arbitrarily listening to someone's opinion on some author and why they should be banned, blacklisted, and their works burned in a bonfire either digital or physical, I think you should take the time to read that book, listen to that person, and come to the conclusion yourself.
(13) BOOK ANNVERSARY.
August 2015 —[Item by Cat Eldridge.] The House of Shattered Wings, the first of her Dominion of The Fallen series by French-Vietnamese author Aliette de Bodard was published by Roc in the U.S. It would be the first novel in what has been a prolific and award-rich writing career. In addition to the decadent, ruined Paris set of the Dominion of The Fallen series, there's her Xuya stellar empire where she makes rich use of her French-Vietnamese heritage. Of the new writers I've been reading (and most are female), I think she's one that bears watching as it'll be interesting to see what new universes come from her. And yes I'm waiting for the first Xuya novel somewhat impatiently.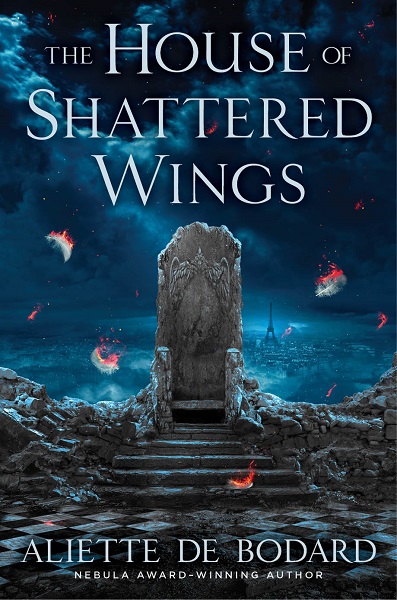 (14) MEDIA BIRTHDAY.
August 13, 1953 — George Pal's adaptation of H.G. Wells' The War Of The Worlds premiered in Atlantic City, New Jersey. (Not New York City as is popularly believed.) It was directed by Byron Haskin from the screenplay by Barré Lyndon. It starred Gene Barry and Anne Robinson. It was narrated by Cedric Hardwicke. The film was both a critical and box office success with it earning back its budget in its first run. And it would won an Academy Award for Special Effects. Audience reviewers at Rotten Tomatoes currently give it a 71% rating. (CE)
(15) TODAY'S BIRTHDAYS.
[Compiled by Cat Eldridge and John Hertz.]
Born August 13, 1895 — Bert Lahr. Best remembered and certainly beloved as The Cowardly Lion in The Wizard of Oz, as well as his counterpart who was a Kansas farmworker. It's his only genre role, though In the war film Meet the People, he would say "Heavens to Murgatroyd!" which was later popularized by a cartoon character named Snagglepuss. (Died 1967.) (CE)
Born August 13, 1899 — Alfred Hitchcock. If he'd only done his two Alfred Hitchcock series which for the most part was awesome, that'd be enough to get him Birthday Honors. But he did some fifty films of which a number are genre such as The Birds and Psycho. Though I've not read it, I've heard good things about Peter Ackroyd's Alfred Hitchcock. (Died 1980.) (CE)
Born August 13, 1909 — Tristram Coffin. He's best remembered for being Jeff King in King of the Rocket Men, a Forties SF serial, the first of three serials featuring this character. He showed up on the Fifties Superman series in different roles, sometimes on the side of Good, sometimes not. He played The Ambassador twice on Batman in. "When the Rat's Away the Mice Will Play" and "A Riddle a Day Keeps the Riddler Away". (Died 1990.) (CE)
Born August 13, 1922 — Willard Sage. He showed up on Trek as Thann, one of the Empaths in "Empath". He was Dr. Blake in Colossus: The Forbin Project, and had roles in The Land of Giants, Invaders, The Man from U.N.C.L.E., The Outer Limits and The Sixth Sense. (Died 1974.) (CE)
Born August 13, 1928 – Sir George Pollock, Bt. The 5th baronet (an oversimplification); pursued photography that had light itself as its subject; invented color photographs using controlled light, originally through glass, which he called Vitrograph; later, large-scale photographic murals. Five book and magazine covers for us; here is New Writings in SF 3. Two album covers for His Master's Voice; here is HQM 1008 with Stravinsky's Soldier's Tale (translation in part by Michael Flanders!), here is HQM 1026 with Prokofievand Shostakovich. Here is Galactic Event. Website here (under re-construction but some help). Appreciation by the Photographic Alliance of Great Britain here ("NGV" is Nat'l Gallery of Victoria) (PDF). (Died 2016) [JH]
Born August 13, 1932 – John Berkey. A hundred seventy covers, two hundred twenty interiors. Mixed his own colors. Here is Starman Jones. Here is Star SF 6. Here is the Nov 94 SF Age. Here is a Star Wars book. Here is One Giant Leap. Four artbooks; lastly J. Frank ed., The Art of John Berkey. Society of Illustrators Hall of Fame. Spectrum Grand Master. Website here. (Died 2008) [JH]
Born August 13, 1945 – Rita Krupowicz. (She usually signed "R.J. Krupowicz".) Ten covers, as many interiors. Here is The Dark Cry of the Moon. Here is the Nov 85 Fantasy & Science Fiction. This is from The Vortex Library on Twitter. (Died 1991) [JH]
Born August 13, 1952 – Donna Barr, 68. Enlisted in the U.S. Army, school-trained Teletype operator. Much of her work self-published, available electronically. Stinz was serialized in the Eclipse Comics series The Dreamery (hello, Lex Nakashima). GURPS (Generic Universal RolePlaying System) and Traveller role-playing books. "I usually do a rough on scrap paper (junk mail has lots of blank backs!), happily cutting and pasting, then I copy the whole thing (so the back is clear), rearrange the copy backwards on the back of the final paper, slap in some lettering guides, flip it over on a light table, and use it as a rough guide while I ink. No penciling, and no erasing." Website here. [JH]
Born August 13, 1974 – Christina Henry, 46. A dozen novels, half a dozen shorter stories. Alice, Red Queen and Looking Glass are "a dark and twisted take on Alice's Adventures in Wonderland"; The Girl in Red is "a post-apocalyptic Red Riding Hood novel". The Ghost Tree, expected next month, is "an homage to all the coming-of-age horror novels I read when I was younger – except all those books featured boys as the protagonists when I longed for more stories about girls. Just to clarify, though – this is not a young adult novel; it's intended for an adult audience (like all of my work)." [JH]
Born August 13, 1977 — Damian O'Hare, 43. Though you might know him from the Pirates of the Caribbean films, The Curse of the Black Pearl and On Stranger Tides where he played Gillette, I know him as the voice of John Constantine on Justice League Action. He also showed up in Agent Carter. (CE)
Born August 13, 1990 — Sara Serraiocco, 30. She plays the complex role of Baldwin on the Counterpart series which I've got on the iPad for watching soon. Anyone watch this? (CE)
Born August 13, 1990 – Marlon Pierre-Antoine, 30. "Helena's Empire" is an E-book novelette. Its sequel Wandering Stars explores a teenage girl's whblooming romance with Lucifer (i.e. after his fall), whom she meets on a beach. MP ranks The Divine Comedy above Animal Farm, both below The Hitchhiker's Guide to the Galaxy. [JH]
(16) COMICS SECTION.
(17) DC SECRET HISTORY. "John Ridley Unveils 'The Other History of the DC Universe'" – The Hollywood Reporter has the story.
Years after the completion of the second outing of his alternate history series The American Way, 12 Years a Slave screenwriter John Ridley is returning to comics to reveal The Other History of the DC Universe. The long-awaited series, exploring DC's lengthy comic book mythology from a new angle, has been newly scheduled for a November release.

The five-part series, originally announced in 2018, re-examines important and iconic moments from DC's comic book history from the point of view of characters from traditionally disenfranchised groups, including Jefferson Pierce — better known as Black Lightning — and Renee Montoya (The Question). Giuseppe "Cammo" Camuncoli, Andrea Cucchi, and colorist José Villarrubia are the artists for the series, with covers from Camuncoli and Jamal Campbell (Far Sector, Naomi)….
(18) THE AIRING OF GRIEVANCES. "Netflix soured the live-action remake of Avatar: The Last Airbender, its showrunners say" – a story on Vox.
In a rare public fallout for Netflix, the creators of the platform's highly anticipated, live-action adaptation of Avatar: The Last Airbender, the acclaimed Nickelodeon cartoon, have walked away from the project.

Avatar: The Last Airbender's full run became available on Netflix this past June, attracting a huge audience and reigniting the 2000s cartoon's popularity. But in separate posts published to their respective blogs and Instagrams, Avatar franchise creators Michael Dante DiMartino and Bryan Konietzko said they were no longer involved with the previously announced Netflix remake, due to prolonged creative differences.

"When Netflix brought me on board to run this series alongside Mike two years ago," Konietzko wrote in his Instagram post, "they made a very public promise to support our vision. Unfortunately, there was no follow-through on that promise. … [T]he general handling of the project created what I felt was a negative and unsupportive environment."

"I realized I couldn't control the creative direction of the series, but I could control how I responded," DiMartino added on his own website. "So, I chose to leave the project."…
(19) HALLOWEEN CUISINE. The Horror Writers Association calls on members to stir up some entries for the "Horror D'oeuvres Recipe Contest".
(20) THE FORUM ON BRADBURY. Today's episode of BBC's The Forum: "Ray Bradbury, a master of science fiction".
"People ask me to predict the future, when all I want to do is prevent it." Ray Bradbury has been acclaimed as the writer most responsible for bringing modern science fiction into the literary mainstream but, as the quote above shows, he regarded himself as the author of modern philosophical fables, rather than a sci-fi writer. In his dystopian works, such as Fahrenheit 451, he holds up a mirror to contemporary society and then transposes it into fantastical and futuristic scenarios. Bradbury was a prolific writer who tried his hand at everything from poems and novels to TV and radio scripts but it's his early short stories which he produced in his twenties that are perhaps the most imaginative.

To mark the centenary of Bradbury's birth, Rajan Datar is joined by three Bradbury experts to help him navigate through the author's prodigious output: Professor Jonathan Eller from Indiana University who is also the Director of the Center for Ray Bradbury Studies; Dr. Miranda Corcoran who teaches American literature at University College Cork with particular interest in science fiction, horror and the gothic; and Dr. Phil Nichols who combines research into Bradbury's TV and other media work with the teaching of Film and Television Production at Wolverhampton University.
(21) TOONING OUT. Camestros Felapton's attention was drawn to "The Webtoon Short Story Contest" by Vox Day's complaints that his Arkhaven Comics entry got no love from the judges:
Where there are stories gathered together there are story competitions and Webtoon is no different. They recently held their Short Story competition with the winners announced here https://www.webtoons.com/en/challenge/contest/us-contest-2020. It's a juried award with cash prizes that splits winners and runners up into two categories: "Brain" for stories that blow your mind and "Heart" for stories that warm your heart (Rules and FAQs).

"Why are you telling us all this Camestros?" I hear you say….
Camestros proceeds to make some interesting observations.
After looking at those, you can also read Vox's complaints in "Unappreciated and unawarded" [Internet Archive]. (Or not!)
And it wasn't just unawarded. Midnight's War somehow didn't even qualify as one of the 36 runners-up despite being one of the top 10 ranked in Popularity and earning a higher rating than two out of the three Silver winners.

This tells me that Arkhaven needs to seriously rethink our plan to use Webtoons as a platform….
(22) NUH-UHHH! "Dwayne Johnson Can't Convince His Daughter He Starred In 'Moana'" – NPR transcript.
Dwayne Johnson's character in the Disney film Moana is beloved by kids everywhere. However, his daughter refuses to believe that her dad lent the character his voice.
(23) FIRST-PERSON NON-SHOOTERS. "The U.S. Military Is Using Esports As A Recruitment Tool" – another NPR transcript.
…JAY PRICE, BYLINE: Esports has exploded in the past few years. There are pro leagues, bricks and mortar arenas, players with six-figure salaries. Millions of people log on to streaming platforms like the Amazon owned Twitch to watch games and interact with players and each other. Many are of recruiting age. The military has taken notice. Major General Frank Muth just finished a stint leading U.S. Army Recruiting Command.

FRANK MUTH: This really has brought us into the modern era of where this generation and the next generation – they're mainly hanging out online all the time.

PRICE: The four largest military services all now have teams or official players. Sergeant Nicole Ortiz is on the Army's team. Her role includes playing games while socializing and explaining military life to viewers, like her own as an IT specialist.

NICOLE ORTIZ: A lot of them, they look at movies and think that the Army is just about war and shooting guns. In reality, I used to work at a help desk.

PRICE: Recruiting brass say the new esports push is already helping, especially given the difficulties of face-to-face recruiting during the pandemic. Part of the allure is being able to interact directly with viewers through the chat function. And that's where the military's esports initiative ran into some trouble.

KATIE FALLOW: What they did here is impermissible under the First Amendment.

PRICE: Attorney Katie Fallow is with the Knight First Amendment Institute at Columbia University. She represents an activist named Jordan Uhl. On the Army and Navy Twitch channels, he posted messages including, what's your favorite U.S. war crime? Uhl was banned from both, along with dozens of others who posted similar messages or other comments the military gamers deemed improper.

FALLOW: Because they basically said, we don't like that you're raising questions about war crimes or things that the military is sensitive about. And they blocked people based on their viewpoints.
(24) SOONER OF LATER IT ALL ADDS UP. In "The Cost of Perseverance, in Context", the Planetary Society says the cost of the latest Mars Exploration Rover mission sounds quite modest compared to some other chosen figures.
NASA expects to spend approximately $2.7 billion on the Perseverance rover project. This number can sound large, even excessive, to some—but it's a number that demands context. Let's give it some….

The total cost of the Perseverance rover is equivalent to…
(25) FAILURE TO LAUNCH. "Bird watching: The robin that thinks a cuckoo is its baby" (despite the cuckoo being bigger than the robin…) Short BBC video.
They say birds of a feather flock together, but what are the chances of a robin and cuckoo sharing a bit of lunch?

Well, County Donegal woman Maureen Carr captured the moment a red-breasted bird shared its meal.
(26) PUT IT IN REVERSE. BBC reports "London bus garage to become world's largest 'trial power station'".
…Northumberland Park garage will host vehicle-to-grid technology, which feeds energy stored in parked electric buses back into the electricity network.

If the government-funded Bus2Grid project is rolled out across London it could power an estimated 150,000 homes.

The project will begin in November and run for three years.

Putting energy back into the grid when demand is high and recharging buses when demand is low helps make the network more efficient by balancing the peaks and troughs.

Ian Cameron, head of innovation at UK Power Networks, said: "A fleet of bus batteries harnesses large amounts of electricity and they are habitual, with regular and predictable routes, driving patterns and timings.

"That means we can easily predict and plan for how we can use any spare electrical capacity they can offer."
(27) FORBIDDEN KNOWLEDGE. Forbidden Planet, the world's largest and best-known comic book and cult entertainment retail chain, is throwing itself a 42nd birthday party — Forbidden Planet 42 – an online event featuring many genre and other celebrities.
On Saturday August 29th 2020, ForbiddenPlanet.com will play host to a huge range of celebrity interviews, as alumni from the worlds of science fiction, comics & popular culture come together to help the store celebrate 42 years of pop-culture addiction – and ponder the answer to The Ultimate Question of Life, the Universe and Everythingwith an all-star cast of our oldest friends & customers!

This star-studded online event will feature new, exclusive interviews with some of Forbidden Planet's most celebrated customers including William Shatner, DMC, Neil Gaiman, Alice Cooper, Jonathan Ross, Gerard Way, Garth Ennis, Kevin Smith, Michael Moorcock, Simon Pegg, Mark Millar, Dan Slott, V.E. Schwab, Dave Gibbons, Brian Bolland, Dirk Maggs, Chris Claremont & Ben Aaronovich amongst others, hosted by Forbidden Planet's Andrew Sumner.

As part of the Forbidden Planet 42 celebrations, this online extravaganza will also host a tribute to Forbidden Planet's old friend – the late, great Douglas Adams (The Hitchhiker's Guide to the Galaxy) in the shape of a rare, never-before-heard interview with Douglas (recently discovered in the Forbidden Planet vaults) conducted by another old pal, celebrated author Neil Gaiman.
[Thanks to Kathryn Sullivan, John King Tarpinian, JJ, John Hertz, Rose Embolism, Chip Hitchcock, Cat Eldridge, Mike Kennedy, Gordon Van Gelder, Martin Morse Wooster, Michael Toman, and Andrew Porter for some of the ridiculous number of stories in today's Scroll. Title credit goes to File 770 contributing editor of the day Olav Rokne.]