(1) EATING THE FANTASTIC. Scott Edelman invites listeners to devour donuts with Karen Osborne, Sarah Pinsker, and K. M. Szpara — who all recently had their second novels published — in episode 151 of the Eating the Fantastic podcast.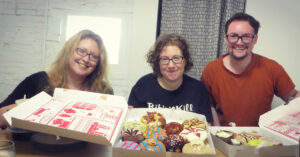 What are the joys and challenges of writing and publishing a second book? Writers can take their entire lives to get their first novels published, after which creating another novel in a year — or sometimes less — can be major pressure. After giving everything they had to the first novel — how does a writer decide what's worth writing next? Do they fear they won't live up to the promise of their debut, and might disappoint readers? I had a wonderful time listening to this trio of second novelists opening up about their experiences, and I hope you will too.

We chatted while nibbling on takeout from Baltimore's Zaatar Mediterranean Cuisine, and about two-thirds of the way through, switched up to doughnuts from my favorite such spot in Baltimore — Diablo Doughnuts.

We discussed why "second books are weird," what (if anything) they learned writing their debuts which made book two easier, why pantsing is a thing of the past, whether book two had them concerned about creating a brand, how writing acknowledgements for second novels can be strange, the way deadlines made taking time off between books impossible, the dangers of being abandoned by debut culture, the fear of fewer pre-publication eyeballs on book two, how the pandemic will affect the creation of future novels, and much more.
(2) WHEN WILL YOU MAKE AN END? You know how cranky some fans get when series remain unfinished for years. James Davis Nicoll promises he can deliver "Five Fully Completed SFF Series" to readers at Tor.com.
I stand second to none in my habit of relentless optimism. Still, I am beginning to suspect that Mr. Dickens is never going to deliver a definitive ending to his otherwise promising The Mystery of Edwin Drood. Admittedly, when one purchases a book all one can legitimately expect is the book in hand. Anticipation of further instalments, no matter how heartfelt, does not constitute a legal contract that binds the author to deliver further instalments.

That said, there are some series whose authors have managed to publish—and finish!—entire series. Here are five recent examples that I would recommend….
(3) HORROR VERSE. Stephanie M. Wytovich, editor of HWA Poetry Showcase, Vol. 8, has announced the volume's table of contents.
…This year is particularly special for me as it will be my last year editing the showcase. After four wonderful, poetry-filled years, I am thankful to the HWA for trusting me with this project, to John Palisano for supporting and encouraging me, and to David E. Cowen for initially recommending me for this position. It has been a journey and a delight, and I've learned so much about the market, the genre, and our fantastic community along the way. Thank you for the scares, the nightmares, and the verses, folks. I hope to return the favor someday (insert evil laugh here).
(4) CENSORSHIP IS A PLAGUE TOO. Publishers Weekly stats show "Censorship on the Rise Worldwide".
Since the start of the Covid pandemic, there's been a rise in instances of government censorship of books around the world. In October 2020, the International Publishers Association released a 106-page report, "Freedom to Publish: Challenges, Violations and Countries of Concern," that outlined 847 instances of censorship in a host of countries, including France, Iran, Serbia, and the United Kingdom, as well as the United States. According to the report, in 55% of those instances, the censorship was undertaken by government authorities. The report is downloadable from the IPA website.

Since that report was issued, efforts to censor books have continued. In July, the Hungarian government imposed an $830 fine on the distributor of the Hungarian translation of Lawrence Schimel's children's book What a Family!, citing a law that bans the depiction of homosexuality and gender reassignment in material aimed at minors. The book tells the story of two families with young children—one with two fathers and the other with two mothers.

That incident follows another in Hungary, in October 2020, when a member of parliament put a copy of Meseorszag mindenkie (A Fairy Tale for Everyone), which also features LGBTQ characters, through a shredder. "So the publisher reprinted it as a board book" said Schimel, whose book had the same Hungarian editor.

Schimel, an American living in Madrid, has published dozens of LGBTQ-themed works for children and adults. "It's important for all families, not just those who are LGBTQ, to see and read these books which show just how normal these families are," he said. What a Family! is now sold in Hungary with a sticker, warning readers that it depicts families "outside the norm." It was originally published as two books in Spanish, and Orca Book Publishers is releasing it as two books in the U.S. in September.

Russia led the way in overt European LGBTQ censorship with the passage of its "anti-LGBTQ propaganda" law in 2012. Today, LGBTQ books are routinely suppressed there, and those that make it to market are sold with warning stickers.

"The campaigns by the populist governments in Europe, such as in Hungary and Poland, against the LGBTQ community are in direct violation of the principles of inclusion and the celebration of diversity," said Michiel Kolman, chair for inclusive publishing at the IPA. He noted that in Poland, several towns have declared themselves LGBTQ-free zones, forcing LGBTQ residents to move, while in Hungary the transgender community was first targeted, and after that the broader LGBTQ community….
(5) THERE'S SOMETHING YOU DON'T HEAR EVERYDAY, EDGAR. Shelf Awareness says Dune's "Making Of" book will have its own Hans Zimmer score.
The Oscar-winning composer of Dune's soundtrack "was so inspired when he looked at the upcoming behind-the-scenes book from Insight Editions, he decided to write some musical accompaniment," io9 noted. The Art and Soul of Dune by executive producer Tanya Lapointe, which "will be available both in standard and jaw-dropping limited editions," is going to have a dedicated Zimmer score available to download and stream upon release on October 22, the same date as the film's debut. 
(6) SWEEPING DISCOVERY REQUEST. Publishers Weekly reports "Internet Archive Seeking 10 Years of Publisher Sales Data for Its Fair Use Defense". This relates to the lawsuit against the Internet Archive over its program to scan and lend copies of books.
…In an August 9 filing, IA attorneys told the court it is seeking monthly sales data for all books in print by the four plaintiff publishers (Hachette, Penguin Random House, HarperCollins, and Wiley) dating back to 2011. But the publishers, IA lawyers told the court, have balked at the sweeping request reportedly countering that the request is well beyond what the case calls for.

In their pre-motion filing, IA lawyers insist the sales data is crucial to its fair use defense.

"Plaintiffs claim that the Internet Archive's digital library lending has a negative effect on the market for or value of the works. The Internet Archive disagrees, and wishes to bring forward evidence showing that lending had little or no effect on the commercial performance of the books being lent, compared to books that were not lent," IA lawyers told the court. "Specifically, in order to show that lending had little or no effect on commercial performance, the Internet Archive wishes to compare the commercial performance of books that were available for digital lending with books that were not available for digital lending."

IA lawyers also attempt to explain the massive, sweeping scope of their request, conceding that they do not need a decade's worth of monthly sales data for "each and every book" but only for the 127 works included in the suit as well as "one or more" books that could be deemed "comparable" for each the 127 titles under scrutiny. But since the plaintiffs have "declined to identify books they regard as comparable," IA attorneys claim, they should be compelled to produce data about all books so that the Internet Archive can "identify books it regards as comparable" and the parties can then "debate, on a level playing field, whether such books are or are not comparable."…
Read the response from the publishers' lawyers here: "Publishers Blast Internet Archive's 'Extraordinary' Demand for Sales Data".
(7) MEMORY LANE.
1975 – Forty-six years ago, the first World Fantasy Award for Life Achievement goes to Robert Bloch. (He'd previously won a Hugo at Detention (1959) — where he and Isaac Asimov were toastmasters — for his "Hell-Bound Train" short story.) Nine years later at L.A.con II, He would receive a Special Committee Award for 50 years as an SF professional, and a year after that, he would be voted the First Fandom Hall of Fame Award.
(8) TODAY'S BIRTHDAYS.
[Compiled by Cat Eldridge.]
Born August 13, 1895 — Bert Lahr. Best remembered and certainly beloved as The Cowardly Lion in The Wizard of Oz, as well as his counterpart who was a Kansas farmworker. It's his only genre role, though In the film Meet the People, he would say "Heavens to Murgatroyd!" which was later popularized by a cartoon character named Snagglepuss. (Died 1967.)
Born August 13, 1899 — Alfred Hitchcock. If he'd only done his two Alfred Hitchcock series which for the most part were awesome, that'd be enough to get him Birthday Honors. But he did some fifty films of which a number are genre such as The Birds and Psycho. Though I've not read it, I've heard good things about Peter Ackroyd's Alfred Hitchcock. (Died 1980.)
Born August 13, 1909 — Tristram Coffin, He's best remembered for being Jeff King in King of the Rocket Men, a Forties SF serial, the first of three serials featuring this character. He showed up on the Fifties Superman series in different roles, sometimes on the side of Good, sometimes not. He played The Ambassador twice on Batman in. "When the Rat's Away the Mice Will Play" and "A Riddle a Day Keeps the Riddler Away". (Died 1990.)
Born August 13, 1922 — Willard Sage. He showed up on Trek as Thann, one of the Empaths in "Empath". He was Dr. Blake in Colossus: The Forbin Project, and had roles in The Land of Giants, Invaders, The Man from U.N.C.L.E., The Outer Limits and The Sixth Sense. (Died 1974.)
Born August 13, 1965 — Michael De Luca, 56. Producer, second Suicide Squad film, Childhood's End, Ghost Rider and Ghost Rider: Spirit of Vengeance, Dracula Untold, Lost in Space, Blade and Blade II, Pleasantville and Zathura: A Space Adventure which is not a complete listing. Also writer for an episode of Star Trek: Voyager, the first Dredd film (oh well), the Freddy's Nightmares series and the Dark Justice series which though not quite genre was rather fun.
Born August 13, 1977 — Damian O'Hare, 44. Though you might know him from the Pirates of the Caribbean films, The Curse of the Black Pearl and On Stranger Tides where he played Gillette, I know him as the voice of John Constantine on Justice League Action. He also showed up in Agent Carter. (CE)
Born August 13, 1982 — Sebastian Stan, 39. Bucky Barnes / Winter Soldier in the MCU film franchise; also appeared in Once Upon a Time series, The Martian, The Apparition, Ares III, and Kings, a contemporary alternate-history series about a man who rises to become the King of his nation, based on the biblical story of King David.
(9) COMICS SECTION.
(10) LEAVIN' ON A JET PLANE. Viewers who have been conditioned by all those movies to think Middle-Earth is a neighborhood of New Zealand will see one season of the Amazon's TV adaptation shot there too – then, goodbye! The Guardian says moving day is coming: "Amazon moves production of Lord of the Rings TV series to UK".
Amazon has made the surprise decision to move production of its $1bn-plus Lord of the Rings series from New Zealand to the UK, rejecting tens of millions of dollars in incentives to shoot the TV show in the same location as the blockbuster films.

Amazon, which four years ago paid $250m to secure the TV rights to JRR Tolkien's works after founder Jeff Bezos demanded a Game of Thrones-style hit for its streaming service, chose to film the first series in New Zealand after competitive bids from around the world. Scotland, which narrowly missed out to New Zealand, is considered to be the frontrunner for the new shooting location, although Amazon declined to comment on its plans.

It is understood that the Tolkien estate had been keen for the series to be shot in the UK, the land that inspired JRR Tolkien's original books, although did not have any right to determine the TV production's location.
(11) SPECIAL DEFECTS. CinemaBlend will be happy to show you these "13 Crazy Behind-The-Scenes Secrets From Classic Horror Movies".
…Despite being one of the most influential and successful film genres, horror does not always get the appreciation it deserves, especially when you consider the passion, patience, technical mastery, and even suffering the cast and crew endure for the sake of a good scare. You may never look at some of the best horror movies the same way again after learning these shocking behind-the-scenes facts, starting with a clever trick used in one of history's most iconic shockers.

George Lucas Got Stuck In The Mechanical Shark From Jaws

Steven Spielberg was also not prepared for the hysteria he would face the set of his breakout horror hit Jaws, which was mostly due to the technical difficulties that their mechanical star frequently suffered. Someone who experienced these flaws first-hand, and terrifyingly so, was George Lucas, who got his head stuck in the shark as the result of a prank gone wrong while was visiting the set. Curious about it inner-workings, the future Star Wars movies creator voluntarily put his head inside the shark when Spielberg and John Milius activated the jaw clamp, only to panic when they became temporarily unable to get Lucas out.
(12) PROZINE IS STILL WITH US. The Interzone #290/291 Double Issue Ebook is now available. Fiction (see ToC at the link) plus columns by Aliya Whiteley and David Langford; guest editorial by Lavie Tidhar; book reviews by Maureen Kincaid Speller, Duncan Lawie, Val Nolan, and several others; film reviews by Nick Lowe.
(13) AM I BLUE? "The Smurfs trailer announces Nickelodeon series release date" – SYFY Wire has the story.
Previously announced in 2020, the new series comes from Belgian studio Depuis Audiovisuel. All the Smurfs that folks most likely remember from their childhoods, from Papa Smurf and Brainy to Smurfette and Clumsy, are back. The new addition comes in the form of Willow, who leads a tribe of girl Smurfs. Like most of the network's cartoons, each episode will come in a pair of 13-minute blocks: the premiere episode, "Smurf-Fu," will be about Brainy wanting to learn "Smurf-Fu" from Smurfette so he can defend himself, and "Diaper Daddy," which finds Handy inventing a robot to change Baby Smurf's diapers so no one else has to. 
(14) LEAPIN' LIZARDS! "Giant, Dragon-Like, Flying Reptile Fossil Discovered in Australia" says Smithsonian Magazine.
…In addition to its school-bus-length wingspan, the creature had a three-foot-long skull with a pointed snout and around 40 sharp teeth. This pterosaur likely lived and hunted for fish near the Eromanga Inland Sea, a large inland sea that once occupied much of eastern Australia during the early Cretaceous period.

"It wasn't built to eat broccoli," Richards tells Royce Kurmelovs of the Guardian. "It would have been a fearsome sight."

Though the fossil was found in northwest Queensland over a decade ago, researchers weren't able to prove it was a new species until now. There are over 200 species of pterosaur, ranging from the 16-foot-tall Quetzalcoatlus to the sparrow-sized Anurognathus. Unlike the feathered birds they shared the sky with, pterosaurs stayed aloft on membrane wings stretched between their fingers….
(15) THEY MADE HISTORY. Mr. Sci-Fi – Marc Scott Zicree – delivers another lesson in "History of Sci-Fi Movies — The Nineties — Part One!"
(16) VIDEO OF THE DAY. [Item by Martin Morse Wooster.] In the spoiler-filled "The Suicide Squad: Pitch Meeting" on Screen Rant, Ryan George says that fans of several popular character actors who appear in The Suicide Squad will be disappointed that they die almost immediately after they're introduced and that Harley Quinn "is better at hand-to-hand combat that a whole squad of military people."
[Thanks to Mike Kennedy, Andrew Porter, Martin Morse Wooster, JJ, Michael J. Walsh, Michael Toman, John King Tarpinian, and Cat Eldridge for some of these stories. Title credit belongs to contributing editor of the day Daniel Dern.]