(1) WITNESS FOR THE PLAINTIFF. Stephen King took the stand today and AP News was there: "Stephen King testifies for government in books merger trial".
…King's displeasure about the proposed merger led him to voluntarily testify for the government.

"I came because I think that consolidation is bad for competition," King said. The way the industry has evolved, he said, "it becomes tougher and tougher for writers to find money to live on."

King expressed skepticism toward the two publishers' commitment to continue to bid for books separately and competitively after a merger.

"You might as well say you're going to have a husband and wife bidding against each other for the same house," he quipped. "It would be sort of very gentlemanly and sort of, 'After you' and 'After you,'" he said, gesturing with a polite sweep of the arm.

King's was entertaining and informative, although he had little specific to say over how the merger might harm bestselling authors, with the government's case focusing on those receiving advances of $250,000 or more. Attorney Daniel Petrocelli, representing the publishers, told King he had no questions for him and demurred on a cross-examination, saying instead he hoped they could have coffee together some time….
(2) BAIL OUT. Costume Con 40 chair Sarah Richardson is trying to raise $80,000 to pay a large penalty owed to their facility because of the shortfall in meeting their room rental commitment: "Covid-19 Relief for Costume-Con 40". (On the other hand, some are advising the concom to work with an attorney who specializes bankruptcy.)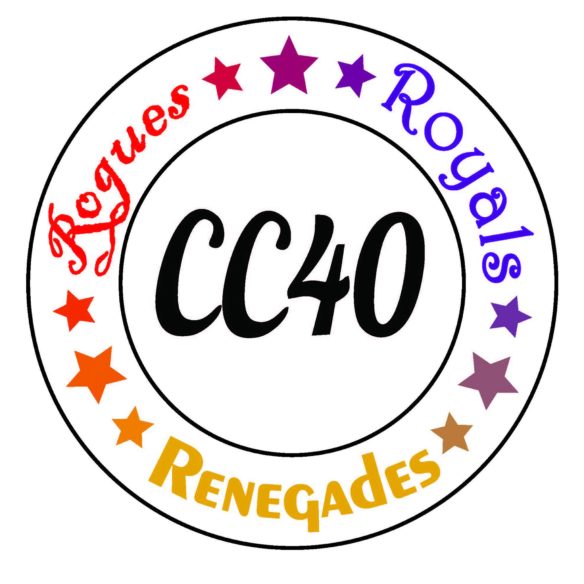 …Because of the sudden cancellation of Costume-Con 38 and the rescheduling of Costume-Con 39, we lost any potential advertising and seed money that might have been generated by those events. So far, we have been able to cover all our expenses except one, the venue cost.

Many of our attendees, especially our international members, were unable to attend due to Covid travel restrictions were levied right before the convention. Because of this, over a fourth of our registered members (100+ people) were not able to attend. This led to our not meeting the room night obligations in our contract, and so we must pay a hefty "attrition" penalty. We have been negotiating since April with the hotel to resolve this outstanding balance and continue to do so.

This is where we need your help. As a small, volunteer-run non-profit, we are turning to our community and putting out a request for monetary donations to help defray this debt. Any amount will be a help to us. And we intend, should we exceed our goal of retiring this particular debt, to "pay it forward" to next year's Costume-Con and thus further ease the financial strain caused by the pandemic. Remember, we are a 501(c)3 non-profit and would be happy to issue a receipt for tax purposes.
(3) THAT'S CLAWFUL. Cora Buhlert sent He-Man and friends on a beach holiday and posted another action figure photo story on her blog: "Masters-of-the-Universe-Piece Theatre: 'Holiday on Orkas Island'".
In the 1980s Filmation cartoon, Clawful looks quite different from his toy counterpart, probably because the cartoon was based on an early prototype. He also seems to be one of a kind. However, the 2002 He-Man cartoon reveals that there is a whole species of lobster people out there and that they hail from a place called Orkas Island, which also happens to be the retirement home of an aged warrior called Dekker, Duncan's former mentor and predecessor at Man-at-Arms.

So I decided to send Prince Adam, Teela and Man-at-Arms on a well-deserved holiday and have Clawful and his fellow aquatic Evil Warrior Mer-Man cause some trouble. I also got out a bunch of maritime themed objects to serve as props….
(4) HE FIGURES IT OUT. [Item by Cora Buhlert.] Here is a video by a toy collector and YouTuber named Pixel Dan who wound up as a panelist on the He-Man 40th anniversary panel at San Diego Comic Con (he wrote a collector's guide to Masters of the Universe toys). He offers a rare look at what the infamous Hall H looks like backstage and on stage. His enthusiasm is certainly infectious. Plus, bonus interview with Kevin Smith who moderated the panel.
(5) PEOPLE WHO NEED PEOPLE. Kim Bannerman wrote a nice profile of Zenna Henderson at Luna Station Quarterly: "The Improbable Worlds of Zenna Henderson".
…Henderson's experiences as a teacher would influence her writing throughout her career. In her 1952 short story "Ararat", aliens marooned on Earth are searching for a new teacher to guide their children; all the other teachers have been scared away by the children's telekinetic powers. This story was the first in a series that featured 'The People', a community of gentle humanoids trying to survive on Earth.

The People are isolated, lonely individuals seeking safety and community, and they must suppress their inherent gifts in order to be accepted by human society. Instead of focusing on conquest and war, Henderson's stories examine the quiet, personal lives of The People….
(6) CARS. [Item by SF Concatenation's Jonathan Cowie.] We had a small science fiction fayre down our way here in Brit Cit. Stalls with SF miniatures, playing card collectables abounded. Sadly, no second-hand book stall (which, on second thoughts, did save a couple of hours of my time). Nor did there seem to be a tie-in with our local film memorabilia and gaming shop, The Movie Shack: even though it was just twenty yards away inside our indoors shopping precinct. However, in the mix was a Ghostbusters marshmallow man and car, and there was also a Back to the Future DeLorean: it was one way to beat the Worldcon queues — the last time a Back to the Future DeLorean was on Worldcon show…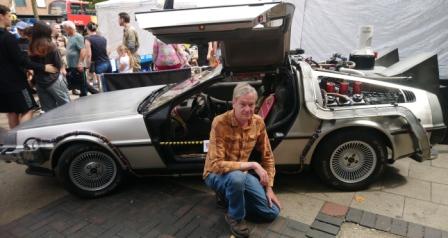 (7) THE BIRD IS THE WORD. Sarah Z delivers "An Exhaustive Defense of Fanfiction" in a new YouTube video.
On art, transformativity, and the literary wonders of putting your middle finger up at preps.
(8) NEW FROM LEONARD MALTIN. [Item by Martin Morse Wooster.] I listened to the podcast Leonard and Jessie Maltin did with Michael Uslan. Although Leonard Maltin and Uslan never met, they quickly determined they were the same age, were both guys from Jersey (Uslan's from exit 105) who developed obsessions very early (Maltin with animation, Uslan with comics) and both were probably two rows away from each other at a notorious 1966 screening of the 1943 Batman serial at Manhattan's Eighth Street Playhouse where the audience got rowdier and rowdier as the film got stinkier and stinkier.
Uslan grew up with comic books and read everything.  But the event that changed him was in 1972 when he successfully proposed what became the first university course on comic book at Indiana University.  This led to his getting calls from Stan Lee and Sol Harrison at DC.  He first did scripts (He proudly remembers Julius Schwartz telling him. "Your story doesn't stink:" when he did a story for The Shadow).  In 1979 he acquired the movie rights to Batman and spent ten years in development until Tim Burton's film came out.  He has been an executive producer on every Batman project since, including Lego Batman.  He also got DC to give him the movie rights to Swamp Thing for free if he agreed to spend $15,000 on the character, which led to two Swamp Thing movies in the 1980s.
Uslan says he likes the takes Michael Keaton, Christian Bale, and Robert Pattinson have done with the character and people shouldn't complain about a film until they've seen it.  Leonard Maltin quoted Harlan Ellison, "You have the right to your informed opinion."  He has two volumes of memoirs about his life with Batman and a Broadway play in development.  In addition, Uslan is an executor of Stan Lee's estate and is working on Lee's forthcoming centennial celebration. Maltin on Movies: Michael Uslan.
(9) MEMORY LANE.
1986 – [By Cat Eldridge.] Since we just discussed the Grateful Dead by way of the Jerry Garcia birthday write-up, let's talk about a novel, that according to the author in an email received just now was indeed named after a Dead song. (Yes, he is one of the writers that gets dark chocolate.)
There are certain novels that I return to from time to time and Steve Brust's Brokedown Palace is one of them. It's the only stand-alone novel set in Dragaera series, which runs currently to over twenty five novels. (I've read quite a few of them.) It leads off the series. It is also notable for being set in Fenario, the human-populated portion of that world.
The novel is heavily influenced by Hungarian myth and culture, not surprising giving that Brust is of Hungarian descent. Brust uses that tradition's folklore to great effect while combining it with family dynamics King László, the oldest of the brothers, is a fair and just ruler along the Princies of the Lands. All live in Brokedown Palace.
Once upon a time, there were four brothers who lived in the land of Fenario. These were the King and Princes of the land, and they lived together in the decrepit Old Palace in the center of the city of Fenario. Ahhh but things are not as they seem as things well become very complicated… I won't say more than that as it'd spoil things if you've not read it yet.
This is a more complex novel than Brust usually writes and the characters here actually have more agency, more feel of being actual individuals than that they usually get in his novels. That's a reflection of it being a family-based novel so it feels more intimate than usual.
The wonderful cover art on the first edition is by Alan Lee. Since the art on the actual first edition is obscured by title text and other typography, we're using the version on a later edition to display it. (ISFDB has the real first edition cover here.)
(10) TODAY'S BIRTHDAYS.
[Compiled by Cat Eldridge.]
Born August 2, 1917 — Wah Chang. Co-founder in the late 1950s, with Gene Warren and Tim Baar, of Project Unlimited Inc, the first true special effects company. They provided the effects for numerous George Pal productions, including The Wonderful World of the Brothers Grimm, Jack the Giant Killer, and The Time Machine (for which they won an Academy Award, although Chang's name was erroneously omitted). Wang and his fellow Projects coworkers did essentially all of the effects for the original Outer Limits television series. Perhaps most famously, Chang created some of the best-known effects for the original Star Trek, including the communicator, the tricorder, the Romulan Bird of Prey, the Tribbles, and numerous aliens, although he did not receive screen credit for any of this work. A talented artist, later in life he gained reknown as a wildlife sculptor. (Died 2003.) (PhilRM)
Born August 2, 1920 — Theodore Marcuse. He was Korob in "Catspaw", a second season Trek episode written by Robert Bloch that aired just before Halloween aptly enough. He had appearances in The Twilight Zone ("The Trade-Ins" and "To Serve Man"), Time Tunnel, Voyage to the Bottom of the Sea, Wild Wild West and The Man from U.N.C.L.E. in the episodes "The Re-collectors Affair", "The Minus-X Affair", and "The Pieces of Fate Affair". (Died 1967.)
Born August 2, 1932 — Peter O'Toole. I'm tempted to say his first genre role was playing King Henry in A Lion in Winter as it is alternate history. It really is despite some of you saying it isn't. Neat film. Well the original is, the second, not so much. Stewart just doesn't work in that role for me. Actually before that he's got an uncredited role in Casino Royale as a Scottish piper. Really he does. His first genre role without dispute is as Zaltar in Supergirl followed by being Dr. Harry Wolverine in Creator. He's Peter Plunkett in the superb High Spirits, he's in FairyTale: A True Story as a very credible Arthur Conan Doyle, and Stardust as King of Stormhold. Not surprisingly, he played in a version of Midsummer Night's Dream as Lysander. (Died 2013.)
Born August 2, 1948 — Robert Holdstock. Another one who died far too young. His Ryhope Wood series is simply amazing with Lavondyss being my favorite volume. And let's not overlook his Merlin Codex series which is one of the more original takes on that character I've read. The Ragthorn, co-written with Garry Kilworth, is interesting as well. Tor, which has the rights to him in the States, has been slow to bring him to the usual suspects. (Died 2009.)
Born August 2, 1954 — Ken MacLeod, 68. Sometimes I don't realize until I do a Birthday note just how much I've read of a certain author. And so it was of this author. I've read the entire Fall Revolution series, not quite all of the Engines of Light Trilogy, just the first two of the Corporation Wars but I've got it in my to-be-finished queue, and every one of his one-off novels save Descent. His Restoration Game is quite chilling. I should go find his Giant Lizards from Another Star collection as I've not read his short fiction. Damn it's not available from the usual suspects! Hugo Award wise, he didn't win any but had some nominations. The Sky Road was nominated at the Millennium Philcon, Cosmonaut Keep at ConJosé and Learning the World at L.A. Con IV.
Born August 2, 1956 — Leslie Ackerman, 66. She is best remembered for her role as the waitress in the Star Trek: Deep Space Nine 1996 episode "Trials and Tribble-ations". She also showed on the rebooted Twilight Zone as Time-Traveller in the "Lost and Found". She was on The Incredible Hulk and Project UFO. She retired from acting several years after filming "Trials and Tribble-ations".
Born August 2, 1970 — Kevin Smith, 52. Well-loved comics writer who's worked for DC, Marvel and other venues. He was involved with both Daredevil and Green Arrow. He directed the pilot for the CW supernatural comedy series Reaper, produced and appeared in a reality television series, Comic Book Men, and appeared as a character in the animated Superman: Doomsday.
(11) COMICS SECTION.
In The Far Side, an archeologist has dug up someone familiar, He's not Yorick, but you knew him well.
(12) GREEN TOWN. Wauke-Con 2022, Waukegan's second annual comic book convention in Ray Bradbury's home town, will take place October 8-9. The proceeds benefit Three Bros. Theatre.
(13) TURN OFF THE BATLIGHT. [Item by Martin Morse Wooster.] Warner Discovery won't release Batgirl and has blown off the $70 million spent on it because the new regime doesn't think the film works. "'Batgirl' movie gets 'shelved' by Warner Bros: source" reports the New York Post.
Holy millions down the drain, Batman!

The DC Comics film "Batgirl" will be completely "shelved" by Warner Bros., a top Hollywood source told The Post.

That means it won't hit theaters or the streaming service HBO Max. Fans will not see it.

The reportedly $70 million movie (the source said the budget was actually more than $100 million), which was doing test screenings for audiences in anticipation of a late 2022 debut, would rank among the most expensive cinematic castoffs ever.

Those tests were said to be so poorly received by moviegoers that the studio decided to cut its losses and run, for the sake of the brand's future. It's a DC disaster….
(14) THE DOOR INTO BUMMER. [Item by Cora Buhlert.] I found this USA Today headline funny for all the wrong reasons: "Fact check: Scientists at CERN are not opening a 'portal to hell'".
… The accelerator, the Large Hadron Collider, had undergone repairs and upgrades, and scientists plan to use it to crash protons together and learn more about the origins of the universe.

Nevertheless, social media users are suggesting that the machine has a different purpose. A Facebook post shared July 5 shows a TikTok video of a woman who claims that CERN scientists are using the machine to open a doorway for demons.

"If y'all don't know about cern it's a demonic/Evil machine that opens up portals to other dimensions/Hell/other spiritual worlds(not Heaven/or bosom of Abraham)and it brings in demons wicked spirits/High Evil Principalities," reads the caption of the post….
(15) VIDEO OF THE DAY. [Item by Martin Morse Wooster.] In "Honest Game Trailers: Stray," Fandom Games, in a spoiler-filled episode, says that Stray is "A playable Internet cat video, wrapped around a cyberpunk dystopia" but the least realistic thing about it is that the cat follows a robot's instructions, because a real cat would "ignore you for four hours and then throw up on your carpet."
[Thanks to Andrew Porter, Chris Barkley, Michael Toman, Jennifer Hawthorne, Cora Buhlert, PhilRM, Todd Mason, SF Concatenation's Jonathan Cowie, Cat Eldridge, Mike Kennedy, Martin Morse Wooster, JJ, and John King Tarpinian for some of these stories. Title credit belongs to File 770 contributing editor of the day Andrew (not Werdna).]