(1) ROFCON 2020. Eric Flint and Ring of Fire Press will host the inaugural Ring of Fire Con (RoFCon I), a virtual convention, from September 11-13, with panels, guests, and signing opportunities. Attendance is free – register at the link.
Among the guests attending will be: Steven Barnes, David Brin, DJ Butler, Eric Flint, Charles Gannon, Cecelia Holland, Tom Kidd, Mercedes Lackey, Jody Lynn Nye, Christopher Ruocchio, Tom Smith, David Weber, and Toni Weisskopf.
Walt Boyes, Editor, Grantville Gazette and Ring of Fire Press adds:
Not only do we have a great guest list, but we are also teaching marketing for authors, how to get published, and recruiting new authors. We have dealt with issues of race, sex, gender, and nationality and prejudice around the world. We are looking for authors to write in the 1632 Universe who are non-traditional. We encourage women, LGBTQ+, and Persons of Color to look at writing for us. We publish bimonthly, The Grantville Gazette, which is a SFWA approved venue that pays SFWA professional rates.
(2) BRADBURY CENTENNIAL RECORDING STILL PLAYING. You can hear last Saturday's Ray Bradbury Read-A-Thon of Fahrenheit 451 anytime through September 5.
Readers from across the United States will join William Shatner (actor), Neil Gaiman (author), Marlon James (author), Marjorie Liu (author), P. Djèlí Clark (author), Dr. Brenda Greene (author), Alley Mills Bean (actress), James Reynolds (actor), Tananarive Due (author), and Steven Barnes (author) to bring this relevant work to social media. Susan Orlean (author) provides an afterword.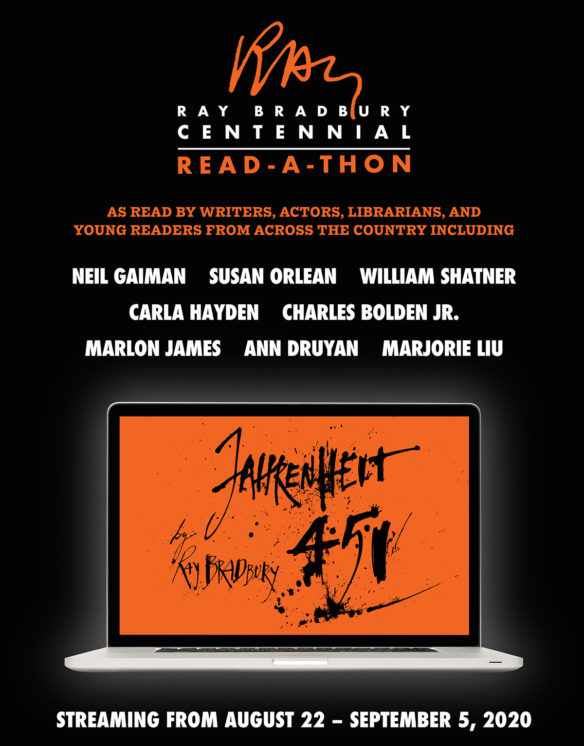 (3) ONLINE BRADBURY EXHIBIT. The South Pasadena Public Library provides a virtual tour of its Bradbury holdings in "Ray Bradbury: Celebrating 100 Years".
…Bradbury, in his later years, was a frequent visitor to South Pasadena. In fact, Bradbury chose the South Pasadena Public Library as the location of his 90th Birthday Celebration. In 2010 South Pasadena City Council declared August 22nd Ray Bradbury Day….

In 2013 the South Pasadena Public Library named the conference room in honor of the late Ray Bradbury, for his work as lifelong advocate for public libraries. The Ray Bradbury Conference Room currently hosts a collection of Bradbury books and artifacts, including ephemera, photographs, artwork, and first edition prints. On the walls of the Conference Room hang a brick from Ray Bradbury's home in Los Angeles (now demolished) and a portion of drywall from Bradbury's home office, where much of his writing was conducted….
(4) 2020 HINDSIGHT. Few fans really expect science fiction writers to predict the future. But what about mainstream authors who can't even predict the present? Consider this Amazon customer review of Honeysuckle Season by Mary Ellen Taylor.
This novel is set in Virginia during two time periods: the early 1940's, and the summer of 2020. Chapters alternate between the two time periods. The story was enjoyable, but every time I came to a chapter set in 2020, I asked myself, "when is the author going to say something about Covid-19?" The answer is — never. I found that very disturbing and distracting. The author apparently wrote the book before the pandemic, and made the assumption that summer 2020 would be just like other summers, with large wedding parties, no social distancing, etc. Bad assumption.
(5) WORLDCON PUBLICATION ARCHIVE. Fanac.org is making the move to a different interface for accessing Worldcon Publications. (And it looks very good!)
If you've been paying attention to recent newsletters and flashes, Mark Olson has put together a new, easier-to-love format for Worldcon pubs. All the worldcon pubs are searchable PDFs and you'll also find bidding material, and even ephemera. You can find it all at http://fanac.org/conpubs/Worldcon/.

The format and the link for photos and audio stay the same for now, and over the next few days (or maybe weeks) we will migrate completely to the new approach. For a little while, worldcon pubs may be available the old way as well, but one by one those will be cleared out. If you have any worldcon pubs bookmarked, then please be aware that those bookmarks will not be valid for too much longer. All hail Mark Olson, king of the Worldcon pubs! And most seriously, a heartfelt thanks to Mark from a webmaster who really didn't want to start coding again. (Aug 22)
(6) EVERMORE ASKS FOR HELP. Yesterday's Scroll reported Utah's Evermore Park is in financial straits. The owners have launched a GoFundMe appeal: "Helping Evermore Park Through COVID-19". It's raised $13,693 of the $100,000 goal in the first 24 hours.
Evermore Park is small business in Pleasant Grove, Utah that creates an immersive experience that exists purely to allow everyone who enters to discover their own imagination. We aim to tell unique stories that inspire, educate, and allow guests to escape–even just for a little while–to a world that allows you to be the hero. We need your help to keep this project going during COVID-19.

We opened our doors in September of 2018. From the moment the doors were officially opened, we have been creating magic and allowing guests to interact with our characters and park in ways that few other businesses have even come close to attempting…. 
(7) POST-APOCALYPTIC HOLLYWOOD. "A World Like This Deserves Contempt: Adapting Harlan Ellison's A Boy and His Dog" in Bright Lights Film Journal is Stephen Harris' fine-grained and thoroughly disturbing study of the story's evolution to a film by L.Q. Jones.
…Alternately humorous, disturbing, satiric, violent, tender, vicious, somber, fantastic, and familiar, A Boy and His Dog and its adaptations have become the most referenced and influential landmarks of a sub-genre that has often been disregarded as escapist, clichéd, and one-dimensional. In order to understand how the text became so important, the history of Ellison's original story and its film adaptation must be traced and explicated. In this article, I will compare and contrast Ellison's definitive novella, L. Q. Jones's early screenplay draft, and his final film adaptation and its promotional campaign to show how content is transformed, often radically, once it leaves the hands of its creator, and how certain differences in these texts come to exist. 
(8) MEDIA BIRTHDAY.
August 26, 1953 — War of The Worlds premiered. It was produced by George Pal, and directed by Byron Haskin. It starred Gene Barry and Ann Robinson with narration by Sir Cedric Hardwicke. The Martian war machines were designed by Al Nozaki, and the sizzling sound effect would be used again as the first Trek phaser sound. (You know what novel it was adapted from.) The film was both a critical and box office success with its earnings making it the top SF film of the year. Audience reviewers at Rotten Tomatoes currently give it a 71% rating.
(9) TODAY'S BIRTHDAYS.
[Compiled by Cat Eldridge and John Hertz.]
Born August 26, 1901 – Earle Bergey.  A hundred sixty covers for us, a handful of interiors; much more, thousands all told, adventure, aviation, detective, sports, Western.  He was a prominent – hmm – "pin-up" artist; but look at this cover for Zane Grey's Spirit of the Border.  This famous cover for Gentlemen Prefer Blondes may arouse – ahem – indignation now, but is very funny if you've actually read the book, and if I may, suggests – sorry – the question "Who's exploiting whom?" and the realization that we heterosexual men have more to be ashamed of than we thought.  He could also do this.  (Died 1952) [JH]
Born August 26, 1904 — Christopher Isherwood. I'll first note, though not genre, that he wrote Goodbye to Berlin, the semi-autobiographical novel which was the inspiration for Cabaret. Genre wise, he co-wrote Frankenstein: The True Story with Don Bachardy, The Mortmere Stories with Edward Upward, and one short story in the Thirties, "I am Waiting". (Died 1986.) (CE) 
Born August 26, 1904 — Peter Lorre. I think his first foray into genre was in the Voyage to the Bottom of the Sea film as Comm. Lucius Emery though he was in Americanized version of Casino Royale which an early Fifties episode of the Climax! series as Le Chiffre. (James Bond was called Jimmy. Shudder!) Other genre roles were in Tales of Terror as Montresor in "The Black Cat" story, The Raven as Dr. Adolphus Bedlo and The Comedy of Terrors as Felix Grille. (Died 1964.) (CE)
Born August 26, 1911 — Otto Oscar Binder. He's  best remembered as the co-creator with Al Plastino of Supergirl and for his many scripts for Captain Marvel Adventures and other stories involving the entire Marvel Family. He was extremely prolific in the comic book industry and is credited with writing over four thousand stories across a variety of publishers under his own name. He also wrote novels, one of which was The Avengers Battle the Earth Wrecker, one of the series created by writer-editor Stan Lee and artist and co-plotter Jack Kirby. (Died 1974.) (CE)
Born August 26, 1911 – Gerald Kersh.  He has been described as "hammering out twenty novels, twenty collections of short stories and thousands of articles".  Harlan Ellison wrote, "you will find yourself in the presence of a talent so immense and compelling, that you will understand how grateful and humble I felt merely to have been permitted to associate myself with his name as editor."  The Secret Masters is ours, as are a hundred seventy shorter stories.  (Died 1968) [JH]
Born August 26, 1926 – Thomas Clareson, Ph.D.  Edited Extrapolation 1960-1987; essayist, correspondent, there and elsewhere, Analog, The Magazine of Fantasy & Science Fiction, NY Rev SF, Riverside Quarterly.  Bibliographic studies, critical anthologies.  First President of the SF Research Ass'n; its Clareson Award, named for him, began 1995.  Pilgrim Award.  Robert Silverberg's Many Trapdoors may be the title of the year for 1992.  (Died 1993) [JH]
Born August 26, 1949 – Fred Levy Haskell, 71.  Involved at the start, therefore a Floundering Father of Minn-stf (stf from Hugo Gernsback's word scientifiction, pronounced "stef" or "stiff", the latter funnier since false) though he later said he was out getting a sandwich at the time.  Fanziner, chaired Corflu 6 (fanziners' con; corflu = mimeograph correction fluid, once indispensable).  Fan Guest of Honor at LepreCon 4, Archon7 (which for years I've been saying should be pronounced Arch on, but what do I know?), Minicon 22.  Note his two-part unhyphenated surname.  Recently, see here.  [JH]
Born August 26, 1949 — Sheila E Gilbert, 71. Co-editor-in-chief and publisher of DAW Books with Elizabeth R (Betsy) Wollheim. For her work there, she has also shared the Chesley Awards for best art director with Wollheim twice, and has received Hugos by herself for Best Professional Editor (Long Form). (CE)
Born August 26, 1958 — Wanda De Jesus, 62. She's Estevez in Robocop 2, a film that had its moments but rarely, and she has two other film genre roles, Lexie Moore in Captain Nuke and the Bomber Boys, and Akooshay in Ghosts of Mars. Series wise, she has a number of one-offs including Babylon 5, Tales from The Darkside, SeaQuest DSV, Happily Ever After: Fairy Tales for Every Child and voicing a character on one of the Spider-Man series. (CE) 
Born August 26, 1965 – Elizabeth Isaacs, 55.  Four novels for us.  Runs an authors' group Writers, Etc. going between writers and motion pictures.  Master's degree magna cum laude (and Phi Beta Kappa) from Austin Peay State U., studied classical opera.  Ranks Great Expectations about the same as The Time Machine, both below Nineteen Eighty-Four; fear not, all three below Blueberries for Sal.  [JH]
Born August 26, 1970 — Melissa McCarthy, 50. Yes, I know she was in the rebooted Ghostbusters. Fanboys across the net are still wetting their pants about that film. I'm much more interested in Super Intelligence in which she is playing a character that has an AI who has decided to take over her life. It reminds me somewhat of Naomi Kritzer's Hugo Award winning "Cat Pictures Please" premise.  (And we are not talking about The Happytime Murders in which she was involved.) (CE) 
Born August 26, 1993 – Nancy Yi Fan, 27.  First novel at age 12, NY Times Best Seller.  Oprah Winfrey said this showed NYF was smart, which misses the point, but Errors in the direction of the enemy are to be lightly judged.  A prequel and sequel followed.  Her pets, suitably, are birds.  [JH]
(10) COMICS SECTION.
(11) MUSIC FOR THE SPHERES. Pitchfork invites readers to "Meet the Man Who Used Kraftwerk, Fela Kuti, and Other Fascinating Music to Try to Lure Aliens to Earth".
When NASA launched the Voyager spacecrafts to explore the cosmos in 1977, they sent along the Golden Record—and with it, music from around the world—as a snapshot of humanity, should intelligent lifeforms ever find it. But what if the aliens tuned in to the radio instead?

From 1971 to 1998, a man named John Shepherd probed that hypothetical question with astonishing dedication. Aiming for interstellar contact, he beamed everything from reggae to Steve Reich straight from his grandparents' living room in rural Michigan, broadcasting between six to eight hours every day. He then expanded his operation—called Project STRAT—into a separate building on his grandparents' property, complete with scientific equipment of his own design. Though Shepherd eventually ended the radio arm of Project STRAT due to the high cost of maintenance, he is now the subject of a touching new short film, John Was Trying to Contact Aliens, which recently arrived on Netflix…
(12) CANON CAN NOT. Aidan Moher seeks to obliterate the very idea — "Personal Canons: There Is No Universal Canon".
I am not the same person I was yesterday, and tomorrow I will be a new me.

Over time, my personal SFF canon has changed and evolved as I've grown older, discovered new writers, and pushed myself into corners of the genre that I would never have experienced if not for my involvement in the broad and diverse SFF community. As time flows, we're changed by our experiences, our values adapt to encompass new thoughts and emotions, and so canon is always evolving to envelop who we are becoming….

Even canon lists generally accepted at the time they're published become defunct just a few years later, and, as the genre adapts, new works draw on new influences. Just go look at some old lists of "SFF canon" from earlier decades, or even 11 years ago on the web. I haven't even heard of half those books, let alone read them. If SFF canon looks like a reading list for a History of Science Fiction 101 course, it's missing the point of how the genre is a conversation with itself and the outside world of politics, sociology, and humanity.

As DongWon Song said, "The idea of the canon is outdated, colonialist, racist, sexist, and anti-queer. It's easy to say that this is only true because old stuff is colonialist, racist, sexist, and anti-queer, but that's a bullshit cop out."

There is no universal SFF canon.
(13) SOUTH ASIAN SFF. "What South Asian sci-fi can tell us about our world" is an unsigned 2019 article attributed to the Asian News Network.
My first encounter with a work of desi science fiction was very much by accident.

During my undergraduate studies at the English department at Karachi University, while idly browsing through a professor's personal collection on her desk, I came across Rokeya Sakhawat Hossain's Sultana's Dream, a English-language short story set in a feminist utopian world written by a Bengali Muslim woman in 20th century colonial India.

Up until then, my study of literature had been mostly white, mostly male authors, an unsurprising fact when we take into account the (Western) literary canon's inherent whiteness and maleness, as well as the institutional history of English departments as tools of the colonial project — teaching works of English literature in the British Empire's overseas colonies was originally part of the overarching goal of "civilising the natives." In the words of 19th century British politician Thomas Macaulay, "a single shelf of a good European library is worth the whole native literature of India and Arabia" (gotta love that British sense of entitlement and arrogance).

… This dismissal of the genres of science fiction and fantasy (SFF) as low-brow, trashy or pulp or, at the very least, unimportant, is not just a desi stance, although it might be a bit more pronounced here. The snobbish attitude towards SFF has historically been prevalent in academic and literary circles (although things seem to be changing in the West now), even as popular culture is filled with beloved works of science fiction and fantasy films and television shows.

But the dismissal of the SFF genre, or the broader umbrella of speculative fiction, has excluded from the South Asian literary discourse a rich tradition of desi works of science fiction and fantasy, as well as the fascinating speculative fiction words being written by contemporary South Asian writers today. This makes conversations about South Asian literature woefully homogenous and, frankly, much more uninteresting than they might otherwise be.
(14) LUCRATIVE FAILURES. Sarah A. Hoyt, who often has bad things to say about traditional publishing, added some more today in "Docking Author's Tails" at Mad Genius Club.
…But why would publishers want properties that aren't selling that well? Why not just give the IP back, after they set the book up to fail? Why set the book up to fail at all?

Ah.  Because of the long tail.  In the era of ebooks, which you don't need to store in warehouses, and which you can have out in unlimited numbers with no additional cost, the more books you have in your catalogue, no matter how little each of them sells, the more money you make.

Say you have 50k books in your catalogue, some of them so old you're interpreting ebook rights from penumbras and emanations, and each sells two copies a month, and makes you $4 apiece….  You're getting a very healthy income.

Heck, it's better than having a mega bestseller.  Because a mega bestseller might get uppity and sue. But if each of those books is making under $5 a month, chances are you don't even need to send out a statement.

Honestly, ponzi scheme architects go in awe of traditional publishers in the era of ebooks.

And, you know, when I realized that, everything fell into place: why careers keep getting shorter and shorter. Why, even with indie competition, writers are treated worse and worse.  Why some publishers are buying the things they are (well, you know, if you don't mean each book to make a lot of money, you might as well promote your comrades. Besides, they need publishing credits, so they can get teaching jobs.)

Is my insight necessarily true?  I don't know. It fits my experience and that of other midlisters. And — if the older authors I heard are right — it explains why bother setting books up to fail.
(15) THIS SCOTTISH DINOSAUR DID NOT HAVE A KILT. "Dinosaur fossil dating back 166 million years found by academic on remote Scottish island" – Yahoo! News has the story.
A stegosaurian fossil dating back 166 million years was stumbled upon by an academic as she ran along a remote island beach, proving dinosaurs roamed further in Scotland than first thought.

Scientists say the 19-inch fossil found on the Isle of Eigg is "hugely significant" as it is the first unearthed outside the Isle of Skye, a neighbouring island in the Inner Hebrides.

The object is believed to be the limb bone of a stegosaurian dinosaur, such as a stegosaurus, which are known for their plate-backed appearance and herbivore diet…
(16) WON'T WALK AWAY FROM THIS ONE. "Tenet: Behind The Scenes" on YouTube is a promotional feature that lets people know that when a 747 crashes into a building in the film, it's an actual 747.
John David Washington is the new Protagonist in Christopher Nolan's original sci-fi action spectacle "Tenet."

Armed with only one word—Tenet—and fighting for the survival of the entire world, the Protagonist journeys through a twilight world of international espionage on a mission that will unfold in something beyond real time. Not time travel. Inversion.
[Thank to Cat Eldridge, JJ, John Hertz, John King Tarpinian, Martin Morse Wooster, Dan'l Danehy-Oakes, Michael Toman, Mike Kennedy, Lise Andreasen, Walt Boyes, rcade, David Doering, and Andrew Porter for some of these stories. Title credit goes to File 770 contributing editor of the day Daniel Dern.]