(1) FAREWELL. Martin Hoare's funeral was held today. Pete Young shared a photo of the casket (posted here with permission.)
Yes, it was used for Martin. He was inside, then Martin + Tardis were cremated. I could not get any closer but I believe the Tardis was painted on it; I think it was Hazel Langford who told me it was Martin's girlfriend's idea. Needless to say the coffin was bigger on the inside…
(2) SURVIVABILITY OF SHORT SFF. Neil Clarke speaks again about the problems with the current economic model of short fiction in the sff field. Thread starts here.
(3) STRETCHING…THE IMAGINATION. The Irish Times' Karlin Lillington kicks off a multi-installment report about Dublin 2019 in "Net Results: Sci-fi, spandex and the wonders of WorldCon". Yes, there is a paragraph about Spandex, but there is much more…
…I hadn't realised how apparently old-school I was until I discovered that one panel at WorldCon was entitled Continuing Relevance of older SF, which questioned whether 20th-century writing was still relevant in the 21st (answer: yes). Among the writers it listed as older and of a past era were Isaac Asimov, Octavia Butler and Margaret Atwood – yikes, really?

The discussion was lively and intense and intelligent – and this was the real joy, for me, of this entire colossal event, alongside the surprising (and vast) range of the hundreds upon hundreds of sessions over five days.

My assumptions were immediately and happily demolished. I'd looked forward to learning about some new writers and had thought there might also be some intriguing overlap with technology. But the science element was just as high-profile as the fiction….
(4) LOTS MORE WORLDCON REPORTS.
(5) RESNICK. The GoFundMe to "Help Mike Resnick pay off a near-death experience" surpassed its $15,000 goal overnight — and a new goal of $30,000 has been set. Contribute at the link.
Mike and Carol Rensick are at a loss for words about how successful this GoFundMe campaign has become. (Which says a lot, since as a storyteller Mike is well known for his words.) They cannot thank everyone enough–there are not the words to say how much all of you have changed a very bad year for the better.

Many people have asked them why, with so many weeks in ICU and bills much surpassing any modest number, we had only set the fundraiser goal to $15;000. But in Mike's mind, $100 is a lot to ask for, let alone $15,000. He had not realised how beloved in the field he is, and how much we all love the opportunity to "pay it back" for all he has given to the science fiction and fantasy community.

Mike is composing and thank you message as we speak–once he can pick up his jaw up from the ground and find the words–but in the meantime we have been encouraged to increase the GoFundMe goal, and so we have! We have doubled the number to $30,000.
(6) LIBRARIES AND DIGITAL BOOKS. Tom Mercer, Senior Vice President of cloudLibrary, has written an email about the many changes impacting libraries and their ability to offer high-quality digital lending services to library users. He discusses why these shifts are happening, how libraries can respond, and what bibliotheca is doing to support libraries — "bibliotheca leadership responds to publisher model changes".
…Now, fast-forward to the digital library lending market today, where we're seeing a shift from several of the major publishing companies. Blackstone Audio is embargoing audiobook titles for 90 days, Hachette has changed from perpetual access to two-year expirations (also implemented by Penguin Random House last October), and Macmillan will limit the quantity of frontlist titles effective November 1. It's unlikely that all of these publishers would be changing their terms without external pressures. So, where is the pressure coming from? ?There is evidence to suggest that in recent years, authors and agents have come to feel that the library market is eroding their revenue. I think it's telling that Macmillan CEO John Sargent addressed his letter about the library model change to "Macmillan Authors, Macmillan Illustrators and Agents."

This begs the next question: if authors and agents are voicing concerns about library lending, where are they getting their data from? I doubt it's publishers, since a report on library lending is not part of an author's royalty statement. There is only one company that has access to readers' digital retail purchases as well as users' digital library borrowing habits, and that is Amazon.

In 2009, Amazon created a publishing division, Amazon Publishing, which doesn't sell any of its eBooks or audiobooks to libraries. They have teams of people talking with authors and agents trying to secure rights and make them as exclusive as possible to the Amazon ecosystem. It's highly probable that they use the data provided by library users to argue that library lending is undercutting retail sales. This is a major concern that we need to understand and to face together as an industry.
(7) MARVEL 1000 ISSUE HAS AN ISSUE. "Marvel Revises Comic in Which Captain America Called U.S. 'Deeply Flawed'" – the New York Times has the story.
…Captain America reflects on the symbolism of his costume in a newly published essay by Mark Waid, which was changed from an earlier version in which he called his country "deeply flawed."Marvel Entertainment

Marvel Comics No. 1000, a special issue in honor of 80 years of storytelling, was supposed to be a cause for celebration. But revisions to one page of the comic, which came out Wednesday, are casting a pall over the festivities.

The page, written by Mark Waid and drawn by John Cassady, is narrated by Captain America. In earlier versions of the page that comic-book retailers received in July, the star-spangled hero opened with: "I'm asked how it is possible to love a country that's deeply flawed. It's hard sometimes. The system isn't just. We've treated some of our own abominably."

He went on to say that fixing America's system is "hard and bloody work" but that it could be done when enough people take to the streets, call for revolution and say, "Injustice will not stand."

Captain America concludes: "That's what you can love about America."

The version that arrived in stores and online, however, has new text, also written by Waid, in which Captain America ruminates on his own image, not the United States: "Captain America isn't a man. It's an idea. It's a commitment to fight every day for justice, for acceptance and equality, for the rights of everyone in this nation." The hero says that those qualities — "not hatred, not bigotry, not exclusion" — are the values of true patriotism.

Marvel and Waid declined to say why the page was changed. But in an email message, Waid expressed frustration at how his original text was being presented. "I'm disappointed that the cherry-picked quotes circulated by the media severely mischaracterize what was actually written," he wrote. While the essay was critical, he added, "As written, Cap is supportive of America as a whole."
(8) A WORD FROM OUR WILDLIFE. The Red Panda Fraction asks that I remind everyone there is only a little more than 24 hours remaining to vote in the Dragon Awards. Request a ballot at the link.
(9) TODAY'S BIRTHDAYS.
[Compiled by Cat Eldridge.]
Born August 29, 1854 — Joseph Jacobs. Australian folklorist, translator, literary critic and historian who became a notable collector and publisher of English folklore. Many of our genre writers have use of his material. "Jack the Giant Killer" becomes Charles de Lint's Jack Of Kinrowan series!  Jack the Giant Killer and Drink Down the Moon to give an example. (Lecture mode off.) Excellent books by the way. (Died 1916.)
Born August 29, 1904 — Leslyn M. Heinlein. She was born Leslyn MacDonald. She was married to Robert A. Heinlein between 1932 and 1947. Her only genre writing on ISFDB is "Rocket's Red Glare" which was published in The Nonfiction of Robert Heinlein: Volume I.  There's an interesting article on her and Heinlein here. (Died 1981.)
Born August 29, 1939 — Joel Schumacher, 80. Director of The Lost Boys and Flatliners, not mention Batman Forever and Batman and Robin. Ok, so those might not be the highlights of his career… However his Blood Creek vampirefilm starring Michael Fassbender is said to be very good. Oh, and his The Incredible Shrinking Woman is a very funny riff the original The Incredible Shrinking Man. 
Born August 29, 1942 — Dian Crayne. A member of LASFS, when she and Bruce Pelz divorced the party they threw inspired Larry Niven's "What Can You Say about Chocolate-Covered Manhole Covers?" She published mystery novels under the name J.D. Crayne. A full rememberence post is here. (Died 2017.)
Born August 29, 1942 — Gottfried John. He's likely best known as General Arkady Orumov on GoldenEye but I actually best remember him as Colonel Erich Weiss on the short-lived Space Rangers. He was Josef Heim in the "The Hand of Saint Sebastian" episode of the Millennium series, and played König Gustav in the German version of Rumpelstilzchen as written as collected by the Brothers Grimm. (Died 2014.)
Born August 29, 1945 — Robert Weinberg. Author, editor, publisher, and collector of science fiction. At Chicon 7, he received a Special Committee Award for his service to science fiction, fantasy, and horror. During the Seventies, he was the genius behind Pulp which featured interviews with pulp writers such as Walter B. Gibson and Frederick C. Davis. (Died 2016.)
Born August 29, 1951 — Janeen Webb, 68. Dreaming Down-Under which she co-edited with Jack Dann is an amazing anthology of Australian genre fiction, winner of a World Fantasy Award. If you've not read it, go do so. The Silken Road to Samarkand by her isa wonderful novel that I do also wholeheartedly recommend. Death at the Blue Elephant, the first collection of her short stories, is available at iBooks and Kindle. 
Born August 29, 1953 — Nancy Holder,  66. She's an impressive four-time winner of the Bram Stoker Award. I'm not a horror fan so I can't judge her horror novels for you, but I've read a number of her Buffyverse novels and I must say that she's captured the feel of the series quite well. If you are to read but one, make it Halloween Rain. 
(10) COMICS SECTION.
Today's pop culture figure, tomorrow's museum exhibit — Bizarro.
Grimmy makes a monstrous theological pun.
(11) NG IN NYT. The New York Times found the name change newsworthy: "John W. Campbell Award Is Renamed After Winner Criticizes Him".
…[Jeannette] Ng, who wrote the fantasy novel "Under the Pendulum Sun," said in an interview on Wednesday that she was delighted by the decision. "It's a good move away from honoring a completely obnoxious man who kept a lot of people out of the genre, who kept a lot of people from writing, who shaped the genre to his own image." Thanks to the change, she added, "we're now celebrating a little more neutrally a piece of history that's not attached to his name."
(12) ABOUT THOSE EDITORIALS. A tweet highlights one problematic view – the Wikipedia article covers this one and many more.
(13) FRESHER TOMATOES. Or is that a contradiction? "Rotten Tomatoes Adds 600 Critics After Initiative to Increase Inclusion": Variety has the story.
A year after Rotten Tomatoes announced plans to boost diversity among its approved critics, the review aggregation site revealed it has added 600 new film commentators.

In an effort to increase representation and inclusion across the industry, the company also renewed $100,000 in grants for 2020 to assist critics from underrepresented groups to attend film festivals and industry events. In 2018 and 2019, Rotten Tomatoes has helped over 160 journalists attend film festivals by donating grant money to festivals like Toronto, Sundance and SXSW.

Last August, Rotten Tomatoes refurbished its criteria to look at an individual's qualifications, rather than just their employer when it comes to verifying critics. The initiative also expanded its pool to newer media platforms like digital videos or podcasts. Of the new critics added this year, 55% are women, 60% are freelancers and 10% publish reviews on more modern platforms like YouTube.
(14) JEDI DRINK TRICK. TSA will treat this as a "no fly" souvenir: "Disney Coke Bottles From Star Wars: Galaxy's Edge Banned by TSA".
The containers look too much like hand grenades, it seems.

Visitors to Star Wars: Galaxy's Edge at Disneyland and Walt Disney World Resort will not be able to take one unique item sold in the land on an airplane.

It was recently discovered that the TSA told one fan that the "thermal detonator" Coke and Sprite bottles would not be allowed in any luggage.
(15) OH NOES! A File 770 field reporter has discovered White Pumpkin M&Ms are back!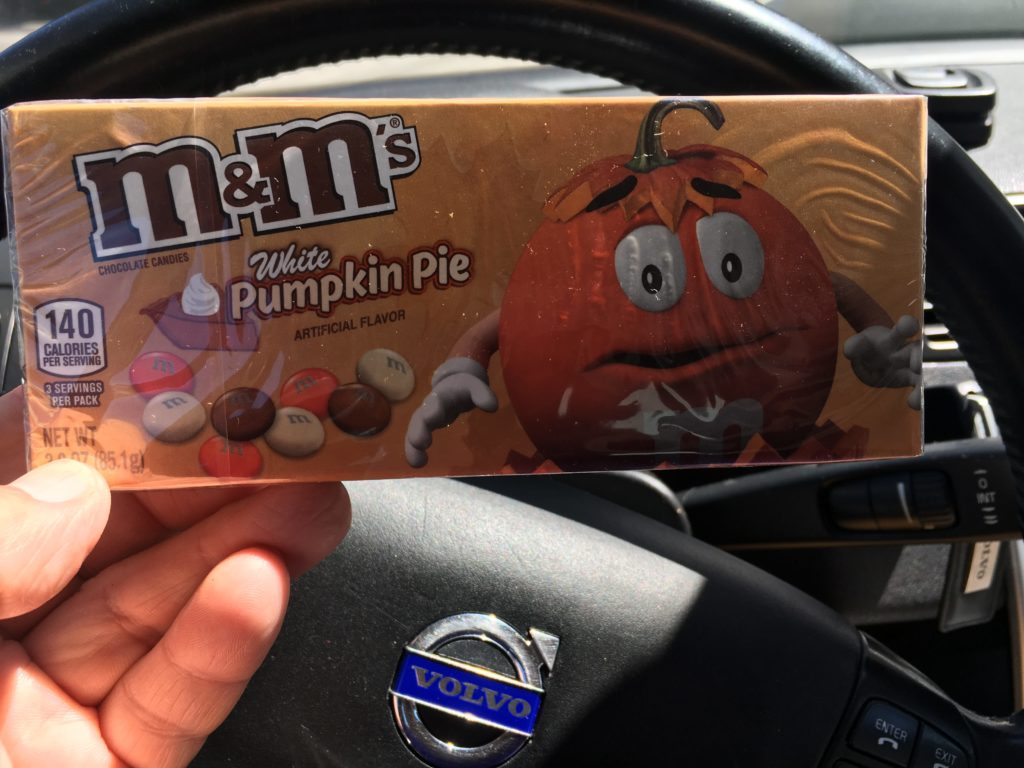 (16) RIGHT TO ASSEMBLE. BBC is there when the "James Webb Space Telescope comes together"
The successor to the Hubble observatory has reached a key milestone in its construction.

All the elements that make up the James Webb Space Telescope (JWST) have been brought together for the first time.

It sets the stage for some critical tests that will hopefully lead to a launch to orbit sometime in 2021.

JWST will use a colossal mirror and state-of-the-art instruments to try to see the glow from the very first stars to shine in the Universe.

It will also have the power to resolve the atmospheres of many of the new planets now being discovered beyond our Solar System, and to analyse their atmospheres for the potential for life.
(17) AIRBORNE ON MARS. CNN reports "NASA is sending a helicopter to Mars. It'll be the first aircraft to fly on another planet".
Before humans make it to Mars, NASA will send a helicopter to scope out the terrain.

Engineers attached a helicopter to the Mars 2020 rover ahead of its launch next summer. And if it flies successfully, it'll be the first aircraft to fly on another planet, NASA said.

The solar-powered Mars Helicopter will be safely stowed underneath the rover until it lands at the Jezero Crater, where scientists believe water once flowed. The craft will detach from the rover and explore Mars from the air while the rover collects samples on the ground, NASA said.

If the helicopter flies, it can provide a unique vantage point for scientists to observe Mars.

If all goes well, the autonomous aircraft will snapshot aerial views of Martian cliffs, caves and craters that the land-bound rover can't explore. And even if it doesn't take flight, the rover can still gather important data from the surface.
(18) TECH SOLUTION. Viable strategy? BBC tells how it works: "Anti-groping stamp lets victims mark assailants".
An anti-groping device aimed at tackling sexual harassment on public transport has been launched in Japan.

It allows victims to mark their assailants with an invisible ink stamp in the shape of a hand.

People can then use the device's black light to identify those who have been marked.

The firm involved says it wants to help tackle the crime. But one sex abuse charity is concerned that the tech could place an added burden on victims.

Japanese firm Shachihata says it developed the stamp to help deter groping on trains in the country.

The company first announced it was developing the stamp in May after a video showing a pair of Japanese schoolgirls chasing down a suspected groper on a station platform went viral.
(19) A VISIT TO HMS TERROR. A short video on BBC about the ill-fated Franklin expedition (1845) to chart the NW Passage. The ship, HMS Terror was found in Terror Bay, near King William Island. Video: "Franklin Expedition: New footage of wreck of HMS Terror". (Wikipedia entry: HMS Terror (1813).)
(20) VIDEO OF THE DAY. In "I Wrote A Song Using Only Hate Comments" on YouTube, Madilyn Bailey provides a song where all the lyrics come from comments made by trolls.
[Thanks to Standback, John King Tarpinain, JJ, Lis Carey, James Bacon, mlex, Mike Kennedy, Martin Morse Wooster, Chip Hitchcock, Cat Eldridge, StephenfromOttawa, Hampus Eckerman, and Andrew Porter for some of these stories. Title credit goes to File 770 contributing editor of the day Trey.]