(1) NEW CLIMATE IMAGINATION FELLOWSHIPS. ASU's Center for Science and the Imagination has announced a new Climate Imagination Fellowship, which brings together an international team of science fiction authors to craft positive visions of climate futures, grounded in real science and local realities. The inaugural fellows are Libia Brenda, Xia Jia, Hannah Onoguwe, and Vandana Singh. Learn more at climateimagination.org, or check out the full announcement, "Climate Imagination Fellows inspire visions of resilient climate futures".
The Climate Imagination Fellowship, hosted by the Center for Science and the Imagination at Arizona State University, seeks to inspire a wave of narratives about what positive climate futures might look like for communities around the world.
The first four climate fellows are talented sff authors from all around the world "will generate hopeful stories about how collective action, aided by scientific insights, culturally responsive technologies, and revolutions in governance and labor, can help us make progress toward inclusive, sustainable futures."
Each fellow will write an original piece of short climate fiction, building on local opportunities, challenges, resources and complexities, and drawing on conversations with experts in a variety of fields, ranging from climate science to sociology to energy systems to biodiversity. They will also write a set of shorter "flash-fiction" pieces. These pieces of short fiction will be collected, along with essays, interviews, art and interactive activities, in a Climate Action Almanac, to be published in 2022.
(2) YOUNG PEOPLE READ OLD SFF. James Davis Nicoll is having the young people read old Hugo finalists. And now it is Niven's turn in the barrel. "Neutron Star".
"Neutron Star" or at least the collection of which it is the title story enjoys the distinction of being the piece most likely to entice new readers to read more Niven. To quote:

"It seemed to (Spike McPhee) that he should suggest to readers that they try a different Niven book first, as an introduction to Known Space. He tried out his theory: Of a sample set of about 60 or so readers, he got them to first try the Neutron Star collection before attempting Ringworld. Doing so improved the sample set's desire to continue on to other Known Space books?—?from one-third to approximately two-thirds."

It certainly worked for me: having encountered the collection, I hoovered up every other Niven work I could find in the mid-1970s. However, if there is one thing this series has taught me in the last five years, it is that material that appealed to people half a century ago does not appeal to young people today. Will this be the exception?
Oh, you sweet summer child….
(3) WORLDCON MASQUERADE SIGNUPS. DisCon III is taking registrations for both the Virtual and In-Person Worldcon Masquerades. Click on the link for full details: Masquerade.
Virtual Dates
Online registration for the Virtual Masquerade is OPEN now. Register here.
Online registration for the Virtual Masquerade CLOSES: 11:59 PM EDT on Wednesday, September 1, 2021
Videos must be SUBMITTED BY: September 1, 2021 via the addresses on the registration forms.
In Person Dates
Online registration for the in person Masquerade OPENS: July 1, 2021. Register here.
Online registration for the Masquerade CLOSES: 11:59 PM EDT on Wednesday, December 15 , 2021
In-person registration OPENS: 3 PM on Wednesday, December 15, 2021
In-person registration CLOSES: Noon on Friday, December 17, 2021
(4) SPACE: THE VINYL FRONTIER. Arun Shastri looks at the reason why some products look familiar: "Read Before Assembly: The Influence Of Sci-Fi On Technology And Design" at Forbes.
In 1966 a television series called "Star Trek" introduced the communicator, a device Captain Kirk flips open to talk to his crew remotely.

Decades later, in the mid-1990s, Motorola released its StarTAC model phone—credited as the first flip phone and clearly inspired by the communicator device from the science fiction series.

… Sci-fi writers have been instrumental in imagining our present and our future—so much so that large tech firms have sponsored lecture series where fiction writers give talks to employees and commissioned "design fiction" projects to develop more sophisticated products and experiences.

For instance, Arizona State University has founded the Center for Science and the Imagination, whose goal is to ignite collective imagination for a better future. The Center created Project Hieroglyph, a web-based project that provides "a space for writers, scientists, artists and engineers to collaborate on creative, ambitious visions of our near future"—and presumably also to steer us away from dystopian futures worsened by irresponsible technology use.
(5) CLOTHES CIRCUIT TELEVISION. [Item by Kevin Standlee.] Lisa Hayes found the VHS video tape buried in one of my boxes that had the ConAdian 1994 Worldcon Masquerade video on it, digitized it, and I've uploaded it to the Worldcon Events YouTube channel.
Unfortunately, the last part of the credits didn't make it onto the 2 hour VHS tape. Also, due to YouTube copyright reasons, there is at least one entry that has its sound muted.
(6) SPECIAL BOOKS WILL COMMEMORATE MUSEUM OPENING. The Academy Museum of Motion Pictures will publish three debut catalogs on the work of legendary moviemakers Hayao Miyazaki , Spike Lee, and Pedro Almodóvar, whose careers will be celebrated when the museum opens its inaugural exhibitions to the public on September 30, 2021.
Bill Kramer, Director and President of the Academy Museum, said, "These first Academy Museum publications are a lasting record of our extraordinary inaugural exhibitions and our dynamic collaborations with Hayao Miyazaki and Studio Ghibli and filmmakers Spike Lee and Pedro Almodóvar. Like the exhibitions, these catalogs will bring readers closer to the filmography, art, influences, and careers of these remarkable artists."

…The richly illustrated catalogue Hayao Miyazaki is published in partnership with Studio Ghibli. It will be available through the Academy Museum Store on September 7, 2021. Marking the museum's eponymous inaugural temporary exhibition, the publication features hundreds of original production materials, including artworks never seen outside of Studio Ghibli's archives in Japan. The 288-page hardcover book illuminates Miyazaki's creative process and animation techniques through imageboards, character designs, storyboards, layouts, backgrounds, and production cels from his early career through all 11 of his feature films, including My Neighbor Totoro (1988), Kiki's Delivery Service (1989), Princess Mononoke (1997), Spirited Away (2001), and Howl's Moving Castle (2004). The bookfeatures a foreword by producer and Studio Ghibli cofounder Toshio Suzuki along with texts by Pixar Chief Creative Officer Pete Docter, Cologne-based journalist and film critic Daniel Kothenschulte, and Academy Museum Exhibitions Curator Jessica Niebel. Hayao Miyazaki is designed by Jessica Fleischmann/Still Room and copublished with DelMonico Books.
(7) MEMORY LANE.
1973 – Forty-eight years ago at Torcon II, Slaughterhouse-Five won the Hugo for Best Dramatic Presentation. Other finalists that year were The People, Silent Running and Between Time and Timbuktu (also based on a number of works by Vonnegut). The novel it was based on, Slaughterhouse-Five or The Children's Crusade: A Duty-Dance with Death, had been nominated for a Hugo three years earlier at Heicon '70. Ursula K. Le Guin's Left Hand of Darkness would win that year. 
(8) TODAY'S BIRTHDAYS.
[Compiled by Cat Eldridge.]
Born August 3, 1904 — Clifford Simak. [By Paul Weimer.] I first encountered Clifford Simak in the story whose last four lines haunts me to this day, the tale of a man, his dog and Jupiter: "Desertion".  From this singular story, I discovered the wealth of his work, the rest of the stories besides Desertion in the City cycle, Way Station, The Goblin Reservation, and a host of short stories. Many things strike me about his work, in reading and re-reading his work: his abiding love of dogs, his aliens, funny, amusing, well drawn and yet sometimes inhumanly incomprehensible. (Not Explaining Everything is a feature, not bug, of Simak's fiction) And time travel. Not in the traditional sense of a Time Patrol, but much of Simak's fiction sends his protagonists forward and backward in time, or they've found they already HAVE done so, and it did not go well. Pastoral is the other note that Simak's work evokes for me, the rural midwest setting of many of his stories and novels, his backcountry characters vividly and sometimes a bit tetchily deal with the issues they are faced with.  But there is a fundamental sense of themes of independence and autonomy and being true to oneself that inhabits his fiction, including those last four lines:   
"I can't go back," said Towser.
"Nor I," said Fowler.
"They would turn me back into a dog," said Towser.
"And me," said Fowler, "back into a man."
(Simak died in 1988.)
Born August 3, 1920 — P. D. James. Author of The Children of Men which she wrote to answer the question "If there were no future, how would we behave?". Made into a film which she said she really liked despite it being substantially different than her novel. I like authors who can do that. ISFDB lists her as having done a short story called "Murder, 1986" which they say is genre but I've not read it. (Died 2014.)
Born August 3, 1940 — Martin Sheen, 81. So that was who that was! On Babylon 5: The River of Souls, there's a Soul Hunter but the film originally didn't credit an actor who turns out to be Sheen. Amazing performance. He's been in a number of other genre roles but that's the ones I like most. Though I will single him out for voicing Arthur Square in Flatland: The Movie.
Born August 3, 1950 — John Landis, 71. He'd make this if all he'd done was An American Werewolf in London, but he was also Director / Producer / Writer of the Twilight Zone movie. And wrote Clue which is the best Tim Curry role ever. And Executive Produced one of the best SF comedies ever, Amazon Women on the Moon. Neat fact: he was the puppeteer for Grover in The Muppet Movie, and he later played Leonard Winsop in The Muppets Take Manhattan. 
Born August 3, 1954 — Victor Milán. New Mexico author who specialized in media tie-in fiction. He had work in Battletech, Forgotten Realms, Outlanders Universe, Star Trek and Dinosaur Lords franchises to name but a few. His universe was The Guardians series. And a lot of stories in the Wild Card Universe. Craig W. Chrissinger has a remembrance here. (Died 2018.)
Born August 3, 1972 — Brigid Brannagh, 49. Also credited as Brigid Brannagh, Brigid Brannah, Brigid Brannaugh, Brigid Walsh, and Brigid Conley Walsh. Need an Irish red headed colleen in a genre role? Well she apparently would do. She shows up in Kindred: The Embrace, American Gothic, Sliders, Enterprise (as a bartender in one episode), Roar, Touched by an Angel, Charmed, Early Edition, Angel (as Virginia Bryce in a recurring role), Grimm, Supernatural and she had a run in Runaways in the main role of Stacey Yorkes.
Born August 3, 1980 — Hannah Simone, 41. She was Mera, the lead, in the film remake of The Greatest American Hero. She was also Leena Param  in The H+ series in which humanity is nearly wiped and addicted to the internet, and host for several seasons of the WCG Ultimate Gamer series.
(9) COMICS SECTION.
Bizarro — You wouldn't think Dr. Frankenstein could make this mistake.
(10) HORSEBLEEP. Although the topic has been in the Scroll before, this June 2020 article may still be fresh for a lot of us — The Atlantic looks at how "'My Little Pony' Fans Confront Their Nazi Problem".
… For years, this has been the status quo in the world of My Little Pony. In supposed deference to principles of free speech and openness on the internet, the presence of self-described Nazis within a fandom that idolizes compassion-oriented cartoon characters has become a coolly accepted fact. The community has sorted itself largely into two camps: those who think anything goes as long as someone finds it funny, and those who would rather ignore toxic elements than admit that not everything is perfect.

Until now. Following a new wave of Black Lives Matter protests across the United States, the fandom is in an all-out civil war, forced to either confront or deny what it's let go on for so long. The abrupt reckoning has raised an existential question for internet spaces large and small: If you've gone online to live in a fantasy space, can you avoid taking responsibility when the real world finds its way in?…

… Now the real world and Equestria are colliding. Over the past few weeks, some My Little Pony fans have mocked the protests with racist fan art, most of which was posted to Derpibooru,  then massively upvoted by /mlp/ users. One much-discussed image was a pony version of a white-nationalist meme that circulated after the launch of a SpaceX rocket to the International Space Station: a photo of the two white astronauts side by side with a photo of black protesters "rioting." The artist replaced the black people in the image with cartoon zebras—which are awkwardly coded as African in the real My Little Pony universe, but often referred to on 4chan with a portmanteau of zebra and the N-word. "Beautiful," one user responded to the image. "Perfect for subtle messaging."

At the same time, My Little Pony art that was supportive of the Black Lives Matter protests was being hit with hundreds of downvotes—an apparently coordinated action that is against the site's rules….
(11) FAMILIARS. The Guardian interviews the artist about the project in "Rankin designs covers for Philip Pullman's His Dark Materials trilogy". More covers at the link.
Portraying Marisa Coulter, who has "tortured and killed without regret", Rankin juxtaposed her with her golden monkey dæmon so that their eyes appear almost superimposed.

He said: "I wanted to create this amalgamation of the dæmon and the person. It's really trying to embody the darkness of the series."

The photographer said book covers should be more dramatic: "With classics, there's a lot of playing safe … because one aesthetic or another might not be liked … What's great about His Dark Materials is that the publisher and Philip went for the stronger, darker, more mysterious images."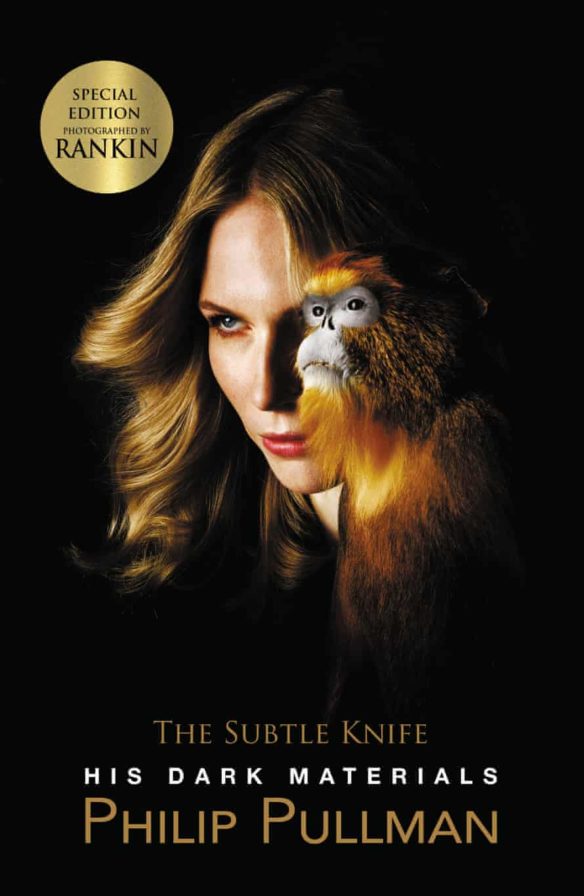 (12) DEATH WARMED OVER. Ars Technica's Jennifer Oullette says "Post Mortem is the Norwegian vampire procedural dramedy we need right now".
… The trailer opens with Live waking up in a hospital. Odd tells her that everyone thought she was dead after her body was found in a field. The responding officers processed the scene and transported her body to the morgue—at which point she woke up on the autopsy table. Officers Judith and Reinert are beside themselves about the mix-up, although Judith adds, "In our defense, you seemed really dead."

Live soon realizes she isn't quite herself. There's the sudden onset of insomnia, and her senses are strangely heightened—so much so that she can hear a person's pulse. Also, her eyes have changed color to a rich emerald, and she finds that she is significantly stronger. Then there's her growing thirst for blood, culminating in a shot of Live waking up with her mouth covered in it—hopefully from the local blood bank, but Officer Judith has her suspicions that something stranger is going on. Odd, for his part, is happy to admit that he wishes there were a serial killer on the loose, as at least that would drum up some much-needed business for his funeral home….
(13) VIDEO OF THE DAY. [Item by Martin Morse Wooster.] In "Jungle Cruise Pitch Meeting" on Screen Rant, Ryan George has, in a spoiler-packed episode, has the producer interrupt the pitch by taking a call from Dwayne Johnson, who says he has to be in every movie with "jungle" in the title and you can't question Dwayne Johnson because he'll raise an eyebrow at you!
[Thanks to Michael Toman, John King Tarpinian, Cat Eldridge, Joey Eschrich, Paul Weimer, Jennifer Hawthorne, Kevin Standlee, Mike Kennedy, Andrew Porter, Martin Morse Wooster, and JJ for some of these stories. Title credit belongs to contributing editor of the day Iphinome.]