(1) AMERICA HELD HOSTAGE, DAY FOUR. Crusading investigative fanwriter Camestros Felapton has been trying to find out why the Dragon Awards ballot wasn't released August 1, the date posted on the site, and when it will come out. Here's what he's been told:
The latest report is this. I got an email saying that the finalists will be announced this upcoming Tuesday (presumably US time). Don't all get too excited at once.
(2) COME BACK, JEAN-LUC. "Patrick Stewart to star in new Star Trek TV series" – Entertainment Weekly has the story.
Stewart will reprise his iconic character, Jean-Luc Picard, for a CBS All Access series that "will tell the story of the next chapter of Picard's life."

Stewart himself just announced the news in a surprise appearance at the Las Vegas Star Trek Convention.

"I will always be very proud to have been a part of Star Trek: The Next Generation, but when we wrapped that final movie in the spring of 2002, I truly felt my time with Star Trek had run its natural course," Stewart said. "It is, therefore, an unexpected but delightful surprise to find myself excited and invigorated to be returning to Jean-Luc Picard and to explore new dimensions within him. Seeking out new life for him, when I thought that life was over."
It is an unexpected but delightful surprise to find myself excited and invigorated to be returning to Jean-Luc Picard and to explore new dimensions within him. Read my full statement in the photo. #StarTrek @cbsallaccess Photo: @shervinfoto pic.twitter.com/8Ynuj3RBNm

— Patrick Stewart (@SirPatStew) August 4, 2018
And Michael Chabon will be one of the executive producers reports Variety.
The untitled series hails from Alex Kurtzman, James Duff, Akiva Goldsman, Michael Chabon, and Kirsten Beyer. Kurtzman, Duff, Goldsman, and Chabon will also serve as executive producers on the series along with Stewart, Trevor Roth, Heather Kadin, and Rod Roddenberry. CBS Television Studios will produce. The new series does not currently have a premiere date
(3) BOREANAZ ON BUFFY. Ethan Alter, in the Yahoo Entertainment story "David Boreanaz has no plans to be in controversial 'Buffy' reboot: 'I just let it be and lend my support from afar'" says that Boreanaz is too busy with SEAL Team to worry about the forthcoming Buffy reboot (which is controversial because showrunner Monica Owusu-Breen might find a new actor to play Buffy) but he doesn't have any objections to it.
 "I think it's great," says David Boreanaz, who played the ensouled vampire Angel on Buffy for three seasons before graduating to his own self-titled spin-off. "I'm sure they'll find the right storylines and the right people to fill shoes of whatever characters they want to portray. It was great to be a part of it when it first started, and now to see it being revived is just another testimony to the hard work that we did. I congratulate that, and applaud that."
(4) KRESS REQUEST. Nancy Kress announced on Facebook:
A few people have asked if I will autograph their books at Worldcn San Jose. However, I was disappointed that Programming Reboot has given me no panels, no autographing session, and no kaffeklatch. I do have one reading, at 4:30 on Sunday, which I cannot linger afterwards because of a Hugo dinner. So if anyone wants anything autographed, I will hang around the Hyatt lobby at 10:00 a.m. on Saturday.
(5) REACHING OUT TO HUGHART. Mike Berro, who runs the Barry Hughart Bibliography website is asking for help:
If anyone knows how to contact Barry Hughart, please let me know. I run a fan page, and would constantly get emails from people wanting to contact him, mostly about doing a movie or theatrical adaptation of Bridge of Birds. I would forward them to him, and he would always politely reply (with "no thanks"). I haven't had a reply now for over a year, and just got an email from someone who reported that even his publishers cannot contact him. I fear something unfortunate has happened.
Berro says neither SFWA nor Subterranean Press have been able to offer any help.
Mike Berro's contact email address is — [email protected]
(6) PRO ADVICE. Not certain who Mary Robinette Kowal had in mind, although JDA was sure it was about him. (Of course, he thinks everything is.)
PSA: Don't attack the programming staff as a strategy to get seated on a panel.

Not because their feelings might be hurt, but because it raises questions about your response to being challenged on a panel.

Or rather… it answers those questions.

— Mary Robinette Kowal (@MaryRobinette) August 4, 2018
(7) CLOUDS OF WITNESSES. Crisis Magazine recalls "When C.S. Lewis Befriended a Living Catholic Saint".
When Luigi Calabria, a shoemaker married to a housemaid, died in Verona, Italy in 1882, the youngest of his seven sons, Giovanni, nine years old, had to quit school and take a job as an apprentice. A local parish priest, Don Pietro Scapini, privately tutored him for the minor seminary, from which he took a leave to serve two years in the army. During that time, he established a remarkable reputation for edifying his fellow soldiers and converting some of them. Even before ordination, he established a charitable institution for the care of poor sick people and, as a parish priest, in 1907 he founded the Poor Servants of Divine Providence. The society grew, receiving diocesan approval in 1932. The women's branch he started in 1910 would become a refuge for Jewish women during the Second World War. To his own surprise, since he was a rather private person, his order spread from Italy to Brazil, Argentina, Uruguay, India, Kenya, Romania, and the Philippines.

With remarkable economy of time, he was a keen reader, and in 1947 he came across a book translated as Le lettere di Berlicche by a professor at the University of Milan, Alberto Castelli, who later became a titular archbishop as Vice President of the Pontifical Council of the Laity. Berlicche was Screwtape and "Malacode" served for Wormwood. The original, of course, had been published in 1943 as The Screwtape Letters and Calabria was so taken with it that he sent a letter of appreciation to the author in England. Lacking English, he wrote it in the Latin with which he had become proficient since his juvenile tutorials with Don Pietro.

… Lewis's correspondence with Calabria went on for about seven years, and after the holy priest died, Lewis wrote at least seven letters to another member of Calabria's religious community, Don Luigi Castelli, who died in 1986 at the age of 96. Learning of Calabria's death, Lewis referred to him in a message to Castelli with what I suspect was a deliberate invocation of the phrase about "the dearly departed" that Horace used to console Virgil on the death of Quintilius Varo: tam carum caput. It appears as well in Sir Walter Scott's Waverley Novels. It was an unfortunate habit of Lewis to throw out letters he received when he thought he might otherwise betray confidences. So what we have are only what he sent. The letters are a radiant model of philia friendship that he described in his 1958 radio talks:
(8) WHO'S THE HERO? John Dilillo claims "Amazon's Proposed 'Lord of the Rings' Series Misses the Point of Middle-Earth" at Film School Rejects.
…Every conventionally heroic duty performed by Aragorn in The Lord of the Rings is performed in service of a greater act of heroism by Hobbits, characters who choose their own destiny instead of following the path their bloodline lays out for them. Without Hobbits, Middle-earth is just another cliched fantasy tapestry, painting with the same old tired strokes. What makes Aragorn special is not his heritage or his backstory; it is that he recognizes that he is not the hero of this story. Aragorn is the king who bows to the Hobbits. Stripped of that identity, he is indistinguishable from any other gruff sword-wielding badass.

On top of all this, we've already seen the type of story that results from a Tolkien adaptation that loses sight of true heroism in favor of grand tales of redeemed sons and doomed kings. The great failing of the Hobbit trilogy is that it abandons its titular character all too often in favor of the gloomy angst of Richard Armitage's Thorin Oakenshield. Armitage does a fine job projecting gloomy wounded pride, and whoever assumes the lead role in Amazon's series will doubtless give just as effective a performance. But all of that is ultimately wasted when the real appeal of a Middle-earth story comes from the Shire, not the Lonely Mountain. A Hobbit story that isn't about Bilbo Baggins is a failure, and it's a failure that should be learned from….
(9) TODAY'S BIRTHDAYS
Born August 4 — Richard Belzer, 74. The Third Rock fromThe Sun series as himself, also the Species II film and an awful adaption of Heinlein's The Puppet Masters, along with series work too in The X-Files, The Invaders, Human Target, and acrecurring role in the original Flash series to name a few of his genre roles.
Born August 4 — Daniel Dae Kim, 50. First genre role was in the NightMan series, other roles include the Brave New World tv film, the second Fantasy Island series, recurring roles on Lost, Angel and Crusade, the Babylon 5 spinoff series, Star Trek: Voyager, Charmed and voice work on Justice League Unlimited.
Born August 4 — Abigail Spencer, 37. First genre role was in the Campfire horror anthology series, other roles include Ghost Whisperer, Jekyll, a film that's an sf riff off that meme, Cowboys & Aliens, the Oz the Great and Powerful film and Timeless, the sf series recently allowed a proper ending
Born August 4 — Meaghan Markle, 37. Yes, Her Royalness. Appeared in Fringe and the newer Knight Rider. Also the near future legal drama Century City.
(10) INSTAPOLL. Survey says –
Sorry not sorry, but this still REEKS of attention seeking, backhanded bullshit

Something tells me the Le Guin estate will manage to hang on to it's prestige even if all the hard work already done is left alone.

Three cheers for the Lodestar!https://t.co/dMrswzj1Db

— Chelsea (@anoutlawlife) August 4, 2018
(11) KEN LIU TO TV. Andrew Liptak says an animated show is on the way: "AMC is developing a sci-fi show based on Ken Liu's short stories".
Ken Liu is one of science fiction's most celebrated writers working today. In addition to translating Cixin Liu's acclaimed Three Body Problem and Death's End, he's also earned numerous awards, most significantly for his short story, "The Paper Menagerie". Now, it looks as though his works could reach a new audience: AMC is developing series based on his works called Pantheon, according to Deadline.

If it's produced, Pantheon will be an animated show "based on a series of short stories by [Liu] about uploaded intelligence," reports Deadline. Craig Silverstein, who created and produced AMC's American revolution drama Turn, will serve as showrunner, producer, and writer.
(12) SOLO. Lela E. Buis points out the casting problems: "Review of Solo: A Star Wars Story".
…The worst problem with this film, of course, was Alden Ehrenreich trying to step into Harrison Ford's shoes. Ehrenreich did a workmanlike job with the character, but workmanlike just isn't Han Solo. Donald Glover as Calrissian got glowing reviews, but it was really the charismatic Woody Harrelson as Beckett who lights up the film—an understated, low key performance notwithstanding. Also prominent was Lando's co-pilot L3-37, an animated character fighting against the slavery of droids.

This brings up another question. Why isn't Disney investing in flashier talent for these movies?
(13) BAEN CHALLENGE COINS. Baen Books is taking orders for the first pressing of its new Challenge  Coins commemorating iconic names or events in the books of Ringo, Williamson, Kratman and probably whoever else you'd expect to fill out a list that starts with those three names.
Each coin is $15. Buy all 13 author coins, and the "I Read Baen'd Books" coin comes free. Shipping and handling is a flat rate of $15, $45 international, for up to 13 coins. Write to [email protected] for rates on bulk orders.
These coins were designed by Jack Wylder with the active participation of the authors. Here's an example —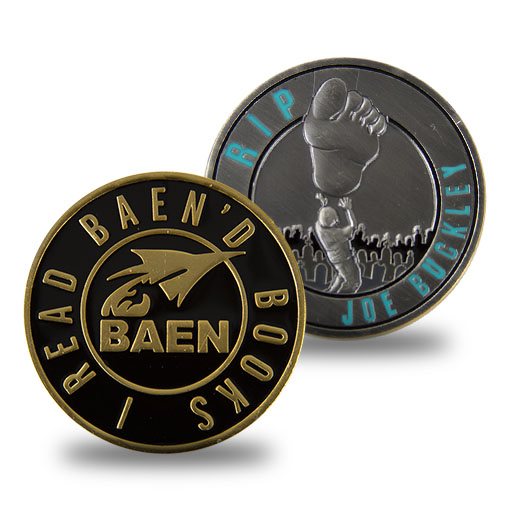 Front: I Read Baen'd Books

Reverse: RIP Joe Buckley

All profits from this coin will go to support two charities founded, supported, and run by Baen readers: Operation Baen Bulk, which provides care packages for deployed service members, and Read Assist, a 501c3 company that serves our disabled readers. http://www.readassist.org/ Each coin is $15. Buy all 13 author coins, and the "I Read Baen'd Books" coin comes free. "I read Baened Books" was first used by Chris French. "Joe Buckley" used courtesy of Joe Buckley. Don't forget to duck
(14) A CENTURY OF STURGEON. Scott Bradfield tries to jumpstart the party — "Celebrating Theodore Sturgeon's centenary – so should we all" in the LA Times. (Unfortunately, the Times initially failed to get David Gerrold's permission to run his photo of Sturgeon with the post…)
I've always been a bit confused by these various centenary and multi-centenary celebrations that punctuate our discussions of literature, such as Thoreau's recent 200th birthday (2017), or the centenary of James Joyce's "Portrait of the Artist as a Young Man" (first published in 1917), or even the fourth centenary of the death of Cervantes (d. 1616), etc. (By the way, celebrating the anniversary of someone's death strikes me as pretty grisly.) But while some writers seem to continually receive such posthumous honors, others suffer unfairly in silence. No cake, no candles, no old friends leaping out of closets, no nothing. And this year, that seems to be the case for one of America's greatest and most original short story writers, Theodore Sturgeon, who was born on Feb. 26, 1918. From what I can tell, nobody has yet to pitch in and even buy him a decent card.

…Take, for example, the opening of his brilliant (and often poorly imitated) 1941 novelette, "Microcosmic God": "Here is a story about a man who had too much power, and a man who took too much, but don't worry; I'm not going political on you. The man who had the power was named James Kidder, and the other was his banker."

Or this, from the aforementioned "The Dreaming Jewels" (1950): "They caught the kid doing something disgusting under the bleachers at the high-school stadium, and he was sent home from the grammar school across the street."

Or even this, from his haunting and beautiful story, "The Man Who Lost the Sea" (1959): "Say you're a kid, and one dark night you're running along the cold sand with this helicopter in your hand, saying very fast witchy-witchy-witchy."

Every opening plops you down bang in the middle of a story that is already happening and in the life of a character it is already happening to. And while many of his stories were collected in "horror" or "suspense" anthologies, they are rarely shocking or violent or grotesque. Instead, they begin by introducing you to a slightly strange world and a slightly strange character who lives there; then, before the story is over, you both feel at home in the world and compassion for the character who now lives there with you.

The greatness of Sturgeon's stories reside in their almost inflexible, relentless unfolding of strangely logical events and relationships; each sentence is as beautiful and convincing as the last; and the science-fictional inventions never rely on tricks or deus ex machinas to reach a satisfying resolution; instead, a Sturgeon story always resolves itself at the level of the all-too-human.
(15) ACCESS. At io9 Ace Ratcliff asks "Staircases in Space: Why Are Places in Science Fiction Not Wheelchair-Accessible?"
I never used to notice stairs. They were simply a way for me to get from one place to another. Occasionally they were tiresome, but they never actually stymied or stopped me entirely. Eventually, I managed to get where I needed to go.

Then I started using a wheelchair. Suddenly, stairs became a barrier that prevented me from getting from here to there. One step was often enough to stop me in my tracks. It turns out that when you start using a wheelchair, you quickly realize that there are a lot of staircases and steps in our world—and a lot of broken (or nonexistent) elevators and ramps….

Once you start realizing how many stairs there are stopping you in real life, it becomes impossible not to notice them existing in the sci-fi you adore. Turns out they're everywhere, in all of our sci-fi. Whether it's decades-old or shiny and brand-new, our sci-fi imitates a real-world reliance on steps and stairs in our architecture.

When we think of sci-fi that's run the test of time, Doctor Who immediately springs to mind. The inside of the TARDIS is littered with steps—from Christopher Eccleston to Peter Capaldi, there's no way a wheelchair using companion would be able to navigate that beautiful blue time machine. Prior to the 2005 reboot, previous embodiments of the spaceship were no less inaccessible. You'd think that a spaceship that is regularly re-decorated could easily manage ramps in at least one iteration, but no set designers seem bothered enough to make it happen. I was pleased to learn that a quick finger snap seems to occasionally unlock the TARDIS doors—a quirky replacement for the buttons that exist in real-life, usually installed near closed doors and pressed by disabled people to assist with automatically opening them—but trying to scootch through the narrow opening of that British police box with an accessibility device looks nigh impossible, even without the need for a key.
(16) KERMODE ON SF FILMS. On August 7, BBC 4 airs an episode of Mark Kermode's Secrets of the Cinema about science fiction.
SF Concatenation's Jonathan Cowie says —
This is an excellent series for film aficionados but the August 7th edition will also appeal to SF fans as this episode will be on science fiction film.

Also the series is co-written by the genre critic Kim Newman whom,  some Worldcon fans will recall, with SF author Paul McAuley,  co-presented the last CalHab (formerly known as Glasgow) Worldcon Hugo Award ceremony (2005). So be assured this episode has a solid grounding.
Mark Kemode's Secrets of the Cinema SF film episode should be available on BBC iPlayer for a few weeks after broadcast.

BBC 4's intro reads —
Mark Kermode continues his fresh and very personal look at the art of cinema by examining the techniques and conventions behind classic film genres, uncovering the ingredients that keep audiences coming back for more.

This time Mark explores the most visionary of all genres – science fiction, and shows how film-makers have risen to the challenge of making the unbelievable believable. Always at the forefront of cinema technology, science fiction films have used cutting-edge visual effects to transport us to other worlds or into the far future. But as Mark shows, it's not just about the effects. Films as diverse as 2001, the Back to the Future trilogy and Blade Runner have used product placement and commercial brand references to make their future worlds seem more credible. The recent hit Arrival proved that the art of film editing can play with our sense of past and future as well as any time machine. Meanwhile, films such as Silent Running and WALL-E have drawn on silent era acting techniques to help robot characters convey emotion. And District 9 reached back to Orson Welles by using news reporting techniques to render an alien visitation credible.

Mark argues that for all their spectacle, science fiction films ultimately derive their power from being about us. They take us to other worlds and eras, and introduce us to alien and artificial beings, in order to help us better understand our own humanity.
(17) GETTING BACK IN BUSINESS. "NASA Announces Crew For First Commercial Space Flights" – NPR has the story.
NASA has announced the names of the astronauts who will be the first people in history to ride to orbit in private space taxis next year, if all goes as planned.

In 2019, SpaceX's Crew Dragon capsule and Boeing's CST-100 Starliner are both scheduled to blast off on test flights with NASA astronauts on board. "For the first time since 2011, we are on the brink of launching American astronauts on American rockets from American soil," NASA Administrator Jim Bridenstine said Friday, standing in front of a giant American flag at Johnson Space Center in Houston.

Since NASA retired its space shuttles, the agency has had to buy seats on the Russian Soyuz spacecraft to get its crews to the International Space Station.
(18) MUNG DYNASTY. FastCompany predicts "Plant-based eggs are coming for your breakfast sandwiches".
When you order a breakfast sandwich or a scramble at New Seasons Market, a local chain in Portland, Seattle, and Northern California, you'll bite into a yellow, fluffy food that tastes just like an egg, but did not, in fact, come from an animal. Instead, what you're eating is a mung bean, a legume that people have been eating for thousands of years that, when ground into a liquid, happens to scramble and gel just like an egg.

Mung beans are the key ingredient in Just Egg, the latest product from Just, Inc.–the company formerly known as Hampton Creek, which manufactures plant-based alternatives to products like mayonnaise, cookie dough, and salad dressing. Just Egg, a liquid that scrambles in a way that's eerily similar to an egg when cooked in a pan, is derived from mung bean protein, and colored with turmeric to mimic the light yellow of an egg. It's slowly rolling out in stores and restaurants across the U.S., and New Seasons Market has gone as far as to entirely replace its regular eggs with the mung bean mixture.
[Thanks to John King Tarpinian, Mike Berro, Cat Eldridge, JJ, Martin Morse Wooster, Mike Kennedy, Carl Slaughter, Andrew Porter, SF Concatenation's Jonathan Cowie, and David Langford for some of these stories. Title credit goes to File 770 contributing editor of the day jayn.]