(1) SHARKE SIGHTING. Nina Allan has been doing an interesting series of posts on both Hugo nominees and Clarke Award nominees; she wrote one on all of the Hugo-nominated novellas, for example. Her most recent is on Kameron Hurley's The Light Brigade. "Weird Wednesdays #9/Clarke Award #3: The Light Brigade by Kameron Hurley".
…What a ride, what a charge. Kameron Hurley was last shortlisted for the Clarke Award back in 2014, for her debut novel God's War. I enjoyed and admired God's War, but had fallen somewhat out of touch with Hurley's work since, so I was pleased to have the opportunity to read her latest within the context of the Clarke. What a delight it is to see a writer fulfilling her potential. What I loved most about God's War and the short fiction from Hurley that I'd read in the interim was its densely textured language, and The Light Brigade is immediately, thrillingly identifiable as by the same hand. Time (and increasing fame) has done nothing to slow or flatten the vividness and immediacy of Hurley's approach, nor compromise its intelligence or conceptual ambition.

… Although The Light Brigade works perfectly well as a standalone novel – you don't need to have read any of Hurley's other work or even any science fiction to get on board – it is important to note the many and clever ways in which it is directly in conversation with older works of SF. …
(2) SUBSCRIBE TO ASTROLABE. Aidan Moher will launch a new newsletter— Astrolabe — on Friday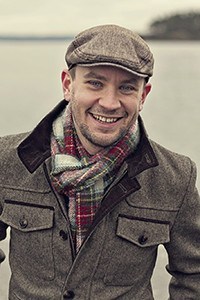 Astrolabe covers all the stuff I love—from science fiction and fantasy, to retro gaming, parenting, and personal news about my work. It's about talking my stuff and professional news, but also building a community of readers, and sharing the love by highlighting and sharing all the other great work and books I come across.
Why wait? Here's the link to subscribe.
Aidan Moher, who won a Best Fanzine Hugo in 2014 for A Dribble of Ink, which really was a beautiful publication, has gone on to author "On the Phone with Goblins" and "The Dinosaur Graveyard," and write for Kotaku, VentureBeat, EGM, Uncanny Magazine, Cast of Wonders, Barnes & Noble Sci-Fi & Fantasy Blog, Tor.com, and various other places.
But Aidan has not forgotten my teasing from back in 2014. He ended his email:
I see your absolute glee that I'm starting a issue-based fanzine, Mike Glyer. I SEE YOU.
(3) NUMBER NINTH, NUMBER NINTH. NPR's Jason Sheehan warns us that "Whatever You're Expecting, 'Harrow The Ninth' Is Not That Kind Of Book".
You know how sometimes people say, Oh, it's okay. You don't have to read the first book in this series to dive right into the second.

This is not that kind of book

You know how sometimes people say, It's like everything you loved about the first book, only MORE.

This is not that kind of book.

Last year, Tamsyn Muir absolutely owned the lesbian-necromancers-in-space genre. She created a crumbly, dusty, deeply haunted and wonderfully goopy horror-universe with Gideon the Ninth, peopled it with creepy, sepulchral wizards, dipped it all in the reverential tones of quasi-Catholic religious fanaticism, wrote it like a science-fantasy parlor romance full of murder and then gave it to us, still warm and dripping, like a cat bringing home a particularly juicy mouse.

…I loved Gideon. Loved everything about it. It was just so much of a book — so strange, so full, so lush, so double-bats*** crazy and so unerringly cool — that I didn't think anything could top it.

And Harrow the Ninth, second in the series, doesn't.

Because it is not that kind of book.

Gideon was the perfect surrogate through which to experience Muir's creation — a brash, foul-mouthed, anarchic guide who was just as wonderstruck as we were by the gory weirdness happening at every other breath, but never so serious about it that any piece of the story felt logy with funereal detail.

Harrow, though? Harrow is all black crepe and rosaries. She's that one goth girl from high school gone full dark supernova with her sacramental face paint and unfathomable necromantic powers. A bone witch (and don't think Muir doesn't have some fun with that), she can construct a skeleton from a chip of tibia and have it tear your arms and legs clean off. She vacillates wildly between breathless (though exceptionally prudish) teenage passion for a corpse (that would take pages to explain), fervent prayer and drear musings on death — her own and everyone else's. At one point, she carefully (and explosively) poisons someone with a soup made from her own bone marrow and it's passed off like, Oh, that's just Harry, exploding one of God's own hit men at the dinner table, the kooky kid!
(4) FAN PIPES UP. Speaking of Tamsyn Muir, she did an Ask Me Anything on Reddit yesterday: "I'm Tamsyn Muir, author of HARROW THE NINTH, second book of the Locked Tomb trilogy. AMA!"
[Question] … I have been telling all my friends that Alecto the Ninth is going to be a heist novel. Can you please confirm this, and if so, also confirm that there will be many heart crimes. Thank you for writing these books, they are fantastic….

AMA Author Tamsyn Muir

I had to go back and look to see if I'd ever mentioned that I wanted a heist in Alecto, because otherwise you are 1. psychic or 2. hiding in my drywall — there IS actually a heist in Alecto. It's not the world's greatest heist, and is undertaken by idiots, but there's a heist. If you're in my house, can you tell me if turning off the boiler at night has helped the pipes? I assume you're between the walls.
(5) OPENING A FRESH DECK. NPR's Glen Weldon reports that "With 'Star Trek: Lower Decks,' A Venerable Franchise Loosens Up".
The prospect of spoofing Star Trek represents nothing new under the (binary) sun(s). The franchise has become an institution, and mocking institutions remains a thriving American cottage industry. Saturday Night Live started taking whacks at Trek way back in the '70s, as did MAD magazine, and the short-lived sitcom Quark. As a piece of cultural furniture, Star Trek's ubiquity, driven by multiple television series, movies, books, games, comics and fan-fiction, means its tropes have entered the collective consciousness, and have thus become easy to recognize — and to make fun of.

Why, one could even construct an entire, very-good movie just by riffing on Trek (1999's Galaxy Quest), as well as an entire, not-very-good television series (FOX's mystifying The Orville).

The difference between all these previous efforts and the one represented by Star Trek: Lower Decks, premiering Thursday August 6th on CBS All Access, is a simple one:

This time, the comm signal is coming from inside the house.

True, the franchise has poked the gentlest of fun at itself, over the years — a throwaway line here, a winking reference to previous Trek series there. But Star Trek: Lower Decks is an official Trek property, its yuks are both nerdily meta and rigorously in-canon, and they go — more broadly than boldly, it must be said — where no Trek has gone before.

The premise is such stuff as comedy sketches are made on: Starships are huge, and staffed by hundreds of officers and crew members, so why does every Trek story need to revolve around the bridge, and the same 7 or so characters? Why not focus instead on the grunts doing the tedious, everyday work?

Creator/showrunner Mike McMahan made his bones on the animated series Drawn Together and Rick and Morty — shows whose darker, more cutting humorous sensibilities would seem to clash with Trek's traditional commitment to ennobling, optimistic uplift. But that disconnect turns out to work for the new series, in most respects. For the nerds, in-jokes and easter eggs abound, testifying to the creators' fondness for the source material, while viewers who don't know a nacelle from a Jeffries Tube will likely appreciate the show's sheer joke-density — and the fact that, as an animated series, it comes outfitted with an unlimited special effects budget.

That's important, because despite its bright, broad, cartoony look, the planets of Lower Decks can appear legitimately otherworldly, instead of all looking like the Vasquez Rocks outside of Santa Clarita, California. Alien races can look alien — obviating previous series' need to, as one wag (me) once put it, "Grab a dayplayer, slap a hunk of spirit gum between their eyebrows, paint 'em Prussian blue and shove 'em in front of the camera".
(6) I WRITE THE WORDS. NPR reveals how "A New Documentary Shines A Spotlight On The Lyricist Behind The Disney Renaissance".
Alan Menken composed the song "Prince Ali," memorably sung by Robin Williams in Disney's 1992 animated feature Aladdin, while sitting at the lyricist's hospital bed. His friend, Howard Ashman, was dying.

"His life was pitifully cut short, unfortunately, as were many at that time," says Menken. "But Howard's [death], for me, is the most personally difficult and his spirit remains very, very present still; there's something about Howard that is not just a statistic in the battle against AIDS. But as an artist, he's extremely vital — even now."

Howard, a documentary about Ashman and his work as an award-winning lyricist, is coming to streaming August 7 on Disney+. It also shows the friendship between Ashman and Menken, who met in New York City in the 1970s, where Ashman was the artistic director of a black box theater, the WPA, near Union Square. Menken had been working as an accompanist for singers and writing songs for Sesame Street, and they immediately gelled like Rodgers and Hammerstein. Together they wrote the musicals Kurt Vonnegut's God Bless You, Mr. Rosewater and the unlikely hit, Little Shop of Horrors — a monster mash parody of American musical comedies, which won several Drama Desk Awards and was adapted into a film in 1986 – before going on to work for Disney.

The documentary tracks Ashman's rise from a theater-obsessed kid in Baltimore, to his musical highs and lows (including the ill-fated Broadway show Smile with composer Marvin Hamlisch), and to his untimely death. It's told through archival photos, song demos, new interviews with family and friends and a filmed recording session from Beauty and the Beast — a Disney-lover's treasure trove….
(7) ABOUT ASIMOV. In the comments on LitHub's article "What to Make of Isaac Asimov, Sci-Fi Giant and Dirty Old Man?", posted in May, former SFWA President Marta Randall told about the time Isaac Asimov assaulted her:
"In general," writes Nevala-Lee, "Asimov chose targets who were unlikely to protest directly, such as fans and secretaries, and spared women whom he saw as professionally useful."

I have to take exception to this. In the mid-1980s I was serving my first term as president of the Science Fiction Writers of America (SFWA), the first woman to hold that office, and attended the Boskone convention, as did Dr. Asimov. He showed up in the organization's suite and I thought it proper to introduce myself, so at a suitable break in the conversation, I held out my hand for a shake and tried to say, "Dr. Asimov, I'm Marta Randall, the president of SFWA." I didn't make it to the second syllable of his title before he grabbed my hand, jerked me to him, and tried to stick his tongue down my throat. We were in a suite run by our professional organization, but apparently it never occurred to him that his actions might be inappropriate. Luckily a number of members who knew me pried him off of me before I tried to deck him.

We met again years later, when I was protected by carrying a baby on my back. He was perfectly cordial, but never apologized, if he even remembered the assault.

The man was a pig.
(8) VIRTUAL OXONMOOT. The UK's Tolkien Society will hold "Oxonmoot Online" from September 18-20. Full details at the link.
…Clearly Oxonmoot Online will be a very different event from a normal Oxonmoot, but our aim is to bring you a busy and engaging weekend of Tolkien related activities. In addition, the online nature of the event offers new opportunities for international members who are normally unable to travel to Oxford to take part….

…Thanks to the actions of Ar-Pharazôn at the end of the Second Age, we find ourselves living on a round world – which means we have to deal with the complexities of time zones. To make the event as accessible as possible to as many of our members as we can, the "core" time for the keynote events and larger activities will be 18:00-22:00 UK time.

Outside these hours, we will run an engaging programme of talks, papers, activities and social gatherings – the exact timing of which will depend on the offers we get from you, our members. We intend to record talks and papers so that delegates can watch the presentations which are delivered at a time which is difficult in their time zone…
(9) THE GOAL IS MONEY. Trailer for the Korean sff movie Space Sweepers. "Are lots of trash worth a fortune?"
(10) MEDIA BIRTHDAY.
August 6, 1955 — Science Fiction Theater's "The Stones Began to Move" first aired. Starring Truman Bradley, Basil Rathbone, and Jean Willie, a discovery inside the just-opened tomb of an Egyptian pharaoh may hold a clue as to the construction of the pyramids, but a murder is committed to keep that secret from being revealed. You can watch it here,
(11) TODAY'S BIRTHDAYS.
[Compiled by Cat Eldridge and John Hertz.]
Born August 6, 1809 – Alfred, Lord Tennyson.  (His name was Alfred Tennyson; he was later made 1st Baron Tennyson.)  Poet whose engagement with quest and fantasy point us to him ("To follow knowledge like a sinking star, beyond the utmost bound of human thought" – speaking of which, don't neglect the highly strange Frank Belknap Long story "To Follow Knowledge", 1942).  See "Ulysses", "Tithonus", Idylls of the King (the Matter of Arthur).  (Died 1892) [JH]
Born August 6, 1874 — Charles Fort. Writer and researcher who specialized in anomalous phenomena. The term fortean is sometimes used to characterize such phenomena. No, not genre as such, but certainly an influence on many a writer. The Dover publication, The Complete Books of Charles Fort, that collects together The Book of The Damned Lo!, Wild Talents and New Lands has a foreword by Damon Knight. L. Sprague de Camp reviewed it in Astounding Science-Fiction in the August 1941 issue when it was originally published as The Books of Charles Fort. (Died 1932.) (CE)
Born August 6, 1877 — John Ulrich Giesy. He was one of the early writers in the Sword and Planet genre, with his Jason Croft series  He collaborated with Junius B. Smith on many of his stories though not these which others would call them scientific romances. He wrote a large number of stories featuring the occult detective Abdul Omar aka Semi-Dual and those were written with Smith. I see iBooks has at least all of the former and one of the latter available. Kindle has just the latter. (Died 1947.) (CE)
Born August 6, 1911 — Lucille Ball. She became the first woman to run a major television studio, Desilu Productions, which is where Star Trek was produced. Her support of the series kept it from being terminated by the financial backers even after it went way over budget in the first pilot. (Died 1989.) (CE) 
Born August 6, 1917 – Barbara Cooney.  Author and illustrator of a hundred children's books, some fantastic.  Two Caldecott Medals.  National Book Award.  Here is a picture that might simply be entitled "Fantasy".  Here is a cover for Snow White and Rose Red.  Here is Where Have You Been?  Here is "The Owl and the Pussycat" (note the runcible spoon).  (Died 2000) [JH]
Born August 6, 1955 – Judith Bemis, 65.  Co-chair (with husband Tony Parker), Tropicon 8-9.  Fan Guest of Honor (with Parker), Concave 16.  Treasurer of MagiCon (50th Worldcon), Noreascon 4 (62nd).  Active getting fanzines into FANAC.org database. [JH]
Born August 6, 1955 –Eva Whitley, 65.  Chaired Paracon 1, Disclaves 26 & 34.  Widow of Jack Chalker; says  "Possibly the only person in fandom to meet spouse by making him GoH (Paracon 1)".  Fan Guest of Honor at Balticon 17 (with Chalker) & 21, Norwescon XXII (with Chalker).  Active in WSFA (Washington [D.C.] SF Ass'n) and BSFS (Baltimore SF Ass'n).  [JH]
Born August 6, 1962 — Michelle Yeoh, 58. Ok, I have to give her full name of Yang Berbahagia Tan Sri Dato' Seri Michelle Yeoh Choo-Kheng. Wow. Her first meaningful genre roles were as Wai Lin in Tomorrow Never Dies and Yu Shu Lien in Crouching Tiger, Hidden Dragon. I actually remember her as Zi Yuan in The Mummy: Tomb of the Dragon Emperor, the first film of a since cancelled franchise. And then there's her dual roles in the Trek universe where she's Captain Philippa Georgiou and Emperor Philippa Georgiou. The forthcoming Section 31 series will involve one of them but I'm not sure which one… (CE)
Born August 6, 1969 – Álvaro Enrigue, 51.  Novel Sudden Death for us, Herralde Prize.  Six novels, three collections of shorter stories and one of essays.  Mortiz Prize.  Carlos Fuentes said E's novel Perpendicular Lives "belongs to Max Planck's quantum universe rather than the relativistic universe of Albert Einstein, a world of co-existing fields … whose particles are created or destroyed in the same act."  Translated into Chinese, Czech, French, German.  [JH]
Born August 6, 1972 – Paolo Bacigalupi, 48.  Six novels, a score of shorter stories, translated into French, German, Hungarian, Italian, Japanese, Romanian, Spanish.  Interviewed in Electric Velocipede, Intergalactic Medicine Show, Interzone, Lightspeed, Locus, NY Review of SF, SF Research Ass'n Review.  First novel The Windup Girl won Hugo, Nebula, Campbell (as it then was) Memorial, Compton Crook, Grand Prix de l'Imaginaire, Ignotus, Laßwitz, Prix Planète, Seiun; also a Printz, a Sturgeon, another Seiun.  Toastmaster at MileHiCon 42; Guest of Honor at ArmadilloCon 33, Capclave 2014.  Williamson Lectureship, 2014.  [CE and I found two different dates for his birthday; since he's done and won much, we decided to let both notes stand – JH]
(12) COMICS SECTION.
Truer cartoon words were never spoken — Ziggy.
(13) US IN FLUX. The latest story from the Center for Science and the Imagination's Us in Flux project is "Tomorrow Is Another Daze," a story of Aztlán, creative reuse, and making technology work for you by Ernest Hogan (an Arizona-based writer, often called the father of Chicanx science fiction).
Lalo was in the middle of making Huevos Rancheros Microöndas when the doorbell rattled. The microwave buzzed less than a second after. Yet another quarantine for yet another virus was going on, so he wasn't eager to answer the door. For all he knew it could be a terminal case, long past the early stages that are said to be similar to what they used to call future shock: the disorientation and hallucinations, the convulsions, foaming at the mouth, about to drop dead on his porch under the decorations his wife insisted on putting up, requiring the services of a hazmat team….
On Monday, August 10 at 4:00 p.m. Eastern, they will have another virtual event on Zoom, with Ernest and scholar, author, and editor Frederick Luis Aldama. Register at the link.
(14) EAR TO THE GROUND. Michelle Nijhuis, in "Buzz Buzz Buzz" at New York Review of Books, discusses four recent works about human responsibilities towards animals.
…The scholarly emphasis on negative rights, along with the work of animal-rights and animal-welfare activists, has arguably improved the treatment of domesticated animals in North America and Europe. Public opposition to animal cruelty is now widespread, and recent laws and policies have banned animal blood sports. The insights of advocates such as Temple Grandin have helped us imagine how other species experience the world, and begin to curb some of the most brutal factory-farming practices.

None of these advances, however, has changed our fundamental relationship with animals—which is hardly sustainable, ethically or otherwise. In Slime, when one of the translators finally succeeds in communicating with a bump-nosed parrotfish from the Pacific Ocean, the message is stark, delivered in dramatic terms: "Youare helping Slime to kill us You You You Land Monsters!!! Why? Stop? Why? Change your swimming! Change your swimming! Change your swimming!!!!" Were Slime written today, it might include a line from a pangolin or a bat, warning that our heedless exploitation of animals carries deadly risks for all.

… That animals are in this sense political actors is an underrecognized and, to my mind, potentially powerful point of convergence between the animal-rights and ecological-protection movements: both traditions hold that animals have needs and wants that humans are more than capable of understanding, and should attend to.
(15) BE CAREFUL OUT THERE AMONG THEM ENGLISH. James Davis Nicoll was pleased to get some egoboo from the letters to the editors in the August 4 Sydney Morning Herald:
Hold the phonics

Each of your "o's", Kevin Harris, represents different sounds because of the consonants in each word that have individual phonetic sounds; always have and always will (Letters, August 5). Otherwise, we'd all be speaking French, where half the letters aren't ever pronounced. John Kingsmill, Fairlight

Thirty years ago, one James Nicoll observed that "English has pursued other languages down alleyways to beat them unconscious and riffle their pockets for new vocabulary". With that has come disparate rules of pronunciation, to the annoyance of Kevin Harris' five-year-old and countless others. For English, basic phonics works for about 40 per cent of words, enough to make it a useful tool. For the rest, plenty of guided reading will make up most of the deficit. Richard Murnane, Hornsby
(16) SURPRISE! – NOT. "Hollywood censors films to appease China, report suggests" – BBC has details.
Hollywood bosses have been censoring films to placate the film market in China, a report has suggested.

The lengthy report says US film companies want to avoid losing access to China's lucrative box office market.

It said casting, content, dialogue and plotlines were increasingly being tailored to appease censors in Beijing.

The report, compiled by the free speech charity PEN America, claimed China was therefore influencing movies released in cinemas around the world.

China holds the world's second largest box office market behind the US.

According to the Hollywood Reporter, American films earned $2.6bn (£2bn) in China last year, with Disney's Avengers finale, Endgame, making $614m (£466m).

PEN is a non-profit organisation that campaigns on free speech and it sponsors the Pinter Prize for literature.

The report said that Marvel's 2016 superhero film Dr Strange whitewashed a major Tibetan character for fear of jeopardising the title's chances of success in China.

The forthcoming Top Gun sequel, Maverick, was also criticised for the "mysterious disappearance of the Taiwanese flag" in a 2019 trailer.

"Our biggest concern is that Hollywood is increasingly normalising pre-emptive self-censorship in anticipation of what the Beijing censor is looking for," said James Tager, author of the report.
(17) HEISENBIRDS. "Attaching Small Weights To Pigeons Helps Them Shoot Up In The Social Hierarchy" – NPR transcript:
Scientists found that attaching small weights to pigeons causes them to shoot up in the social hierarchy. The finding is important because scientists often attach trackers to pigeons.

STACEY VANEK SMITH, HOST:

It turns out there is a social hierarchy among pigeons, and it definitely pays to be the big bird on campus.

STEVE PORTUGAL: Being top of the dominance hierarchy basically gives you preferential access to everything. It means you get priority access to food, priority access to mates.

SHAPIRO: That's Steve Portugal, a zoologist and biologist at Royal Holloway, University of London. And contrary to what you may have heard about the early bird getting the worm, in the case of pigeons, it is heavier birds that get all the perks.

VANEK SMITH: So Portugal and his colleagues wondered what would happen if you made lighter pigeons feel heavier. If you beefed them up, would they punch above their weight?

SHAPIRO: They tested their theory in a captive flock of homing pigeons. They identified the birds in the bottom half of the hierarchy and loaded them up with tiny weights – little bird backpacks, actually.

PORTUGAL: And sure enough, when I did that, they became much more aggressive, started much more fights and won many more fights as well.
(18) EVRYBODY MUST BE STONE. ScreenRant luckily didn't run out of fingers while counting the cast: "All 9 Star Trek Actors In Gargoyles The Animated Series".
A number of Star Trek actors lent their voices to the animated series Gargoyles. The show followed the adventures of gargoyles, nocturnal creatures who turned into stone during the day. After being transported from their home in Scotland to New York City, the clan were awoken from their 1000-year-long magical slumber and took on the responsibility of protecting the city. The children's series originally ran from 1994 until 1997, but has been finding new audiences thanks to Disney+.

… Like Jonathan Frakes, Marina Sirtis was a main character on both Star Trek: TNG as well as Gargoyles. Sirtis played Deanna Troi, the empathetic, chocolate-loving counsellor onboard the USS-Enterprise. Troi is half-Betazoid, which grants her empath abilities — which often came in handy in dealings with other alien races. Also like Frakes, Sirtis played a villainous role on Gargoyles: her character Demona despised humans, and is possibly the most dangerous of all remaining gargoyles. She aligned herself with David Xanatos, and was largely responsible for him resurrecting the Wyvern clan, whom she had hoped would join her on her quest for vengeance.
(19) BEEB TRIVIA. Nicholas Whyte told the SMOFs list where they could see this Hugo-related feat:
The UK quiz show University Challenge had three questions about the Hugo Awards for Best Dramatic Presentation, Short Form last night, all correctly answered by the team from Strathclyde University – which, as it happens, is in Glasgow.
[Thanks to PhilRM, JJ, Chip Hitchcock, John Hertz, Mike Kennedy, Cat Eldridge, Michael Toman, John King Tarpinian, Peer Sylvester, Martin Morse Wooster, Joey Eschrich, and Andrew Porter for some of these stories. Title credit goes to File 770 contributing editor of the day, verified, blue check Andrew.]