(1) WISH YOU WERE HERE. NASA unveiled "8 Martian Postcards to Celebrate Curiosity's Landing Anniversary".
NASA's Curiosity Mars rover has seen a lot since Aug. 5, 2012, when it first set its wheels inside the 96-mile-wide (154-kilometer-wide) basin of Gale Crater. Its mission: to study whether Mars had the water, chemical building blocks, and energy sources that may have supported microbial life billions of years ago.

Curiosity has since journeyed more than 14 miles (23 kilometers), drilling 26 rock samples and scooping six soil samples along the way as it revealed that ancient Mars was indeed suitable for life. Studying the textures and compositions of ancient rock strata is helping scientists piece together how the Martian climate changed over time, losing its lakes and streams until it became the cold desert it is today.
(2) MEET R.F. KUANG. Andrea Johnson notes she did this Nerds of a Feather Q&A, "Interview: R.F. Kuang, author of The Burning God", before Kuang won the 2020 Astounding Award. Still plenty to interest readers here.
NOAF: When you first started outlining and writing The Poppy War, did you know how the trilogy would end?

R.F. Kuang: Yes, I knew the ending before I knew the beginning. I always come up with the ending first. I'm a pantser rather than a plotter, but I can't get started on a story unless I know where it's all going; I need to give some direction to the story engine. I've been picturing the final scene in my mind for years and years, so it's a relief to finally get it down on paper. So yes, I actually always conceived of The Poppy War as just the prequel material to the stuff I really wanted to write.
(3) WFC POC. World Fantasy Con, which will take place online October 29-November 1, is taking applications as well as donations for People of Color sponsored memberships.
In early June, WFC 2020 launched an initiative to help ensure that our convention is inclusive and that our program encompasses the diverse cultures and peoples that enrich the literature and art of fantasy and horror. Thanks to donations from many of our members and our sponsors, we have been able to sponsor attending memberships for twenty-eight people of color – so far. This initiative will continue until registration closes in late October. To donate to this fund, or to apply for a sponsored membership, visit this page on our website.

WFC 2020 operates under the auspices of Utah Fandom Organization, a 501(c)(3) nonprofit. Your donation may be tax deductible to the extent allowable by law.
(4) EDITS4BLACKSFF. "Diana M. Pho Announces the #Edits4BlackSFF Project, Which Offers Free Editorial Services to Black Speculative Writers" – Tor.com has the story. Application details at the the project link.
Three-time Hugo Award-nominated editor Diana M. Pho has announced a new project dedicated to helping Black speculative fiction novelists get traditionally published. Entitled #Edits4BlackSFF, the project will select nine finalists for a free query letter review and 10-page line edit of their manuscript(s), with the winner receiving both a free developmental edit and consideration for representation from a pool of 8 literary agents.
(5) CANON TO THE LEFT OF THEM. John Scalzi's "Oh, Christ, Not the Science Fiction Canon Again" actually has no theological content at all.
Ugh, we're talking about the "canon" of science fiction literature, again, for reasons (most imminently the recent Hugo award ceremony and its fallout), and whether, basically, newer writers and readers should and must slog through a bunch of books in the genre that are now half a century old at least, from a bunch of mostly male, mostly white, mostly straight writers who are, shall we say, not necessarily speaking to the moment.

I've essayed this before, because I'm me, but here's my newest set of thoughts on the matter, also because I'm me. Ready? Here we go:

As a practical matter, the science fiction "canon" is already dead….
(6) CANON TO THE RIGHT OF THEM. Camestros Felapton offered his take on things in "Canon and Campbell". I looked at this excerpt and asked myself, "What more needs be said?" And yet, Camestros thought of something.
…On the first point I'd cite Chuck Tingle's Space Raptor Butt Invasion, which has canonical qualities to it but which is also a shining example of something that is not required reading….
(7) STAMPS AFOOT. The Royal Mail will issue new Sherlock stamps on August 16 with secret messages embedded. What those messages are is displayed at the top of this Design Week article: "Royal Mail's Sherlock Holmes stamps contain 'secret messages'".
…So founder Steve Haskin tells Design Week that designing the stamps was a "labour of love". The stamps are based on fans' most popular episodes, from the series premiere A Study in Pink to the series two cliff-hanger The Reichenbach Fall. Taking into account the global Sherlock Holmes fanbase, and its attention to detail, the studio pored over episodes to extract the "minutest moments" from Sherlock episodes.

Characters were taken from those episodes and placed in the foreground of the stamps, such as Irene Adler from the second series premiere A Scandal in Belgravia. These portraits had to be "strong" and "poignant" as they are focal point. "Special moments" were then illustrated using screengrabs and composed onto each stamp.
(8) KÜNSKEN STYX WITH IT. At the Hugo Book Club Blog, "Interview with Derek Künsken – Author of The House Of Styx".
What was the main theme that you wanted to tackle in The House of Styx?

I was flying to the Nebulas conference, I think it was in 2013. I had already created all of the biology in the clouds of Venus, but I didn't really have a story to tell with this. I had a sort of survival story, but something was missing. This was going on at the same time as some of the 'reasonable accommodation' debates were happening in Quebec — and I'm half-Quebecois myself.

So I was following the news and basically it was appalling to see some of the discourse around "how should Arab people integrate into Quebec." It quite obviously came from a place of intolerance. Then I realized that the caustic intolerance that I was observing in society was a perfect metaphor for the sort of acidic environment of the clouds of Venus. And so I wrote that story, but there was so much more to it that — as soon as I had sold it to Analog — I realized I had another novel or two in me dealing with those kinds of characters, that kind of political setting and that kind of metaphorical environment.
(9) IN COUNTRY. Paste Magazine says "Lovecraft Country's Pulpy Call Is One Even Cthulhu Couldn't Resist".
Ranging from Chicago's South Side (the show was partially shot in Chicago's Pilsen neighborhood) to the eerie East Coast where Lovecraft's tales haunted their hapless sailors and professors, Lovecraft Country tracks the cruel magicks of legacy while pointing out at every turn that its genre's legacy is steeped in racism. Just because Lovecraft was a racist dickhead on a cosmic scale doesn't mean Atticus Freeman (Jonathan Majors) doesn't love his brand of fiction. Tic and his Uncle George (Courtney B. Vance) kick off the series on a Jim Crow-defying quest to find Atticus' missing father (Michael K. Williams)—who's off in search of their family's secretive and spooky "birthright"—accompanied by Tic's childhood friend Letitia (Jurnee Smollet).

….[It] could be a magical universe that exists just under the surface of his own, but it's certainly not an exciting call to adventure. It's trouble. Why? Because he's Black, and Blackness doesn't mix well with America's entrenched systems—even if they're magical ones.

This simple twist works to deconstruct the more conventional aspects of the series. That doesn't mean the show lacks convention: there's always water rising or bridges collapsing or demons seducing or heroes smooching. If a magazine from the '50s featured it on the cover, you can bet it'll be bolder and Blacker in Lovecraft Country.
(10) HOT ON THE TRAIL. Alexis Soloski's not-uncritical but interesting piece on Lovecraft in today's New York Times is made timely by the imminent premier of Lovecraft Country. "Gods, Monsters and H.P. Lovecraft's Uncanny Legacy".
…Broadly — and with plenty of exceptions — Lovecraft's stories suggest huge and unfathomable horrors lurking just beneath the surface of the mundane world. Filled with miscegenation, tentacles and unspeakable dread, his works often begin with ordinary or ordinary-seeming men drawn into extraordinary and otherworldly situations. Almost no one gets out alive or sane. His brand of weird is gooey and misanthropic, with an insistence that the universe is at best indifferent to human life and at worst antagonistic.

To adapt a Lovecraft work is to reckon with a troubled and troubling legacy — blatant racism and sexual phobias blight much of his work. Still, he remains influential, with his sinister, squishy qualities still felt across media — television, film, fiction, comics, video games, role-playing games, visual art, plushies — and multiple genres. The stomach monster from "Alien"? Extremely Lovecraft. That giant squid from "Watchmen"? Lovecraft again. The devouring Shoggoths from the "Lovecraft Country" pilot? A squelching tip of the hat.

If you don't know your Yog-Sothoth from your Shub-Niggarath — good! Run while you can! But if you hold your sanity lightly, here is a brief guide to the man, the monsters and the popular culture slime trail his works have left behind.
(11) SINCE TOLKIEN. "From Tolkien to Hungarian folklore: a brief history of Hungarian fantasy literature" in Daily News Hungary is an English-language article by Barbara Simon.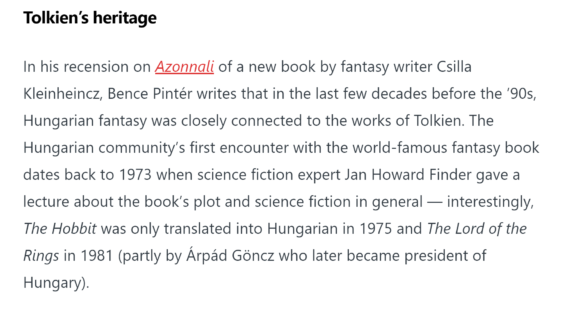 (12) MEDIA BIRTHDAY.
August 7, 1940 — The Adventures Of Superman radio program aired "Taos: Pillar Of Fire At Graves End". It starred Bud Collyer and Joan Alexander but the former was kept a secret from the audience for another six years. Based on the comic created by Jerry Siegel and Joe Shuster in 1938, Superman, it was thought that it would be better if the actor was more mysterious, so he was kept anonymous.
(13) TODAY'S BIRTHDAYS.
[Compiled by Cat Eldridge and John Hertz.]
Born August 7, 1871 – Abanindranth Tagore.  Writer, painter, bridger of Euro-American and Asian artwork.  Literary fame for Bengali stories as told to children.  Nephew of Rabindranath Tagore, helped clear RT's road to the Nobel Prize for Literature.  Fantasy elements integral.  Brought Chinese and Japanese elements into his own graphics.  See here, here, here, here, here.  On his Khirer Putul Wikipedia says "sugar doll", the French translation has "cheese doll", which both miss the metaphor of khir.  (Died 1951) [JH]
Born August 7, 1903 — Rudolf Ising. He was an early staffer to Walt Disney who left to create the Looney Tunes and Merrie Melodies cartoons at Warner.  He produced Hanna and Barbera's first cartoon, Puss Gets the Boot, a cartoon featuring characters later known as Tom and Jerry. He was the first independent cartoon producer to win an Academy Award. (Died 1992.) (CE)
Born August 7, 1928 – Milton Lesser.  For us eight novels, a hundred sixty stories, see here, here, here; letters in Amazing, Astonishing, Fantastic, Planet.  Fictional memoirs of Cervantes, Columbus (won Prix Gutenberg du Livre), Goya, Poe.  Life Achievement Award from Private Eye Writers of America.  (Died 2008) [JH]
Born August 7, 1933 – Jerry Pournelle, Ph.D.  Thirty novels, a dozen shorter stories, three dozen anthologies, many with co-authors; two hundred essays, letters, in Algol, The Alien Critic, Destinies, Galaxy, Omni, The Patchin Review, SF Age, SF Chronicle, SF Review, Starship, Trumpet; translated into Croatian, Dutch, French, German, Italian, Japanese, Russian, Spanish.  Lucifer's Hammer and Footfall (with Larry Niven) on NY Times Best-Sellers list.  Seventh SFWA President (Science Fiction & Fantasy Writers of America).  Writers & Illustrators of the Future Lifetime Achievement Award.  Aerospace.  Computer journalist.  Founding President of Pepperdine Research Institute.  We met for lunch and disagreed.  (Died 2017) [JH]
Born August 7, 1936 — Richard L. Tierney, 84. A Lovecraftian scholar. Coauthored with David C. Smith, a series of Red Sonja novels which have Boris Vallejo cover art. Some of his standalone novels riff off the Cthulhu Mythos. Unless you read German, he's not available digitally on either iBooks or Kindle. (CE)
Born August 7, 1957 — Paul Dini, 63. First, he's largely responsible for the existence of Batman: The Animated Series, Superman: The Animated Series, The New Batman/Superman Adventures, Batman Beyond, and yes, Duck Dodgers and Tiny Toons as well. He's recently been writing for the Ultimate Spider-Man series which is quite good. He co-authored with Pat Cadigan, Harley Quinn: Mad Love. (CE)
Born August 7, 1957 – Lis Carey, 63.  Active Boston fan, faithful Filer.  Chair of Boskone 46.  Here she is at BucConeer (56th Worldcon) helping with the Bostando (Boston for Orlando) 2001 Worldcon bid (L to R. Suford Lewis, LC, Tim Roberge).  A few fiction and non-fiction books she's read, her ranking higher to lower: Omar Bradley (by S. Ossad), Children of Blood & Bone (T. Adeyemi), Queens of Animation (N. Holt), The Last Emperox (J. Scalzi), The Once & Future King (T. White), The History of Bourbon (K. Albala; the drink, not France).  [JH]
Born August 7, 1960 — Melissa Scott, 60. I think the first work I read by her was Trouble and Her Friends which holds up well even now. I'm also fond of Night Sky Mine and The Jazz. I see she has an entire series set in the Stargate Atlantis universe. (CE)
Born August 7, 1960 — David Duchovny, 60. Obviously Fox Mulder on X-Files. Now has he done any other genre? Well, he was Dr. Ira Kane in Evolution, a comic SF film, and then there's Denise Bryson, formerly Dennis Bryson, played by him, who's a transgender DEA agent on the Twin Peaks series. He also voices Ethan Cole in Area 51, a first-person shooter video game. (CE)
Born August 7, 1970 – Yû Godai, 50.  The Story of the Beginning of Bone written while she was still a college student, 4th annual Fujimi Shobo (publisher) Fantasy Novel Prize; five more novels, three shorter stories.  Here is a cover from Avatar Tuner. [JH] 
Born August 7, 1980 – Lindsey Leavitt, 40.  A dozen young-adult and children's novels, some for us (five are fantasies about mice in a series Commander in Cheese).  YALSA (Young Adult Lib'y Services Ass'n) Best Fiction Award, Amazon Book of the Year Award.  [JH]
Born August 7, 1975 — Charlize Theron, 45. She surprised me by being in a number of genre films including Snow White and the Huntsman and The Huntsman: Winter's War (which are both quite superb), Prometheus, Mad Max: Fury Road, The Addams Family as Morticia Adams, The Devil's Advocate, Æon Flux in  Æon Flux, the narrator of Astro Boy and her first film, Children of the Corn III: Urban Harvest, a horror film I suspect she'd prefer everyone forget. She played Pria Lavesque on The Orville in the episode called, errr, "Pria".  (CE)
(14) COMICS SECTION.
From Grant Snider's Incidental Comics. Where does "Funny once" go in this model?
(15) UNDER THE DOME. SciFiNow.uk points the way to DC's virtual event: "DC Fandome: Immense Line-Up Announced"
…DC FanDome is the first-ever global celebration of the DC Multiverse covering the brand's biggest films, live-action series, animated TV series, games and comics.

Available in nine languages (Brazilian Portuguese, Traditional Chinese, English, French, German, Italian, Japanese, Korean, Spanish (LAS)), DC FanDome will feature over 100+ hours of programming celebrating the past, present and future DC content through panels, behind the scenes access, user generated experiences, big reveals and exclusives from DC.

DC FanDome is made up of the Hall of Heroes and five islands…
(16) THOUGHT EXPERIMENTS. Andrew Liptak surveys how "The U.S. Military Is Turning to Science Fiction to Shape the Future of War" for One Zero at Medium.
…It may sound like it could be the plot of a new Netflix series, but it's actually one of the U.S. Army's "science fiction prototypes," a teaching tool designed to imagine what the near future of warfare might look like and to prompt military personnel to think creatively about conflicts they might end up fighting. This one takes the form of a 71-page graphic novel called Invisible Force: Information Warfare and the Future of Conflict, produced by the Army Cyber Institute at West Point and Arizona State University's Threatcasting Lab.

As digital technologies and robotics have opened up the kinds of futures once imagined by pulp science fiction writers, a loose network of national security professionals, military officers, and training organizations are working to try to predict the future of war — by generating science fiction stories of their own….
(17) UP ABOVE THE WORLD. Paul Weimer tells what he enjoyed about a new sff novel: "Microreview [book]: In Evil Times by Melinda Snodgrass" at Nerds of a Feather.
…The world that Snodgrass creates continues to fascinate from the first novel, especially since we expand from the pressure cooker of the High Ground space station to see the Empire, on the ground, as it were, as well as in the depths of space. We get slices of society all around, from Mercedes' center of Imperial power, to the very humble existence that Tracy's father as a tailor has, to the life of military officers. We get a painted portrait of what this stratified, socially conscious world is like and how people fit into that system, resist that system and find themselves in trouble for opposing that system. We also get a better sense of how aliens, an oppressed stratum of society, fit and struggle in a human dominated Solar League. Aliens are very much third class citizens, and the consequences of that are explored in the book both from Tracy and Mercedes' perspectives….
(18) HELP WANTED. Writing all those Tor.com five-things posts has burned out James Davis Nicoll's laptop, and he'd be thrilled if people want to help him buy the replacement: "Alas, Poor Jenkins".
My faithful laptop has subtly hinted that I need to prioritize replacing it, first by closing every Word File within a few minutes of opening them…
(19) SAVING THROW. Wizards: Tales of Arcadia premiered on Netflix today.
After discovering a secret underworld of trolls and teaming up with aliens to save the planet, the teenagers of Arcadia Oaks are back for one final journey: time traveling to the world of King Arthur's Camelot to defeat villains and preserve the future. Major characters like Jim (Emile Hirsch), Toby (Charlie Saxton) and Claire (Lexi Medrano) have returned from the previous sagas of "Trollhunters" and "3Below," joined this time by the legendary Merlin (David Bradley).

The series is written and produced by Guillermo del Toro, whose 2017 film "The Shape of Water" took home four Oscars, including best picture and director.
(20) GRAND FINALE. Meanwhile, IndieWire reports "Guillermo del Toro's 'Trollhunters: Rise of the Titans' Animated Film to Premiere on Netflix in 2021".
…Del Toro has billed the film as the conclusion to his "Tales of Arcadia" television trilogy which includes the "Trollhunters," "3Below," and "Wizards," shows. "Wizards" premiered on Netflix today.

Here's Netflix's synopsis for the upcoming film: Arcadia may look like an ordinary town, but it lies at the center of magical and mystical lines that makes it a nexus for many battles among otherworldly creatures, including trolls, aliens and wizards. Now, the heroes from the hit series "Trollhunters," "3Below" and "Wizards," team-up in their most epic adventure yet where they must fight the Arcane Order for control over the magic that binds them all.
(21) OVER A BARREL. NPR's Linda Holmes sees that "Seth Rogen Finds Himself (Twice) In 'An American Pickle'"
When you think about a Seth Rogen movie, he's almost always got pals around. He's made comedies with James Franco, Jonah Hill, Craig Robinson, Adam Sandler and — if you count Steve Jobs — even Michael Fassbender. It only makes sense he would eventually make a buddy movie with himself.

An American Pickle, streaming on HBO Max on Aug. 6, is adapted from a four-part Simon Rich story that appeared in The New Yorker in 2013. Called "Sell Out," it's about a Polish immigrant named Herschel (whose wife is pregnant) who falls into a pickle barrel in 1920 and wakes up, perfectly preserved, 100 years later. This premise, neatly told in the first six short paragraphs, is both absurd and (no pun intended) narratively rich. In the film, which Rich adapted for the screen himself, both the preserved Herschel and his great-grandson Ben — who are the same age — are played by Seth Rogen. What follows is part wacky opposites-attract picture, part family story, part silly caper and, most interestingly, part funny (but also thoughtful) examination of what our ancestors would think of us, especially if they made great sacrifices to give us what we now have.

In the original story, Herschel's descendant is Simon Rich himself, a script doctor in Hollywood. Here, he's Ben, an app developer who's spent five years of his life trying to get an app off the ground that scans bar codes to tell you how ethically made a particular product is. For a whole variety of reasons — from "what's an app?" to "who cares?" — this confounds Herschel. He quickly discovers, too, that the small cemetery where his wife is buried has been dishonored by the presence of a giant billboard for vanilla vodka (chosen perhaps because Rogen has enormous fun pronouncing "vanilla vodka" in his version of Herschel's accent). This cannot stand. So Herschel sets out to do what he knows best: make pickles and sell them to Brooklyn, so he can reclaim the cemetery. This does lead to some familiar material about hipsters who love artisanal foods, but it's executed pretty well, and Rich's script keeps it moving.

…Let's focus on this much: It's a clever idea, it has some good jokes, and it approaches the idea of immigration to the United States in a way I haven't seen. That's not to even mention the fact that being preserved in a pickle barrel and waking up in 100 years has never been more appealing.
(22) HOW DID THEY KNOW? Mental Floss dishes up "9 Books That Predicted the Future". This first one is pretty surprising.
1. FUTILITY

In this book written by Morgan Robertson, a massive ocean liner described as "the largest craft afloat" is steaming at full speed through the North Atlantic when a watchman cries out "Iceberg." But the ship hits the ice and begins to sink. With too few lifeboats, many of the passengers drown when the ship goes down.

The story sounds familiar, but this ship wasn't the Titanic—Futility's ship was the Titan. Robertson penned his novel 14 years before the Titanic took its doomed maiden voyage—and those aren't the only similarities between Robertson's Titan and the Titanic, either. Such was the predictive power of the text that just a week after the sinking of the Titanic the story—now called The Wreck of the Titan; or, Futility—was being serialized in newspapers as "an amazing prophecy."
(23) AND AWAY THEY GO. "Facebook removes QAnon conspiracy group with 200,000 members".
Facebook has deleted a large group dedicated to sharing and discussing QAnon conspiracy theories.

QAnon is a wide-ranging, unfounded conspiracy theory that a "deep state" network of powerful government, business and media figures are waging a secret war against Donald Trump.

A Facebook spokeswoman said the group was removed for "repeatedly posting content that violated our policies".

Last month both Twitter and TikTok also cracked down on QAnon content.

Twitter banned thousands of accounts and said it would block QAnon urls, while TikTok deleted hashtags that signposted QAnon videos.

The deleted Facebook group, called Official Q/Qanon, had nearly 200,000 members.

There are, however, many other QAnon groups that are currently still active on the platform.
(24) CORMORANT ALOFT AGAIN. Adri Joy says readers will find a long-awaited payoff in terms of character healing and growth in the third book of this series: "Microreview [Book]: The Tyrant Baru Cormorant by Seth Dickinson" at Nerds of a Feather.
…Baru Cormorant is back for round three! In The Tyrant Baru Cormorant (which, in-keeping with the rest of this series' inexplicable name shortenings, is being published as "The Tyrant" in the UK) everyone's favourite provincial savant returns for another round of high-stakes political drama against the empire of Falcrest: the empire which colonised her island, killed one of her fathers and tried to cut her off from her own culture as a child, and also the empire which now counts her as among its most elite operatives. The first book in the series captured my heart and then broke it into a million pieces, and while I don't think I'm the same reader as I was five years ago, I still consider new releases in this series to be a significant event, and I'm especially glad we haven't had to wait too long between the previous book and this one.
(25) SHADES OF MEANING. PEN America's weekly interview series delivers "The Pen Ten: An Interview With Laura Van Den Berg".
9. The stories in this collection are haunting, and this also includes the stunning cover art. Whether it's a woman who works as grief freelancer playing the roles of widowers' dead wives or a woman pretending to be her missing sister, the stories speak to each other in unearthly ways. Can you speak about the subversive nature of ghosts that permeate the collection—when you realized this was a connective tissue while writing the stories and how it operates in the book, as well as our lives?
The cover was designed by Na Kim, who is a genius. I think it captures the spirit of the collection beautifully. In terms of the thematic through lines, I thought a lot about the supernatural as a means to explore the material that cannot be contained by corporal life: the unsayable secrets, the unexamined truths, the incomprehensible realities. In an NPR interview, Toni Morrison once said that "if you are really alert, then you can see the life that exists beyond the life that exists on top." What does this "life beyond" have to say about our world that cannot be conveyed through other channels? What does it mean to haunt? What does it mean to be haunted? All these questions were important guides, though it took some time to recognize the supernatural as a thematic link. For a while, I had a lot of stories—maybe 350 pages worth—but I was struggling to find the book. Once I started letting the spectral guide me, a shape began to emerge.
(26) A BACON REFERENCE WITHOUT SCALZI. Lise Andreasen shares a fraught moment from the German quiz show Gefragt Gejagt today.
Who wrote Nova Atlantis?

Wrong answer: Hemingway.
[Thanks to Olav Rokne, Cat Eldridge, Rob Thornton, Mike Kennedy, Chip Hitchcock, JJ, John King Tarpinian, Martin Morse Wooster, PhilRM, Michael Toman, John Hertz, Bence Pintér, Lise Andreasen, and Andrew Porter for some of these stories. Title credit belongs to File 770 contributing editor of the day IanP.]