(1) DELISTED. Entertainment Weekly, after rehearsing at length the facts about the controversy linked in yesterday's Scroll, reports "Handbook for Mortals pulled from New York Times YA best-seller list".
While that mystery remains unsolved for now, Book Twitter's sleuthing was not for nothing. By the end of the day, the New York Times had released a revised list that excluded Handbook for Mortals and returned The Hate U Give to its rightful place in the top spot.
Thanks to @stampepk and @JeremyWest, the NYT changed their list! pic.twitter.com/95qPBMGhzd

— Michael Bourret (@MichaelBourret) August 24, 2017
(2) WHO? The new Doctor's companion has been cast. The Guardian says he's a game show host: "Doctor Who, The Chase and the charts: why Bradley Walsh is everywhere". Think Alex Trebek…
On Monday, BBC News published an article whose headline asked: "Does the world need polymaths?" It examined why experts historically felt the need to excel in many disciplines, but now typically focus on only one. On Tuesday, as if the universe were playing some kind of cosmic joke, news broke that Bradley Walsh is set to be cast as the latest companion in the new series of Doctor Who. If there was ever a need for proof that the renaissance man is back, baby, then Bradley Walsh is that proof.

The Watford-born entertainer, 57, started out as a professional footballer, signing to Brentford in 1978 and playing for Barnet and Dunstable Town before ankle injuries put an end to all that. Walsh would later score a penalty for England in the Soccer Aid charity game at Old Trafford in 2010. Not satisfied with one sport, he is also adept at golf, with his team winning the second series of celebrity golf tournament All Star Cup on ITV in 2007.

But sport's loss was television's gain. After a stint as a Pontins' bluecoat, Walsh hit the small screen, first as a presenter, a format that one might describe as his true calling, in which he continues to excel today as the host of ITV's The Chase. Thankfully, his Doctor Who commitments won't interfere, according to an anonymous friend who spoke to the Mirror to express relief. "He loves that show with a passion and so does the audience, so he's delighted to have found a way to make it all work."
(3) AFROFUTURISM. Chicago Magazine's Adam Morgan profiles "The Next Generation of Chicago Afrofuturism" – Eve Ewing, Krista Franklin, and Ytasha Womack,.
Back in 2014, we caught up with some of Chicago's most prominent afrofuturist artists and musicians like David Boykin, Nick Cave, and Cauleen Smith. But what about the city's poets and writers? Through science fiction, fantasy, magical realism, and surrealism, these three women are keeping Chicago at the center of the afrofuturist conversation….

Eve Ewing

Growing up in Logan Square, Eve Ewing used to daydream about "shooting arrows, exploring dungeons, and solving mysteries" while riding her bike. She didn't hear the word "afrofuturism" until her 20s, but as a child she watched Geordi La Forge on Star Trek and listened to George Clinton. Today, Ewing's one of Chicago's most visible cultural icons, from her reporting on Chicago Public Schools to her debut poetry collection, Electric Arches (Haymarket Books, Sept. 12), which looks at Chicago's South and West Sides through an afrofuturist lens.

"The book is an attempt to use poetry to write a future, and to me that future has to be a free black future," Ewing says. In Electric Arches, lunar aliens invade Chicago and paint everything black, a time machine allows a fifth-grader to speak with her ancestors, and South Side children escape the police on flying bicycles.

"Part of what makes afrofuturism interesting and distinct is that blackness in America demands an honest reckoning with a violent and traumatic past," she says. "And here we are in Chicago, a city where black life has been crafted in the face of generations of inconceivable violence: gun violence, state violence, everything. I think we are tasked with thinking beyond this world, about how to live in spite of and beyond everything trying to kill us."
(4) ELEMENTARY. Award-winning speculative poet Mary Soon Lee, writing in Science, composed a haiku for each element in the Period Table: "Elemental Haiku".
The haiku encompass astronomy, biology, chemistry, history, physics, and a bit of whimsical flair.
At the link, scroll over an element on the table to read the haiku.
Carbon

Show-stealing diva,
throw yourself at anyone,
decked out in diamonds.
(5) WORLDCON IMPROVEMENT. Scott Edelman has a fine idea: "One small thing we can each do to make Worldcon better".
There were so many Worldcon newcomers this year that the committee ran out of FIRST WORLDCON ribbons for attendees to affix to their badges and had to print up new ones halfway through the con.

So there are people out there who want to be part of this special thing we have. How do we make them feel welcome?

One thing I made sure to do was approach every person I noticed wearing a FIRST WORLDCON ribbon and say … well … "Welcome!"

I told them I was glad they'd decided to join us, and asked the catalyst that caused them to come this particular year. I told them I hoped they were having a good time so far, and said that if they had any questions, I'd try to answer them. I shared an anecdote or two about why I fell in love with Worldcons so long ago.
And he has a great anecdote about this on his Facebook page, involving some 2017 first-timers, 1963 first-timers, and 1953 first timers all comparing notes in Helsinki.
(6) SUITABLY ILLUSTRATED. Hugo-nominated fanartist Vesa Lehtimäki has written a short W75 report:
(7) MEDICAL UPDATE. Chunga co-editor Randy Byers, one of the best guys in fandom, says in "Gimme a break" he has reached a point in his cancer therapy where he's stopping chemo and medical treatment while he and his doctor assess how they want to proceed,
(8) MORE THINGS YOU HAVEN'T READ YET. Hyperallergic reports Stanford University's Global Medieval Sourcebook is a new online compendium of English translations for overlooked Middle Ages texts.
The initial offerings of the online compendium, which will be expanded as the GMS develops, range from a 15th-century song translated from Middle French that bemoans a lost love ("Two or three days ago / my sweet love went away / without saying anything to me. Alas, who will comfort me?") to five selections from Hong Mai's 12th-century Yijian Zhi (or, Record of the Listener, hereafter the Record), a sprawling 420-chapter chronicle that is an invaluable record of society, spirituality, and culture of the Southern Song Dynasty. The GMS is, as suggested by its title, a globally focused resource, with plans for medieval texts translated from Arabic, Chinese, Old Spanish, Latin, Middle High German, Old English, and Old French.

"[A] major aspect of our work to present a broad view of medieval culture is to actively recruit content from many different languages, especially those which have historically been inaccessible to contemporary readers," Lyons-Penner explained. "It is very unusual for texts from so many different linguistic traditions to be read side by side, and we believe it makes for a much richer experience."
(9) ON THE MAP. The Guardian says this has been a little controversial: "Australian city names streets after Game of Thrones characters".
Game of Thrones has sparked a battle at a Australian housing development where streets have been named after characters and locations from the high-rating television show.

The developer of Charlemont Rise at Geelong in Victoria said he had been forced to change the name of Lannaster Road because of the link to the incestuous Lannister siblings from Game of Thrones.

"The name was knocked back by the developers next door because of the relationship between the Lannister brother and sister on the show," said the project manager, Gary Smith. "I even changed the spelling to make it not as obvious."

Lannaster Road will henceforth be known as Precinct Road.

There have been no complaints about the other street names in the estate, more than a dozen of which were inspired by the show, Smith said. Among the names are Stannis, Winterfell, Greyjoy, Baelish and Tywin.
(10) THOMAS OBIT. Actor Jay Thomas (1948-2017) died August 24. His genre work included 20 episodes of Mork and Mindy, 6 episodes of Hercules, voicing an episode of Batman: The Animated Series, and The Santa Clause 2 and 3.
And he appeared on Letterman annually during the Christmas season to repeat his Clayton Moore story (quoted here from the Wikipedia):

Thomas… a young disc jockey at WAYS 610AM in Charlotte, North Carolina…. had been making a promotional appearance at a local car dealership which had also booked Clayton Moore to make an appearance, dressed in his Lone Ranger costume.

As the story goes, after the appearance Thomas, who at the time sported what he referred to as a "white man's Afro", and his friend, who was wearing high heeled shoes, tight pants, and a tie-dyed shirt, went off to get "herbed up" (smoke marijuana) behind a dumpster, after the broadcast ended. When they returned to pack up their equipment, they discovered that Moore was still there, as the car that was supposed to drive him to the Red Carpet Inn on Morehead Street (some years he would say the Red Roof Inn) never arrived. Thomas offered Moore a ride in his old Volvo, and Moore accepted. As they were sitting in traffic, an impatient middle-aged man backed his Buick into the front end of Thomas' car, broke a headlight, and drove away.

Thomas gave chase to the Buick through heavy traffic, finally caught up to the man, and confronted him about the damage. The indignant driver denied breaking the headlight, and Thomas threatened to call the police. The man said nobody would believe their story because Thomas and his friend looked like "two hippy freaks". At that moment, Thomas said that Moore, who was still in costume as the Lone Ranger, got out of the car and said to the man, "They'll believe me, citizen!"
(11) TODAY IN HISTORY
August 25, 1939 — The Wizard of Oz opens in theaters around the United States.
(12) TODAY'S BIRTHDAY BOYS & GIRLS
Born August 25, 1958 – Tim Burton
Born August 25 – Chris M. Barkley
Born August 25 – Marc Scott Zicree
Born August 25 – Maureen Starkey
(13) COMICS SECTION. JJ sends along the continuation to a comic linked yesterday – Classic Dilbert.
(14) IN YOUR DREAMS. Oor Wombat is off Toasting at Bubonicon this weekend. It seems to be sending ripples through the ether…
…"If you can hear me, don't say anything.
You know when you get two Slinkies badly tangled and you can't extract them from each other?

— CE Murphy (@ce_murphy) August 25, 2017
….plausible.

— The Wombat Resists (@UrsulaV) August 25, 2017
That seems to be everyone's general reaction. 🙂

— CE Murphy (@ce_murphy) August 25, 2017
(15) FURTHER PROGRESS. You can see some more concept art at Evermore's website, such as "The Enchanted Tree".
In other news, amazing progress continues to take place on the build site. As more structural and garden work gets underway, it's thrilling to think Pleasant Grove will soon be home to this incomparable park and we wanted to give you a glimpse at one of the more unique structures going in:

This is a model of the "Enchanted Tree" which will be found in our Fantasy Garden, one of the many explorable areas of Evermore. With magical spaces like these around every corner, Evermore will be a place ripe for adventure.
(16) FILE 770 ARCHIVE. Fanac.org is expanding its archive of scanned issues of classic File 770. Hey, some of this stuff is pretty funny, if I do say so myself….
6 issues of Mike Glyer's File 770 https://t.co/oP596p98ts & 1991 issue of European newsletter Shards of Babel https://t.co/EuZEz4Rp7f

— FANAC (@FANACFanHistory) August 23, 2017
(17) TOP SF ART. Simon Stålenhag's latest upload is incredible. Go to the website for close-ups of the ads on the buildings.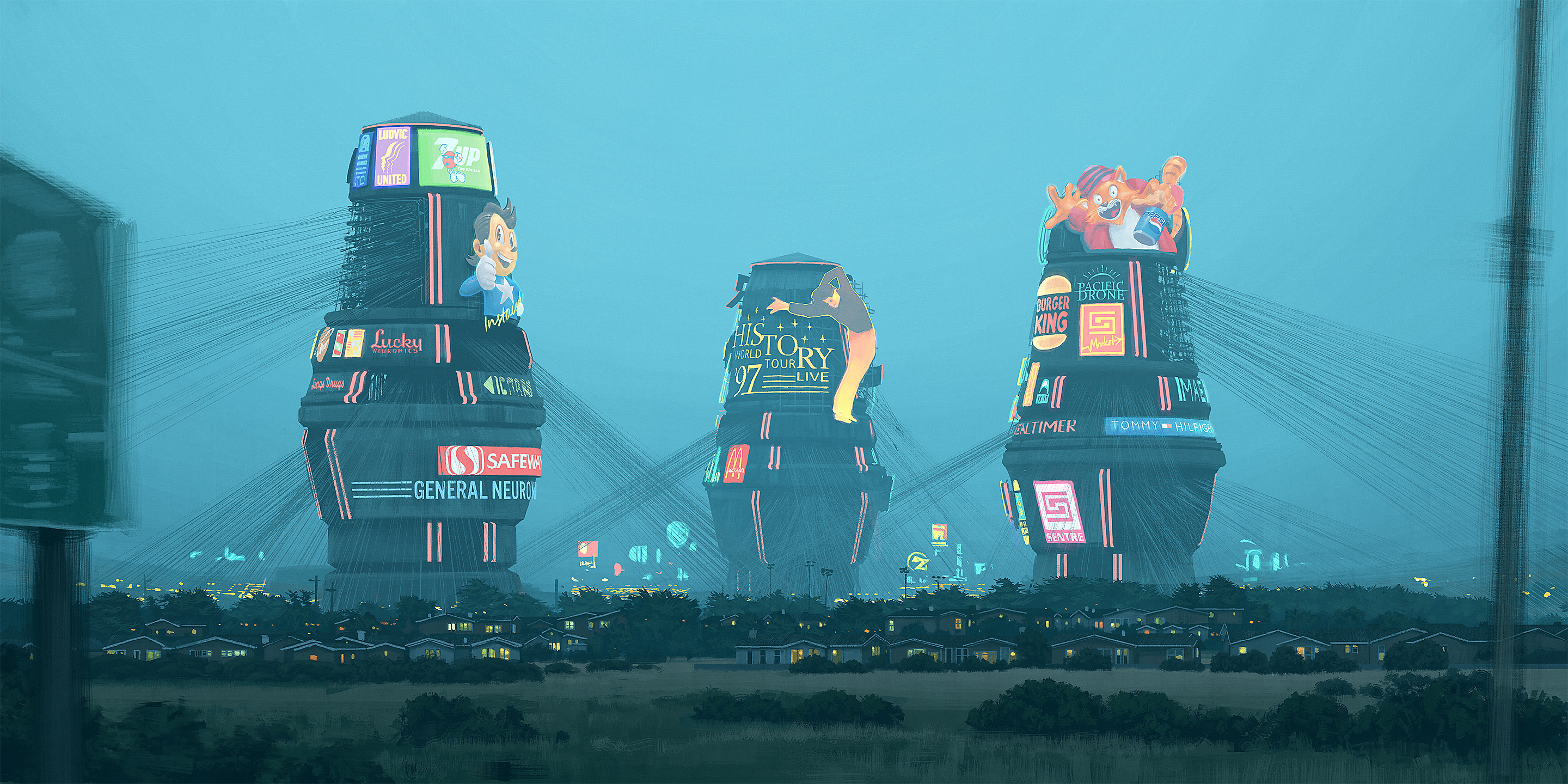 (18) THE LATE TIMOTHY. You can't fool an honest cat. Or Timothy…. Camestros Felapton brings us a "Worldcon Report from Timothy the Talking Cat".
I sat on the bed next to the pile of half frozen fish fingers I was packing into my Louis Vuitton clutch purse and looked up at the dim-witted fool who was under the misguided impression that this was his bedroom. I explained to him how, aside from the fact that Worldcon needs my presence, that I also fully expected to win a Hugo Award for Best Cat Who Edited Something. Oh, Camtrak Freightrain then goes into denial spouting off all sorts of nonsense: there's no such award he says, the nominees have already been published he says, the award ceremony already happened and it was in the news and everything he says – like that proves anything these days with the lying media spinning all sorts of wild stories. I patiently explained to the poor, poor intellectually limited creature about the role of write-in candidates, jury nullification and how, if you write your name in capitals like this -TIMOTHY THE TALKING CAT – then you get to win all the lawsuits and not pay taxes. "You'd have to start earning some money to pay taxes," mumbled Camphor Flushwipe sarcastically, knowing he was beaten by a higher intellect.
(19) YOUR ABOVE-AVERAGE DRAGON AWARD VOTER. Declan Finn explains who got his support in "My 2017 Dragon Award Vote". It's not exactly a deeply analytic post. Like, in the Best MilSF category he says —
My vote will go to Jon [Del Arroz]. I haven't read any of the nominees this year, but for friendship's sake, I'll vote for Jon.
And in Best SF Miniatures/etc. –
Again, not my scene. [Rolls 6-sided die]. Um … Star Wars?
However, Finn does bring out that there is not a unity between the Castalia House-published nominees that Vox Day is backing and Jon Del Arroz' "Happy Frogs" "Dragon Award Finalist Recommendations". Still, the question remains how many works win that are not on one list or the other, since these are the people who talk more about the Dragon Awards than anyone else.
First of all, we at the Happy Frogs Board of Trustees want to give a hearty congratulations to all the Frogs who croaked their way into Dragon Nomination success. Such an achievement! Happy Frogs are winners….

And we are committed to winning. We at the Happy Frogs firmly believe that 2nd place is first loser. This is why we have to have a talk, fans and frogs alike.

There are some categories where it will be very tough to get further than a nomination because of some big names and anti-frog individuals with loud microphones. It is IMPERATIVE that we throw our collective weights beyond one voice per category to give us the best odds to surpass some of these giants.  This is David vs. Goliath v. 2.0  and we have to make sure we go to battle ready.

Therefore, the Happy Frogs Board of Trustees have gotten together and unanimously decided to change our recommendations for this round of voting. This isn't for lack of love of our prior nominees — we do love you! and we want all frogs and fans to buy and read their books. But these are the voices that have the best chance to win.
(20) CLICKBAIT OF THE DAY. And the award goes to – Motherboard, for "Do We All See the Man Holding an iPhone in This 1937 Painting?"
It's not clear exactly who this man is, but he might as well be popping off a selfie or thumbing through his news feed. He seems to gaze into the handheld device in such a way that renders all-too-familiar today, as if he's just read a bad tweet or recoiling from a Trump-related push notification from the Times. He would almost look unremarkable, if only he and the world around him existed at any point in the past decade.

But the multi-part, New Deal-era mural the man occupies, titled "Mr. Pynchon and the Settling of Springfield," pre-dates the iPhone by seven decades….
(21) LEAPIN' LIZARDS. I missed this wonderful item before the eclipse but I think it's something everyone will still appreciate — "South Carolina Warns of Possible 'Lizardmen' During Solar Eclipse" from Fortune.
The upcoming solar eclipse has already brought some wonderful things to South Carolina, including a huge boost in tourist spending and the promise of a chocolate-glazed Krispy Kreme doughnut. But there are potential dangers lurking as well—like Lizardmen.

The South Carolina Emergency Management Division, in a Tweet, has issued a tongue-in-cheek advisory on possible paranormal activity during the Aug 21 event, noting that "SCEMD does not know if Lizardmen become more active during a solar eclipse, but we advise that residents of Lee and Sumter counties should remain ever vigilant."
Regarding possible paranormal activity potentially occurring during the #SolarEclipse2017. As always, if you see something, say something. pic.twitter.com/O3IuYhHzqB

— SCEMD (@SCEMD) August 9, 2017
… Lizardmen are actually a thing in South Carolina. Well, not actually a thing (probably), but they're the stuff of local legend. It's basically the state's version of Bigfoot, only with less hair and more scales. The last reported sighting was in 2015.
(22) LITERARY LANDMARK. Steve Barnes reminisces about Octavia Butler in "Keeping Octavia's House a Home". Click to see a photo of the place.
There are two writers I owe the most to, because of the personal connection: Larry Niven, my mentor, and Octavia Butler, my big sister. She inspired me to believe it was possible to survive in the field with integrity. Watching her over the years from a distance…and then living walking distance from her for about three years when I moved back into my mother's house in "the old neighborhood". Octavia lived on West Boulevard near Washington Boulevard between La Brea and Crenshaw, and because she didn't drive, I often gave her lifts to autographings and bookstores, and had her over for dinner and conversation. I was in the old neighborhood yesterday, and drove past her house. I'm not 100% certain this was hers, because there is a lot of new building in the area, destroying some of the landmarks. It is POSSIBLE that there were two duplexes side by side, and this is just the one that survived. But…I'm pretty sure. Hers was the door on the Left, I believe.
(23) THE GREAT UNMADE. Grunge's "Sci-fi shows that were too geeky to ever air" is one of these blasted posts that expects you to click through 20 screens, however, it is rather entertaining. On page 2 —
Paul Reubens, better known as Pee-Wee Herman, playing a wisecracking alien on an Area 51-like military base sounds like pretty much the perfect show. But NBC didn't pick up this awesome pilot in 2007. The premise: for 40 years, a bunch of misfit, unwilling government employees and researchers have been trying to discover the secrets of the alien and his ship, who still hasn't even given them his name, until Matthew Lillard (y'know, the guy who played Shaggy in two live-action Scooby-Doo movies) shows up, trying to make a difference. The Area 57 pilot has some pretty great moments, but we may never be truly ready to mix live-action sci-fi and comedy.
(24) BORNE. Jeff VanderMeer alerts fans to a new podcast, adding, "DEFINITELY spoilers for those who haven't read the book." — "CNET Book Club, Episode 1: 'Borne' by Jeff VanderMeer".
VanderMeer is best known for his Southern Reach Trilogy, which covers some similar science vs. nature ground (and is getting a big-budget movie treatment next year).

Tune in to the audio podcast above for an extensive discussion of "Borne's" secrets and mysteries. We're also joined via Skype by the author, who answers (almost) all our pressing questions about the world of "Borne."
(25) LISTEN UP! Torchwood is back – in Big Finish audio dramas.
Torchwood: Aliens Among Us Trailer

Torchwood is back! The first four episodes of Series 5 are out now from Big Finish Productions, featuring Jack, Gwen and Rhys and four new characters co-created by Russell T Davies. Starring John Barrowman, Eve Myles, Rhys Williams and Tom Price.
[Thanks to John King Tarpinian, Carl Slaughter, David Doering, Cat Eldridge, Andrew Porter, and JJ for some of these stories. Title credit belongs to File 770 contributing editor of the day Daniel Dern, who is not to blame for a slight tweak by OGH.]