A Hollywood bomb that made money, a cable hit with a future, and the perpetual love feast that is the Worldcon, all in today's Scroll.
(1) James Earl Jones played B-52 bombardier Lt. Lothar Zogg in Dr. Strangelove.
It was his seventh professional credit. In five of his first 10 roles he was cast as a doctor. That early typecasting wasn't enough to get him the part of Dr. Strangelove himself, though… Jones first appears in this YouTube clip at :40.
James Earl Jones would establish his greatness as an actor a few years afterwards on Broadway, earning a Tony as the lead in The Great White Hope, and an Academy Award nomination in the film version of the play. Because of his prominence in mainstream entertainment, gigs like voicing Darth Vader or Mufasa in The Lion King seem like sidelines, however, Jones has often worked in genre, fantasy and offbeat productions.
He played alien abductee Barney Hill in a 1975 TV movie, Thulsa Doom in Conan the Barbarian, the warrior Umslopogaas in Allan Quatermain and the Lost City of Gold (1986), reclusive author Terence Mann in Field of Dreams (1989), and also has been in many obscure genre and animated productions.
(2) J. Michael Straczynski, interviewed by Comic Book Resources, is cautiously optimistic about a second season of Sense8.
While the streaming service hasn't officially given the green light to second season, a promising gesture occurred when Netflix hosted a "Sense8″ panel during the Television Critics Association summer press tour with cast and creators in attendance, including Straczynski who updated the status of a possible renewal. "We're still awaiting word," he said on stage. "We're in the process. We're waiting for a final determination. We're cautiously optimistic, but ultimately it's Netflix's call."

If the call does come, Straczynski said he and the Wachowskis have already given plenty of thought to the next phase of the "Sense8" universe. "We're looking at expanding that as far as logic goes," he said. "What's kind of fun about the characters is that what they're sharing are not necessarily [powered] – like, in other concepts, which might be superpowers, flight. They have ordinary abilities, and we're trying to say that there is value and merit and power in [that] – whether you're an actor or you are a martial arts person or a bus driver, you have something to contribute."
(3) You have til tomorrow to bid on a copy of the American first edition of Verne's Twenty Thousand Leagues Under The Sea. Currently up to $2,400.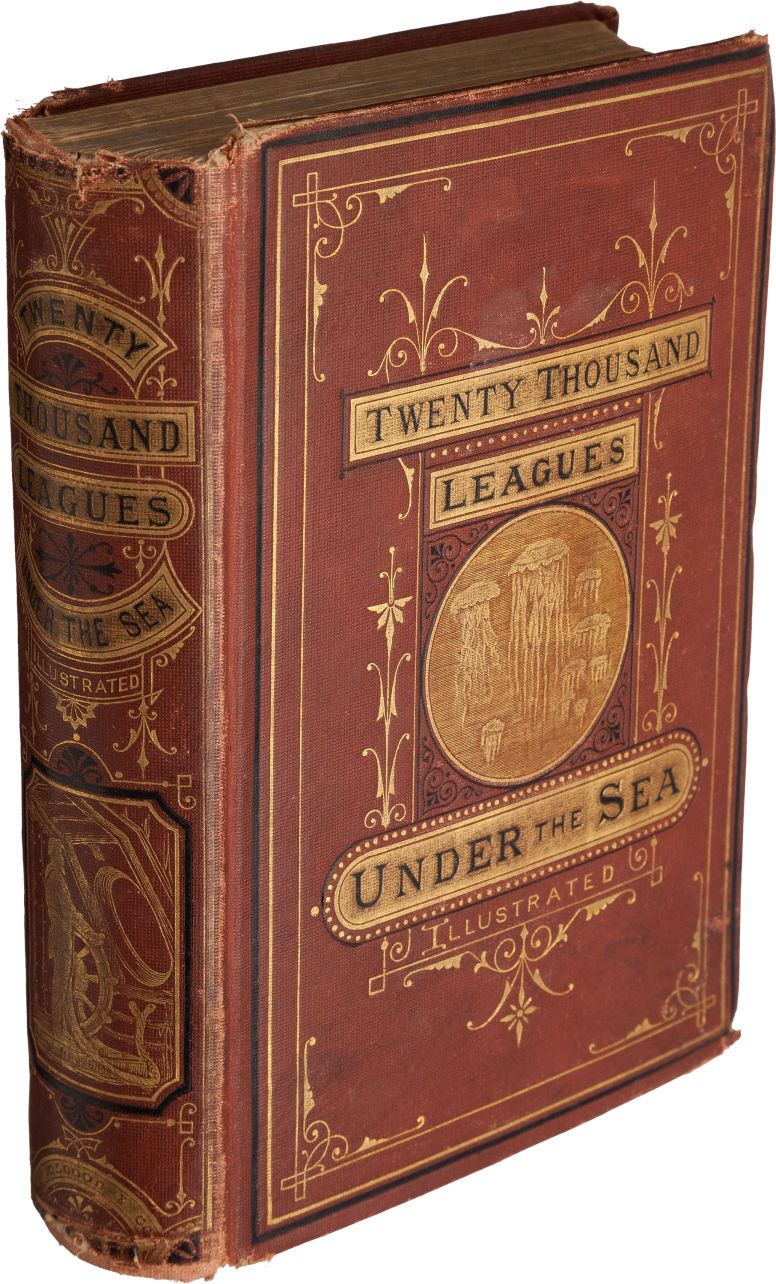 (4) "7 Science Fiction Publishers that Pay $750+ for Short Stories" seems to have valid info (I checked the Analog entry and it is good) even if the page itself is an ad for writing jobs.
(5) Today's birthday boy – Clifford D. Simak, three-time Hugo winner, for "The Big Front Yard" (1959), "Grotto of the Dancing Deer" (1981), and one of my very favorite sf novels, Way Station (1964). He was named a SFWA Grand Master, received a Bram Stoker Award for Life Achievement, and won the First Fandom Hall of Fame Award.
After the original Dean of Science Fiction, Murray Leinster, passed away, Isaac Asimov considered only two writers had earned the right to succeed to the unofficial title, saying in The Hugo Winners: 1980-1982 (1986) "the only writer who can possibly compete with [Clifford D. Simak] as 'dean of science fiction' is Jack Williamson, who is four years younger than Cliff but has been publishing three years longer."
(6) Artist Bob Eggleton predicts the demise of the Worldcon art show in "We LOVE Worldcon….but here's what happened…"
Back in the 1980s, it was commonplace for us Pro Artists to schlep or ship our work to the convention. The 80s was a great time,  SF looked good,  major authors were doing major works, the covers were the best they'd ever been.  Costs were low.  Even in the 90s it was still viable. I can remember in 1996 shipping 3 large boxes of artwork to the LACon of that year in Anaheim.  It was a lot of fun, I won a Hugo in fact. The boxes cost me something like $300.00 each way for a total of $600 and change.  I made something like $4500 in the show, so including everything, I still made money.

….It's the shipping costs that it all comes down to vs the return in sales that are not always congruent. So while people ask "What happened to all the name artists?"….it's simply cost that we can't do this anymore. My personal view is also that, Worldcon has changed and few people are interested in the physical art like they used to be, with all the interest in digital media. And it has become a lot of work to prepare for these events. My memories are long and I will always remember the good times, but, they've passed. I see a future of an artshow-less Worldcon, due to insurance costs and lack of manpower and, as digital art becomes the mainstay, a lack of physical art.
(7) Dave Freer's "Show me" at Mad Genius Club is a one-man roundup post.
In this case I'm talking about all those folk who have been telling us 'we're doing it wrong'. You know precisely the sort of individuals I'm talking about. They'll tell me I'm an evil cruel man for killing a chicken or a wallaby… but they have never done it. They've never been faced with a choice of that, or no food (let alone meat). They buy a product in the supermarket… which magically makes it appear in the freezer. They'll tell you that you did your book all wrong and that it is terrible and full of typos… but they haven't written one. Or if they have, they didn't have to survive the mill of the slush-pile as I did (or self-pub), but thanks to their 'disadvantages' and connections had a publisher pay an editor to help, and proof reader to clear some of those typos. They'll tell you that the puppies efforts are dragging sf back in time (yes, JUST in time), yet they've done nothing to alter the catastrophic plunge of sf/fantasy sales from traditional publishers. If you force them to confront the figures showing they've been part of excluding anyone to the right of Lenin from traditional publishing and the various awards (which, it seems extremely likely, downgraded the sale-value of those awards, and the popularity of the genre… they'll tell you there might be a problem (but of course nothing like as bad as you make it out to be) and we, the puppies just did it wrong.
(8) But never let it be said the Puppies haven't left their noseprint on the field. Dave Hicks's cover art for Novacon 45's progress reports is themed for GoH Stan Nicholls's Orcs fantasies. Here's the topical #2.
[Thanks to David Langford and John King Tarpinian for some of these stories. Title credit goes to File 770 contributing editor of the day Snowcrash.]