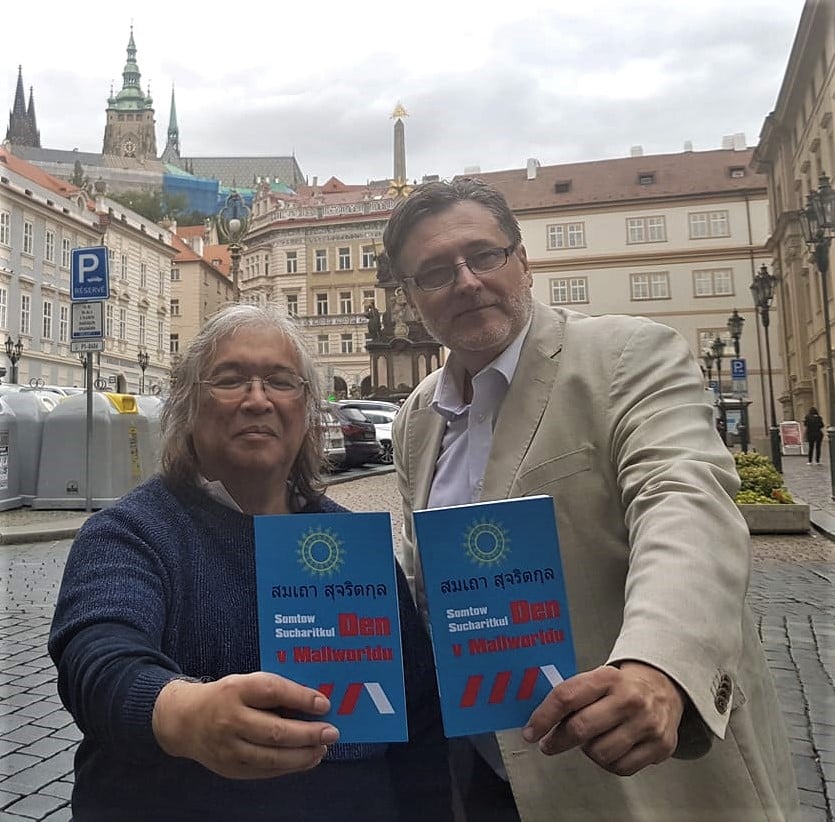 (1) DEFINITELY A FIRST. Somtow Sucharitkul's full day included release of the Czech translation of his short story collection — Den v Mallworldu
What a day!

Siam Sinfonietta was honored by being made Orchestra in Residence of the International Music Festival in Olomouc

I received a medal for my work in cross-cultural outreach from Festa Musicale

My book was launched, the first book by a Thai author ever to appear in Czech

…Amazingly, while taking my orchestra on tour in Central Europe, well known fan and translator Jaroslav Olša organized the publication of all my stories that have previously appeared in Czech as a collection and I am having a book launch today – followed by conducting the orchestra in Martinu Hall! This has got to be a SF first, I would think!
(2) ALPHABET SLOOP. Camestros Felapton saw a need and filled it: "The less loved Star Wars wing fighters".
I was impressed by this comprehensive list of 'alphabet' fighters from Star Wars https://www.gizmodo.com.au/2019/09/star-wars-wings-ranked/

I hadn't realised there were so many but I can't help thinking that there is a lot more of the alphabet Star Wars could have covered. So I have decided to fill in some of the gaps.
(3) DINOS FROM DUBLIN. Collider features a long interview with the director — "Exclusive: Colin Trevorrow on How He Secretly Made the 'Jurassic World' Short Film 'Battle at Big Rock'".
A lot of people are going to wonder how did you make a Jurassic World short film without anyone getting wind of it?

TREVORROW: We shot it in Ireland last winter. They have a grove of redwood trees outside Dublin that look exactly like the national parks in Northern California. I honestly never thought we'd make it this far without getting found out. The Irish can keep a secret….

Netflix has a Jurassic World animated series arriving next year. Do you guys have an idea of how long you want the animated series to go for? Do you have a plan if the show is a huge hit?

TREVORROW: Camp Cretaceous. The animation is gorgeous, it's really exciting and emotional. I think kids are going to love these characters. The writers are so deeply invested in making something we can all be proud of. If it's a hit and people want more, we're ready. Just say the word
(4) FUNDRAISER. Kristine Kathryn Rusch sends fans "A Charitable Reminder" about an event she's doing tomorrow —
I will be doing a live reading and Q&A for the Read for Pixels YouTube Session at 6.00pm PST on September 13th, 2019 (Friday).

The Pixel Project is a worldwide coalition of grassroots activists and volunteers who strongly believe that men and women must take a stand together for the right of women and girls to live a life free of gender-based violence. Our team, our allies, and our supporters use the power of the internet to mount a global effort to raise awareness about and hopefully mobilize communities around the world to get involved with ending violence against girls and women.

I'm participating in their fall fundraiser which began on September 1. Several other authors are participating as well. We're donating our time and some goodies to encourage you to give a little bit of your hard-earned cash for the cause. So please join me on Friday!
(5) MAKING PARANORMAL MORE CONVINCING. Erin Lindsey, in "Tying In History, Mystery, and The Supernatural" on CrimeReads tells historical paranormal romance novelists that they'll write better books if their history is accurate.
…Hang on a minute, you say. I was with you up to the magic paintings, but aren't we writing historical fiction here? Isn't that supposed to be, you know… accurate?

For the most part, yes. That's why it's so important to get the details right. To make sure everything else is meticulously researched and faithfully rendered, so that when that moment of departure comes, it makes a big impression. It helps if you can even ground your supernatural elements in real life – for example, by referring to unexplained incidents that actually exist in the historical record. For Murder on Millionaires' Row, I researched ghost stories in the New York Times, selecting a few that took place at roughly the same time and even turning one of the real-life investigating officers into a major secondary character. Readers can go back to 19th century newspaper clippings and connect the dots between murders, ghosts, and a few other surprises—all against the backdrop of an otherwise historically accurate Gilded Age New York.
(6) TODAY IN HISTORY.
September 12, 1958 – The Blob premiered.
September 12, 1993 — CBS first aired Rockne S. O'Bannon's Seaquest DSV on this date in 1993. Seaquest DSV would last just three years.
September 12, 1993 — Genre fans were treated to latest version of the Man Of Steel when Lois & Clark: The New Adventures Of Superman debuted this day.
(7) TODAY'S BIRTHDAYS.
[Compiled by Cat Eldridge.]
Born September 12, 1897 — Walter B. Gibson. Writer and professional magician who's best known for his work creating and being the first and main writer of the pulp character The Shadow. Using the pen-name Maxwell Grant, he wrote 285 of the 325 Shadow stories published by Street & Smith in The Shadow magazine of the Thirties and Forties. He also wrote a Batman prose story which appeared in Detective Comics #500 and was drawn by Thomas Yeates. (Died 1985.)
Born September 12, 1914 — Desmond Llewelyn. He's best known for playing Q in 17 of the Bond films over thirty-six years. Truly amazing. Live and Let Die is the only one in the period that Q was not in. He worked with five Bonds, to wit Sean Connery, George Lazenby, Roger Moore, Timothy Dalton and Pierce Brosnan. Other genre appearances include The Adventures of Robin Hood, the Strange Case of Dr Jekyll and Mr Hyde, The Curse of the Werewolf and Chitty Chitty Bang Bang. (Died 1999.)
Born September 12, 1916 — Mary, Lady Stewart (born Mary Florence Elinor Rainbow). Yes, you know her better as just Mary Stewart. Genre wise, she's probably best known for her Merlin series which walks along the boundary between the historical novel and fantasy. Explicitly fantasy is her children's novel A Walk in Wolf Wood: A Tale of Fantasy and Magic. (Died 2014.)
Born September 12, 1921 — Stanislaw Lem. He's best known for Solaris, which has been made into a film three times. Both iBooks and Kindle have generous collections of his translated works at quite reasonable prices. (Died 2006.)
Born September 12, 1922 — John Chambers. He's best known for designing Spock's  pointed ears, and for the prosthetic make-up work on the Planet of the Apes franchise. Some of those character creations, including Cornelius and Dr. Zaius from the Planet of the Apes series, are on display at the Science Fiction Museum. He worked on the Munsters, Outer Limits, Lost in Space, Mission Impossible, Night Gallery and I Spy along with uncredited (at the time) prosthetic makeup work on Blade Runner. (Died 2001.)
Born September 12, 1940 — Brian De Palma, 79. Though not a lot of genre in his resume, he has done some significant work including Carrie. Other films he's done of interest to us are The Fury which most likely you've never heard of, and the first Mission: Impossible film along with Mission to Mars. Not genre, but I find it fascinating that he directed Bruce Springsteen's Dancing in the Dark video which has a genre connection as actress Courtney Cox would be in the Misfits of Science series and the Scream horror franchise as well. 
Born September 12, 1940 — John Clute, 79. Critic, one of the founders of Interzone (which I avidly read) and co-editor of the Encyclopedia of Science Fiction (with Peter Nicholls) and of the Encyclopedia of Fantasy (with John Grant) as well as writing the Illustrated Encyclopedia Of Science Fiction. All of these publications won Hugo Awards for Best Non-Fiction. And I'd be remiss not to single out for praise The Darkening Garden: A Short Lexicon of Horror which is simply a superb work.
Born September 12, 1942 — Charles L. Grant. A writer who said he was best at what he called "dark fantasy" and "quiet horror". Nightmare Seasons, a collection of novellas, won a World Fantasy Award, while the "A Crowd of Shadows" short garnered a Nebula as did "A Glow of Candles, a Unicorn's Eye" novella. "Temperature Days on Hawthorne Street" story would become the Tales from the Darkside episode "The Milkman Cometh". Both iBooks and Kindle have decent but not outstanding selections of his works including a few works of Oxrun Station, his core horror series. (Died 2006.)
Born September 12, 1962 — Mary Kay Adams, 57. She was Na'Toth, a Narn who was the aide to G'Kar in the second season of Babylon 5, and she would show up as the Klingon Grilka in the episodes "The House of Quark" and "Looking for par'Mach in All the Wrong Places". 
(8) DOCTOR WHO COLLECTIBLES. If you're at the New York Comic Con (October 3-6) you might have a shot at these —
DOCTOR WHO 3″ Thirteenth Doctor "Kerblam!" Kawaii TITAN
Titan Entertainment are proud to present the latest in their series of limited edition Thirteenth Doctor Kawaii TITANS vinyls! For NYCC 2019, we're showcasing the Thirteenth Doctor as she appears in the seventh episode of season eleven "Kerblam!" Available in very limited numbers at Titan Entertainment Booth #2142!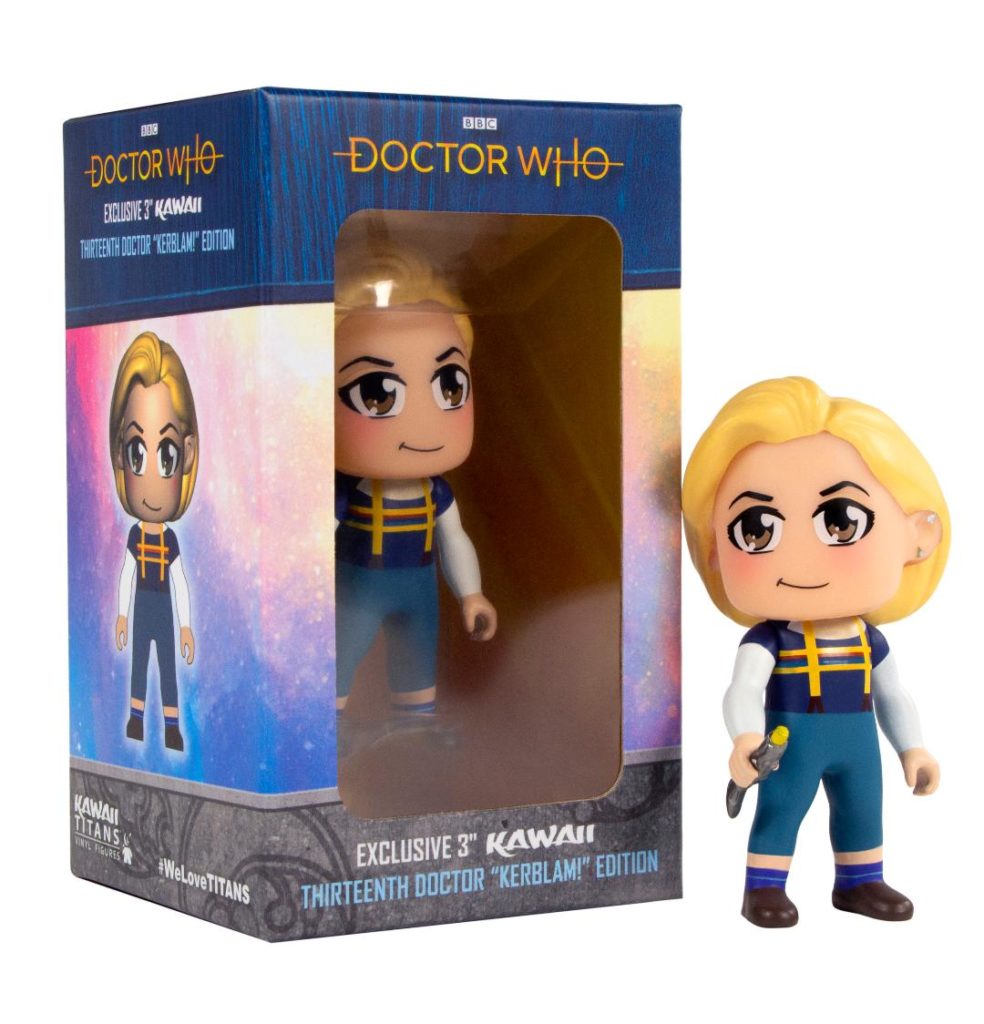 DOCTOR WHO 3″ Thirteenth Doctor "Rosa" Classic TITAN
Titan Entertainment are thrilled to announce the latest in their series of limited edition Thirteenth Doctor classic TITANS vinyls! For NYCC 2019, we're debuting the Thirteenth Doctor as she appears in the third episode of season eleven "Rosa". Available in very limited numbers at Titan Entertainment Booth #2142!
(9) FILM NOTES. The New York Times' Joshua Barone is there when two movie scores, overshadowed for one reason or another when they first screened, get their due in a performance at David Geffen Hall: "'Psycho' and 'Close Encounters' Roll at the Philharmonic".
'Close Encounters of the Third Kind'

That Mr. Williams wrote his score for "Star Wars" in the same year as "Close Encounters" speaks to his versatility. One is a grand space opera, with catchy Wagnerian leitmotifs and blaring immensity; the other is atonal and elusive, full of amorphous sound that rarely coalesces into melody. (Mr. Williams, ever adaptable, later wrote playfully enchanting music for "Harry Potter and the Sorcerer's Stone," which the Philharmonic will perform in December.)

If you listen closely, there are signs that "Star Wars" and "Close Encounters" share a composer: an affinity for Ligeti comes through in both, as does a mastery of cosmic Romanticism. But their differences are clear from the first measure. Where "Star Wars" begins with fanfare and a brassy overture, Mr. Spielberg's movie doesn't open with any sort of memorable theme….

'Psycho'

Steven C. Smith, in his biography "A Heart at Fire's Center: The Life and Music of Bernard Herrmann," repeats a quip from the composer that Hitchcock completed only 60 percent of any film.

"I have to finish it for him," Herrmann said.

That's not too outrageous; in the films they collaborated on between 1955 and 1964, from "The Trouble With Harry" to "Marnie," Herrmann's soundtracks were vital in setting tone and offering insight into psychology.
(10) CATS SLEEP ON SFF. Twitter edition –
(11) TURN BACK THE CLOCK. [Item by SF Concatenation's Jonathan Cowie.] The SF concept of Anagathics or Antiagathics may about to come of age as an article in Nature reveals…. "First hint that body's 'biological age' can be reversed".
In a small trial, drugs seemed to rejuvenate the body's 'epigenetic clock', which tracks a person's biological age.

A small clinical study in California has suggested for the first time that it might be possible to reverse the body's epigenetic clock, which measures a person's biological age.

For one year, nine healthy volunteers took a cocktail of three common drugs — growth hormone and two diabetes medications — and on average shed 2.5 years of their biological ages, measured by analysing marks on a person's genomes. The participants' immune systems also showed signs of rejuvenation.

The results were a surprise even to the trial organizers — but researchers caution that the findings are preliminary because the trial was small and did not include a control arm.
(12) DYNASTIC DUO. SciFiNow shared Eoin Colfer reading from a forthcoming novel — "Exclusive video: Artemis Fowl author Eoin Colfer reads his new book The Fowl Twins".
The new fantasy series sees Artemis's twin brothers at the helm of a dangerously fast-paced adventure. With their brother, criminal virtuoso Artemis Fowl, away on a five-year mission to Mars, the younger Fowl children, 11- year-old twins Myles and Beckett, have been left alone at the Fowl family home.

One day, the twins manage to accidentally get caught up in an interspecies dispute when a troll burrows out of the Earth's core right in front of Beckett's eyes! In the events that follow the boys are shot at, kidnapped, buried, arrested, threatened and even temporarily killed but, despite their differences, the twins find that there is no force stronger than the bond between them.
(13) THE TESTAMENTS ON RADIO. [Item by SF Concatenation's Jonathan Cowie.] B Beeb Ceeb Radio 4 are doing a Book at Bed Time, Atwood's The Testaments. They must have been quietly working on this as I only heard of it yesterday (usually I am pretty genned up on Radio 4 as it is piped to my study).
If you want an abridged audio book then this could be it for you. Episodes begin Monday 16th Sept (so not downloadble yet) starting here.
Margaret Atwood's powerful and hugely anticipated sequel to The Handmaid's Tale picks up 15 years after Offred stepped into the unknown. Now shortlisted for the Booker Prize.
(14) ROWLING HONORS MOTHER. It involves a charitable contribution: "JK Rowling donates £15.3m to Edinburgh MS research centre".
JK Rowling has donated £15.3m to support research into neurological conditions at a centre named after her mother.

The Anne Rowling Regenerative Neurology Clinic at the University of Edinburgh was established with a £10m donation from the Harry Potter author in 2010.

Her latest gift will help create new facilities and support research.

Anne Rowling died aged 45 from complications related to multiple sclerosis (MS).

The centre is an integrated care and research facility focusing on MS and neurological conditions with the aim of bringing more clinical studies and trials to patients.

Neurological conditions studied at the clinic include motor neurone disease (MND), Parkinson's and dementias.
(15) LEGENDARY ELEMENT. BBC asks, "'Red mercury': why does this strange myth persist?".
For centuries rumours have persisted about a powerful and mysterious substance. And these days, adverts and videos offering it for sale can be found online. Why has the story of "red mercury" endured?

Some people believe it's a magical healing elixir found buried in the mouths of ancient Egyptian mummies.

Or could it be a powerful nuclear material that might bring about the apocalypse?

Videos on YouTube extol its vampire-like properties. Others claim it can be found in vintage sewing machines or in the nests of bats.

There's one small problem with these tales – the substance doesn't actually exist. Red mercury is a red herring.

The hunt for red mercury

Despite this, you can find it being hawked on social media and on numerous websites. Tiny amounts are sometimes priced at thousands of dollars.

Many of the adverts feature a blurry photo of a globule of red liquid on a dinner plate. Next to it there will often be a phone number scribbled on a piece of paper, for anybody foolish enough to want to contact the seller.
(16) EXIT INTERVIEW. [Item by Jo Van.] In New Zealand, the law requires that people going for an employment-related meeting or medical consultation be permitted to bring a support person, who may be there to provide emotional support, other kinds of support for a mentally- or physically-disabled or ill person, or translation services in the case of someone whose English comprehension may not be strong. "Auckland adman hires professional clown for redundancy meeting" in the New Zealand Herald. ("redundancy" = "down-sized" or "laid off".)
…The Herald understands that the clown blew up balloons and folded them into a series of animals throughout the meeting.

It's further understood that the clown mimed crying when the redundancy paperwork was handed over to the staffer.
[Thanks to Cat Eldridge, John King Tarpinian, JJ, Mike Kennedy, SF Concatenation's Jonathan Cowie, Martin Morse Wooster, Chip Hitchcock, Iphinome, Jo Van, and Andrew Porter for some of these stories. Title credit goes to File 770 contributing editor of the day Daniel Dern.]