(1) HWA CELEBRATES LATINX HERITAGE MONTH. From September 15 through October 15 the HWA will be celebrating Latinx Heritage month in a series of interviews conducted by social media manager Sumiko Saulson.
The series will begin with an introductory piece from Cynthia "Cina" Pelayo. An excerpt: "Following this month is a celebration of our Latinx horror writers. I want to thank the Horror Writers Association for hosting this celebration of our Latinx horror writers. This is an exciting time to be a horror writer and to be a Latinx horror writer. Our stories are important and I'm happy to see the wonderful support our works are receiving."
 
Go to Horror.org on September 15 to read the rest.
(2) BE ON THE LOOKOUT. Almost 5,000 items – mainly comics — were stolen from Florida State University's Robert M. Ervin Jr. Collection between March 17, 2020 and February 10, 2021. The list of what was taken is here.
The Robert M. Ervin Jr. Collection consists of comic books, serials, and containing and related to superheroes, science fiction, fantasy, and horror. Publications include those by Marvel Comics, DC Comics, underground comix publishers, foreign language titles, pulp magazines, and Big Little Books. Over 1200 serial titles are represented, predominantly from the 1950s through the 1970s. Other works include monographs and serials related to comic book collecting, history, and criticism as well as posters and prints featuring comic book characters and art.

Unfortunately, most missing items are not marked in any way that distinguishes them from other copies of the same magazines. Some may have mailing labels for Tallahassee, Florida addresses. Missing items may have appeared on the secondary market as early as March 2020.
If you have any information about these materials, please contact FSU Special Collections & Archives: Katie McCormick, Associate Dean of FSU Special Collections & Archives: kmccormick@fsu.edu
(3) THE BOOKER PRIZE. One book of genre interest has survived to join the half dozen on The Booker Prize shortlist. Its title is shown in boldface.
A Passage North, Anuk Arudpragasam (Granta Books, Granta Publications)
The Promise, Damon Galgut, (Chatto & Windus, Vintage, PRH)
No One is Talking About This, Patricia Lockwood (Bloomsbury Circus, Bloomsbury Publishing)
The Fortune Men, Nadifa Mohamed (Viking, Penguin General, PRH)
Bewilderment, Richard Powers (Hutchinson Heinemann, PRH)
Great Circle, Maggie Shipstead (Doubleday, Transworld Publishers, PRH)
The winner will be announced on November 3.
(4) CORNERING THE MARKET. Horror Writers Association's monthly Quick Bites tells that British horror author Graham Masterton has been honored for his work in Poland by the unveiling of a bronze dwarf on Kielbasnicza Street in the centre of Wroclaw.
It depicts him holding up a copy of his bestselling horror novel The Manitou, which told the story of a Native American shaman who was reincarnated after 400 years in the body of a white woman to take his revenge on the colonists who decimated his tribe. The Manitou was filmed with Tony Curtis, Susan Strasberg, Stella Stevens and Burgess Meredith.
 
The Manitou was the first Western horror novel published in Poland after the fall of Communism, and was a huge bestseller.  Graham Masterton visits Poland regularly and supports several Polish charities, including an orphanage in Strzelin.
 
Wroclaw boasts nearly 600 dwarves on its streets and they are a huge tourist attraction. 
(5) GONE BUT NOT FORGOTTEN. "Lost, stolen, eaten or burned, these are the words that the world will never read," promises the Lost Manuscripts website, whose research includes a page from "The Eye of Argon" and a David Langford reference: "In which Page 49 goes missing for 34 years".
.. What made this piece of fiction such a perennial hit? What made the exploits of Grignr, a barbarian, so relentlessly popular? Was it the wooden characters, the hackneyed plot? No. People generally agreed that it was the prose: the prose was spectacularly appalling. The special events at the science-fiction conventions were competitions: who could read the story aloud for the longest before beginning to laugh uncontrollably and thus be unable to continue?…
(6) HWA ONLINE READINGS. The Horror Writers Association "Galactic Terrors" online reading series for September 2021 features readings by Carol Gyzander, Sarah Read, and John Edward Lawson
CAROL GYZANDER writes and edits horror, dark fiction, and sci-fi. She's Co-Coordinator of the HWA NY Chapter and one of the usual co-hosts of Galactic Terrors. …JOHN EDWARD LAWSON's novels, short fiction, and poetry have garnered nominations for many awards, including the Stoker and Wonderland Awards. In addition to being a founder of Raw Dog Screaming Press and former editor-in-chief of The Dream People he currently serves as vice president of Diverse Writers and Artists of Speculative Fiction. SARAH READ is a dark fiction writer in the frozen north of Wisconsin. Her short stories can be found in various places, including Ellen Datlow's Best Horror of the Year vols 10 and 12. …Her debut novel THE BONE WEAVER'S ORCHARD, [was] nominated for the Bram Stoker, This is Horror, and Ladies of Horror Fiction Awards. Guest host MEGHAN ARCURI writes fiction. Her short stories can be found in various anthologies, including Borderlands 7 (Borderlands Press), Madhouse (Dark Regions Press), Chiral Mad, and Chiral Mad 3 (Written Backwards). She is currently the Vice President of the Horror Writers Association.
(7) SHOULD HAVE STAYED AT HOME. James Davis Nicoll picks out "Five Doomed Attempts at Planetary Colonization" for Tor.com readers.
Methuselah's Children by Robert A. Heinlein (1958)

Products of an implausibly successful eugenics project, the long-lived Howard families become the focus of the mayfly masses' paranoia that the Howards' lifespan is not thanks to inherent genetic gifts but some secret they will not share. Life on Earth swiftly becomes untenable for the Howards. Those who can flee commandeer a sublight starship and flee to the stars, hoping to find a new world they can call home.

Earthlike worlds prove to be surprisingly common. There is however a small catch: the planet the Howards first encounter is already occupied. The alien Jockaira appear roughly comparable to humans. They are in fact property. The planet's true masters are godlike, and they have no place for humans. An act of functionally divine will sends the Howards on their way… to a world whose gentle natives prove just as advanced in their way as the gods and even more disquieting to mortal humans.
(8) ROAD LESS TAKEN. Connie Willis told her Facebook followers they have a new book to look forward to. She describes the plot at the link.
Random House has bought my new novel and it will be coming out….well, I don't actually know when it will be coming out. There's still the rewrite to do with my editor and then the galleys and stuff, but hopefully soon.

The novel is called THE ROAD TO ROSWELL, and it's a comedy about UFOs and alien abduction (I mean, what else could it be but a comedy when aliens are involved?)
(9) NORM MACDONALD (1959-2021). A comic best known for his work on Saturday Night Live, Norm Macdonald died September 14 of cancer. McDonald did a lot of voice work for genre animated (and some non-animated) films/TV as well as having a recurring role in the first two seasons of The Orville voicing the blob Yaphit, a Gelatin Lieutenant and Engineer.
(10) MEMORY LANE.
1964 – Fifty seven years ago this evening on ABC, Voyage to the Bottom of the Sea premiered. It's based on the 1961 film of the same name. Both were created by Irwin Allen, which enabled the film's sets, costumes, props, special effects models, and even sometimes the footage of the film to be used in the television series. It was the first of Irwin Allen's four SF series (the latter series being Lost in Space, The Time Tunnel and Land of the Giants.) It starred as Richard Basehart as Admiral Harriman Nelson and David Hedison as Captain Lee Crane Robert. It would last for four seasons of one hundred and ten episodes. A 39-inch Seaview Moebius Model Kit was sold during the series. You can purchase it on eBay.  
(11) TODAY'S BIRTHDAYS.
[Compiled by Cat Eldridge.]
Born September 14, 1927 — Martin Caidin. His best-known novel is Cyborg which was the basis for The Six Million Dollar Man franchise. He wrote two novels in the Indiana Jones franchise and one in the Buck Rogers one as well. He wrote myriad other sf novels as well. Marooned was nominated for a Hugo at Heicon '70 but TV coverage of Apollo XI won that year. he Six Million Dollar Man film was a finalist for Best Dramatic Presentation at Discon II which Woody Allen's Sleeper won. (Died 1997.)
Born September 14, 1936 — Walter Koenig, 85. Best known for his roles as Pavel Chekov on the original Trek franchise and Alfred Bester (named in homage of that author and a certain novel) on Babylon 5. Moontrap, a SF film with him and Bruce Campbell, would garner a twenty-eight percent rating at Rotten Tomatoes. Alienable which he executive produced, wrote and acts in has no rating there. 
Born September 14, 1941 — Bruce Hyde. Patterns emerge in doing these Birthdays. One of these patterns is that original Trek had a lot of secondary performers who had really short acting careers. He certainly did. He portrayed Lt. Kevin Riley in two episodes, "The Naked Time" and "The Conscience of the King" and the rest of his acting career consisted of eight appearances, four of them as Dr. Jeff Brenner on Dr. Kildare.  He acted for less than two years in '65 and '66, before returning to acting thirty four years later to be in The Confession of Lee Harvey Oswald which is his final role. (Died 2015.)
Born September 14, 1944 — Rowena Morrill. Well-known  for her genre illustration, she is one of the first female artists to impact paperback cover illustration. Her notable works include The Fantastic Art of Rowena, Imagine (French publication only), Imagination (German publication only), and The Art of Rowena.  Though nominated for the Hugo four times, she never won, but garnered the British Fantasy Award, and the World Fantasy Award for Lifetime Achievement. OGH's obituary for her is here.  (Died 2021.)
Born September 14, 1947 — Sam Neill, 74. Best known for role of Dr. Alan Grant in Jurassic Park, which he reprised in Jurassic Park III, and will play again in the forthcoming Jurassic World: Dominion. He was also in Omen III: The Final Conflict, Possession, Memoirs of an Invisible Man, Snow White: A Tale of Terror, Bicentennial Man, Legend of the Guardians: The Owls of Ga'Hoole, The Adventurer: The Curse of the Midas Box, Thor: Ragnarok and Peter Rabbit. Busy performer, genre wise. 
Born September 14, 1961 — Justin Richards, 60. Clute at ESF says "Richards is fast and competent." Well I can certain say he's fast as he's turned out thirty-five Doctor Who novels which Clute thinks are for the YA market between 1994 and 2016. There's another nineteen novels written there.  And he has other series going as well including being one of the main scriptwriters for the Jago & Litefoot Big Finish series, the characters being spin-offs from the Fourth Doctor story, "The Talons of Wang Chiang".  And then there's the Doctor Who non-fiction which runs to over a half dozen works. Prolific, isn't he? 
Born September 14, 1972 — Jenny T. Colgan, 49. Prolific writer of short stories in the Whovian universe with a baker's dozen to date, several centered on River Song. She novelized "The Christmas Invasion", the first full Tenth Doctor story. She has two genre novels, Resistance Is Futile and Spandex and the City.
Born September 14, 1989 — Jessica Brown Findlay, 32. She appeared as Beverly Penn in the film version of Mark Helprin's Winter's Tale novel. She's Lorelei in Victor Frankenstein, a modern take on that novel, and plays Lenina Crowne in the current Brave New World series on Peacock. Finally I'll note she was Abi Khan on Black Mirrior's "Fifteen Million Merits" episode. 
(12) COMICS SECTION.
Adam@Home confirms nothing needs doing more than reading.
FoxTrot finds another way students are annoyed with their parents.
Tom Gauld's scientists' attack of conscience is too late to help.
(13) HORROR COOK BOOK COMING. The HWA Cook Book edited by Marge Simon, Robert Payne Cabeen, and Kate Jonez will be available in 2022. The cover art is by Robert Payne Cabeen.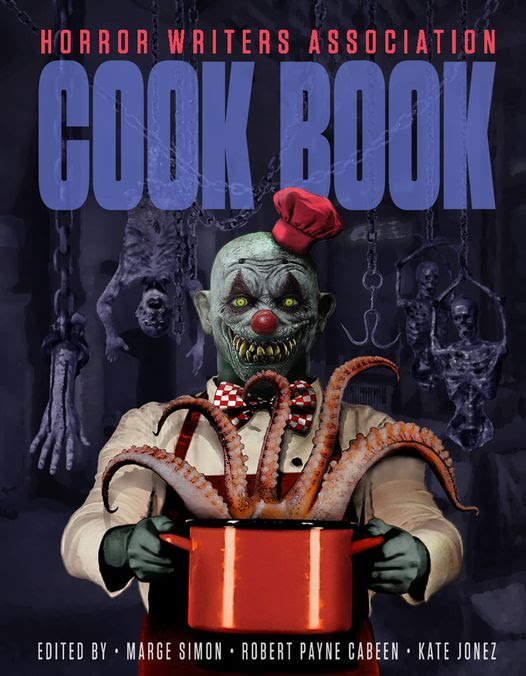 (14) FREE OR YOU NAME IT. Charles Sheffield's The Cyborg from Earth is the latest ebook in the Publisher's Pick program, which you may set your own price for. The cart will show the suggested price of $1.99. You may change it to any price including $0.00. (Mobi and Epub editions.)
(15) HARVEST OF SF NEWS. SF² Concatenation has just posted its autumnal edition of news (books, film, TV and science), articles and stand-alone book reviews.
v31(4) 2021.9.15 — New Columns & Articles for the Autumn2021
v31(4) 2021.9.15 — Science Fiction & Fantasy Book Reviews
v31(4) 2021.9.15 — Non-Fiction SF & Science Fact Book Reviews
(16) THICKER THAN WATER. Here's a ghoulish discovery: "Martian Colonists Could Use Their Own Blood to Produce Concrete" says Gizmodo.
Provocative new research suggests the blood of astronauts, when mixed with Martian soil, can produce a durable concrete-like substance. Incredibly, other human bodily fluids were shown to make this biocomposite even stronger.

The first colonists to arrive on Mars will need to build shelters and spaces for work, but the Red Planet isn't exactly bustling with hardware stores and material suppliers.

Ideally, the colonists could use some of the stuff that's right there on Mars, such as regolith (soil), rocks, and water, the latter of which is sparse and hard to reach. Trouble is, these on-site resources don't magically combine to produce viable construction materials….
(17) KEY INGREDIENTS. Locke & Key Season 2 teaser. The show comes Netflix on October 22, 2021.
Locke & Key follows 3 siblings who, after the murder of their father, move to their ancestral home only to find the house has magical keys that give them a vast array of powers and abilities.
[Thanks to Michael Toman, John King Tarpinian, Cat Eldridge, SF Concatenation's Jonathan Cowie, Lise Andreasen, Daniel Dern, Mike Kennedy, Andrew Porter, Martin Morse Wooster, and JJ for some of these stories. Title credit belongs to contributing editor of the day John M. Cowan.]