(1) OPEN LETTER AGAINST BOOK BANS. "Ariana Grande, Garbage, Natasha Lyonne Sign Open Letter Against Book Bans" – The Hollywood Reporter has the story.
Ariana Grande, Guillermo del Toro, Padma Lakshmi, Roxane Gay, Gabrielle Union, Sandra Cisneros, Amanda Gorman, Margaret Cho and Ron Perlman are among the signatories of an open letter calling on creative communities in Hollywood and beyond to leverage their voices to stop book bans.

Upwards of 175 actors, musicians, authors, comedians, reality stars, models, media personalities, academics, activists and more have signed the open letter spearheaded by Reading Rainbow host LeVar Burton and published Tuesday via public advocacy organization and political action committee MoveOn Political Action….

The letter's release coincides with National Banned Books Month and comes amid a corresponding public petition from MoveOn, which will connect signatories with future advocacy opportunities around book bans. Such opportunities include methods of support or events related to MoveOn's Banned Bookmobile, which launched a multicity tour this summer after measures touted and supported by Gov. Ron DeSantis resulted in an increase in banned and restricted books in Florida schools, according to The Associated Press.

In October, the bookmobile will once again distribute free banned books, in addition to hosting events held in conjunction with Crooked Media's live Pod Save America and Lovett or Leave It podcasts, and author readings in Georgia, Virginia and South Carolina as part of a broader "Read Banned Books" initiative….
Here is the full text of the letter from Moveon.org.
As artists, creators, entertainers, and activists, we recognize and are horrified by the threat of censorship in the form of book bans.

This restrictive behavior is not just antithetical to free speech and expression but has a chilling effect on the broader creative field. The government cannot and should not create any interference or dictate what people can produce, write, generate, read, listen to, or consume.

We cannot stress enough how these censorious efforts will not end with book bans. It's only a matter of time before regressive, suppressive ideologues will shift their focus toward other forms of art and entertainment, to further their attacks and efforts to scapegoat marginalized communities, particularly BIPOC and LGBTQ+ folks.

We refuse to remain silent as one creative field is subjected to oppressive bans. As artists, we must band together, because a threat to one form of art is a threat to us all.

We are calling on everyone to join us in pushing back against these book bans, support free and open creative industries—regardless of personal or ideological disagreements—and use their voice at the local level to stop these bans in their school districts. There is power in artistic freedom, and we refuse to allow draconian politicians to take that from us.
(2) CHENGDU VENUE PROGRESS PHOTOS. [Item by Ersatz Culture.] Here from a Weibo post are a couple more photos of the interior of the Chengdu Worldcon venue. It looks quite different to my eyes from the earlier images, not sure if it's the lighting, angle, or if they've applied some coating – the Google Translated hashtags include "#金molstone# #石 CrystalWallboard#", whatever those might be.
(3) CORA FINDS A CRACK IN THE FOUNDATION. Cora Buhlert is doing episode reviews of Apple+ series Foundation. (Access all of them here.) The latest is "Foundation travels 'Long Ago, Not Far Away' and blows up its own premise" – beware spoilers.
…Warning! There will be spoilers under the cut!

"Long Ago, Not Far Away" was a really good episode of Foundation. Well, at least ninety-five percent of it were really good. Unfortunately, the last five minutes or so not only ruined the episode, but the entire series….
(4) TEXAS BOOK RATING LAW BLOCKED. Publishers Weekly tells how "In a Blistering Opinion, Judge Officially Blocks Texas Book Rating Law".
After nearly three weeks of waiting, federal judge Alan D. Albright delivered a major victory for freedom to read advocates, issuing a substantive 59-page written opinion and order officially blocking Texas's controversial book rating law, HB 900, from taking effect. The decision comes after Albright orally enjoined the law at an August 31 hearing and signaled his intent to block the law in its entirety.

Signed by Texas governor Greg Abbott on June 12, HB 900 would have required book vendors to review and rate books for sexual content under a vaguely articulated standard as a condition of doing business with Texas public schools. Under the law, books rated "sexually explicit" (if the book includes material deemed "patently offensive" by unspecified community standards) would be banned from Texas schools. Books rated "sexually relevant" (books with any representation of sexual conduct) would have required written parental permission for students to access them. Furthermore, the law would have given the state the ultimate power to change the rating on any book, and would have forced vendors to accept the state's designated rating as their own, or be barred from selling to Texas public schools….

…"The Court does not dispute that the state has a strong interest in what children are able to learn and access in schools. And the Court surely agrees that children should be protected from obscene content in the school setting," Albright concluded. "That said, [the law] misses the mark on obscenity with a web of unconstitutionally vague requirements. And the state, in abdicating its responsibility to protect children, forces private individuals and corporations into compliance with an unconstitutional law that violates the First Amendment."

In defending the law, Texas attorneys had moved to dismiss the suit, arguing that the plaintiffs lacked standing to challenge the law, and that the state has the right to regulate vendors who wish to do business with Texas public schools—essentially asserting that rating books would simply be part of the cost of doing business in Texas. Albright demolished those arguments in his opinion, and harshly criticized the ill-conceived law in denying the motion to dismiss.

At one point, Albright observed that the burden placed on vendors by the law are "so numerous and onerous as to call into question whether the legislature believed any third party could possibly comply." And he called out state attorneys for their inability to answer basic questions over the course of two hearings. "Generally, the government was confused and unaware of how the law would actually function in practice," Albright observed, citing "approximately 40 instances during the August 18th hearing ('Hearing 1') where the government either did not know how the law would function or did not have an answer as to what the effects of certain provisions were."…
(5) PREVIEW GREG JEIN COLLECTION. Heritage Auctions takes you "Inside the Sensational Sci-Fi Collection of Model-Making Legend Greg Jein" in this post for The Intelligent Collector.
Greg Jein was a giant among the Hollywood illusionists who created small things to fill big screens. The model- and miniature-maker never left his hometown of Los Angeles. Yet he was never earthbound: Jein spent decades introducing us to aliens who brought their motherships to Earth, and he sent us soaring time and again into space, the final frontier.

Jein, who died at 76 last year, was nominated for Academy Awards and Emmys, hailed as a magician and beloved as a mentor. Among Hollywood's special effects wizards, Jein was heartbeat and historian, craftsman and custodian. His life's story might have made the perfect film.

A fan first, foremost and forever, he made models when he was little. By the time Jein reached his mid-30s, he was a twice-Oscar-nominated maker of motherships, airplanes, city blocks and other models for Close Encounters of the Third Kind and 1941, both directed by Steven Spielberg.

"Greg loved what he did, creating things with his hands," says Jerry Chang, Jein's first cousin. "He could see in his mind things other people couldn't."

On October 14-15, Heritage Auctions is honored to offer the entirety of Greg Jein's vast and unparalleled assemblage, which includes his prized trove of models and memorabilia and the cherished miniatures he made. The landmark Greg Jein Collection Hollywood Platinum Signature® Auction…
There's also a gallery of "The Most Revealing Behind-the-Scenes Photos From the Greg Jein Collection" at the link.
(6) NEW SOPHIE BURNHAM TRILOGY. DAW Books has acquired Sargassa, the first book in a trilogy from debut author Sophie Burnham. Set in an alternate North America called Roma Sargassa, where the Roman Empire never fell, readers will plunge into a landscape of political intrigue, queer romance, and impending revolution. The acquisition encompassed three books with World English rights and was agented by Maria Napolitano at the Jane Rotrosen Agency.
…Executive Editor Navah Wolfe expressed immense enthusiasm about the acquisition, stating, "Sophie's impressive worldbuilding, compelling characters, and insightful social commentary make Sargassa an exceptional addition to DAW's repertoire. We are immensely excited to introduce their work to the world."

In the book, North America has always been under Roman rule, and the death of the Imperial Historian thrusts his children, Selah and Arran, into the heart of a conspiracy. An underground rebel faction seeks to obtain the Iveroa Stone and use its secrets to reveal the empire's obscured past and dethrone its dominion. As Selah works to unlock the Stone's enigmas, she faces a monumental decision: to uphold or challenge the historical narratives of the Roman rule in Sargassa…

Sophie Burnham is a queer nonbinary novelist and screenwriter, backed by an Acting BFA and a concentration in Playwriting from Syracuse University. Honored with a We Need Diverse Books writing grant and a placement in ScreenCraft's 2020 Sci-Fi & Fantasy Screenplay competition, Burnham's debut novel promises to enthrall and enlighten readers. Follow them on Twitter at @sophielburnham.
(7) CON OR BUST FUNDRAISER. The Con or Bust Prize Sweepstakes is selling entries.
Dream Foundry's Con or Bust program issues cash grants to fans and creatives of color to help connect them with SFFH genre events and resources. Con or Bust sends folks to conventions, workshops, classes, and other networking or professional opportunities. Grants can be used toward travel, registration, food, equipment, and other expenses associated with attending the event.

Con or Bust's fall fundraiser is in full swing! We have lots of bookish prizes, including a 1 year subscription to Apex Magazine, two $50 Weightless Books gift certificates, libro.fm credits, and more. Oh yeah, and there's a PS5, too.
Fine print:
The Sweepstakes is open only to the following individuals (each, an "Eligible Participant"):

Individual legal residents of, and physically located within, the United States or Canada, and who are 18 (except 19 in Alabama and Nebraska and 21 in Mississippi) years of age as of the date of entry or of legal age of majority or older in their country of residence…
(8) DOING TIE-IN RESEARCH. David Mack gives a detailed example of the kind of research he needed to do for a Star Trek media tie-in novel. Thread begins here.
(9) FREE READ. The 2023 Baen Fantasy Adventure Award-winning story, "The Hitchhiker on Souls' Road" by A. A. Nour, is currently available to read at the Baen website.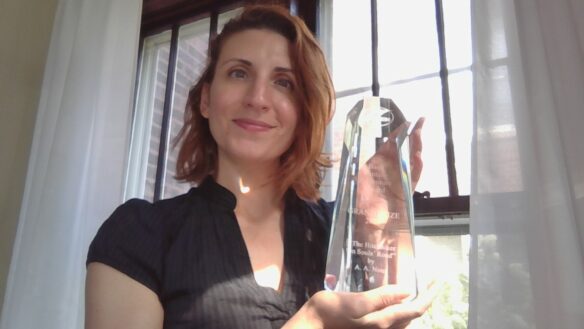 (10) TODAY'S BIRTHDAYS.
[Compiled by Cat Eldridge.]
Born September 19, 1922 — Damon Knight. Author, editor, critic. Kate Wilhelm who was his wife is also regrettably no longer with us. His 1950 short story, "To Serve Man" was adapted for The Twilight Zone. His first story, "The Itching Hour," appeared in the Summer 1940 number of Futuria Fantasia which was edited and published by Ray Bradbury. It's hard to briefly sum up his amazing genre career but let me note he was a member of the Futurians and a reviewer as well as a writer. Novels of his I'll single out are Hell's Pavement, The Observers and Special Delivery but don't think I'm overlooking his brilliant short stories. The Encyclopedia of SF notes that "In 1995, he was granted the SFWA Grand Master Award – which from 2002 became formally known, in his honour, as the Damon Knight Grand Master Award. He was posthumously inducted into the Science Fiction Hall of Fame in 2003." (Died 2002.)
Born September 19, 1928 — Adam West. Best known as Batman on that classic Sixties series, he also had a short role in 1964's Robinson Crusoe on Mars as Colonel Dan McReady. He last played the role of Batman by voicing him in two animated films, Batman: Return of the Caped Crusaders and Batman vs. Two-Face. He also most excellently voiced The Gray Ghost in an episode of the Kevin Conroy voiced B:TAS, "Beware the Gray Ghost". (Died 2017.)
Born September 19, 1928 — Robin Scott Wilson. Founder, with Damon Knight and others, of the Clarion Science Fiction Writers' Workshop. He edited Clarion: An Anthology of Speculative Fiction and Criticism from the Clarion Writers' Workshop, Clarion II and Clarion III. He wrote one genre novel, To the Sound of Freedom (with Richard W. Shryock) and a lot of short fiction. He's not in stock at all at the usual suspects. (Died 2013.)
Born September 19, 1933 — David McCallum, 90. His longest running, though not genre, role is pathologist Dr. Donald "Ducky" Mallard on NCIS where he appeared in every episode of the first fifteen seasons. (With series lead Mark Harmon's departure from the show in the fall of 2021 (Season 19), McCallum became the last remaining member of the original NCIS cast.) Genre wise, he was Illya Nickovitch Kuryakin on The Man from U.N.C.L.E., and the British series Sapphire & Steel where he was Steel and Joanna Lumley was Sapphire. He played the lead in a short-lived U.S. version of The Invisible Man. He was Dr. Vance Hendricks on Babylon 5's "Infection" episode.
Born September 19, 1947 — Tanith Lee. I hadn't realized that she wrote more than ninety novels and three hundred short stories in her career. Ninety novels! She even wrote two of the Blake's 7 episodes as well. I am more fond of her work for children such as The Dragon Hoard and The Unicorn Series than I am of her adult work. She has garnered well-deserved Stoker and World Fantasy Awards for Lifetime Achievement. (Died 2015.)
Born September 19, 1952 — Laurie R. King, 71. She's on the Birthday Honors list for the Mary Russell series of historical mysteries, featuring Sherlock Holmes as her mentor and later partner. Hey it's at least genre adjacent. She's also written at least one genre novel, Califia's Daughters.
Born September 19, 1972 — N. K. Jemisin, 51. Her most excellent Broken Earth series has made her the only author to have won the Hugo for Best Novel in three consecutive years. Her "Non-Zero Probabilities" was nominated for the Best Short Story losing out to Will McIntosh's "Bridesicle" at Aussiecon 4. "Emergency Skin" I'm pleased to note won the Best Novelette Hugo at CoNZealand. Yeah I voted for it. And at Chicon 8 she won a Best Graphic Story or Comic Hugo for Far Sector, written by her, with art by Jamal Campbell.
(11) FANHISTORY ZOOM. The next FANAC Fan History Zoom session will be about "Boston Fandom in the 60s" with Tony Lewis, Leslie Turek and Mike Ward, moderated by Mark Olson. It will happen September 23,2023 at Time: 4PM EDT, 1PM PDT, 9PM BST (UK), Sept 24 at 6AM Melbourne, AU. If you want access, please send a note to [email protected]
(12) COVER REVEAL. [Item by Ben Bird Person.] Theory podcast Acid Horizon announced on Twitter/X the new cover for the upcoming Zer0 Books release Against the Vortex: Degrowth Utopias in the Seventies and Today by Anthony Galluzzo.
(13) LIVE ACTION, NOT ANIMATED. "Disney World forced to close rides after finding wild bear in park" reports Entertainment Weekly.
Disney World guests were just treated to a new kind of Country Bear Jamboree.

EW can confirm that a wild bear was found inside the park Monday morning, prompting the closure of at least 10 attractions inside the Frontierland, Adventureland, and Liberty Square areas. The Florida Fish and Wildlife Conservation Commission tells EW that biologists with FWC's Bear Management Program, as well as FWC Law Enforcement officers, are "working on capturing and relocating the bear," who they say was likely moving through the park in search of food….
(14) CHANGE THE TITLE, CHANGE THE GENRE. Lincoln Michel had fun with this idea – you can too.
(15) ON THEIR OWN TWO FEET. [Item by Nina Shepardson.] Slate has a list of "The 40 best stand-alone TV episodes that can be watched on their own." Several are from genre TV shows, including Star Trek, The X-Files, and The Twilight Zone. I'd be interested to hear whether other Filers think Slate picked the right episodes…
Whether we're living in the age of Peak TV or Trough TV, one thing is clear: There's too much TV. Thankfully, not every show has to be watched in its entirety. One of the best things about television is its serialized nature, the continuous thread that strings viewers along from one episode to the next. It's a cliché that prestige television is the new novel precisely because of the way that many dramas develop their characters and plots over many hours of storytelling. But an older virtue of TV is its brevity—the way a scenario can be introduced and resolved within the space of an hour, or half that—and some of the best episodes are less like chapters in a long-running novel than like short stories or short films. These are stand-alone episodes….
[Thanks to Mike Kennedy, Andrew Porter, John King Tarpinian, Ersatz Culture, Ben Bird Person, Nina Shepardson, Joe Siclari, Chris Barkley, Cat Eldridge, and SF Concatenation's Jonathan Cowie for some of these stories. Title credit belongs to File 770 contributing editor of the day Cat Eldridge.]