(1) ROWLING STEPS IN IT AGAIN. Yahoo! Entertainment reports that "Cries of racism erupt over the casting of Nagini in latest 'Fantastic Beasts' installment".
The final trailer for Fantastic Beasts: The Crimes of Grindelwald contained a jaw-dropping character reveal that has some Harry Potter fans fuming. As it turns out, one of the prequel franchise's "new" characters, played by Claudia Kim, is actually a familiar villain from the original series: Voldemort's evil snake companion Nagini. Author and screenwriter J.K. Rowling tweeted that she'd been sitting on this secret "for around 20 years." But social media skeptics say that Nagini's shocking past as a Korean woman seems highly implausible and possibly racist.
Here is the trailer:
Rowling's tweet in response to a critic —
The Naga are snake-like mythical creatures of Indonesian mythology, hence the name 'Nagini.' They are sometimes depicted as winged, sometimes as half-human, half-snake. Indonesia comprises a few hundred ethnic groups, including Javanese, Chinese and Betawi. Have a lovely day ?

— J.K. Rowling (@jk_rowling) September 26, 2018
Fans have pointed out many troubling implications. Here is one of the less-sexualized examples —
It's kind of weird realising that Neville Longbottom decapitated a person…#HarryPotter #Nagini pic.twitter.com/ceWeYxalQS

— nimerouno ennis (@corevanadium) September 26, 2018
(2) SPINRAD ASKED FOR HIS VIEWS ABOUT ISLAM. Rachid Ouadah of motionXmedia interviewed the author of Osama the Gun — "Norman Spinrad: 'There is a difference between the religion of islam by itself and middle-eastern politics'".  (Spinrad sent the link.)
Considering that the whole world is in crisis – we would not have had Trump if the world was in a good shape – would it be correct to say that terrorism is an expression of the crisis in the islamic world ? I didn't say "arabic" because they are such a small part of muslims compared to Indonesians.

Indonesia is very complicated situation so I won't go into that. (…) Islam and democracy are deeply against each other ideologically. Democracy says that legitimacy of a government arises from the consent of the people as expressed in a vote. Traditional islam says legitimacy of a government arises from the Quran, that human beings have no right to change these rules because it's the word of Allah. And you can have a country that's a democracy with a majority of muslims but you can't have an islamic republic. Iran is not a real republic. It's a phoney republic. The ultimate word is the word of Khamenei. And not of the president, not of anybody who that's been elected. It's not that it is a dictatorship. The ideology of what's a legitimate government is completely different between an islamic government and a democratic government. So their take on what's a democracy is it's evil because it says that the decisions of humans can overrule the word of Allah. On the other side, democracy says [islam] is evil because it doesn't allow people to decide. There is no middle ground between a theocratic muslim state and an electoral democracy. And that's the core of the whole thing.
(3) TWO TO GEAR UP. SYFY Wire has artwork from the latest genre crossover: "IDW's Star Trek vs Transformers #1: Beam up and roll out with artist Philip Murphy".
Geek galaxies collide in a cosmic crossover for the ages in IDW's new Star Trek vs. Transformers series, and SYFY WIRE has an exclusive chat with artist Philip Murphy and a first peek inside the pages of this perfect pairing of beloved sci-fi properties.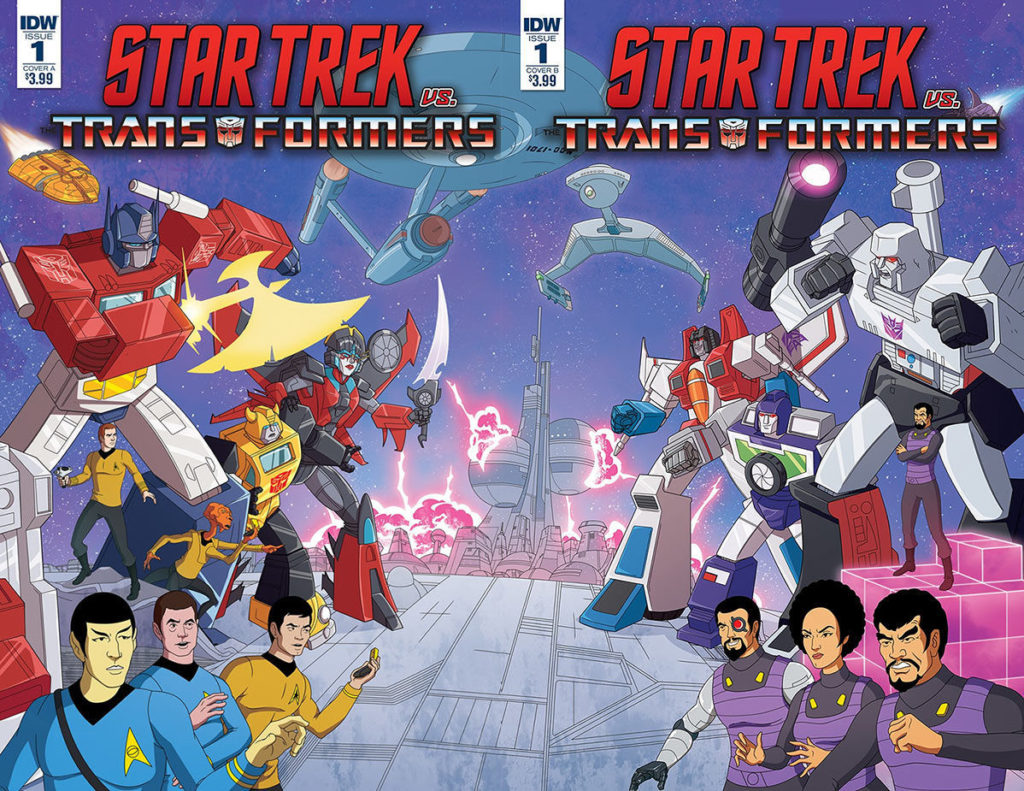 (4) EIGHT GREAT TOMATOES…ARE NOT ENOUGH. Hector Gonzalez' saga of cooking for MexicanX Initiative participants at Worldcon 76 continues: "My Road to Worldcon 76. Part 5: Best Laid Plans…"
…The plan was set to bring the items to the main kitchen, get the mushrooms carnitas started, then work on the salsas. The pork will cook overnight and things will be ready in the morning. All seemed perfect. However, Mexican Pollyanna counted her chickens too soon. When we got to Doc Doyle's home I discovered the besides missing some of the pork I needed for the carnitas, they had shopped dramatically wrong on different things I required, namely tomatoes, tomatillos, and onions. I asked for 8 lbs of tomatoes and only bought EIGHT TOMATOES. This meant another trip to the store, which bothered me. The least time I had at the kitchen, the longer this would take. It was already 2:30PM….
(5) IMAGINATIVE MERGER THEORIES. With Disney and Fox joining up, there's money to be made! Yahoo! Entertainment heard one fan's idea for how to do it — "This Marvel Fan Theory Explains How X-Men and the Fantastic Four Will Be Introduced Through 'Avengers 4′".
As we know, Avengers 4 will likely require some tricky inter-dimensional manipulation and time travel to undo Thanos' big snap that killed half the universe. As we also know, back in the real world, Disney and 21st Century Fox are completing a merger, which gives the Marvel Cinematic Universe access to properties that were formerly owned by a separate company, such as X-Men and Fantastic 4. And, as Disney CEO Bob Iger said earlier this year, the company plans to "expand iconic movie franchises like Avatar, Marvel's X-Men, the Fantastic Four, Deadpool, Planet of the Apes, Kingsman, and many others."

So, the gears are all in motion for this great meeting of the Marvel characters to happen as soon as Avengers 4. One interesting fan theory on Reddit explains how the reversal of Thanos' snap could cause the introduction of both The Fantastic 4 and Mutants. If the snap can bring Captain Marvel back to Earth to help, certainly it could bring the Fantastic 4 back as well.
(6) VADER NEEDS YOU. SlashGear fills fans in on a new video game — "Star Wars: Vader Immortal trailer and release info revealed".
This game will have the user – you – dropped out of hyperspace near the planet Mustafar. That's the largely volcanic planet where Anakin Skywalker fought Obi-Wan Kenobi, and Vader was effectively born. There, Vader's palace can be found. This is the palace we first saw in film form in the movie Star Wars: Rogue One.
(7) TRIVIAL TRIVIA.
The carpet in the house of Sid, the villain of the first "Toy Story" film, is the same pattern as the hotel carpet in "The Shining." The character of Sid was also partially based on a former employee at Pixar studios. — Source: The Daily Dot
(8) TODAY IN HISTORY
September 26, 2001 — Star Trek: Enterprise premiered on this day.
(9) TODAY'S BIRTHDAYS.
[Compiled  by  Cat Eldridge and JJ.]
Born September 26, 1946 – Togo Igawa, 72, Actor and Producer. A Japanese actor who became a member of the Royal Shakespeare Company, his genre credits include a small role in The Last Jedi and playing the voice of Hiro the Wise Engine in many Thomas the Tank Engine TV episodes and movies.
Born September 26, 1948 – Olivia Newton-John, 70, Actor, Singer, Composer, and Producer from Australia who starred in the fantasy musical Xanadu as a muse sent to help struggling artists achieve their dreams.
Born September 26, 1956 – Linda Hamilton, 62, Actor, best known for playing Sarah Connor in the first two Terminator movies, and her lead role in the TV series Beauty and the Beast. She'll be reprising her role in a Terminator reboot movie expected out next year.
Born September 26, 1957 – Tanya Huff, 61, Writer. Canadian author of several fantasy series, all superb, including the Valor Confederation, Enchantment Emporium and Keeper Chronicles. Her Blood Books series, which pairs a Detective removed from the Force for failing eyesight with a vampire, was adapted as a series by CBC Television. She lives in rural Ontario with her partner, six cats, and an "unintentional chihuahua".
Born September 26, 1963 – Lysette Anthony, 55, Actor and Producer from England, known for genre roles in the movie Dracula: Dead and Loving It, the remake of the Dark Shadows TV series, and the classic epic sci-fantasy movie Krull (LALALALA ICantHearYou SHUTUPSHUTUPSHUTUP).
Born September 26, 1968 – Jim Caviezel, 50, Actor and Producer. Genre roles include the movie Frequency, the TV miniseries remake of The Prisoner, and 5 seasons in a lead role on Person of Interest.
I'm just going to leave this bit of craptastic birthday nostalgia here for your enjoyment:
(10) COMICS SECTION.
Superheroes helping each other out at The Argyle Sweater.
This is just the way I felt about the surveys we had to fill out at work — Bizarro.
(11) OH THE HUMANITY. Metro has coverage of the latest cultural crisis: "Library really needs people to stop sticking googly eyes on book covers".
Library staff are pleading with people to stop attaching 'googly eyes' to book covers because the result will 'haunt nightmares for all eternity'. Visitors to Alexandria-Monroe Public Library in Indiana, US, have apparently damaged a number of books by sticking the eyes to their covers. Bosses shared a picture of the library's copy of The Turn of the Shrew to its Facebook page this week, on which a pair of 'grotesque and haunting' eyes were placed.
The Alexandria-Monroe Public Library in Indiana says: "We'd like to remind patrons to not attach googly eyes to books. It can cause damage to the cover and in this case haunt our nightmares for all eternity. Thank you." pic.twitter.com/7B7wXolm8f

— ?? Tara Lazar (@taralazar) September 23, 2018
(12) PHONE HOME. JPL posted the Mars orbiter's new photo of rover Opportunity. TechCrunch explicates: "Mars orbiter spots silent, dust-covered Opportunity rover as dust storm clears".
The last we heard from the rover was on June 10, at which point the storm was getting so intense that Opportunity couldn't charge its batteries any more and lowered itself into a hibernation state, warmed only by its plutonium-powered heaters — if they're even working.

Once a day, Opportunity's deeply embedded safety circuit checks if there's any power in its battery or coming in via solar.

"Now that the sun is shining through the dust, it will start to charge its batteries," explained Jim Watzin, director of the Mars Exploration Program at NASA. And so some time in the coming weeks it will have sufficient power to wake up and place a call back to Earth. But we don't know when that call will come."

That's the hope, anyway. There is of course the possibility that the dust has obscured the solar cells too thickly, or some power fault during the storm led to the safety circuit not working… there's no shortage of what-if scenarios.
(13) POPPING UP EVERYWHERE. BBC asks: "Are themed bars and pubs the future?" Half of the opening video covers a Potterverse bar in London, where Internet-of-Things wands manipulate toys and hooch; it's doing well enough that a second one is opening. Chip Hitchcock also admires "The Bletchley", which "Sounds to me like a great cutoff – 'You're not sober enough to have another if you can't solve this puzzle.'"
…Many themed cocktail bars and pubs were originally pop-ups, such as The Cauldron and ABQ London.

Over the past decade, pop-ups have been increasingly used by new businesses to test out ideas, says Lucy Shaw, editor of alcohol trade magazine Drinks Business.

Pop-ups are hospitality events put on for a limited amount of time. They are held in temporary locations such as a tent or an existing venue.

"It makes business sense to have a pop-up, before you plough hundreds of thousands of pounds into a business," Ms Shaw tells the BBC. "You want a litmus test, [you want] to test the water."

Small businesses make up over 99% of all businesses in the hospitality industry, which made up 9.3% (£161bn) of the UK economy in 2016, according to the ONS….
(14) TECH IN SERVICE. "It's Rice Vs. Seaweed Vs. Solar ATMs For A $1 Million Prize":
…After the presentations, it was time for the judges to confer and decide. The prestigious group included former President Bill Clinton (the Hult Prize was previously associated with the Clinton Global Initiative); Earth Day Network president Kathleen Rogers; former U.N. assistant secretary general Elizabeth Thompson and a variety of business entrepreneurs, corporate executives and leaders of nonprofit organizations.

Finally, Clinton stepped to the podium to announce the winner. As he emphasized the urgency of responding to climate change, the implication was clear: These Hult Prize innovators better get to work. And the winner was …

…SunRice, from University College, London, whose plan promises to increase rice production in Southeast Asia and raise the incomes of rice farmers. They would accomplish this through the use of energy efficient rice-drying and storage technology….
(15) 1976 TECH. "Original working Apple-I computer fetches $375,000 at auction" – article includes substantial history interview with Wozniak — video, much transcribed.
"Our experts tell us that there might be 15 in the world that work properly. You can power this thing up and behave like it's 1976. It's pretty fantastic."

The Apple-I holds a place in technology history as the first computer to not require any assembly, other than to plug in a monitor and keyboard.
(16) BUMMER. It might violate a regulation! Or it might not…. NPR has the story — "Maine Asks Restaurant To Stop Giving Lobsters Cannabis Before Boiling Them", the follow-up to a recent Pixel.
According to seafoodsource.com, Maine officials have asked — but "not commanded," notes Gill on the restaurant's website — the eatery to stop testing medical marijuana on the lobsters. While Gill is licensed to grow marijuana for medical use, state regulators cite a lack of legislation in this area and want to investigate whether administering cannabis to lobsters violates state regulations.

David Heidrich, spokesperson for the Maine Medical Marijuana Program, told the Portland Press Herald that "medical marijuana may only be grown for and provided to persons with a marijuana recommendation from a qualified medical provider. Lobsters are not people."
(17) CAT ENVY. This fellow has recalibrated his life's ambition —
I used to think I wanted to win a Hugo award like @Scalzi, but now I think I just want a cat like Smudge. #AchievableGoals #RescueCat

— Mad Scientist (@MaxSynaptic) September 24, 2018
(18) A WORD FOR OUR SPONSOR. John Hertz sent what I'd call a "state of the File" poem —
Seven Seventy Dotcom Glyer,
Migly or just Mike to thee,
Took great care of his Filers
Though no more Hugos he'd see.
Seven Seventy Dotcom Glyer
Said to his Filers, said he,
"If any of youse get some SF news,
I hope you'll report it to me."
(19) DEALING THE JOKER. The Hollywood Reporter has a short clip of Joaquin Phoenix both as "himself" and in full makeup ("See Joaquin Phoenix in His Joker Make-Up"). The clip morphs from the former to the latter… but don't expect full-on SFX work. The movie, reportedly an origin film, is scheduled for an October 2019 release.
Here's the first look of Joaquin Phoenix in makeup for his upcoming film about The Joker.

In a short screen test shared by director Todd Phillips, Phoenix is staring blankly into the camera before cracking a slight smile. The camera then flashes to Phoenix wearing clown makeup, but not the traditional Joker white face and green hair.
Aaaand cue Judy Collins…
[Thanks to Cat Eldridge, JJ, Martin Morse Wooster, Chip Hitchcock, Mike Kennedy, John King Tarpinian, Carl Slaughter, Norman Spinrad, and Andrew Porter for some of these stories. Title credit goes to File 770 contributing editor of the day Daniel Dern.]