(1) HEAD FILLED WITH IDEAS. "Interview: P. Djèlí Clark, author of Ring Shout", an author Q&A conducted by Andrea Johnson at Nerds of a Feather.
…Mr. Clark was kind enough to talk with me about the music behind his new novella, the novella's long (and then fast) journey to publication, how the novella got personal, and more. Let's get to the interview!

NOAF: You mention on your blog that this story was in your head for a long time before you wrote it down. Can you tell us about when and why you decided to write the story down? And while you were drafting it out, did were there any scenes or characters that ended up completely differently than how you had originally imagined them?

P. Djèlí Clark: Yeah, the story was definitely with me for a while—mostly in dreamt up scenes and characters with a smattering of a plot. Visuals or a song could send me daydreaming for a minute. As I'm prone to do, it's only when I have a full sketch of a story in my head that I start jotting down notes. That was in early August 2016. I sat down and wrote up Ring Shout from start to ending, on the Notes feature on my iPhone. Then I put it down and went and lived the rest of my life. It wasn't until April of 2019 that it started to become "a thing." I was sitting in a DC café, on the phone with my editor Diana Pho about a book contract for an unrelated completed full-length novel. The book world being the book world, it probably wouldn't come out until 2021. My novella The Haunting of Tram Car 015 had just been released and that meant there'd be this big gap before I was next published. Diana asked if I might be interested in doing another novella in between—that is, if I had any ideas. I pitched two concepts, one of which was Ring Shout. It ended up in the contract.

Then came the real trouble. I had nothing written but a set of notes from almost 3 years back and a head full of ideas. I had until about September to turn it into a working story. Planned to get it done that summer. But nope. Academic work and copyedits on the unrelated full-length novel pretty much devoured my writing time. Finally, I got started on August 30, 2019. Two days before it was due. Had to ask for an extension. Then somehow, in the next four weeks, got it written. By that time whole new characters had been added, scenes had changed, and elements of the overall plot had been rewritten—so that it only resembles in passing those original notes from 2016. But hey, that's the writing process….
(2) ARISIA. Progress Report 3 confirms Arisia 2021 will be entirely virtual – which hadn't been taken for granted after last year's issues.
Over the past seven months, the Eboard Con Chair Team, along with Assistant Con Chair Vivian Abraham and the Division Heads, have been working hard to determine what we need to recreate the Arisia experience in an online-only convention. Our first step was to make sure that Arisia is squared away with its hotel contract. Hotel liaison Wendy Verschoor, along with Eboard President Nicholas "Phi" Shectman, have been in talks with the Westin Boston Waterfront and Aloft regarding our Arisia 2021 contract. As of September 15, 2020 we were able to come to an agreement. We will not need to have a hotel presence this year, and our continuing contract with the Westin Boston Marriott and Aloft will resume in 2022.
(3) EPIC SLAPDOWN. CNN Business is a fly on the wall as "Judge in Apple 'Fortnite' case slams Epic's tactics, hints at July trial date".
A federal judge presiding over a high-stakes antitrust lawsuit between Apple and Epic Games — maker of the popular video game Fortnite — repeatedly slammed Epic on Monday on its legal theories and tactics in the company's case against the iOS App Store, a court battle that could reshape the digital economy.

Epic is seeking a temporary court order that would force Apple to unblock Fortnite from its iOS App Store. Apple removed the game in August after Epic pushed a software update to the app that allowed players to circumvent Apple's proprietary in-app payment system — a move that is contractually prohibited.

…Judge Gonzalez Rogers looked skeptically at many of Epic's claims, explicitly telling the company several times in the hearing she was not persuaded by its arguments or its strategy.

Epic knew that it was breaching its contract with Apple when it published the update, but did it anyway, she said, accusing the company of dishonesty.

Apple has justified its app store policies partly as a way to protect consumers from security risks and malicious software. Epic has countered that it is a credible business that has been on the iOS App Store for years and poses no security threat. But Gonzalez Rogers said that is not the issue.

"You did something, you lied about it by omission, by not being forthcoming. That's the security issue. That's the security issue!" Gonzalez Rogers told Epic. "There are a lot of people in the public who consider you guys heroes for what you guys did, but it's still not honest."

Epic's attorneys acknowledged that the company breached its agreement with Apple but claimed Epic was simply refusing to comply with an anti-competitive contract, and that forcing a legal battle was part of Epic's plan.

…It also cited Apple's in-app payment system as an example of illegal tying — when a company bundles two products together for anti-competitive gain.

But there is no tying going on with Apple's in-app payment system, Gonzalez Rogers observed.

"I'm not particularly persuaded," she said of the in-app payment mechanism. "I just don't see this as a separate and distinct product."

Nor did the judge buy Epic's argument that Apple has harmed the distribution of Fortnite because of Apple's exclusive control of the iOS App Store. Fortnite players on iOS have a variety of choices to access the game even if it is no longer available on iOS, she said.

"Walled gardens have existed for decades," she said. "Nintendo has had a walled garden. Sony has had a walled garden. Microsoft has had a walled garden. What Apple's doing is not much different… It's hard to ignore the economics of the industry, which is what you're asking me to do."
(4) TWO OPEN LETTERS. [Item by Martin Morse Wooster.] Alison Flood, in "More than 200 writers and publishers sign letter in support of trans and non-binary people" in The Guardian, says that 200 people, most notably Jeanette Winterson signed a letter generally supporting trans and non-binary people after 58 writers, including Lionel Shriver, Ian McEwan, and Susan Hill, signed a letter supporting J.K. Rowling. But the article about that letter was published in The Times, which is behind a paywall.
(5) ACCIO ERRAT! [Item by Olav Rokne.] Writing in Forbes, film critic Scott Mendelson examines the recent announcement that Warner Brothers will be making another Harry Potter-related movie, despite the diminishing returns from the franchise, and the cavalcade of transphobia from J.K. Rowling. "4 Reasons Warner Bros. Is Still Making J.K. Rowling's Third 'Fantastic Beasts' Movie".

He writes: "In a skewed way, stopping now and admitting that the Fantastic Beasts franchise was a failed experiment would probably do Warner Media, a publicly-traded company, more harm than just bringing the story to a natural conclusion and taking their commercial licks along the way. Call it sunk-cost fallacy."

(6) JOHN THE BALLADEER NEWS. The latest Haffner Press newsletter includes an update on the forthcoming 500+-page volume, Manly Wade Wellman's The Complete John The Balladeer – with a link to preview five examples of Tim Kirk's illustrations. Here's one of them: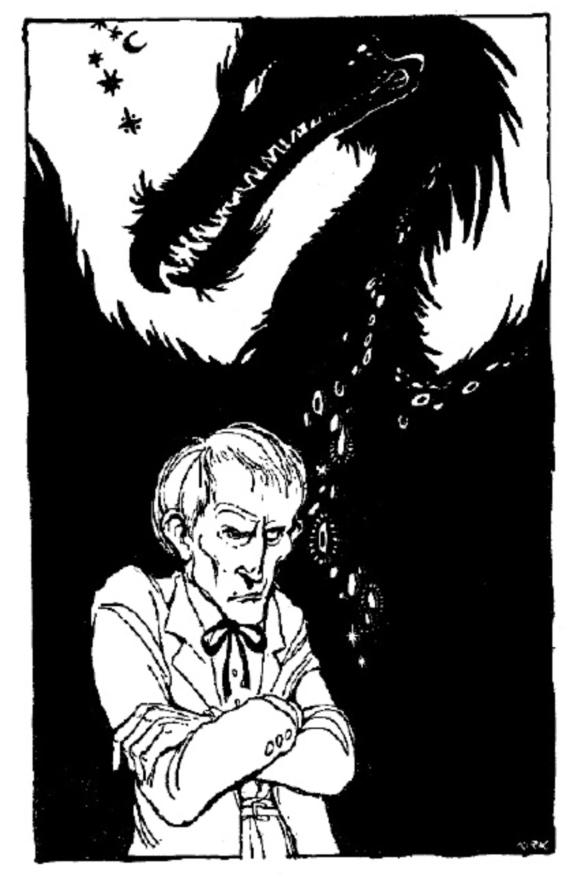 (7) MEDIA BIRTHDAY.
September 30, 2005. The Joss Whedon-written Serenity premiered. The sequel, or perhaps continuation, or perhaps finale of, the short-lived Firefly series, it reunited the entire cast from the series. It would overwhelmingly win the Hugo Best Dramatic Presentation at L.A. Con IV beating out The Chronicles of Narnia: The Lion, the Witch and the Wardrobe, Wallace & Gromit in the Curse of the Were-Rabbit, Batman Begins and Harry Potter and the Goblet of Fire. It holds an excellent eighty two percent rating by audience reviewers at Rotten Tomatoes.
(8) TODAY'S BIRTHDAYS.
[Compiled by Cat Eldridge and John Hertz.]
Born September 30, 1915 – Richard D. Mullen. Founder of Science Fiction Studies; co-editor (with Darko Suvin) 1973-1978; returned as editor, managing editor, and like that, 1991. Two books of selected SFS articles, two more on P.K. Dick (with DS & others); essays, reviews, in SFS, Extrapolation, Foundation, Riverside Quarterly. (Died 1998) [JH]
Born September 30, 1926 – Gillian Avery. Historian of children's education and literature. The Guardian Children's Literature prize for Edwardian father-son novel A Likely Lad. For us, Huck and Her Time Machine (note pronoun); a dozen others; nonfiction including a Life of Juliana Ewing and an ed'n of Emily Pepys' Journal (this branch of the family pronounces their name peppis). (Died 2016) [JH]
Born September 30, 1949 – D Potter. Fanziner, photographer, railroad fan. Fan Guest of Honor at Balticon 16. Active in various apas including APA-Q, FAPA, Myriad. Appreciations by Our Gracious Host and Avedon Carol here. (Died 2017) [JH]
Born September 30, 1950 — Laura Esquivel, 70. Mexican author of Como agua para chocolate, Like Water for Chocolate in English. Magic realism and cooking with more than a small soupçon of eroticism. Seriously the film is amazing as is the book. ISFDB says she's also written La ley del amor (The Law of Love) which I've not read. (CE)
Born September 30, 1951 — Simon Hawke, 69. Author of the quite superb Wizard of 4th Street series as well as the TimeWars series. He has written Battlestar Galactica, Trek, Friday the 13th, Predator and Dungeons & Dragons novels as well as the genre adjacent Shakespeare & Smythe mysteries which bear titles such as Much Ado About Murder. (CE)
Born September 30, 1954 – Sylvia McNicoll, 66. Two dozen children's novels, of which two for us. Silver Birch; four Hamilton Arts Council awards (Body Swap won 2019 Literary Award for Fiction); several more. Website. [JH]
Born September 30, 1960 — Nicola Griffith, 60. Editor with Stephen Pagel of the genre gender anthologies, Bending the Landscape: Science Fiction, Bending the Landscape: Fantasy (World Fantasy Award and Lambda winner) and Bending the Landscape: Horror. Ammonite won both the Lambda and Otherwise Awards. She also garnered a Lambda and a Nebula for the most excellent Slow River. All of her novels are available from the usual digital suspects. (CE)
Born September 30, 1972 – Sheree Renée Thomas, 48. Dark Matter, a NY Times Notable Book of the Year, won World Fantasy Award for Best Anthology, then Dark Matter, Reading the Bones won another; Fall 2016 Obsidian; Jul 2018 Strange Horizons (with Rasha Abdulhadi, Erin Roberts); Aug 2018 Apex. A dozen short stories, fifty poems, essays, for us; many others; see here (Wikipedia). [JH]
Born September 30, 1975 — Ta-Nehisi Coates, 45. He has also written Black Panther and Captain America stories. Issue number one of the former series sold a quarter million physical copies, very impressive indeed. The Water Dancer contains magic realism elements. (CE)
Born September 30, 1982 — Lacey Chabert, 38. Penny Robinson on the Lost in Space film reboot which I did see in the theater and didn't think it was too bad. She's done mostly voice acting and children's features after that. She voiced Gwen Stacy on The Spectacular Spider-Man series and does likewise for Zatanna Zatara on the current Young Justice series. (CE)
Born September 30, 1983 – Angela Kulig, 37. Seven novels, a dozen shorter stories. "I write books, many of which have been published. I live in Las Vegas, which sounds exciting, but I prefer to pretend I live in books." Website. [JH]
Born September 30, 1985 — Katrina Law, 35. She's well-known for playing the roles of Mira on Spartacus: Blood and Sand and Spartacus: Vengeance which are sort of genre, and Nyssa al Ghul on Arrow. (CE)
(9) JEOPARDY! Andrew Porter says another Jeopardy! contestant missed their shot with a genre topic.
Category: Playing the part on TV

Answer: Mr. Sulu; His own head on "Futurama"

Wrong question: "Who is DeForest Kelley?"
(10) FORD NOVEL RETURNS. Today is the republication date for John M. Ford's long out-of-print The Dragon Waiting.
Available for the first time in nearly two decades, with a new introduction by New York Times-bestselling author Scott Lynch, The Dragon Waiting is a masterpiece of blood and magic.
Isaac Butler has all kinds of reasons you should read it:
(11) DO INQUISITORIAL SPAIN AND YA MIX? Not a problem. At garik16's blog: "SciFi/Fantasy Book Review: Incendiary by Zoraida Córdova".
Incendiary is the first in a new Young Adult Fantasy trilogy by author Zoraida Córdova, with the setting inspired by Inquisitorial Spain. Córdova is a prolific YA writer whose work I hadn't gotten to previously, but one I was hoping to get to at some point, so I requested this novel via inter-library loan once my library reopened.

And well, Incendiary is a really interesting YA fantasy novel, with a compelling protagonist….but also one that feels not quite sure what it wants to do with her….
(12) RENDEZVOUS WITH DESTINY. "Man steals truck to go 'meet an alien'" – but this time it's Utah Man, not Florida Man.
A Utah man is behind bars after he stole a pickup truck out of a 7-Eleven parking lot.

The victim left the keys in the truck and the vehicle unlocked when he went in to the convience store for a quick stop.

That's when Bryce Jerald Dixon hopped into the vehicle and took off.

KUTV reports that Dixon took the truck in order to drive all the way to the "Colosseum to get on a flight with alien diplomats."

Unfortunately, before Dixon could get to the Colosseum, which was some 6,000 miles away across the ocean, he started feeling bad, and decided to return the red pickup truck to the parking lot and its owner, where the police were waiting….
(13) CHEESE FROM OUTER SPACE. [Item by Martin Morse Wooster.] "Mamie Van Doren On The Red Skelton Show S09E30 (5/24/60" on YouTube is a sketch from a 1960 episode of The Red Skelton Show where Mamie Van Doren is the Queen of Outer Space and Peter Lorre is the Galactic Emperor.  They want to destroy the Earth — and the only person who can stop them is Red Skelton's goofball character  Clem Kadiddlehopper!  Special cameo by Rod Serling.
(14) VIDEO OF THE DAY. In "Honest Game Trailers: Among Us" Fandom Games reviews a mindless phone game from 2018 that's for "the attention-deficit gaming community" that "searches for something to keep them busy in this time of isolation."
[Thanks to Cat Eldridge, Rob Thornton, Mike Kennedy, Martin Morse Wooster, John King Tarpinian, John Hertz, Michael Toman, JJ, and Andrew Porter for some of these stories. Title credit goes to File 770 contributing editor of the day Olav Rokne.]