(1) A HARD ROAD. Sue Burke, author of The Immunity Index, and whose Semiosis made the Arthur C. Clarke Award shortlist and was a John W. Campbell Memorial Award finalist, summarizes the SF novel's journey from manuscript to print, through editorial and beyond to 'earn out' in "Getting a book published" at SF2 Concatenation.
…Here comes the first mistake. I got to work on 20th March 2018, reviewing a folder of notes I have for ideas for stories, and I found one that I liked. Many writers have praised the creative freedom of pantsing (writing by the seat of one's pants or making it up as you go along) a work, so although I'd previously worked with more or less complex outlines and plotting, I decided to give pantsing a go. It didn't work. The initial draft was limp and only half as long as it needed to be.

Chastened, I reviewed ideas for ways to improve and expand the failure. This time I made notes and, eventually, crafted a plan. I added another character, rearranged some chapters, and complicated the conflict…
(2) CHARACTER WITH A LONG CAREER. Dark Worlds Quarterly contributor G.W. Thomas shares his appreciation for "The Cappen Varra Stories of Poul Anderson".
…Shared Worlds of the 1970s

And that should have been the end of our wandering bard, but an unusual thing happened at the end of the 1970s. Robert Aspirin and Lynn Abbey cooked up the idea of the "Shared World". With Poul's encouragement the concept of a collection of stories where characters, setting and events coalesce between the authors to create a larger experience exploded as Thieves' World. (There were others: Ithkar and Liavek being two of the more successful competitors.) The series ran for twelve volumes as well as a dozen novels. Poul saw it as a chance to bring Cappen Varra back! "The Gate of Flying Knives" (Thieves' World, 1979) was the third story in the first collection. It would be Anderson's only contribution….
(3) AN APPENDIX YOU CAN'T DO WITHOUT. Howard Andrew Jones pops up again, this time profiling historical adventure fiction author Harold Lamb for Goodman Games, where he explains why Lamb's work is relevant for SFF fans: "Appendix N Archaeology: Harold Lamb".
Much as I'd like to hope that Gary Gygax read Harold Lamb, he's unlikely to have found his way to any of Lamb's most influential work. It's not that Lamb wasn't in print. From the 1940s on, his histories and biographies were a mainstay on library shelves, and many modern libraries retain his books to this day. But as fine as they are – and some of them are very fine indeed – Lamb's histories and biographies weren't the texts that were important to Appendix N….
(4) CRIME FICTION CAREER LAUNCH. Astronaut Chris Hadfield has written a murder mystery. According to this review from Shots Mag, it is quite good: "The Apollo Murders".
When the author has flown two Space Shuttle missions and was the commander of the International Space Station, you know that the technical details in the story are going to be accurate, integral to the story and lend the reader a real sense of being 'there'….
(5) SHANG-CHI NEWS. In the Washington Post, David Betancourt interviews Shang-Chi star Simu Liu, who explains how Liu's six-year campaign to get Marvel to cast him as a superhero finally paid off. "Simu Liu of 'Shang-Chi' finally gets the role he always wanted".
Long before he became Shang-Chi, Simu Liu was convinced that the only way he'd be an Asian superhero on an American movie screen was to craft the story himself.

So he did. Twice.

At the age of 22, Liu crafted a wholestory bible for the Japanesemutant X-Men member Sunfire, certain it was his best bet to land a Marvel role.Years later, while a member of the Young Emerging Actors Assembly in Toronto, Liu spent $2,000 to direct, write and star in the 2015 short film called "Crimson Defender vs. The Slightly Racist Family," about an Asian superhero who rescues a family that doesn't believe he is a superhero because he is Asian.

Neither of those moments resulted in Liu being fitted for capes. But when Marvel Studios announced "Shang-Chi and the Legend of the Ten Rings" would be itsfirst movie with an Asian superhero in the lead role, the 32-year-old star of the TV series"Kim's Convenience" was convinced he was ready before he ever got a phone call. He even tweeted "are we gonna talk or what" at the Marvel Entertainment account….
Kat Moon explains how she as an Asian American feels better represented by Shang-Chi than by any other Hollywood blockbuster: "Shang-Chi Made Me Feel Seen Like No Other Hollywood Film Has" in TIME.
It wasn't a profound scene in Shang-Chi and the Legend of the Ten Rings that made me feel instantly connected to the film—not the Mandarin narration that opened the movie or even the early references to customs specific to Chinese culture like eating zhou, or congee, for breakfast and tomb-sweeping on the annual Qingming Festival. Of course, those storytelling choices told me that the latest Marvel superhero movie was crafted with viewers like me in mind. But it was a moment around 30 minutes in that let me know for certain I was watching my life experiences reflected on the big screen in a way Hollywood has rarely done: when Ronny Chieng's character, Jon Jon, exclaims, "Wakao!"…
(6) DUNE EARLY RETURNS. The New York Times' Kyle Buchanan says "Venice Film Festival: 'Dune' Leaves Us With 3 Big Questions". The second is —
Will 'Dune' be a major Oscar player?

Part of what's so striking about "Dune" is that Villeneuve has a sense of texture that's rare among big-budget filmmakers. When a character falls in battle, Villeneuve is besotted with the way the man's eyelashes flutter as he dies. And during the assault on a character's compound, the camera drifts from the action to show us magnificent palm trees that have been set aflame, their leafy crowns now a starburst of destruction.

Though sci-fi movies can sometimes be a hard sell with Oscar voters, I suspect that Villeneuve's distinctive eye will distinguish "Dune," as the movie looks undeniably ravishing. A ton of below-the-line nominations are guaranteed, including Greig Fraser's cinematography and the production design by Patrice Vermette. The score (by Hans Zimmer), sound and editing are all more daring than this genre usually allows: The aural soundscape and artsy crosscutting feel almost designed to draw you into a spice-induced trance.

And I haven't even gotten to the fashion! The costume design (by Jacqueline West and Bob Morgan) is a stunner, and especially during the first hour of the film — with Rebecca Ferguson wearing outrageous space-nun sheaths and a veiled Charlotte Rampling dressed like the Green Knight in Gaultier — "Dune" can seem like a moody high-fashion shoot that occasionally includes spaceships. (I mean this as a good thing.)

Villeneuve's last film, "Blade Runner 2049," scored five Oscar nominations and won its cinematographer Roger Deakins a long-overdue Academy Award. Still, the movie couldn't break into the two top Oscar categories, best picture and best director. Does "Dune" stand a better chance?

I'm taking the wait-and-see approach here….
(7) C.S. LEWIS CONFERENCE IN ROMANIA. The 5th International Interdisciplinary Conference devoted to the life and work of C. S. Lewis, "Of This and Other Worlds," will be held November 18-20 in Iasi, Romania. Register here. Registration deadline: November 1. An excerpt from the call for papers follows:
The fifth C. S. Lewis conference focuses on C. S. Lewis and his literary and academic kin as creators of worlds. His entire work testifies to his fascination with alternative universes, from his scholarly exploration of Medieval literature, with its haunting myths and arcane symbolism, through his fiction, to his apologetics, where Christianity is seen as a parallel kingdom seeking to be reinstated in "an enemy-occupied territory". From pain to love, through faith and imagination, he opened a spectrum of realities inviting exploration and reflection. The collection of essays by Lewis alluded to in the title of this year's conference spans both this and other worlds: "this" realm, which we inhabit, is the necessary, unavoidable starting point for any explorers, conquerors, pilgrims, even refugees into the "others".

Those willing to venture into the exploration of the worlds of imagination created by C. S. Lewis and kindred spirits are invited to contribute papers in the areas of semiotics, narratology, literary studies (with a special focus on fantasy, on possible worlds in language structures, at the crossroads between referential semantics and fiction studies), translation studies (the challenge of translating fantasy for readerships of various ages and its effect on reception), philosophy, logic, theology, cultural and arts studies, including any interdisciplinary permutation or cross-pollination.

Interested participants are invited to send a 200-250-word abstract for peer-review to the Conference Committee via the organizers: Dr. Rodica Albu ([email protected]), Dr. Denise Vasiliu ([email protected]), Dr. Teodora Ghivirig? ([email protected])

Deadline for proposal submission: 25 September 2021…
(8) MEMORY LANE.
1975 – Forty-six years ago this night, Space: 1999 premiered on such stations as Los Angeles KHJ-TV. It was distributed by ITV and produced by Group Three Productions (the first season) and Gerry Anderson Productions (the second and final season). It starred as its headliners Barbara Bain and Martin Landau, previously of Mission: Impossible fame. It was created by Gerry and Sylvia Anderson who before this had done only such SF marionette puppetry series as Thunderbirds, Stingray and Captain Scarlet and the Mysterons. It would last but forty eight episodes of around fifty minutes. Setting John Clute aside who thought it had "mediocre acting" and "rotten scripts", most critics at the time actually liked it and audience reviewers at Rotten Tomatoes give it a very splendid eighty six percent rating. You can stream it on Amazon.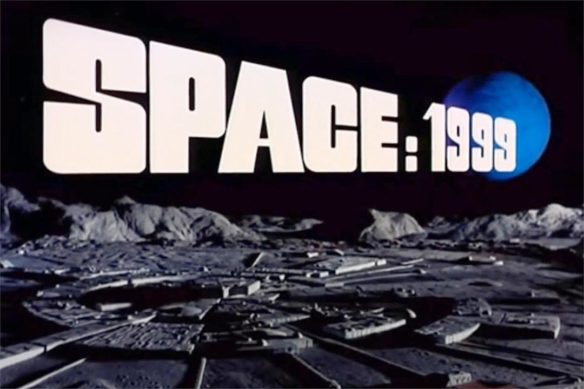 (9) TODAY'S BIRTHDAYS.
[Compiled by Cat Eldridge.]
Born September 4, 1916 — Robert A. W. Lowndes. He was known best as the editor of Future Science Fiction, Science Fiction, and Science Fiction Quarterly (mostly published in the late Thirties and early Forties) for Columbia Publications. He was a principal member of the Futurians, and a horror writer with a bent towards all things Lovecraftian ever since as a young fan, he received two letters of encouragement from H. P. Lovecraft. And yes, he's a member of the First Fandom Hall of Fame. (Died 1998.)
Born September 4, 1924 — Ray Russell. His most famous story is considered by most to be "Sardonicus" which was published first in Playboy magazine, and was then adapted by him into a screenplay for William Castle's Mr. Sardonicus. He wrote three novels, The Case Against Satan, Incubus and Absolute Power. He's got World Fantasy and Stoker Awards for Lifetime Achievement. "Sardonicus" is included in Haunted Castles: The Complete Gothic Stories which is available from the usual suspects. (Died 1999.)
Born September 4,1924 — Joan Aiken. I'd unreservedly say her Wolves Chronicles were her best works. Of the many, many in that series, The Wolves of Willoughby Chase featuring the characters of Bonnie Green, Sylvia Green and Simon is I think the essential work to read even though The Whispering Mountain is supposed to a prequel to the series — I don't think it's essential reading. (Or very interesting.) The Wolves of Willoughby Chase is certainly the one in the series I saw stocked regularly in my local bookstores before the Pandemic. (Died 2004.)
Born September 4, 1938 — Dick York. He is best remembered as the first Darrin Stephens on Bewitched. He was a teen in the police station in Them!, an early SF film which is considered the very first giant bug film. He'd showed up in myriad Alfred Hitchcock Presents, several episodes of Twilight Zone and has a one-off on the original Fantasy Island. (There's now been three series.) He voiced his character Darrin Stephens in the "Samantha" episode of The Flintstones. (Died 1992.)
Born September 4, 1957 — Patricia Tallman, 64. Best known as telepath Lyta Alexander on Babylon 5, a series I hold that was magnificent but ended somewhat annoyingly. She was in two episodes of Next Generation, three of Deep Space Nine and two of Voyager. She did uncredited stunt work on Deep Space Nine as she did on Voyager. Oh, and she shows up in Army of Darkness as a possessed witch. Oh, and she was the former CEO and executive producer of Studio JMS. Yeah she ran everything for J. Michael Straczynski. Very impressive indeed. 
Born September 4, 1962 — Karl Schroeder, 59. I first encountered him in his "Deodand" story in the METAtropolis: Cascadia audio work, so I went out and found out what else he'd done. If you've not read him, his Aurora Award winning Permanence is superb as all of the Vigra series. He was one of those nominated for a Long Form Best Dramatic Presentation Hugo for the first METAtropolis at Anticipation. 
Born September 4, 1972 — Françoise Yip, 49. She was a remarkably extensive career in genre productions including, but not limited to, Earth: Final Conflict, Andromeda, Caprica, Fringe, Predator, Robocop: Prime Directives, Seven Days, Flash Gordon, Smallville, Millennium, Shadowhunters, Arrow and Sanctuary.  Genre casting directors obviously really, really like her. Her longest running genre role was as Elizabeth Kepler in The Order, a horror series on one of those streaming services you've likely never heard of.
Born September 4, 1999 — Ellie Darcey-Alden, 22. Though she's  best known for playing young Lily Potter in Harry Potter and the Deathly Hallows – Part 2, she's here for being  Francesca "Franny" Latimer in the Doctor Who  Christmas special "The Snowmen", an Eleventh Doctor story. She also played Mary in the "Total Eclipse" episode of Robin Hood, and was in Chitty Chitty Bang Bang for the New Theatre Oxford. And she appears, as do so many others, in The Five(ish) Doctors Reboot.
(10) COMICS SECTION.
The Far Side shows how if Worf had known about this, that whole business with the pain sticks could've been avoided. 
Close to Home shows Spock's version of "I'm not a doctor, I'm a —"
(11) TBR INCOMING. Fansided's "Winter Is Coming" contributor Daniel Roman lists "15 highly anticipated fantasy and science fiction books coming this fall". Due in October —
6. Far From the Light of Heaven by Tade Thompson (10/26)

Leaving the heavy bounds of the Earth, our next book sees us blasting into space aboard the colony ship Ragtime. Arthur C. Clarke award-winning author Tade Thompson, author of The Wormwood Trilogy, has a new standalone science fiction novel coming out that promises to be filled with deep moral quandaries and spiritual reckonings. Far From the Light of Heaven is billed as a mystery meets sci-fi political thriller in space. The acting captain of the Ragtime has to team up with an investigator and several other intriguing characters to unravel a bloody mystery that is taking place aboard her ship.
(12) ASTRONOMY PICTURE OF THE DAY. From NASA: Astronomy Picture of the Day. Description follows.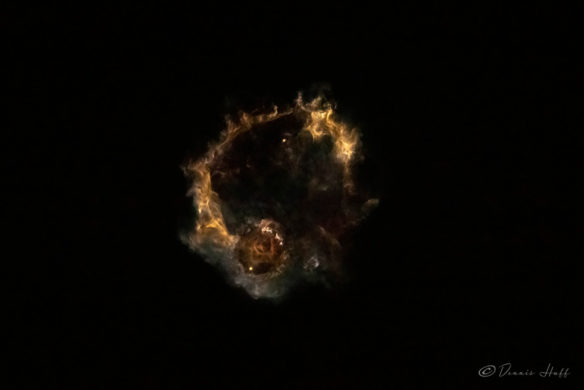 Image Credit & Copyright: Dennis Huff

Explanation: Not the Hubble Space Telescope's latest view of a distant galactic nebula, this illuminated cloud of gas and dust dazzled early morning spacecoast skygazers on August 29. The snapshot was taken at 3:17am from Space View Park in Titusville, Florida. That's about 3 minutes after the launch of a SpaceX Falcon 9 rocket on the CRS-23 mission to resupply the International Space Station. It captures drifting plumes and exhaust from the separated first and second stage of the rocket rising through still dark skies. The lower bright dot is the second stage continuing on to low Earth orbit. The upper one is the rocket's first stage performing a boostback burn. Of course the first stage booster returned to make the first landing on the latest autonomous drone ship to arrive in the Atlantic, A Short Fall of Gravitas.
(13) EARLY ARRIVAL. Slash Film says these are "20 Movies About Aliens That You Definitely Need To Watch". One of them is not what you might expect at first glance.
The Arrival

Not to be confused with a later entry on this list, 1996's "The Arrival" stars a Charlie Sheen still at the height of his health and talent, and pits him against the terrifyingly competent Ron Silver. Sheen plays a radio astronomer who intercepts an unusual transmission from a nearby star and is blackballed from his industry for revealing its extraterrestrial origins. From there, a tangled conspiracy drives him towards the truth: the aliens are already here, and the rapid shift in our planet's climate is meant to kill off humanity and create comfortable new digs for our new guests.

Directed by Peter Twohy, who would go on to create the Riddick franchise with Vin Diesel, "The Arrival" is surprisingly prescient with how it illustrates today's climate change fears. A niche topic of conversation at the time, relegated to Al Gore jokes and nervous but unheard scientists, these digitigrade alien mimics are almost comforting now. They suggest that our inevitable future can be controlled — and, in a way that's all too relatable, imply that someone else will have a good time on this planet at our expense….
[Thanks to Andrew Porter, Martin Morse Wooster, JJ, Cora Buhlert, Rich Lynch, Lise Andreasen, Michael Toman, John King Tarpinian, Cat Eldridge, and Mike Kennedy for some of these stories. Title credit belongs to contributing editor of the day Kevin Harkness.]