(1) FANAC FANHISTORY YOUTUBE CHANNEL. The FANAC Fan History Project has a website at Fanac.org with over 20,000 pages of photos, fanzines, references and other material. Their Youtube Channel will be used to provide a variety of audio and video recordings from conventions, clubs, interviews and other fannish endeavors. Most Recent video posts:
Albacon (2004) – David Hartwell interviews David Drake (1 hour, 16 minutes):
MidAmeriCon (1976) Worldcon – Alfred Bester interview (1 hour, 2 minutes):
(2) SORRY FROM PARIS. Norman Spinrad felt the need to apologize to the world via Facebook for the cover of his next novel, due out from Tor on February 7, 2017:
My apologies to the people and the City of New Orleans for the misleading and insulting cover that Tor has insisted on putting on THE PEOPLE'S POLICE which will be published in February 2017. I've done all I can to no avail to get cover to reflect my true feelings about the city as does the novel. As does the novel's dedication:

To THE INDOMITABLE SPIRIT OF THE BIG EASY…
Past, Present, and Future
Never let your song sing surrender

One picture is not always worth a thousand words. Trust me that with THE PEOPLE'S POLICE 65,000 heartfelt words are worth more than one darkly misguided picture.
Spinrad added in a comment:
But part of it was the tragic death of my editor David Hartwell. Leaving the novel as an orphan novel without a mommy, daddy, or hero, which just got thrown in the machinery. This is just the kind of shit than can happen with nobody to blame. But handling it the way they have by completely stonewalling me is not proper professional treatment.
(3) SJW CREDENTIALS TAKE OVER. Both Anthony and "As You Know" Bob linked to this wonderful story of crowd-sourced SJW credentialing at London's Clapham Common tube station: "Every advert in a London Underground station has been replaced ith cat photos".
The Citizens Advertising Takeover Service (CATS, if you didn't get that) started a crowdfunding campaign to raise enough money to replace the standard adverts for new protein shakes and mortgage apps with pictures of, well, cats.

We reported on it back in the wishing and hoping stage, and now the plan has blossomed into the beautiful thing it is today, with more than 60 adverts displaying cute kittens and cats from every angle at Clapham Common tube station.

Or should we say CAT-ham Common.

At first, the plan was just to put up pretty pictures of cats.

But after thinking things through CATS decided to display photos of animals in need of loving homes – so many of the pictures you can see are cats from Battersea Dogs and Cats Home or Cats Protection, the UK's largest feline welfare charity.
(4) TELL YOUR FRIENDS – IT'S BATMAN DAY. Remind Hollywood to make money! Movie makers took to twitter to celebrate Batman Day and hype the Justice League movie.
Holy sands of time! It's Batman Day, DC Entertainment's official celebration of the Dark Knight's birthday, and as the internet blows up with tributes to the co-holder of the title for world's most well-known superhero, Batman v. Superman director Zack Snyder has given the world its first glimpse at his version of two of Batdom's most iconic elements. We'll cut to the chase: Snyder tweeted out set photos from his upcoming Justice League showing off the new version of the Bat-signal, and in the process snuck in a glimpse of J.K. Simmons as Commissioner Gordon. Check it out below.
#JusticeLeague #BatmanDay pic.twitter.com/m1MbiF6HZD

— ZackSnyder (@ZackSnyder) September 17, 2016
(5) PRINT THRIVES AGAIN. Actual comic books are doing okay, too, according to Vulture – "Comics circulation just hit a 20-year high".
But due to momentum that's hard to pin down but is likely owed to the increasing dominance of comics adaptations at the box office, companies have found their footing — and a wider readership — again. In fact, circulation just hit its highest level in 20 years.

According to the industry's leading sales analyst, John Jackson Miller of Comichron, the monopolistic comics distributor Diamond shipped 10.26 million copies of comic books and graphic novels to comic-book shops in August. That's the biggest distribution month since December of 1996. What's more, DC Comics had a 44.59 percent share in that circulation, which is remarkable because the company lagged behind eternal rival Marvel for nearly five years before clobbering the latter in July. DC's ascendance continues, and they had the most-ordered comic of August with the first issue of their Harley Quinn reboot.
(6) TIME BANDITS HEADLINES ART HOUSE CELEBRATION. Yes, there's a day for everything – which means fans can look forward to seeing an old favorite from Terry Gilliam on the big screen once again, as Entertainment Weekly reports in "Time Bandits and Phantasm: Remastered to play in cinemas on Art House Theater Day".
EW can exclusively reveal that a 2K restoration of Terry Gilliam's family-friendly fantasy-adventure Time Bandits and filmmaker Don Coscarelli's horror film Phantasm: Remastered will both play in cinemas as part of the inaugural Art House Theater Day, which takes place Sept. 24. The event will also feature a collection of stop-motion short films from animation distributors GKIDS called A Town Called Panic: The Specials. Over 185 venues are participating in what is being described as a nationwide celebration of the cultural and community growth that art house theaters provide.

"Art House Theater Day is a chance to show film-lovers that their local theaters are part of a larger cultural movement," event co-founder Gabriel Chicoine said in a statement. "These cinemas are not passive, insular venues — they are passion-driven institutions that collaborate with distributors, filmmakers, and each other to deepen film appreciation and to increase the diversity and artistic integrity of what you see on the big screen."
(7) TODAY'S BIRTHDAY GIRL
Born September 17, 1951 – Cassandra (Elvira) Peterson.
(8) ANCILLARY SOUVENIRS. Twitter user Ellie squees about her Radch swag from Worldcon.
LOOK WHAT MOM&CYGNA GOT ME AT WORLDCON pic.twitter.com/M1Thnj881W

— ellie / kaos (@hypotheticellie) September 16, 2016
(9) CAN'T RAISE AWARENESS HIGHER THAN THIS. An astronaut wore a flight suit painted by pediatric cancer patients.
An astronaut on board the International Space Station debuted a colorful flight suit on Friday (Sept. 16) as part of an effort to raise awareness about childhood cancer and the benefits of pairing art with medicine. NASA flight engineer Kate Rubins revealed "COURAGE," a hand-painted flight suit created by the pediatric patients recovering at the University of Texas MD Anderson Cancer Center in Houston. The unique garment was produced by "The Space Suit Art Project," a collaboration between MD Anderson, NASA Johnson Space Center and ILC Dover, a company that develops NASA spacesuits.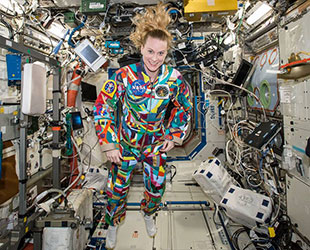 (10) FINALLY, A REASON TO VISIT WINE COUNTRY. "'Martian Chronicles' artist at the library" promises the Napa Valley Register.
Local writer and painter Lance Burris will exhibit 16 paintings illustrating visually evocative passages from Ray Bradbury's "The Martian Chronicles," on Saturday, Sept. 24 at the Napa Main Library.

The event is free of charge and scheduled to take place at 2 p.m. in the magazine section of the library at 580 Coombs Street in downtown Napa.

The exhibition will be accompanied by an hour-long commentary by the artist on the art of illustration and Ray Bradbury's writings.

The works and commentary are part of the artist's 48 painting "Bradbury Collection," which illustrates Bradbury classics that also include "Fahrenheit 451" and "The Illustrated Man."
(11) FAN NOW CLASSIC PORTRAIT PAINTER. Nick Stathopoulos, a leading fine artist with roots in Australian fandom, was interviewed for Maria Stoljar's podcast Talking With Painters.
Nick Stathopoulos has been a finalist many times in Australia's Archibald and Doug Moran Portrait prizes (including this year's Archibald portrait of Deng Adut). Last year his painting of Robert Hoge was shortlisted in the renowned BP Portrait Award in London which attracted over 400,000 visitors.  The portrait was also reproduced on the cover of the Times.

His art career spans many fields including illustration, book cover design, computer game design, animation, screenwriting, film making and sculpture and this is all on top of an arts/law degree. He has won several awards for his illustration work but has found a real passion in hyper realist painting of portraits and still lifes.

In this interview Nick talks about how children's television of the 60s provided him with the inspiration to draw toys, cars and machines as a child, he explains why he can never eat another Freddo frog and reveals how he came to name his 2009 show 'Toy Porn'. He generously discusses his art techniques in detail from the first sketches and meeting with the sitter to the final portrait. He also gives moving accounts of how he came to paint Deng Adut and Robert Hoge and the emotional impact those experiences had on him.
(12) THE NEXT GENERATION. Taking Flight is a charming video about a grandfather's adventures in outer space and the jungle with his grandson.
Taking Flight is a short film inspired by the life and heritage of Antonio Pasin, inventor of the Radio Flyer wagon. In this fictional tribute to Pasin's legacy, what begins as a small boy's over-scheduled, over supervised, boring day with Grandpa turns into a larger-than-life journey, narrowly escaping wild monkeys and battling aliens to save the universe. Through the power of imagination and epic adventure, a boy learns to be a kid, a father learns to be a dad, and a grandfather reminds us all what childhood is about.
(13) THE BLACK COOKIES. If Dread Central asked a contributor to design thematic Oreo cookie packages for his favorite horror movies.
I recently discovered that my friend Billy Polard, who is primarily a musician but also happens to have some serious self-taught Photoshop skills, was creating his own wacky Oreo flavors over on Facebook, and though his Taco Bell and Pizza Hut-flavored creations didn't necessarily excite my taste buds, they damn sure caught my interest. And they also, as you've probably gathered by now, inspired this very post.

I recently reached out to Billy to see if he'd be interested in whipping up some faux horror movie-inspired Oreo packages, and to my delight, he took the project by the horns and totally ran with it. You'll find the results of his handiwork below, which we hope you'll enjoy and share across social media.
Here's one of the tamer examples.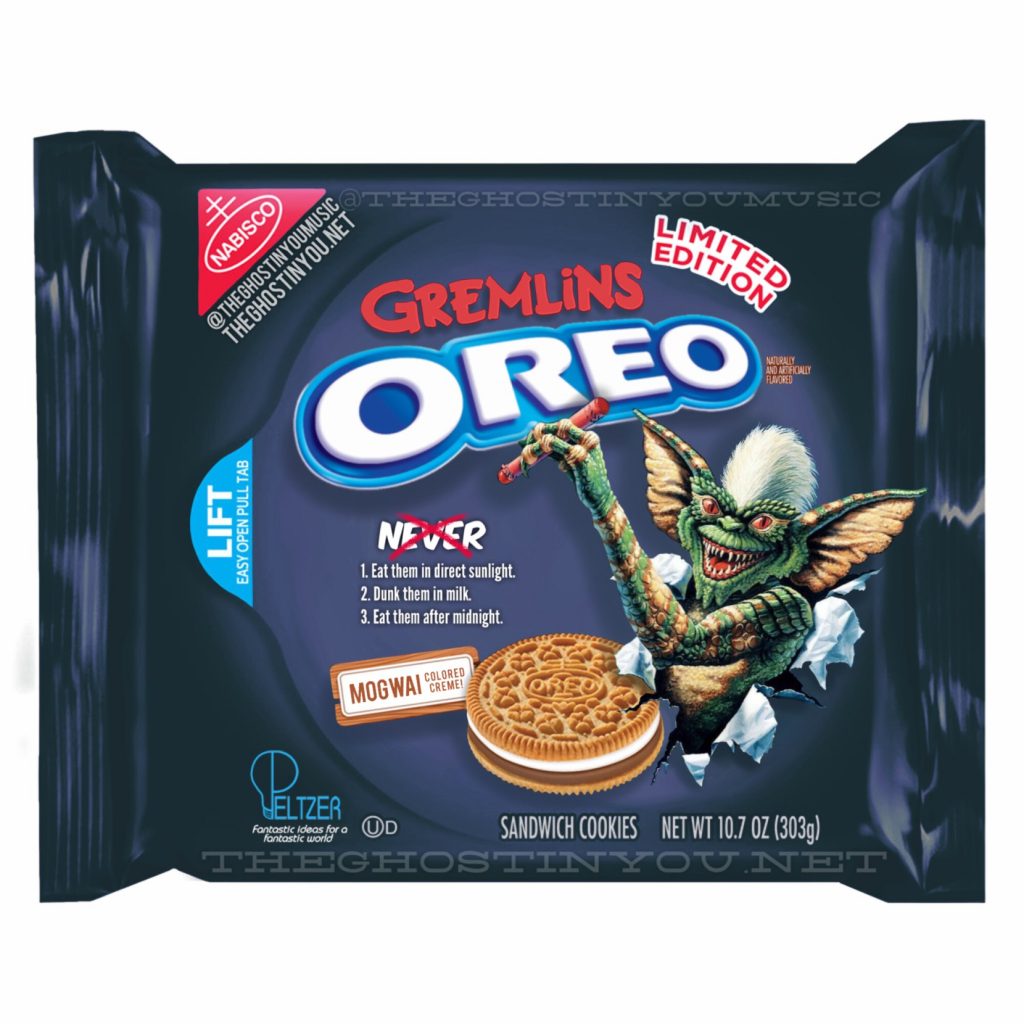 GRATITUDE.  My continued thanks to everyone who contributed to upgrade my technology. Today John King Tarpinian was over to copy my PC files onto the new external hard drive and then to the new laptop. Now I have easy access to all my archival material. Here's a photo John took of me laboring over today's Scroll.
[Thanks to Andrew Porter, JJ, Martin Morse Wooster, and John King Tarpinian for some of these stories. Title credit goes to File 770 contributing editor of the day Daniel Dern.]