(1) THUMBS UP. Good words: "Blade Runner 2049: The first reactions are in".
"Good news!" tweeted Guardian scribe Jordan Hoffman. "Blade Runner 2049 is a terrific continuation and expansion of the orig[inal]."

Erik Davis from the movie site Fandango agreed, calling Denis Villeneuve's film a "sci-fi masterpiece".

"If you were worried, don't be," said Empire contributing editor Dan Jolin of the follow-up to Ridley Scott's film.
(2) CONSPIRACY THEORY. The Wall Street Journal noticed a King Tut-like pattern among the companies shown in the original movie: "Science Affliction: Are Companies Cursed by Cameos in Blade Runner?" The story is behind a paywall, unfortunately.
The 1982 sci-fi classic is back with a splashy sequel but Atari, Pan Am, RCA and other companies featured in the futuristic original struggled in the real world
(3) SHAPE OF TREK TO COME. ScienceFiction.com points to the way: "'Star Trek: Discovery' Trailer Teases The Full Season". BEWARE SPOILERS.
Given this somewhat unorthodox approach to their pilot, it's only natural that they would want to give viewers a taste of what's to come, a sense of what the show is actually going to be on a weekly basis, now that it's underway. This is especially so given that CBS hopes to use 'Discovery' to drive interest in their streaming service, CBS All Access. To that end, the network has released a "what's next?" trailer for the show's first season
(4) UNBEARABLE. BBC review of "Goodbye Christopher Robin", which "looks sweet on the surface, but is quite depressing – 'a wolf in teddy bear clothing,' writes Nicholas Barber."
Goodbye Christopher Robin is a strange proposition. It's a film that won't attract many viewers who aren't already fans of AA Milne's classic Winnie-the-Pooh books, and yet its explicit purpose is to ensure that anyone who sees it will never enjoy those books in the same way again. Remember Saving Mr Banks? Remember how it suggested that PL Travers wrote Mary Poppins because she had an alcoholic father and a suicidal mother? Compared to Goodbye Christopher Robin, that was a feel-good treat for all the family.
(5) DEDICATED SPACE. The Marsh Collection covers both science fiction and Scientology: "SDSU Library Debuts New Science Fiction Room".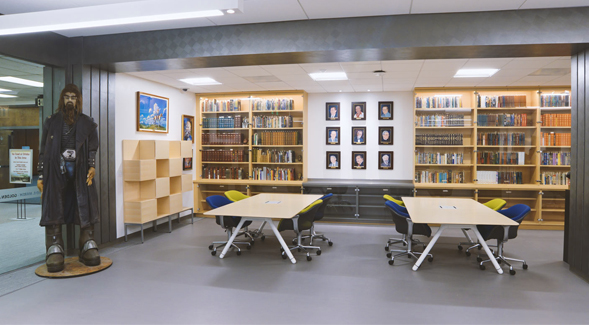 The Edward E. Marsh Golden Age of Science Fiction Room will open on Thursday, Sept. 28, giving San Diego State University and the local community access to one of the most comprehensive collections of science fiction in the United States. The opening celebration begins at 2 p.m. on the first floor of the Love Library on the SDSU campus. Eventually, the Marsh Room will serve as the main point of contact between the community and SDSU's Special Collections and University Archives, which is home to Marsh's collection.

Marsh, who attended SDSU in the 1960s, spent 30 years assembling his $2.25 million collection of signed and inscribed first editions by science fiction greats, including Arthur C. Clarke, Ray Bradbury, Isaac Asimov, Jules Verne and H.G. Wells. Included are the fiction and non-fiction writing of L. Ron Hubbard, founder of the Church of Scientology. Marsh gifted the entire collection to SDSU in 2013.

Donald Westbrook, who received a Ph.D. in religious studies from Claremont Graduate University in 2015, called the collection "a preeminent resource for scientology studies [which] continues to receive fuller academic attention as one of many American-born new religious movements." His book about the Church of Scientology is due out next year from Oxford University Press.

Living history

The Marsh collection is a recent addition to SDSU's Special Collections, a repository for more than 80,000 printed volumes, over 500 manuscript and archival collections, 800 linear feet of university records, plus numerous graphic and digital collections and ephemera.

[Gale Etschmaier, dean of the Library and Information Access] said relocating Special Collections to the library space in and around the Marsh Room will strengthen SDSU's role as a source of "living history"—the documents, photos, letters, newspaper clippings and oral accounts that enable researchers to understand the past through their own critical senses rather than through another's interpretation.
(6) MORE WOMEN ACCUSE KNOWLES. Indiewire reports that in the wake of allegations against the Ain't It Cool News founder, more women have stepped forward with stories about their experiences: "Four More Women Accuse Harry Knowles of Sexual Assault and Harassment".
Another film writer, who goes by the online handle "sick__66" and wishes to stay otherwise anonymous, alleges that as recently as this May, Knowles harassed her on Twitter. The Miami resident, 23, was first approached by Knowles online in April, after he followed her on the social media platform and reached out via Twitter direct messages. The two have never met in person.

Over the course of a month, the pair shared a friendly conversation over direct messages about film history, with Knowles frequently sharing stories of his career and connections. (IndieWire reviewed the full history of these messages.) In the messages, Knowles writes frequently about things he's done over the course of his work, name-dropping such celebrities as Kevin Smith, Peter Jackson, and Guillermo del Toro. (At one point, he sent "sick__66" a link to his wedding invite video, noting that it was directed by Jackson.)

After a month of communicating, Knowles asked "sick__66" to come to Austin, to which she did not respond, deeming the interaction "creepy." …
(7) WORKAROUNDS NEEDED. Jason Sanford asks "What happens to storytelling when the audience knows everything?" Stories of a certain type become harder to set up, though others must surely be easier to tell – what would they be?
We're already seeing major changes in society from people having access to information through mobile devices. Paper maps and guides, which existed for thousands of years, are nearly extinct in some countries as people use their phones and GPS to navigate. Printed encyclopedias and dictionaries have also mostly disappeared, replaced by Wikipedia and other online resources. And social movements like the Arab Spring owed much of their power to the instantaneous sending of information between people by social media.

Those are merely the start of the changes we'll see when every human has instant access to any information they desire. And one intriguing question I've been pondering is what this continual access to information will do to storytelling.

Here's the issue: the vast majority of stories deal with an information gap between that story's characters. This gap between what is known and not known by different characters helps create a story's drama.

For example, in Romeo and Juliet a main character commits suicide because he believes his lover is dead. But what happens to that story when the characters can instantly find out they're both alive?

Or what about Liam Neeson's film Taken, where a father hunts for the people who kidnapped his daughter? What happens to that story when the father can instantly know the address where his daughter is being kept? Or his daughter can access an online database to learn of her kidnapper's true nature when she first meets him?
(8) WRITTEN IN STONE. In "Did Ron Howard tweet out a Han Solo clue through Ralph McQuarrie's art?", SyFy Wire explains how the clue was solved and speculates about what it means for the Han Solo film.
Can anybody translate for me? #McQuarrie #UntitledHanSoloMovie pic.twitter.com/mbKltvhFbW

— Ron Howard (@RealRonHoward) September 26, 2017
Less than two hours later, one fan with an eagle eye named Paul Bateman recognized this carving and distressed ruin to be the language seen on a piece by the late Star Wars conceptual artist Ralph McQuarrie, who inspired the aesthetic for what we all visualize as the world of Star Wars. Bateman, also a concept designer and art director, called McQuarrie one of his friends.
@RealRonHoward this is as near as I can get you Ron, Ralph winged it as far as I know, but it was a font he came up with for Yavin 4. pic.twitter.com/qmOulMr38B

— Paul Bateman (@PaulRMQ) September 26, 2017
(9) BOARDING PARTY. News From ME's Mark Evanier had a bad experience with an airline – not so unusual – but received a surprisingly frank answer when he complained, as he explains in "Fright Attendants" and "Fright Attendants: Part 2".
What occurred is kind of difficult to explain but basically, one employee of the airline — a lady at the gate — told me something. A second employee — a flight attendant — told me something different during the boarding process. I said, "That's not what I was told" and I repeated what the lady at the gate had told me and I even gave her name. The attendant accused me of…well, basically lying about her telling me that. "That's contrary to our policies, sir," she said. "No one would tell you that." My traveling companion backed me up strongly and she was accused of being rude and suddenly this flight attendant was announcing that she had the power to have us both removed from the flight.

…The Customer Relations lady was totally with me and clearly frustrated. She said — and this is a quote — "When I fly now, I just do whatever they say, even when I know it's wrong because you never know what's going to set some of them off. If they somehow get it into their heads that you're a threat to the flight, you're in for a lot of trouble."

This is a woman who works for this airline. She is in a position to receive and deal with complaints about flight attendants who misbehave. And she is afraid of the occasional flight attendant on that airline. She also told me that recently, they had two incidents where flight attendants ejected pilots' wives.

Rhetorical Question: If you were a pilot and they thought maybe your wife was a threat to the safety of the flight, what does that say about you?
(10) ON WRY. Anatoly Belilovsky entertains with "Dear Editor" at the SFWA Blog. The story doesn't lend itself to an excerpt, but his bio does —
Anatoly Belilovsky was born in a city that went through six or seven owners in the last century, all of whom used it to do a lot more than drive to church on Sundays; he is old enough to remember tanks rolling through it on their way to Czechoslovakia in 1968. After being traded to the US for a shipload of grain and a defector to be named later (courtesy of the Jackson-Vanik amendment), he learned English from Star Trek reruns and went on to become a pediatrician in an area of New York where English is only the fourth most commonly used language. He has neither cats nor dogs, but was admitted into SFWA in spite of this deficiency…
(11) TODAY IN HISTORY
September 27, 1967 — My Mother, The Car begins to air in France. Unlike Jerry Lewis, the French did not find any deep, previously unappreciated cultural significance in this export.
September 27, 1979 — Buck Rogers in the 25th Century began its regular episodic run (after the telefilm) with a show titled "Planet of the Slave Girls."
September 27, 1985 – The Twilight Zone returns to television with brand new episodes.
(12) ON THE ROAD AGAIN. Our literary cartographer, Camestros Felapton, discusses how the territory and the story interact in "The Plot Elements of Fantasy Maps".
There is a new good article on fantasy maps at The Map Room Blog: http://www.maproomblog.com/2017/09/the-territory-is-not-the-map/ The point being that much of the discussion of fantasy maps is not the map as such but rather the implausible territories that they depict. Fair point. However, I wanted to loop back to the post I made on the simplified Middle Earth map. A successful fantasy geography requires the terrain to shape the story and The Lord of the Rings does this well. It matters to the story whether the characters are in forests or towns/villages or mountains.

Roads, paths trails

These imply places where the story covers a greater distance. Travel is either uneventful or involves encounters with others. Leaving the path implies not only danger but a shift from the main objective. They are also (random encounters aside) boring but may also imply more personal conversation between characters. Outside of fantasy, a road trip has its own conventions and expectation of bonding between travellers.
(13) DISH SERVED COLD. "Puerto Rico's Arecibo Radio Telescope Suffers Hurricane Damage", but not as much as first believed.
When Hurricane Maria raked Puerto Rico last week as a Category 4 storm, it cut off electricity and communications island-wide, including at the Arecibo Observatory, one of the world's largest radio telescopes.

Initial reports, received via ham radio, indicated significant damage to some of the facility's scientific instruments. But Nicholas White, a senior vice president at the Universities Space Research Association, which helps run the observatory, tells NPR that the latest information is that a secondary 40-foot dish, thought destroyed, is still intact: "There was some damage to it, but not a lot," he says.

"So far, the only damage that's confirmed is that one of the line feeds on the antenna for one of the radar systems was lost," White says. That part was suspended high above the telescope's main 1,000-foot dish, which lost some panels when it shook loose and fell down.
(14) UNUSUAL ANIMATION. NPR says "'Loving Vincent' Paints Van Gogh Into A Murder Mystery". It would be hard to pay homage to Vincent Van Gogh with more fervor or devotion than filmmakers Dorota Kobiela and Hugh Welchman bring to Loving Vincent, in which they've not only created thousands of new oil paintings in his style, but also made him the subject of a murder-mystery.
It begins in 1891, a year after Van Gogh died, when a postman discovers an undelivered letter the artist wrote to his brother Theo, and sends his very reluctant, very drunk son to deliver it — a task that will prove difficult. The postman's son discovers that Theo died soon after Vincent did, and then tries to find others who knew him, realizing as he goes that the death that was said to be a suicide, may not have been so cut and dried.

All of this is about what you'd expect of a film — in this case an animated film — that means to make a mystery of Van Gogh's suicide. But if you're picturing "animation" in the Disney-drawn or Pixar-computerized senses of the word, you'll need to think again. In Loving Vincent, it's as if the paint has leapt directly from Van Gogh's canvases to the screen, and then started moving.
(15) TROLLING FOR DOLLARS. Intellectual judo, using science against itself! "Rapper B.o.B. raising funds to check if Earth is flat". But you know that check is going to bounce.
Spoiler: The Earth is not flat.

But US rapper B.o.B. is crowd-funding the launch of satellites to see if he can get some evidence to the contrary.

The rapper, whose real name is Bobby Ray Simmons Jr, has been a vocal proponent of the Flat Earth theory – the claim the Earth is, in fact, a disc and not spherical.

Some proponents of the Flat Earth theory claim NASA employees guard the edge of the world to prevent people falling off.
(16) THINGS THAT GO BUMP. Developing driverless cars based on traffic in India: "Could India's crowded roads help us create better cars?"
"In 60 seconds you have to consider 70 options," says my rickshaw driver Raju, leaning over his shoulder as we weave through traffic. We're navigating the infamous congested streets of Bangalore, and he's explaining the rules of the road.

Having lived in India for two-and-a-half years, I get what he means. Not an inch of the road is wasted – if there's a gap, a scooter will fill it. Vehicles travel bumper to bumper. Overtaking is attempted as frequently as possible. Indicators and wing mirrors are optional extras. Most drivers seem to rely on the incessant honking of nearby vehicles – almost a form of echolocation.

But there is method to the madness. Drivers deftly navigate around manoeuvres that would lead to accidents in the UK, and offenders rarely elicit more than a mutter. They've adapted to predictable unpredictability.
(17) A BATTERY OF TESTS. "Why switching to fully electric cars will take time" – the BBC has the story.
…Other companies, including Volvo, Jaguar Land Rover and Honda have made similar pledges.

These are undoubtedly ambitious plans – but it is important to recognise their limitations.

They are not saying they will get rid of diesel or petrol cars completely. They are simply promising to make electrified versions of them available.

It is also important to recognise what "electrified" actually means.

It can, of course, refer to fully electric battery powered vehicles. But it can also be used to describe hybrids – and hybrids come in many forms
(18) VIDEO OF THE DAY. "Don't Say Velcro" is a pretty wild musical in which Velcro® protects its trademark!
[Thanks to John King Tarpinian, Edd Vick, Keith Kato, Martin Morse Wooster, JJ, Cat Eldridge, and Chip Hitchcock for some of these stories. Title credit goes to File 770 contributing editor of the day Steve Davidson.]