By Carl Slaughter: (1) E.T.'s stand-ins. US military preparing for alien attack and Cold War in space. Reader reaction: "Build a dome around the Earth and make the aliens pay for it." — "US military training space warriors for 'extraterrestrial conflict'".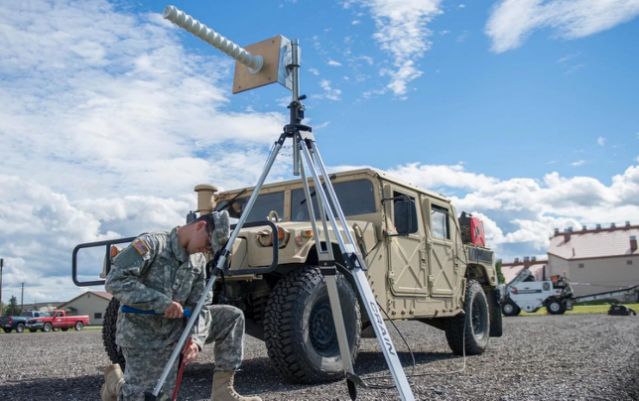 A real life Independence Day may not be far away. Only this time there is no defined threat the military is working against, although it is about "extraterrestrial combat".

Space Aggressors is what the US military is calling them, a team of soldiers training at a warehouse near Colorado's Rocky Mountains. Their job is to act like the enemy during mock space battles to help US units prepare for a conflict that may one day extend to outer space.

"We play the bad guys," Captain Christopher Barnes, chief of training for the 26th Space Aggressor Squadron told the Seeker. "We study threats to the space realm, either coming from space or based on land. If we can't directly replicate them with hardware, then we figure out if there's a software solution or some way we can train people to the point where they can fight through them, if they have to, in a conflict," he says.
(2) Eclipse safety glasses. The peeps look up. "Solar Eclipse Glasses: Where to Buy the Best, High-Quality Eyewear"
If you're one of the tens of millions of Americans who will experience the Great American Total Solar Eclipse on Aug. 21, hopefully you've heard by now that you're going to need eye protection for the big event.

But not all solar viewers are created equal. Using the wrong gear (or using it incorrectly) can burn your retinas, causing irreparable damage to your eyes
(3) Holograms. "Five surprising ways holograms are revolutionising the world"
Technically, all of these are misrepresentations of holography — either special cinematic effects, video projections onto water and smoke, or a hi-tech version of an old Victorian stage trick called Pepper's Ghost. But holograms are big business. It is suggested that by 2020 the market for genuine, display holograms will be worth US$5.5 billion — so how are they impacting society? Here are five of the most incredible ways they are being used.

1. Military mapping

Geographic intelligence is an essential part of military strategy and fully dimensional holographic images are being used to improve reconnaissance. One American company has delivered over 13,000 3D holographic maps of "battle-spaces" for the US army. This allows soldiers to view three-dimensional terrain, look "around" corners and helps with mission training.

The company does this by taking complex computerised image data, which they make into a holographic sheet. Not only can users "look into" the high quality 3D image of the terrain stored in the hologram sheet, but the technology is simple to use and can be rolled up for easy storage and transportation. It all sounds very Star Wars, but the maps are also useful in disaster evacuation and rescue scenarios.
(4) Drones. Court strikes down FCC regulation requiring drone registration. "The FAA was just forced to lift its drone registration requirements".
Being a drone owner requires a few things. You need decent amount of cash if you want the high-end hardware, along with the patience and willingness to learn how to actually fly the thing. As of 2015, you also needed to register the aircraft (if weighs a half pound or more) with the Federal Aviation Administration. Now, a federal court in Washington, D.C. has ruled against that requirement, deeming the FAA's mandatory registration "unlawful.