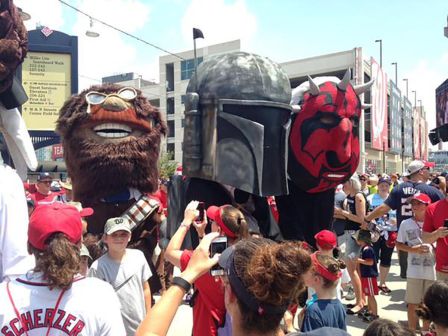 By Martin Morse Wooster: Good sense and prudence should have stopped me from going to Star Wars Day at Nationals Park on July 19.  The game time temperature began in the mid-nineties and hit a high of 98.  It was hotter than a dragstrip on Tattooine, and we Baby Boomers don't do well baking in the sun.
(I'll admit it—I'm an old guy.  I'm so old that I was in front of the TV when Bill Murray sang the lyrics to the Star Wars theme.  You remember — Star Wars/Give me some Star Wars/I want some Star Wars…)
But the Nats were giving away R2-D2 can coolers, sponsored by ThinkGeek.  What you got was a can — but it was a Star Wars can!  And the carton had stormtroopers on it!
Plus the matchup that afternoon was quite good.  The Nationals had their ace, Cy Young winner Max Scherzer, who threw a one-hitter and then followed it with a no-hitter.  The Dodgers were sending Zach Greinke, a Cy Young winner who was working on the longest streak of scoreless innings since Orel Hershiser in 1988.
Put together Cy Young winners and science fiction, and you get an afternoon of Cy-Fi.
The event was a sellout.  Here's how popular it was.  Two weeks ago I went to a Sunday night game against the Giants and StubHub sold me a pretty good seat in the right-field upper deck for $14, which included a Stephen Strasburg bobblehead.  For Star Wars Day, I got a less good right field upper deck seat for $40.
I saw very few fans — probably less than five — wearing any sort of Star Wars outfit.  (Star Wars t-shirts don't count.)  According to the Washington Post's Dan Steinberg, most of the hard-core costumers spent their game in the air-conditioned bar.  I didn't see them.
Here's what I did see:
Boba Fett Hot Dogs. Planet Hoth Shaved Ice.  Cloud City Cotton Candy.  Luke Frywalker Cheese Fries.
Semipro members of the 501st Legion were in tents, if you wanted to stand in a long line to have your photo taken with a stormtrooper.
Special Nationals caps with Star Wars-themed brims and t-shirts with Darth Vader on a baseball card.  (Hopefully the Nats will put Darth in left field where they have a problem.)
The Nationals players appeared on the Jumbotron dressed as Jedi Knights.  The Dodgers were stormtroopers.
John Williams's music being played after a Nats pitcher threw two strikes.  (They should keep this one.)
The Nationals' Fan of the Game contest is a dance off which is always won by a little kid with ADD.  The winning kid yesterday wore a giant Darth Vader mask.
But the high point was the Racing Presidents. Thomas Jefferson was Leia Skywalker.  William Howard Taft was Boba Fett.  Teddy Roosevelt was a very hairy Chewbacca, which led him to tweet that he was "Tedbacca."
https://twitter.com/Teddy26Nats/status/622811609526837248/
The race yesterday was a relay race, and the climax featured George Washington as Darth Maul versus Calvin Coolidge, whose hideous yellow wig led MLB writer Ben Cosman to think of "that guy from Spinal Tap."  It turned out Coolidge was playing Luke Skywalker.
At the climax, Luke and Maul fought it out with lightsabers and Darth Maul won.
"Non-canonical!" hissed a gentleman behind me.  I didn't know if anything I saw yesterday was canonical.
NOT SO FAST #Sith! Time for you to go back from where you came! #TheForceIsStrong #NatsStarWarsDay pic.twitter.com/DULNE9x89N

— Teddy Roosevelt (@teddyroosevelt) July 19, 2015
One thing the Nationals only used once was a sign looking like the opening title to Star Wars, replacing, "Let's Go, Nats!" with "Use the Force!"  The Force was not with the Nationals yesterday, as Zach Greinke three-hit the Nationals through eight innings.  I mentally added Greinke to the list of great pitchers I've seen (Seaver, Sutton, Ryan, Maddux, Johnson, topped by Jordan Zimmermann's no-hitter).
So it was a good day, and if I get tired of staring out the window at work I can always stare at my R2-D2 Can Cooler.
But boy, was it hot!
#NatsStarWarsDay is so amazing, I'm not even upset I didn't win! WAGRRRWWGAHHHRRGGAWWWRR pic.twitter.com/ySJ9IPzwNX

— Teddy Roosevelt (@teddyroosevelt) July 19, 2015