By James H. Burns: In the 1970s, many of us, film fans that is, would chat about the roles Raquel Welch could play.
I can still remember, in January of 1976, meeting Jerry Iger, the great comic book impressario of another era, simply walking around a Creation comic book convention, happily, glad to meet any and all fans, and well wishers. Jerry had had a hand in the creation of Sheena, Queen of the Jungle, and he was ecstatic that it looked like Welch was going to star in a major feature film version of the character.
And a year later, I told friends that if Welch was only a few years younger, she might have been perfect as Lois Lane in the Superman movie, because at that time, the rendition of the character DC Comics was featuring in their Superman titles bore more than a passing resemblance to the actress…  At least on occasion.  (But then, I also thought the only real choice for Jor-El, Superman's pop, should have been Charlton Heston, with Welch perhaps playing Lara, his wife, (and, of course, Kal-El's mom.)
Welch's career might have been significantly different if the James Bond producers hadn't let her out of her commitment to star in Thunderball. But a request from Twentieth Century Fox freed her to star in Fantastic Voyage, one of her few actual science fiction credits. (Oddly, she also just missed playing Mary Ann on Gilligan's Island.)
And just a short while afterwards, she stunned the world, and electrified the world's press, when her image as Luana the Fair One appeared across the globe in newspapers, from her new movie, One Million Years B.C.
Rarely has a single image remained so emblazoned on a pop culture consciousness.
There were memorable cameos in Bedazzled and Terry Sothern's The Magic Christian; guest shots on Mork and Mindy, and much later, Sabrina The Teenage Witch, and a guest-hosting spot during the first season of Saturday Night Live, where one skit had Welch as the ugly-duckling underdeveloped woman from another planet's race of gigantically endowed gals…
Much earlier, on a CBS TV special, in the early '70s–the all but undeservedly forgotten The Funny Papers, devoted to the world of comic strips — she did a sensational turn as the Dragon Lady, from Milton Caniff's Terry and the Pirates. (The show, as I recall, also had a winning spot by Carrol O'Connor, as Daddy Warbucks (!), with the offbeat casting of Welch, as Little Orphan Annie.)  There had been other rumors, I believe, that at one point, she was going to play Brenda Starr…  (And, of course, she would have been perfect in any number of super hero movies. (Decades later, she did do a guest role on Lois and Clark…) )
In person, Welch is surprisingly petite, if nearly perfectly proportioned. And no account of her career should leave the fact that she used her opportunities to transcend the sex symbol label, and star around the world in a solo musical revue, as well as on Broadway, in both Woman of the Year and Victor/Victoria.
(Her musical and theatre career were helped, early on, by two television specials in which she headlined, which included memorable turns with Sid and Marty Krofft's legendary Nightclub puppets!)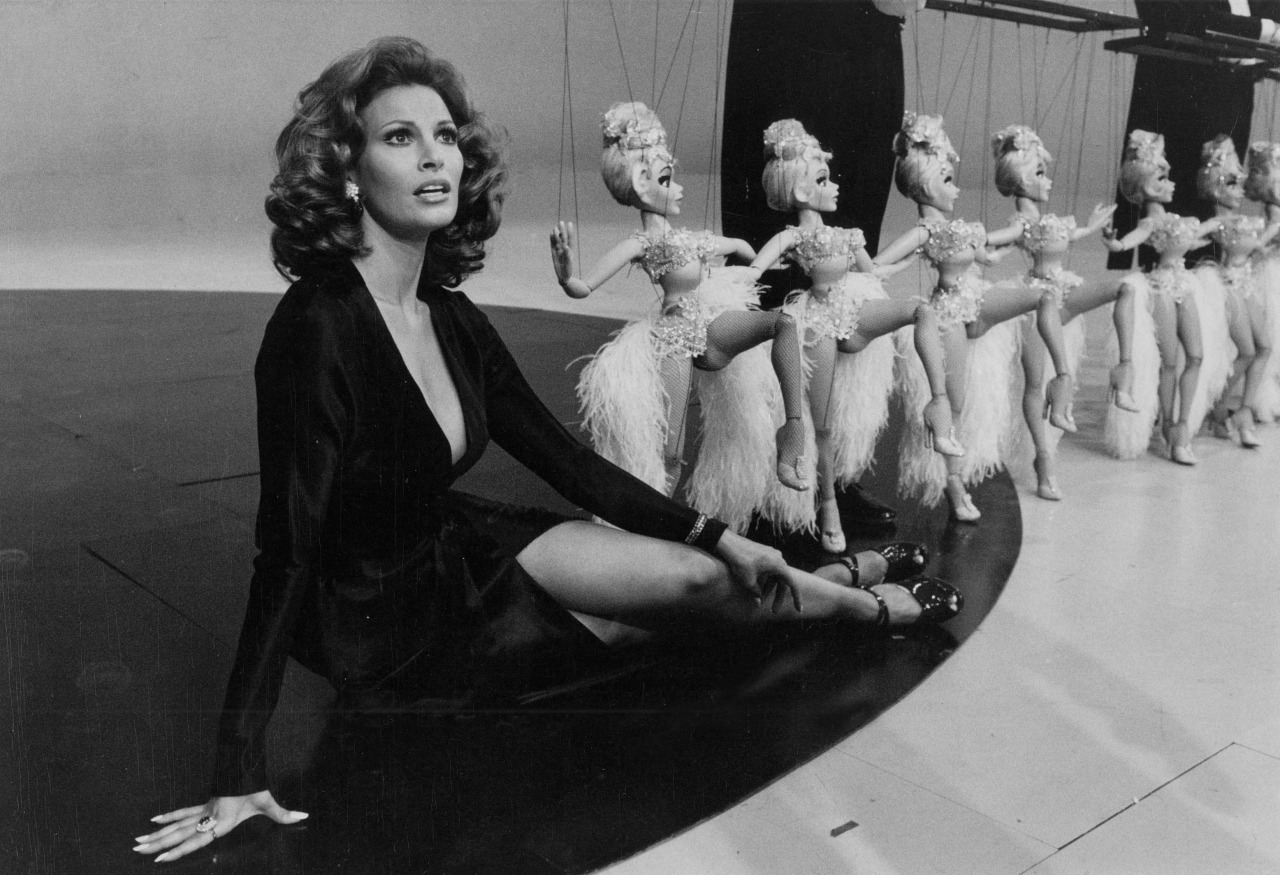 But as she celebrated her birthday September 5, I was puzzled by the fact that so many men of my generation — and beyond! — equate her with the fantasy genre, when there were, in fact, so few efforts there.  I imagine it's because the impact of One Million Years B.C., was so spectacular, and her performances — particularly in later movies, such as Hannie Caulder, The Three and Four Musketeers, and The Legend of Walks Far Woman, were so striking.
But maybe it's also because, with various ups and downs, and other permutations, she has remained on the scene, well into her seventies, an accomplishment very few "movie stars" of her generation, have earned. She also appeared to be, for so long, a starring feature of so many celluloid fantasies, that her reign as an icon of the late 1960s, into the 1970s, echoes with a certain permanence.
And, there could also be another great role, tomorrow.