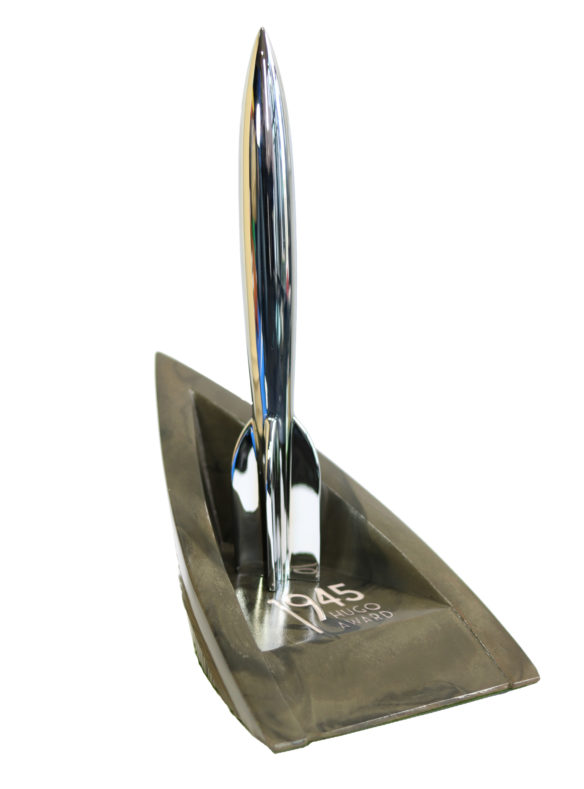 [Editor's Introduction: Dave Wallace left a thoughtful comment today about what he sees as the problems with the Retro-Hugos periodically given by Worldcons, and offered several proposals for change. He gave permission to republish the text as a post, which should allow even more people to read and engage with his ideas.]  
By Dave Wallace: I've been thinking about problems with the Retro-Hugos and what to do about them since the Dublin Worldcon. I was hoping I would get a chance to finish writing up the proposal I've been working on so that I could circulate it as a whole for comments rather than putting it out piecemeal. But since we're discussing the topic now, let me share some excerpts from the notes I have on how we could better honor past work if we were to decide to discontinue the Retro-Hugos in their current form.
Issues with the Current Retro-Hugos
This list of issues with the current Retro-Hugos is a combination of thoughts that I've had and some of the comments I've heard from others:
1) They involve a lot of time and expense for the Worldcon putting them on, especially for the Hugo Administrators.
2) They are an all-or-nothing thing for a given year: either a Worldcon decides to host all the Retro-Hugo categories for a given year, or they won't be revisited at all for another 25 years.
3) Lots of Worldcon members don't participate, compared with the regular Hugos.
4) It's a fair amount of effort or expense for many voters to track down all the finalists in a given category.
5) They are tied to a specific anniversary year in a 25 year cycle.
6) People vote for the one thing that is familiar, rather than thoroughly comparing finalists.
7) It's hard to track down reproduction rights to form a Hugo Packet.
8) At 75 years, it's hard to find representatives for whom the trophy is meaningful – lots of past Retro trophies are sitting in warehouses.
9) Modern categories may not fit historical SFF consumption well.
10) Retro-Hugos don't have the same prestige as regular Hugos.
What Would We Need in a Different System to Honor Past Work?
Suppose we were to pass and ratify a constitutional amendment discontinuing the current form of the Retro-Hugos at the 2021 and 2022 Worldcons. Would that be the end of attempts to honor unrecognized work from past years?
It need not be. But I think that any replacement system must reckon with the central failure of the current Retro-Hugos, which is that they attempt to do too much in a single year. Trying to deal with a full second set of Hugo categories in addition to all the current year Hugo categories is a burden for voters and administrators alike, and means that few are able to devote the time to properly understand these works in their historical context. Thus the two key ideas that I would propose are to decouple historical awards from a specific anniversary year, and to host no more than one historical award category per year.
These two ideas are related. Doing only a single historical category per year reduces the extra workload on voters and administrators dramatically. Breaking the link to a specific anniversary eliminates the current pressure on Worldcons to either host a full set of retro-Hugos for a given year or accept that no works from that year can be honored for another twenty five years at the earliest, when they will be even further away from the people to whom those works were most meaningful. Instead, the focus can shift to asking what historical categories, if any, are most ready and appropriate to be honored now.
Outline of Proposal
I'm still working out details and looking for feedback, but the basic outline of the proposal I originally hoped to submit to the 2020 Business Meeting involved three constitutional changes:
1) We officially decide to stop holding the Retro-Hugos in their current form after 2020 (or maybe after 2022, if Chicago really wants to host them).
2) Instead, we add a provision that would allow each Worldcon to optionally add a special Hugo category for works from a specified past year to the regular Hugos, similar to the current provision for trial categories in section 3.3.19 of the WSFS Constitution. If they elected to add such a category, it would be a special category in the regular Hugos, such as "Best Short Story of 1948" – no need for a separate ceremony or the expense of a separate base design. This would also address concern #10 above.
3) Finally, we establish a new standing committee to propose and vet proposals for past year categories, so that future Worldcons will have a list of ripe proposals to choose from if they want to add a past year category. Two important criteria for them to consider in evaluating possible year/category combinations (suggested, not absolutely mandatory): (a): Can the Worldcon obtain the rights to distribute likely finalists in the Hugo Voter Packet, or otherwise make them available in an easily obtainable form, and (b): Is there a living person connected with the work who would appreciate having the trophy (and ideally, would show up to accept it)?
These two criteria are related: the existence of such a person can aid in getting the rights for the packet. If the original artist is no longer alive, it could be a family representative, literary executor, or publisher. Having most/all finalists available in the Voter Packet would make it more likely that voters would read and compare all the works on their merits, instead of just voting for the one name they recognize.
(I recently shared the above proposal outline in a twitter discussion with Hugo finalist Siobhan Carroll, who had her own similar proposals about the Retro-Hugos – twitter discussion here and here.)
I wish I'd had time to write this up more fully, but maybe the unfinished version makes it easier to incorporate feedback. What do others think?