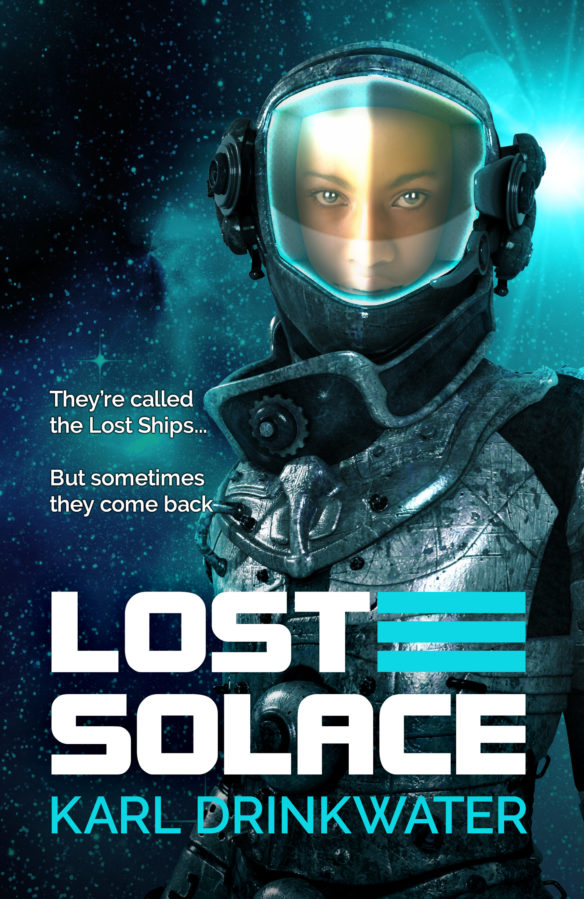 By Mike Glyer: Opal steals an experimental AI-controlled spaceship from the military to begin Lost Solace by Karl Drinkwater because she's seeking something that's been taken away from her. She hopes to find it on a Lost Ship, one of the spaceships that vanish with all hands, then reappear, strangely altered, derelict, and rumored to be full of horrors. And Opal knows where she expects to find one.
In the vicinity of a neutron star Opal locates a seemingly deserted spaceship – and from the moment she boards an endless variety of tech and lifeforms are trying to kill her. Her companion AI, named Clarissa, helps keep track of the threats – though their relationship is complicated by the fact that Opal isn't telling Clarissa everything, beginning with the fact that she's been stolen.
What does Opal hope to find? What happened to this Lost Ship? The way Drinkwater builds this story discovery-by-discovery, with all kinds of dangers thrown in, marries what I liked about Rendezvous with Rama to the array of lethal threats presented in the novels of Rusch's Diving Universe. And the story moves at an even more dynamic and compelling pace than either of them.
An orphan who has been pushed into a military career, Opal may be a highly effective fighter but she hates taking orders or being under any kind of discipline, and has only endured it with her goal in mind. Eventually we learn what that goal is. Meanwhile, she fights her way through endless deadly situations aboard this mystery ship, protected by her armored spacesuit and its suite of ingenious weaponry. Writers have been improving on Heinlein's Mobile Infantry gear for more than six decades, and Drinkwater brings a richly inventive imagination to the table, giving Opal the weapons of a marine, a suit of armor tailored for vacuum, visual displays worthy of a fighter plane (or maybe a video game), and the support of artificial intelligence.
One of the best and most difficult accomplishments, as the author unfolds this fast-moving action adventure, is that the two main characters – Opal and Clarissa – grow in identity and friendship. Their mutual loyalty makes the reader care about their survival. And the way the experience transforms them provides a satisfying sense of closure to this novel, while still leaving the way open for the follow-up.
[Lost Solace by Karl Drinkwater is an entry in the Self-Published Science Fiction Competition.]