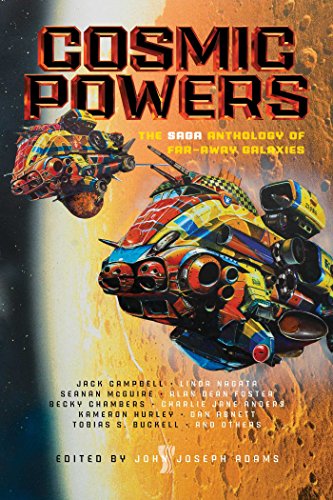 By Lis Carey: This is just one kickass good anthology. Go buy a copy in your preferred format now.
Okay, okay, you want to know more.
Every one of these stories is, as advertised, far-future, galaxy-spanning, and involves people confronting huge problems caused by technology, in some cases so advanced as to be, as Arthur C. Clarke said, "indistinguishable from magic."
They vary wildly in tone, also.
Charlie Jane Anders' "A Temporary Embarrassment in Spacetime" is just really funny.
"The Chameleon's Gloves" by Yoon Ha Lee features an interstellar thief saddled with the unenviable job of committing one theft not for profit but to prevent the deaths of billions. I hadn't been attracted to what I've heard of Ninefox Gambit, but now I very much want to read it.
"Diamond and the Worldbreaker" by Linda Nagata gives us a twelve-year-old who just wanted a chance to be the bad guy for once, and her mother whose job it is to prevent the kind of chaos created by the kind of "bad guy" her daughter admires.
In Becky Chambers' "The Sighted Watchmaker," Umos has the responsibility of tending a planet through its evolution, and wishes he could have the guidance of the Makers. But who are the Makers? Meanwhile, Seanan McGuire's "Bring the Kids and Revisit the Past at the Traveling Retro Funfair" is straight up adventure.
There's more variety and excellent storytelling in store as well.
It's rare that I've enjoyed an anthology so thoroughly, and Yoon Ha Lee isn't the only author represented here for whom I will be seeking out more work when I previously had my doubts.
Highly recommended.
I received a free electronic galley of this book from the publisher, and am reviewing it voluntarily.