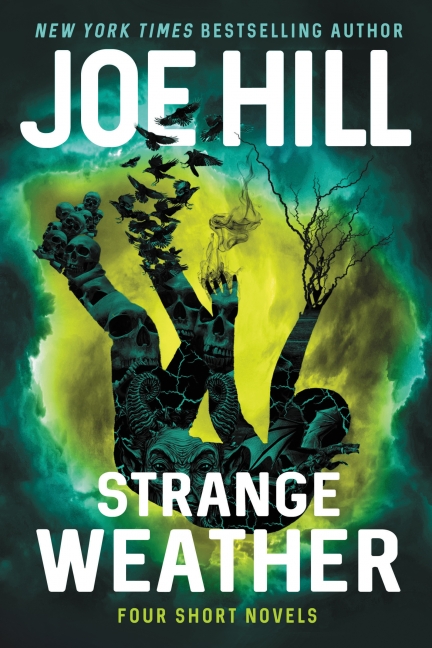 Review by Mike Glyer:  Three of the four short novels in Joe Hill's Strange Weather merge nightmarish technology and mythic predicaments in a way bound to fascinate sff fans, while the fourth is rooted in gun-related horrors the daily news won't let us escape. All four tales are radically enriched by Hill's exploration of the characters' interior lives and relationships.
Years ago I lamented the fact that while a commercially-successful author like James Michener filled his epic bestsellers with heart-tugging characters, science fiction remained exclusively populated by the same two-dimensional figures that had marked it from the beginning, possessing just enough heroism and sentiment to explore the idea that was the reason for the story. That changed a generation ago, but I always appreciate a writer like Joe Hill, who's ready to explore why someone makes the choices he or she does when plunged into the crucible of a science fictional crisis.
George Alec Effinger once explained that if you had a certain goal – like writing an sf novel that was also a mystery — you had to "budget" the wordage needed to honor the tropes of each genre. Similarly, for Joe Hill to drill into his characters' backgrounds and emotional lives as he does in these short novels requires more wordage to unfold than it would to isolate on the sf/horror ideas underlying them had they been written in the days of sf's pulp origins.
Snapshot
In Snapshot, a 13-year-old nerd finds himself the only force standing between an elderly couple and the menace of "The Phoenician," a tattooed thug with a mysterious Polaroid-style camera that erases memories snap by snap.
The nerd, named Mike, tinkers on all kinds of projects, his latest being a confetti-firing party gun which obligingly obeys Chekov's Law by the end of the story.
The wife in the couple once was a younger Mike's caregiver, someone who helped raise him and now seems mentally ravaged by age. Although the "real" reason is an otherworldly camera in the hands of an evildoer, Hill takes full advantage of the opportunity to explore the end of human life, memory, and the loss of relationships in the face of frailty and illness.
Snapshot summoned the same emotional response from me as Keith Laumer's "Long Remembered Thunder," which is about a student who has to master an alien weapon to save his teacher and the person she loves. But I would add that while Laumer worked within a narrower frame of archetypes and sentiment, Hill frequently hits on compelling psychological, ethical and spiritual truths about his characters.
If Snapshot has any weakness, it's that the story has more than one ending. Somebody needed to tell the author the story was over. Not that the extra wordage did any harm to my enjoyment of what had gone before – and maybe Hill just needed me to see what happened later on to an interesting family, the way Tolkien planned to do at the end of The Lord of the Rings until his friends talked him out of it.
Loaded
Loaded, the second short novel, is inspired by America's gun culture, racial injustice, and the routine bloody sacrifice of fact-based truth at the altar of patriotic mythology. It's painful to read, with a constant flow of tragedy, not just a tragic ending.
This is horror. Just keep waiting for the people you like to die. They will.
Aloft
Aubrey Griffin doesn't really want to jump out of an airplane, he just wants to impress Harriet, and is on the verge of backing out until fate intervenes in the form of a strange-looking cloud.
He's yet another of Joe Hill's fat, farting heroes whose self-indulgence and denial must be explored on the way to unraveling the protagonist's one-sided romantic aspirations, before he finally realizes he won't be missed from the world any more than the guy in Bruce Jay Friedman's Steambath.
Aubrey Griffin's abortive parachute jump lands him on an impossibly solid cloud, where his human willingness to yield to delusions and wish-fulfillment may cost him his life. Aloft revolves around an idea that's a classic sf mix of myth and mystery, made science fictional by repeated hints that it might all be a product of alien technology. Hill effectively draws on traditions like Shakespeare's Caliban, the trials of Psyche in classical literature, and doubtless even more things than I recognized.
What is the cloud really made of? Will Aubrey survive? Having just read Loaded, I was feeling that was unlikely, and was marking time til the author arbitrarily decided which of the many dumb decisions Aubrey was making ought to be the one that killed him. Instead, Hill surprised me, and in the end it's a new life, not the afterlife, that Aubrey is headed for.
Rain
The final of these four novels is Rain. On a seemingly ordinary day in Boulder, Colorado, the clouds open up in a downpour of crystal spikes that tear apart everyone who can't quickly get to cover. The first casualties include the protagonist's girlfriend. The protagonist, Honeysuckle Speck, is a black lesbian and the girlfriend was in the middle of moving in on that fateful day.
And the neighborhood she was moving to is loaded with characters —
Russian expat dope dealers
a kid who likes to pretend to be a vampire
a house full of cultists and their leader
— not to mention loving mothers and absent fathers.
The crystal rain is not a single Fortean event — Hill pays Vonnegut a brief homage – this climate calamity is spanning the world and might be irreversible, reminiscent of Ice-9.
Honeysuckle wants to tell her girlfriend's family what has happened, but can't raise them on the phone, so she decides it's her duty to walk to Denver and tell them, despite the risk of further shard-filled stormclouds. This quest also gives Hill his wanted opening to view the human race breaking down under the strain, to honor those who unexpectedly prove to be remaining pillars of social order, and to show how quickly the jackals come out.
Hill is very inventive and sometimes has trouble "killing his darlings," getting rid of a really clever bit of wordplay that breaks character or throws you out of the narrative. (Like a reviewer who refuses to strike a gaudy phrase like "climate calamity.") However, most of them remain carefully embedded in the flow of the story and ring true as insights the characters discover about themselves.
The quest and the view of many different people under pressure would seem like the point of the story – and it really is. Maybe Rain is another story with more endings than it needs, because before it concludes Hill also reveals how the weather crisis was caused, in a rather Twilight Zone-married-to-the-X-Files kind of way. But no harm was done, I didn't become any less interested as he worked through the denouement, so neither I nor Hippocrates have reason to object.
Joe Hill, of course, is known as one of America's leading horror writers. I come away from this collection rethinking my notions about the horror genre – which I not only identify with dark events and toxic emotional experiences, but with portentous and slow-as-molasses reveals. Strange Weather's four short novels all move right along, quickly dispatching characters to meet their trouble or doom, and mapping the way with a personal history that needs to be solved just as much as the monster/invention/disaster that may end everyone before they can. I don't know whether this book has made me a fan of horror, but it's certainly made me a fan of Joe Hill.