Canadian hard sf writer Robert J. Sawyer has won the 2017 Robert A. Heinlein Award, given annually to an author of outstanding published works in science fiction and technical writings that inspire the human exploration of space.
Sawyer's most-recent book is Quantum Night, from Ace, his 23rd novel. Sawyer was an initial inductee into the Canadian Science Fiction and Fantasy Hall of Fame.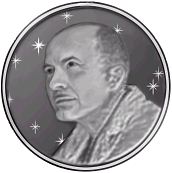 The Robert A. Heinlein Award is managed and sponsored by the Baltimore Science Fiction Society. The award selection committee is chaired by Michael F. Flynn and is composed of science fiction writers..
The Robert A. Heinlein Award is a sterling silver medallion bearing Heinlein's image as depicted by artist Arlin Robbins. A grant from the Heinlein Society funds half the costs associated with the award.
The list of past winners of the Robert A. Heinlein Award can be found here.