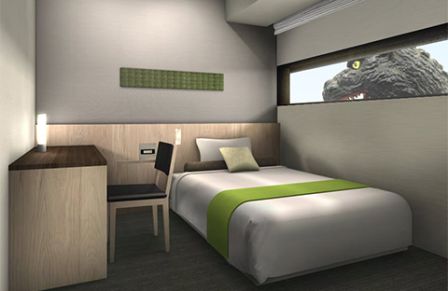 The alarm goes off. Thinking of rolling over and going back to sleep? Not an option if you've booked the Godzilla Room at the Hotel Gracery Shinjuku (opening in Tokyo April 24). There you'll wake up to see Godzilla's giant eyeball staring back at you through the window!
The hotel, located above a new Toho Cinema movie complex, will erect a 39-foot-tall Godzilla head on its lower roof deck. Passersby will be able to see it from the street and guests in the surrounding rooms will get to stand face-to-face with Japan's celebrity kaiju  for 39,800 yen (US $334) a night.
A hotel spokesman says the Godzilla head is part of their strategy to appeal to tourists coming for the 2020 Tokyo Olympics.