From stepping into Leonardo da Vinci's workshop, being transported through the night sky, or even "rooting" through the world of plants – the 2021 shortlist of the Royal Society Young People's Book Prize can take you on incredible journeys. The shortlist was announced September 15.
The prize recognizes the best science books for under-14s. The shortlist was picked by an adult judging panel including BBC broadcaster Gabby Logan, author Sharna Jackson, teacher Robin James, chemist Andy Jupp and volcano scientist Katharine Cashman, who whittled down more than a hundred entries to just six.
Now, with a record-breaking 537 UK schools, science clubs and groups taking up the challenge of judging this year's prize, it's up to 11,500 young judges to declare their winner.
The winning book will be unveiled at an awards ceremony in February 2022.
The shortlisted books for the Young People's Book Prize 2021 are:
I Ate Sunshine for Breakfast by Michael Holland
Did you know that the rubber in your shoes came from a tree? Ever wondered where your breakfast cereal is grown? Have you remembered to thank a bee today for the food you ate for dinner last night? Get ready to learn everything you never knew about plants and then some! This illustrated compendium celebrates the plants you didn't even know you used, from your toothpaste to your car tires to the name of your great-great-aunt. This comprehensive overview also contains great plant projects you and your friends can try at home!
I Am a Book. I Am a Portal to the Universe by Stefanie Posavec and Miriam Quick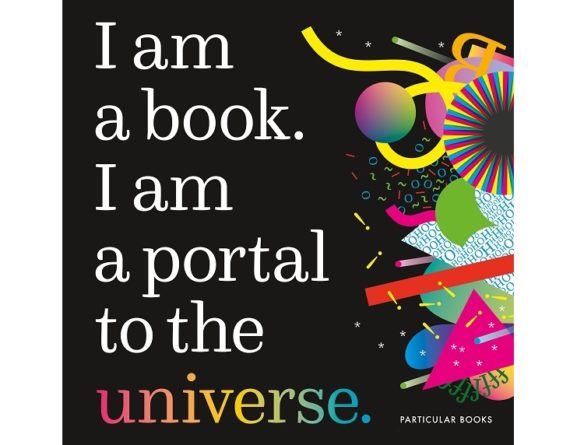 Hello. I am a book. But I'm also a portal to the universe. I have 112 pages, measuring 20cm high and wide. I weigh 465g. And I have the power to show you the wonders of the world. Lift me up to the sky, rest me on your lap, drop me from a height, wear me as a hat. Together, through data, we'll uncover the stories hidden in the everyday. How long is an anteater's tongue? How tiny is the DNA in your cells? How fast is gold mined? How loud is the sun? And how many stars have been born and exploded in the time you've taken to read this sentence?

Hold me in your hands and let me show you what I'm made of – and what waits for you in the corners of our awe-inspiring universe.
Inventors by Robert Winston
Meet the masterminds behind the greatest inventions in history with this nonfiction book for kids aged 7 to 9.

Step into Leonardo da Vinci's workshop, relax on board Hideo Shima's speedy bullet train, and join movie star Hedy Lamarr to bounce ideas around in between takes. Inventors looks at the towering achievements of more than 50 inventors in great detail. The stories are as unusual as they are unique. From Mr. Kellogg, who accidentally created cornflakes after leaving grains boiling for too long, to the ancient Turkish polymath Ismail al-Jazari, who decided the best way to power a clock was with a model elephant, to Sarah E. Goode's fold-up bed space-saving solution, the inventors of this book have all used tons of creativity to find ways to improve our world. These groundbreaking inventions include the very earliest discoveries to modern-day breakthroughs in science, food, transportation, technology, toys, and more.

Each page is packed with jaw-dropping facts, with every inventor's achievements written as a story. Beautiful illustrations by Jessamy Hawke bring the inventor's stories to life, and fantastic photography highlights the detail of their designs. With incredible hand-painted cross-sections revealing the intricacies of a robotic arm, the first plane, and the printing press, young readers will marvel at being able to see close-up how these amazing machines work. The inventors come from all walks of life and parts of the world, making this the perfect book for every budding inventor.
Agent Asha: Mission Shark Bytes by Sophie Deen
Asha Joshi has the perfect excuse not to finish her homework. She's just been recruited to join the top-secret Children's Spy Agency. Her first mission: SAVE THE WORLD. Can she do it? Asha's a coder so she should be able to hack into the biggest tech company in the world, fight deadly sharks and figure out why the Internet has stopped working. All before bedtime. Easy, right?
100 Things to Know About Saving the Planet by Jerome Martin, Alice James, Rose Hall and Tom Mumbray
How could plastic-eating bacteria help reduce waste? Can a river be given human rights? Could we generate all the power we need from the sun and the wind? How do woolly sweaters help penguins in peril? Would building a giant sunshade in space stop the world from overheating? Find the answers to these questions and more in this exciting book full of big, small and unexpected ways to save the planet. 
Under the Stars: Astrophysics for Everyone by Lisa Harvey-Smith
Under the Stars: Astrophysics for Everyone transports curious kids and inquisitive adults on an incredible journey through the night sky. Explore our solar system from the comfort of your cosy bedroom. Find out why the sky is blue. Fly around a black hole and peer inside! Learn why Jupiter has stripes.

When astrophysicist Lisa Harvey-Smith isn't looking skyward, she is answering the smart questions of school kids. Her engaging storytelling in this colourfully illustrated book brings the night sky to life, giving amazing new perspectives to young explorers who are always asking, 'Why?'
[Based on a press release.]