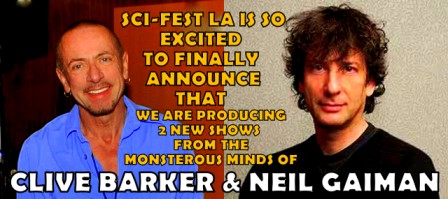 Neil Gaiman's The Case of Four and Twenty Blackbirds, adapted by Michael Bernard, will be performed in May at Sci-Fest LA, the Los Angeles science fiction one-act play festival. So will an adaptation of Clive Barker's short story The Departed.
And Sci-Fest's Indiegogo crowdfunding appeal continues, hoping to raise $100,000 by March 18 to qualify for a matching grant. So far $8,565 has been pledged.
The second season of Sci-Fest will run from May 5 to May 31 at The Acme Theater in Hollywood. The full list of programs follows the jump.
PROGRAM A
TURNOVER By Chris Graybill
Directed by Jeffrey Marcus
Within the walls of a futuristic penal facility, a "job interview" turns into a sinister game of cat-and-mouse between a dangerous inmate and her interrogator.
HUMAN HISTORY By Joel Silberman
Far in the future, in a classroom on a distant planet, racial tensions run high as Earth's history is debated, forgotten and relearned.
THE LUNCHTIME SHOW By G. Clarence Davidson
Directed by Drew Barr
In deserted border town, visitors to a ramshackle "roadside attraction" get a little more than they bargained for.
THE CASE OF FOUR AND TWENTY BLACKBIRDS
By Neil Gaiman; Adapted by Michael Bernard
Directed by Annie McVey
Film Noir meets Mother Goose as hardboiled private dick, "L. Jack Horner" investigates the suspicious death of one "H. Dumpty" in this insane mash-up by the iconic author of "American Gods" and "The Ocean at the End of the Lane."
THE DEPARTED
By Clive Barker; Adapted by Christian Francis
Directed by Rob Hollocks
A ghostly tale of love and obsession. Based on the acclaimed short story by one of the most influential contemporary creators of fantasy and horror.
PROGRAM B
A BILLION TUESDAY MORNINGS
By Nathan Wellman
Directed by Jeff Liu
A lonely autistic man is unable to convince his doubting daughter that his new invention will change everything…until it does.
ACCESS
By Spencer Green
Directed by Steve Kaplan
Breaking up is hard to do.  Especially in multiple dimensions.
EFFICIENCY by Perley Poore Sheehan & Robert H. Davis
Directed by Jaime Robledo
A ruthless dictator demands a meeting with a horrifically wounded soldier who (with the help of "replacement parts") has been transformed into an unstoppable killing machine.
MOBY ALPHA
Written & performed by Chuck Armstrong & Charlie Stockman
Direct from its smash run at the Hollywood Fringe Festival!  A mad captain's quest for revenge leads his crew to the brink of destruction in this utterly hilarious two-man retelling of "Moby Dick" (in space).
 Plus 5 performances only!
SCI-FEST LA "RADIO THEATER"
Thrills and chills abound as our Star-Studded company of players perform a classic Sci-Fi radio script live on stage!