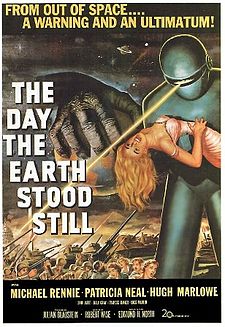 Azusa Pacific University continues to explore the genre with a "Classic Sci-Fi Double Feature" on Saturday, September 13.
The Day The Earth Stood Still (1951) starts at 1 p.m. and Invasion of the Body Snatchers (1956) at 3:30 p.m. in Darling Library Classroom Building, Room 413. (Campus maps here.)  There will be a panel discussion following each screening.
The event hosts are Cinematic Arts Department Chair Dr. Thomas Parham, Librarian and Curator of Special Collections Scott Rosen and William Lomax, Guest Curator of Darling Library's Fall 2014 exhibit of Amazing and Astounding magazines.
General admission is $10. Student admission is $5.