The Science Fiction and Fantasy Writers Association (SFWA) today announced the winners of the 58th Annual Nebula Awards® given in recognition of excellent works published in 2022.
NEBULA AWARD FOR NOVEL
Babel, R.F. Kuang (Harper Voyager US; Harper Voyager UK)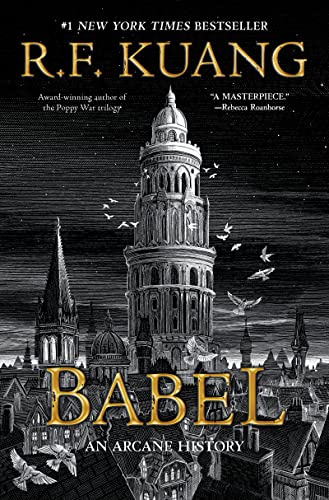 NEBULA AWARD FOR NOVELLA
Even Though I Knew the End, C.L. Polk (Tordotcom)
NEBULA AWARD FOR NOVELETTE
"If You Find Yourself Speaking to God, Address God with the Informal You", John Chu (Uncanny 7–8/22)
NEBULA AWARD FOR SHORT STORY
"Rabbit Test", Samantha Mills (Uncanny 11–12/22)
ANDRE NORTON NEBULA AWARD FOR MIDDLE GRADE AND YOUNG ADULT FICTION
Ruby Finley vs. the Interstellar Invasion, K. Tempest Bradford (Farrar, Straus, Giroux)
RAY BRADBURY NEBULA AWARD FOR OUTSTANDING DRAMATIC PRESENTATION
Everything Everywhere All at Once, Dan Kwan, Daniel Scheinert (A24, AGBO, IAC Films)
NEBULA AWARD FOR GAME WRITING
Elden Ring, Hidetaka Miyazaki, George R.R. Martin (FromSoftware, Bandai Namco)
The previously announced honorees were also presented with their awards:
SFWA DAMON KNIGHT MEMORIAL GRAND MASTER
INFINITY AWARD
Octavia E. Butler (posthumously)
KEVIN O' DONNELL, JR. SERVICE TO SFWA AWARD
KATE WILHELM SOLSTICE AWARD
Cerece Rennie Murphy
Greg Bear (posthumously)
Award presenters joined in-person and virtually from across the galaxy, including past Nebula Award winners, SFWA Board members, and other notable members of the science fiction and fantasy (SFF) industry: Jeffe Kennedy, Matthew Mercer, Gay Haldeman, Chinaka Hodge, Christine Taylor-Butler, Mur Lafferty, Michael Capobianco, Aydrea Walden, José Pablo Iriarte, Leigh Bardugo, and Anthony Rapp.
[Based on a press release.]