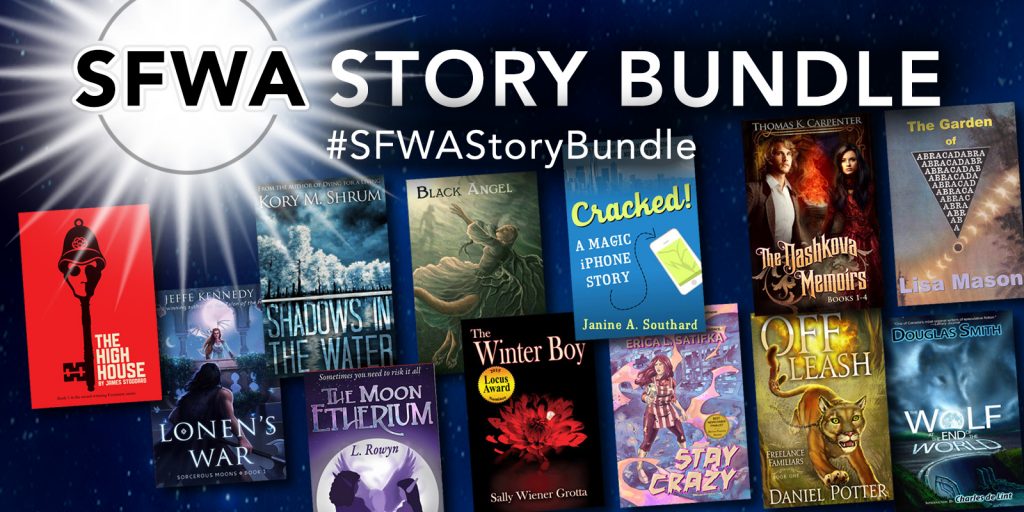 The Science Fiction and Fantasy Writers of America (SFWA) have put together a fantasy-themed storybundle, curated by Cat Rambo.
This second bundle of the year draws from SFWA's fantasy authors, showing a full spectrum of possibilities including magic iPhones, steampunk heroes, mysterious apartments, self-resurrecting secret agents, ancient magic, and epic battles.
You can get four fantasy novels for only $5. You can pay at least $15 to get eight more books. The authors get a cut either way, and SFWA gets a percentage to fund their mission, too.
The initial titles in the The SFWA Fantasy Bundle (minimum $5 to purchase) are:
The Dashkova Memoirs: Books 1-4 by Thomas K. Carpenter
Sorcerous Moons – Book 1 – Lonen's War by Jeffe Kennedy
Cracked: A Magic iPhone Story by Janine A. Southard
The High House by James Stoddard
If you pay more than the bonus price of $15, you get all four of the regular titles, plus EIGHT more.
The Winter Boy by Sally Wiener Grotta
The Garden of Abracadabra by Lisa Mason
The Moon Etherium by L. Rowyn
Black Angel by Kyell Gold
Shadows in the Water by Kory M. Shrum
Stay Crazy by Erica L. Satifka
The Wolf at the End of the World by Douglas Smith
Off Leash by Daniel Potter
The bundle is only available until November 2.