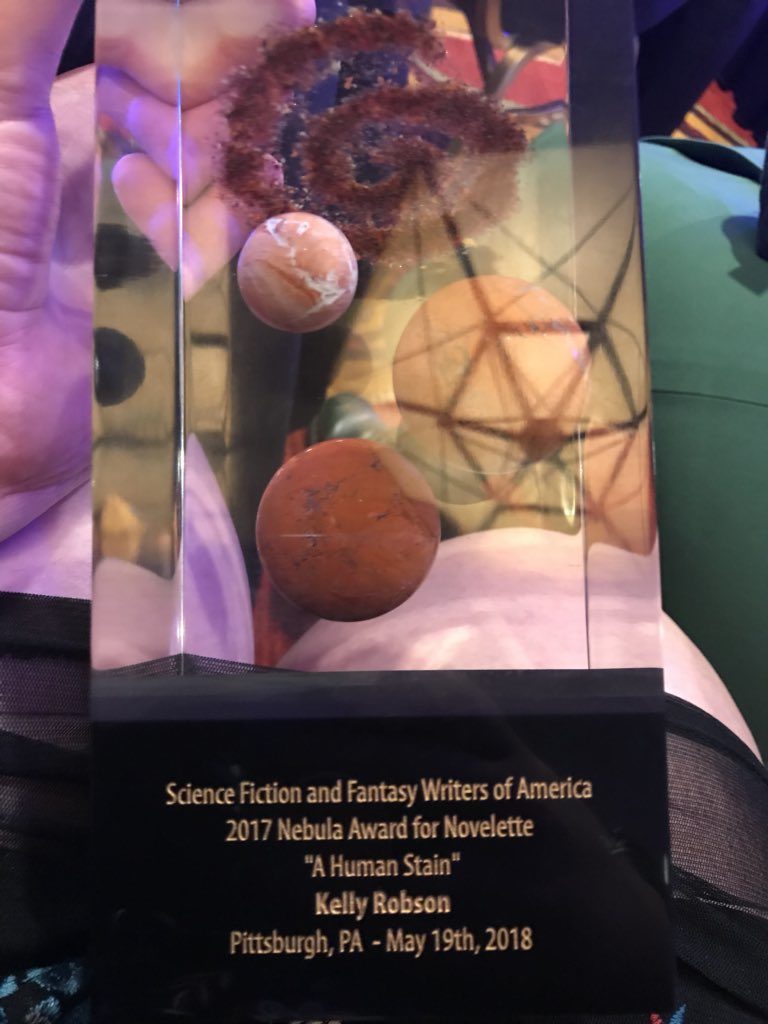 Science Fiction and Fantasy Writers of America (SFWA) has added Game Writing as a Nebula category and given Associate Members the right to vote for the Nebula Awards. These and other revisions to the rules were announced today on the SFWA Blog: "Nebula Awards Rules Changes: Associate Members Granted Voting Privileges, Game Writing Award Added".
DO YOU HAVE WHAT IT TAKES? Both Active and Associate Members in good standing may vote in the Nebulas.
Thinking of joining? Here are the requirements to become an associate member.
A candidate shall be eligible for Associate Membership after acceptance and a signed contract or letters of agreement for:

One Paid Sale of a work of fiction (such as a short story) of a minimum of 1,000 words to a SFWA qualifying market. We accept the following payment per word rates: 6c/word from 7/1/2014 – current, 5c/word from 1/1/2004 to 6/30/2014 and 3c/word before 1/1/2004; or
A work of fiction (such as a short story) of a minimum of 1,000 words that has been self-published, indie published, or sold to small press after January 1st, 2013 and paid at 6c/word.  Income verification will be required to process the application.

Works must be in the English language in science fiction, fantasy, horror and related genres.
Associate dues are $90.00 USD annually.
(Note: As of this writing, the SFWA website entry had not been updated to reflect the new voting rights.)
GAME WRITING NEBULA: Game writers became eligible for SFWA membership in 2016 and plans to add a Game Writing category to the Nebula Awards were revealed in 2017. Here are the rules:
Game Writing Nebula

This new category is defined as "An interactive or playable story-driven work which conveys narrative, character, or story background." (Section 5.5)
There is no word count requirement (Section 13.1)
To be eligible, a game must include at least one credited writer. (Section 6.6)
A new version of a game is eligible if substantive changes have been made. (Section 6.6)
OTHER NEBULA RULES CHANGES: SFWA also has clarified existing rules and made some housekeeping changes.
Audiobooks and podcasts have always been eligible in the appropriate category based on word count, but now they are explicitly mentioned. (Section 6.1.1)
The rule that allowed a novella to appear in the novel category has been removed. (Section 5.4.1)
SFWA members may request a paper ballot no later than two weeks before applicable ballot closing. (Section 11; Section 12.6).
Nomination numbers will not be released. (Section 11.2)
For the Ray Bradbury Award for Outstanding Dramatic Presentation, serial works must be nominated by individual episode. However, if there are no more than three connected episodes, a serial work may be nominated as a whole work. (Section 14.4)
Multi-author works will be awarded one trophy. Co-authors and translators will receive certificates. (Section 16.1)
The new rules are available here.