The winners of The Shimmer Program's first Two-way Exchange Fund have been announced, Pablo M.A Vazquez and Mihaela Marija Perković. They will travel to China to meet Chinese fandom in the next 12 months
The winning applicants were selected by Yang Sumin and Colin Zhang, who won the Worldcon 75 Attending Funding.
Here are excerpts of the winners' introductions posted today: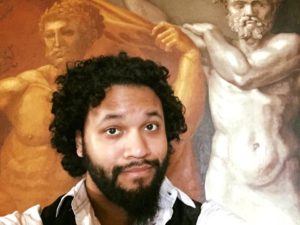 Pablo M.A Vazquez, as a superfan, has been known to edit fanzines, run/staff cons, put together elaborate outfits, spew poetry, bleed prose, perform comedy, drink a lot of cocktails, speak eloquently/angrily on the day's issues, and live for the weird and wild in the world. An adventurer and raconteur at heart, Pablo travels as often as possible
and loves returning with amazing stories to tell. Pablo was recently the chair
of NorthAmeriCon '17, the 12th North American Science Fiction Convention in San
Juan, Puerto Rico….
Mihaela Marija Perković is a Croatian author, SF fan and con-runner. She began promoting SF as the PR Manager of SFera, the oldest SF society in the Balkans and of SFerakon (http://sferakon.org/), the largest SF convention in Southeast Europe which has turned 40 in 2018, and has continued as the fan funds delegate for GUFF, visiting Australia and New Zealand in 2013, promoting European science fiction Down Under….
Each of the winners will be awarded a 15,000 RMB funding and will visit China later in 2018 or 2019, and meet the sff community in at least two of these four cities: Shanghai, Beijing, Chengdu, and Shenzhen. In each city, the traveler will make a presentation about their science fiction community. They will report on the trip in social media, and carry out other responsibilities once the trip is over.
[Thanks to Regina Kanyu Wang for the story. My apologies for spelling Perkovic without the accent over the "c", but WordPress won't display the character properly, turning it into a question mark.]