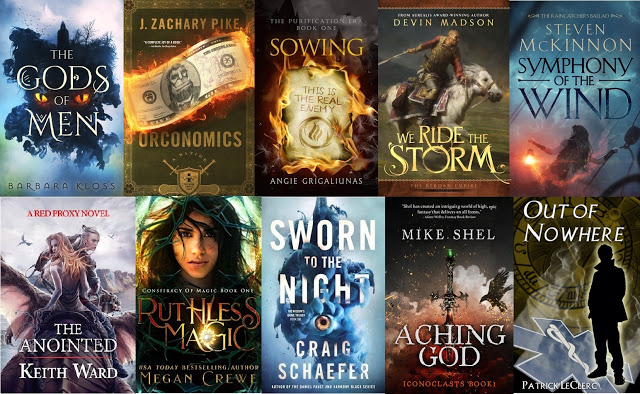 Mark Lawrence has posted the ten Self-Published Fantasy Blog-Off 2018 finalists. SPFBO began with a 300-book longlist, and every finalist was the top pick out of 30 reviewed by the bloggers named in parentheses.
Here's are the finlaists in alphabetical order by author's name. To see the current scores, click the link above.
Ruthless Magic (Conspiracy of Magic Book 1) by Megan Crewe
Sowing (The Purification Era Book 1) by Angie Grigaliunas
The Gods of Men by Barbara Kloss
Out of Nowhere (The Immortal Vagabond Healer Book 1) by Patrick LeClerc
We Ride the Storm (The Reborn Empire Book 1) by Devin Madson
Symphony of the Wind (The Raincatcher's Ballad Book 1) by Steven McKinnon
Orconomics: A Satire (The Dark Profit Saga Book 1) by J. Zachary Pike
Sworn to the Night (The Wisdom's Grave Trilogy Book 1) by Craig Schaefer
Aching God (Iconoclasts Book 1) by Mike Shel
The Anointed by Keith Ward
They're now in phase 2 of the contest, where the participating bloggers are allowed up to 6 months to read and score the other 9 finalists, review their favorite, and lastly, review the winner.
Mark Lawrence started the SPFBO self-published fantasy book contest four years ago.
The SPFBO exists to shine a light on self-published fantasy. It exists to find excellent books that might otherwise have gone unnoticed. It exists to help readers select, from the enormous range of options, books that have a better chance of entertaining them than a random choice, thereby increasing reader faith in finding a quality self-published read.
The bloggers are —
[Thanks to Dann for the story.]