Arlene Martel, Spock's wife T'Pring in "Amok Time," has written Mixed Messages with Jeff Minniti, an autobiography of their romance.
She had many sf&f roles in Sixties television, notably Consuelo in Harlan Ellison's Outer Limits episode "Demon With a Glass Hand" — also I Dream of Jeannie, Bewitched, My Favorite Martian, Twilight Zone.
More recently Martel was in a Star Trek webisode, Of Gods and Men, playing a Vulcan priestess at a marriage ceremony between Uhura and a Vulcan.
Martel will sign her book at Mystery & Imagination in Glendale, CA on December 2.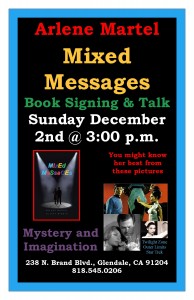 [Thanks to John King Tarpinian for the story.]