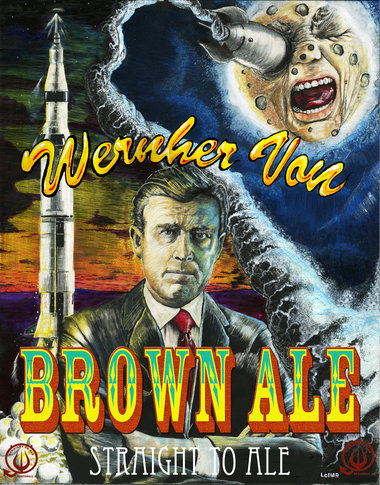 Huntsville, Alabama is home to Redstone Arsenal, NASA's Marshall Space Flight Center, the U.S. Space and Rocket Center museum – and the Straight to Ale brewery which celebrates the city's connection with space exploration in the names of its beers.
Monkeynaut ("Named in honor of Miss Baker and the other monkey astronauts who bravely paved the way for manned U.S. spaceflight….")
Werner Von Brown Ale
Illudium
Rocket City Red
Redstone
Dark Planet
Laika ("Named for the heroic Russian space dog…)
Gorillanaut
Rocket Bock
Straight to Ale began as a way for its hobbyist founders to evade Alabama's law against homebrewing (really!) but the owners just broke ground in July for a new facility that will make theirs the largest brewery in the state, and produce enough beer to begin distribution throughout the southeast region.
You can download a complete list of Straight to Ale products here [PDF file].
[Thanks to Martin Morse Wooster for the story.]