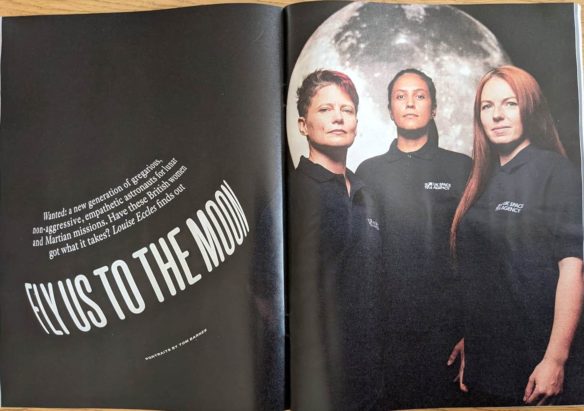 Dr. Emma J. King, longtime fan, chair of Lazlar Lyricon III and known for her science fun experiments at conventions, is one of over 23,000 applicants to become an Astronaut as part of the European Space Agency drive to find six new recruits.. There is a six-stage process, of which the first is still ongoing, although 20% of applications were immediately found ineligible and have already been informed.
5,500 of the applicants are women, approximately 25% of all applicants. Applicants have been very resourceful about supporting one another through various platforms, including Discord.
1000 applicants are from Britain.
Emma was interviewed by The Sunday Times along with three other hopeful applicants for an article published this past weekend: "The British women hoping to become Europe's next astronauts". (Full article is behind a paywall.)
Emma is planning on doing an MSc in Astronautics and Space Engineering at Cranfield University in the Fall.
Emma was the recipient of the Best Physics student in the national Science, Engineering & Technology Student of the Year Awards for her MPhys project on Scalar Fields in Cosmology and went on to win best student overall in the Millennium Science, Engineering and Technology awards presented at the Guild Hall in London in 2000.
Emma hopes to attend Novacon in Buxton, England, SMOFcon in Lisboa, Portugal and DisCon III in Washington DC, Covid permitting.
Emma noted to File 770, "I also applied in 2008 when I had just finished my PhD and was rejected. The odds of getting through are slim and it is important to be realistic. I have greatly enjoyed applying and connecting with other applicants as well as people in the space industry, who've been very generous with their time. I will let you know how I get on."
Dr. Norah Patten, a special Astronaut Guest at Dublin 2019, has also applied for one of the roles.
We wish them the best of luck.