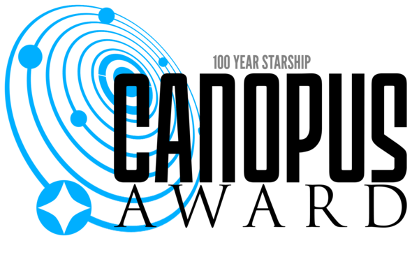 The Canopus Award for Interstellar Writing has been established by 100 Year Starship. The award will recognize "the finest fiction and non-fiction works that contribute to the excitement, knowledge, and understanding of interstellar space exploration and travel."
100 Year Starship, led by former astronaut Dr. Mae Jemison, is an independent initiative to ensure the capabilities for human interstellar travel exist within the next 100 years.
"Imagination, varied perspectives and a well told story are critical to advancing civilizations.  In particular, beginning with the simple question 'What if?' pushes us to look beyond the world in front of us and to envision what could be, ought to be and other realities," said Dr. Jemison.  "Both science fiction and exploratory non-fiction have inspired discovery, invention, policy, technology and exploration that has transformed our world."
Canopus Awards will be made in two categories:
Previously Published Works of Fiction

Long Form (40,000 words or more) and
Short Form (between 1,000 and 40,000 words).
Original Works based on this year's 100YSS Public Symposium theme "Finding Earth 2.0".

Short Form Fiction (1,000-5,000 words) and
Short Form Non-fiction (1,000-5,000 words).
Submissions for original works and nominations for previously published works are being accepted through August 31, 2015.
The Public is invited to nominate previously published works via this link — https://100yss.wufoo.com/forms/the-100yss-canopus-award/
The 100 Year Starship staff will review all submissions and a list of the best five in each of the two categories (short fiction and short non-fiction). This determination period will last from September 1, 2015 through October 1, 2015.
A judging panel of scientists, writers, cultural influencers and experts will vote on the winner in each of the categories.
Winners will be announced and honored during 100YSS's annual public symposium, October 29-November 1 in Santa Clara, California.