(1) EVERYBODY NEEDS A HOBBY. They look like inanimate objects auditioning for parts in an N.K. Jemisin novel. What they really are is more easily explained: "How stone poses became a surreal project".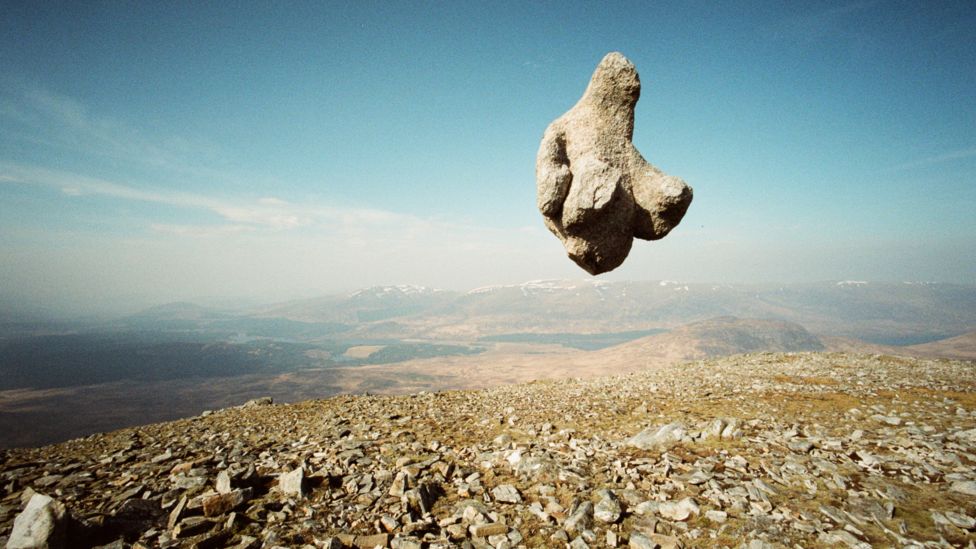 "Sometimes people assume they must be Photoshopped, but that would be more of a technical challenge than what I actually do, which is throw the rock into the air – or ask a friend to throw it for me – and photograph it while it is up there.

"That way the light and shadow position themselves correctly on the rock without any further intervention."
(2) GRAPHIC ARTS AND SCIENCE. In "What's your science teacher doing in a comic book?", the Washington Post's Erin Blakemore discuses "S.T.E.A.M. Within The Panels:  Science Storytelling Through Comic Books, Comic Strips, and Graphic Novels", currently on exhibit at the American Association for the Advancement of Science.
Space is massive, time is infinite, and the future is limitless. But, with comic books, the massive, the infinite, and the limitless are broken down into individual panels, discrete moments of time that readers ingest and process at their own pace. From the factual to the fantastic, comic books and graphic stories show the application of science in the modern world and well beyond, one panel at a time.

Since very early in their history, comics have been inspired by science, resulting in stories that range from hopeful to bleak, utopian to dystopian, and somewhere in between. In "S.T.E.A.M Within the Panels" we look at how science has been depicted in comics and narrative literature. Some of the pieces are explicitly connected to science, while others reflect reactions to science. Others still are, in the tradition of science fiction, springboards to speculation based on scientific ideas. In all, they show how comics project the complicated and often contradictory ways that the public perceives science.

Includes the work of the following artists and creators: Jordan Clark, Matt Dembiciki, Kata Kane, Sean Gorman, Jay Hosler, Vince Underwood, Paul Hoppe, Magret de Heer, Matteo Farinella, Katie McKisock, Rosemary Mosco, Damion Scott, James Harvey, Orion Zangara, Paul Sizer, Vasco Sobral, Roxanne Bee, D.M. Higgins, Kelly Phillips, Matthew R. McDaniel, and more!
(3) CHOWCAST. Scott Edelman invites you to Brunch on Eggs Benedict with A. Merc Rustad in Episode 45 of Eating the Fantastic.
A. Merc Rustad has published fiction in Lightspeed, Uncanny, Shimmer, and other magazines, and their short story "How To Become A Robot In 12 Easy Steps" was included in The Best American Science Fiction and Fantasy 2015. They were on that weekend's Nebula ballot in the short story category for "This Is Not a Wardrobe Door," which is included in their debut short story collection So You Want to Be a Robot, described by Publishers Weekly as "unmissable."

We discussed some terrible writing advice which messed with their head and the way they got over it, how the Redwall series by Brian Jacques turned them from a reader to a writer, why some fan fiction doesn't get the fan fiction label while other fan fiction does, the reason the animated television series Beast Wars: Transformers was such a major influence both professionally and personally, why they almost destroyed their Nebula-nominated story "This Is Not a Wardrobe Door," the secrets to assembling a short story collection, and more.
(4) A ROYAL WEDDING. TrekMovie.com found a funny video clip to run at the end of their news flash "Terry Farrell and Adam Nimoy To Wed":
Congratulations are in order for two members of the Star Trek family. Over the weekend Star Trek: Deep Space Nine star Terry Farrell confirmed that she was engaged to be married to Adam Nimoy, son of Star Trek legend Leonard Nimoy. The news first came via Access Hollywood's Scott Mantz and was confirmed by Terry via Twitter.
RT BREAKING NEWS!! How's THIS for #StarTrek ROYALTY?? TERRY FARRELL & ADAM NIMOY are ENGAGED!! May their love & union LLAP!! ??? pic.twitter.com/ObY2lNbNcr

— Scott Mantz (@MovieMantz) August 18, 2017
(5) CRAFT TIME. The weapon for the chosen one has been forged.
My son was at his blacksmithing camp yesterday. He came home with a knife "forged in the dark of an eclipse."

I am so proud.

— Sigrid Ellis (@sigridellis) August 22, 2017
(6) DESTROYING SF IN PRINT. The Disabled People Destroy Science Fiction/Uncanny Magazine Year 4 Kickstarter reached the Disabled People Destroy Science Fiction  PHYSICAL BOOK STRETCH GOAL.
Everybody who backs for just that or at $50 and above is getting a FANCY BOOK!
And in another update, they posted a new Disabled People Destroy Science Fiction personal essay:
Here is today's new Disabled People Destroy Science Fiction personal essay (edited by Nicolette Barischoff). These essays, much like their counterparts in the previous Destroy Kickstarters, will feature disabled creators sharing what it is like being a disabled person in the science fiction community. Shine on, Space Unicorns.

"After the Last Chapter" by A.C. Buchanan

…The Chrysalids was different. The edge of panic started to seize me when I read it. I knew it was saying something deeply personal to me; was too scared to contemplate what.

The novel is set in northern Canada, some years after a global nuclear war, in a society ruled by religious extremism which denounces any biological mutation or atypicality as the work of the devil. This is a world in which disabled people are either killed or sterilised, then banished from society. The book follows a group who are forced to conceal their telepathic abilities for fear of their lives. At the conclusion of the novel they are rescued by a woman from the island country of Sealand, where these telepathic abilities are both common and viewed as a positive stage in evolution.

In retrospect, it's obvious why this work was so important to me. I was both autistic and queer, only partially aware of both, in a conservative country where neither was acceptable. I tried—and failed—to find a balance between the inevitable violence that would follow any expression or exploration of my reality, and the slower, but no less destructive, intense denial of any sense of self. I spent my teens careering between rebellion and obsessive rule following, between internalised self-hatred and burning anger, eventually determining that no matter what I did, the parts of my person I did not yet know to call autistic would always be suppressed whenever they dared to show themselves.
(7) VACUUM PACKED. The Verge has ranked "18 space suits from science fiction, from worst to best". Here's one they're very fond of:
One of my absolute favorite space suits appeared long before real humans went into space: it's in the 1950s Tintin comics (and later cartoons) Destination Moon and Explorers on the Moon. These suits aren't what we ended up using: they're hard armor with a bubble helmet rather than lighter cloth, and seem cumbersome to wear and walk around in, not to mention specifically fitted to each person (and dog!)

But, they're still a beautiful, iconic design that did draw on some real concepts. While they certainly predate the space age, and Hergé does depict the suits in use on the Moon, as well as a couple of points where they're being constructed and fixed, which means that he did put some thought into how these theoretical space suits might have functioned.
(8) COMICS SECTION. Mike Kennedy appreciates the astrophysical humor in yesterday's In The Bleachers.
(9) WHAT DO THE SIMPLE FOLK DO? Nancy Kress told her Facebook followers:
Working on draft three of a novel, an insanely complicated sort-of-space-opera-with-physics that STILL has too many inconsistencies in the timeline. I swear, my next book will be single-viewpoint, near-future, on-Earth, and short. Possibly a haiku.
(10) WIELDING THE HAMMER. A new take on Thor:
In a flash, the Marvel heroes are offered a gift: to stand shoulder to shoulder with those who came before them! Today, Marvel release GENERATIONS: THE THUNDER written by Jason Aaron with art by Mahmud Asrar. In this new and exciting story, Jane Foster meet a version of Thor she's never met before – one who has not yet picked up the hammer.
(11) HEALTHY SCRATCH. You won't be seeing this actor in the Han Solo movie after all: "Michael Kenneth Williams' Role Cut From 'Star Wars' Han Solo Movie Amid Reshoots" reports Deadline.
"I felt great about what I created with the directors that I worked with," said Williams, who was cast in the Han Solo origin story by original helming duo Phil Lord and Chris Miller, who exited in June. "It is what it is."

"When Ron Howard got hired to finish out the film, there were some reshoot issues that needed to be done in regards to my character, in order for it to match the new direction which the producers wanted Ron to carry the film in," Williams told Deadline. "And that would have required me on a plane a month ago to London, to Pinewood, to do reshoots. But I'm here, on location in Africa. It's scheduling. I'm not going to be back on the market until the end of November after [his SundanceTV series] Hap and Leonard, and for them to wait that long for me, that would have pushed back the release date, which I believe is in May 2018. They wanted me now; I couldn't go. So they had to clip-clip-clip."

Plot and character details had been kept under wraps, but Williams said he played a half-human, half-animal in the film and that "we created a kick-ass character, in my opinion. I'm proud of it."
(12) KRAZY PRICES. Twenty-four hours left to bid on these irresistible items being auctioned by Nate Sanders firm, like this George Herriman Krazy Kat Illustration (minimum bid $11,000).
Original "Krazy Kat" hand-drawn and signed illustration by George Herriman, rendered in multi-color ink and watercolor. An extremely popular comic strip created by Herriman in 1913, Krazy Kat depicts the unlikely love triangle of a cat, a mouse and a dog: Krazy Kat, Ignatz Mouse and Officer Bull Pupp. Krazy Kat's naive, unrequited love for Ignatz is consistently and unceremoniously rewarded by bricks hurled to the back of his head, thrown by the cantankerous mouse. Officer Bull Pupp does his best to protect Krazy Kat, whom he not so secretly loves, from Ignatz' relentless brick attacks. In this hand-drawn illustration from the early 1930s, the three march along, holding up their respective offerings: a brick, bobby stick, and umbrella and flower. Signed by Herriman, "Hey 'Louie' – Thine – Geo. Herriman", drawn for Louis Staub, a New York printer. Krazy Kat ran for almost thirty years, from 1913-1944, a favorite of comic fans and such notables as E.E. Cummings, William Randolph Hearst, Jack Kerouac and Pablo Picasso. Illustration measures 9.5" by 6". Three hole punches at top and light creasing to edges, otherwise near fine condition.
Other auction highlights:
Original Walt Disney Signed Bambi Cel
Marvel Tales Starring Spider-Man! Cover Art
Charles Schulz 1961 Peanuts Strip
(13) POPULARIZING SCIENCE. Award-winner Nora Bourbia tells about "My academic poster at the Worldcon75 in Helsinki (Finland), August 2017".
For the last two years the Worldcon has invited young scientists (PhD student and postdoc level) to present their work to the public audience via a poster and a five minute presentation. I couldn't miss this great opportunity to do some public engagement and I was really happy to be accepted among 15 others for the academic poster presentation session. The title of my talk was: The tale of the neuroscientist who modifies DNA of mice with viruses.

…It was great to talk to a variety of people, from both scientists in my field to non-scientists. I was happy to see curiosity and have a range of discussions with the Worldcon75 attendees. On top of that I was surprised and very pleased to win the academic poster presentation judged by the panel of the Worldcon75 and sponsored by the BWAWA (Baltimore-Washington Area Worldcon Association). It was really amazing, the panel judged the poster as well as the presentation. I am so happy about this award and to have been part of the Worldcon75.
(14) WHOO – IS TO BLAME? The BBC asks "Has Harry Potter cursed these owls?" There's a video report at the link.
Since the runaway success of the Harry Potter series some Indonesians have started keeping owls as pets. More owls are being sold and conservationists are worried about the impact on the population in the wild.
(15) VIDEO OF THE DAY. "Trailer for Every Oscar-Winning Movie Ever with BriTANick" has the smart-alecks at Cracked trying to put every cliché they can into a three-minute video.
[Thanks to JJ, John King Tarpinian, Hampus Eckerman, Chip Hitchcock, Martin Morse Wooster, and Cat Eldridge for some of these stories. Title credit goes to File 770 contributing editor of the day Rich McAllister.]