(1) EARLY 2023 AWARDS WARNING. [Item by SF Concatenation's Jonathan Cowie.] The SF2 Concatenation has just tweeted its annual, internal poll as to the Best Science Fiction Books and Films of the Year. This is just a bit of informal fun and most certainly not to be taken too seriously. Having said that, previous years have seen a few works go on to win awards (scroll down the previous link).
(2) DEMOCRACY AT WORK. Meanwhile, the Critters Writers Workshop Readers Poll is taking votes from the public through January 14. Categories added this year: Magical Realism, Positive Future Fiction (novel & short story).
The award is unique for posting a running tally of the leaders in every category while voting is carried on.
I can say that I have actually heard of one of the top ten leaders in the Science Fiction & Fantasy category. (Reflecting on this process, I have to wonder why the Dragon Awards shortlists aren't filled with the same kinds of indie books.)
(3) KGB. Fantastic Fiction at KGB reading series hosts Ellen Datlow and Matthew Kressel present Christopher M. Cevasco and A. T. Greenblatt on Wednesday, January 11.
Christopher M. Cevasco
Christopher M. Cevasco's debut novel Beheld: Godiva's Story (Lethe) was released in April 2022. His stories have appeared in such venues as Beneath Ceaseless Skies, Black Static, and Shades of Blue and Gray: Ghosts of the Civil War (Prime). After ten years in Brooklyn, Chris and his wife moved to Myrtle Beach, SC, where they live with their two children.
A. T. Greenblatt
A. T. Greenblatt is a Nebula award winning short story writer. Her stories and essays have appeared in Slate, Tor.com, Uncanny, and many other places. She has been a finalist for the Hugo, Locus, Sturgeon, and WSFS awards. By day, she is a systems engineer and lives in Brooklyn.
At the KGB Bar, 85 East 4th Street, New York, NY 10003 (Just off 2nd Ave, upstairs) on January 11. Begins at 7:00 p.m. Eastern.
(4) PERPETUALLY PEEVED. C. T. May is "mad at Harlan Ellison" for reasons explained in "A Good Story, a Great Story, and the Guy Who Couldn't Tell Them Apart" at Splice Today.
Harlan Ellison was a very loud man. Even when he made a passing, matter-of-fact observation, it would be noisily matter-of-fact. For instance, "the two men wrote almost identical stories," he once asserted. The two men, a pair of innocent authors, had done no such thing. But Ellison said otherwise to readers of Again, Dangerous Visions, the long-ago s.f. anthology that he compiled. I'm mad because a dead science fiction author didn't understand a couple of stories.

Lord Dunsany wrote "Two Bottles of Relish," and John Collier wrote "The Touch of Nutmeg Makes It." A condiment and a spice, that's a parallel. Further, each story involves murder and builds to a wicked one-line payoff, and the goal of each payoff is to chill the blood and flatter reader sophistication by laying before us a bitter, even grotesque secret regarding human nature and what people are capable of. The two stories are even told in a similar way: a character narrates what he saw other men say and do.

Those are some striking points of resemblance. I'd say the task of an intelligent person is to recognize that they're just a list. Add these things up and you don't get the same story twice….

Ellison opined on the two stories in his introduction to "Getting Along" by James Blish…
(5) DOINK DOINK. A case of New York publishing law and order is reaching its conclusion: "The End of a Book World Mystery: A Suspect in Manuscript Thefts to Plead Guilty" reports the New York Times.
The mystery captivated the book world: For years, someone impersonated authors and agents, editors and publishers, trying to steal unpublished book manuscripts from high profile authors like Margaret Atwood, Ian McEwan and Ethan Hawke, but also from debut novelists and writers of more obscure works.

Now, a resolution to the yearslong scheme is near. On Friday, Filippo Bernardini is expected to plead guilty to wire fraud in front of a magistrate court judge in Manhattan, according to an email from the office of the U.S. attorney for the Southern District of New York that was sent to victims on Tuesday.

The Federal Bureau of Investigation arrested Bernardini early last year, saying he had "impersonated, defrauded, and attempted to defraud, hundreds of individuals" over five or more years, gaining access to hundreds of unpublished manuscripts in the process….
(6) LOOK FOR THE UNION LABEL. "Video game workers form Microsoft's first US labor union" – the Associated Press has details.
A group of video game testers is forming Microsoft's first labor union in the U.S., which will also be the largest in the video game industry.

The Communications Workers of America said Tuesday that a majority of about 300 quality-assurance workers at Microsoft video game subsidiary ZeniMax Studios has voted to join the union.

Microsoft already told the CWA it would accept the formation of the union at its Maryland video game subsidiary, fulfilling a promise it made to try to build public support for its $68.7-billion acquisition of another big game company, Activision Blizzard….

… The unionization campaign accelerated thanks to Microsoft's ongoing bid to buy Santa Monica game giant Activision Blizzard. Microsoft, which is based in Redmond, Wash., made a June pact with the CWA union to stay neutral if Activision Blizzard workers sought to form a union….
(7) LET'S YOU AND HIM FIGHT. [Item by Michael Kennedy.] Is it punching down or punching up if Wolverine attacks Deadpool?
Actor Ryan Reynolds has been receiving Oscar attention for his song "Good Afternoon" in the Christmas flick Spirited. Hugh Jackman, who will be playing Wolverine opposite Reynolds' Deadpool in the upcoming Deadpool sequel, has thoughts. His video tweet jokes, "Ryan Reynolds getting a nomination in the best song category would make the next year of my life insufferable. I have to spend a year with him shooting Wolverine and Deadpool. Trust me, it would be impossible. It would be a problem."
Variety analyzes Jackman's tweet here: "Hugh Jackman Roasts Ryan Reynolds: Don't Give 'Spirited' an Oscar Nom".
Ryan Reynolds has earned himself a spot on the Oscar shortlist for best song for "Good Afternoon," from his Christmas movie "Spirited" with Will Ferrell. But Hugh Jackman, who is preparing to star alongside Reynolds in the upcoming "Deadpool" sequel, hopes the Academy refrains from further boosting Reynolds' ego with a nomination….
Or you can just watch it yourself.
(8) SUZY MCKEE CHARNAS (1939-2023). Author Suzy McKee Charnas died January 4. The author of many groundbreaking books (to quote Catherine Lundoff), her first published book, Walk to the End of the World, appeared in 1974 and later won a retrospective Otherwise Award. Her novella "Unicorn Tapestry" won a 1981 Nebula. Her short story "Boobs" won the Hugo Award in 1990.
Charnas' story "Beauty and the Opéra or The Phantom Beast" was shortlisted for the 1997 Hugo, World Fantasy, and Theodore Sturgeon awards.
She was a three-time winner of the Otherwise Award for Motherlines (1996; retrospective), Walk to the End of the World (1996, retrospective), and The Conqueror's Child (2000).
Her series The Holdfast Chronicles was named to the Gaylactic Spectrum Hall of Fame in 2003.
The Kingdom of Kevin Malone won the Mythopoeic Award for Children's Fantasy (1994).
Read more about her writing in John Clute's SFE entry: Charnas, Suzy McKee. Her own website is: Suzy McKee Charnas science fiction.
Michael Swanwick also shared a significant memory in "Suzy McKee Charnas Meets Her Ideal Reader".
…I met Ms. Charnas only once, back in the eighties, and I doubt I made much of an impression on her. But it's worth recounting because that was the time she first met Judith Moffett.

Judy Moffett began as a serious poet (I greatly admire her collection Whinny Moor Crossing, the title poem in particular), fell into science fiction almost by accident, and quickly became an intensely admired novelist and short fiction writer. She was and is one of those tough-minded, tolerate-no-nonsense, totally admirable women who find in genre a place where they can think and do exactly as they like. And she admired the hell out of Suzy McKee Charnas. Most particularly, as with me, for The Vampire Tapestry.

Judy's day job was as an academic at the University of Pennsylvania, where she taught, among other things, a science fiction class. As part of which, that year, the class did a reading of a script–I think written by Judy, but it's been a long time–of one of the component stories of the Tapestry. The protagonist was female but the student reading her lines was male.

Judy wrote to Suzy McKee Charnas telling her about the project and inviting her to come and witness an encore performance. An invitation which was readily accepted….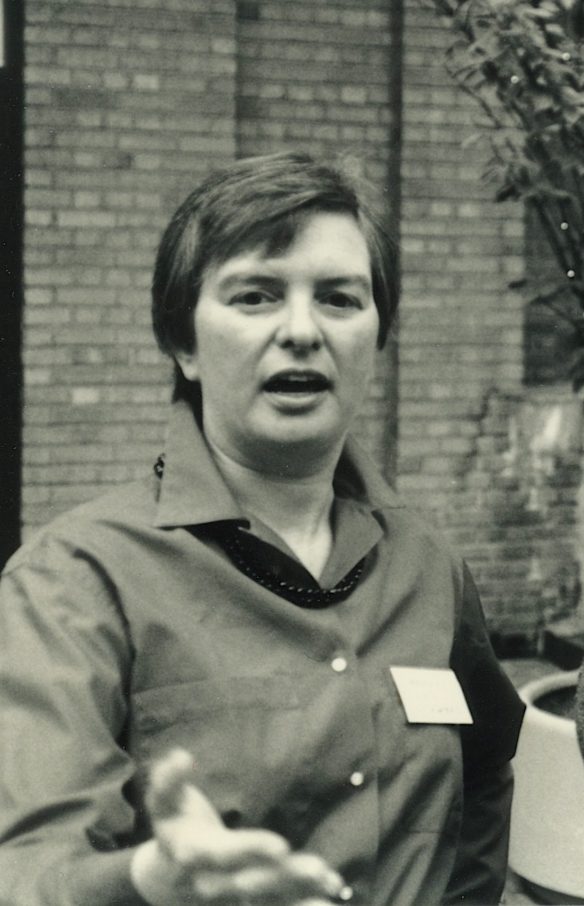 (9) MEMORY LANE.
[Compiled by Cat Eldridge.]
Waffles, or rather food in Emma Bull's Finder: A Novel of the Borderlands
We sat at the round table that was just the right size for two; I don't know if the Ticker ever has dinner parties. If she does, she can probably find another table. This one was made of some highly-polished golden wood in high Art Nouveau style. Heaven only knows how these things come into Bordertown, or, once they have, why they should land on Tick-Tick's doorstep instead of in some parlor on Dragonstooth Hill.
The alcohol was gone from the liqueur, the strawberries were warmed and softened, and some of the sugars had caramelized. The waffles were crisp all around the edges and soft in the middle. And the Ticker had stopped me just in time on the whipped cream. There was hot tea to wash it down with, which tasted something like Darjeeling and something like not. It was related to last night's shower: It was a meal to make me grovellingly happy to be alive.
— Orient in Emma Bull's Finder: a Novel of The Borderlands
I have written this novel up here as one of my favorite novels but I've don't think I mentioned in that review that food plays a role in it. Another scene takes place in the Hard Luck Cafe.
Here's the best quote from the part of that novel:
It was warm inside in spite of the fans, and busy, and noisy, and remarkably like a combination of farmhouse kitchen, private club, and arts salon. Anyone who makes trouble at the Hard Luck Cafe is considered an incurable misfit, even within the loose social contract of Bordertown, and is not welcome anywhere, to anything. Consequently, the Hard Luck's habituTs include humans, elves, and halfies, people from Dragontown and shimmers from up on the Tooth, painters and gang leaders. It's such a desirable place to simply be that it's almost too much to hope that the food is good. The food is good.
I peered at the back wall and the blackboard that serves as menu. The Hard Luck is a cooperative, and the people working the kitchen cook whatever they feel like that day. Certain things are almost always availableùburgers for the philistines, for instance—but if the staff decides they want to do Chinese that day, that's what's for dinner. If you don't like it, that's—all together now — Your Hard Luck. That day it looked like mixed down-home: fish chowder, lentil and spinach casserole, stuffed peppers, Brunswick stew.
Finally I need to mention the strawberries:
I sliced strawberries with all my attention. They were particularly fine ones, large and white clear through without a hint of pink. (Wild Borderland strawberries are one of the Border's little jokes. They form bright red, and fade as they ripen. No strawberry has ever been so sweet.)
The novel is so richly, not just with these note, but everything that it brings the unnamed city, its inhabitants and the surrounding area to a quite vivid reality. As I said in my post on the novel, I highly recommend Finder. But then I send Will and Emma dark chocolate which tells you how much I like them, so why wouldn't I?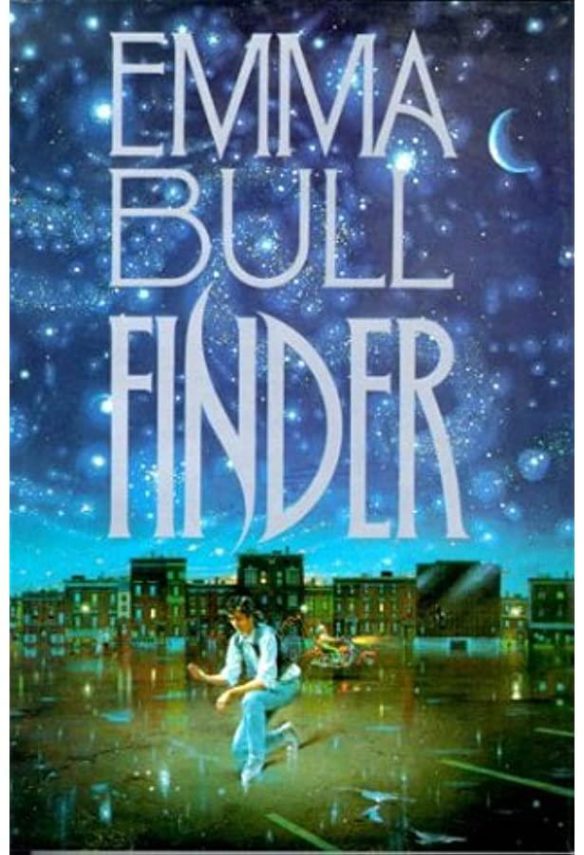 (10) TODAY'S BIRTHDAYS.
[Compiled by Cat Eldridge.]
Born January 4, 1785 — Jacob Grimm. Here solely for two reasons, the first being that he and his brother were the first to systematically collect folktales from the peasantry and write them down. Second is that the number of genre novels and short stories that used the Grimms' Fairy Tales as their source for ideas is, well, if not infinite certainly a really high number. I'd wager that taking just those stories in any of The Year's Best Fantasy and Horror would get quite a number based on these tales. (Died 1863.)
Born January 4, 1927 — Barbara Rush, 96. She won a Golden Globe Award as the most promising female newcomer for being Ellen Fields in It Came From Outer Space. She portrayed Nora Clavicle in Batman, and was found in other genre programs such as the revival version of Outer Limits, Night Gallery, The Bionic Woman and The Twilight Zone.
Born January 4, 1946 — Ramsey Campbell, 77. My favorite novel by him is without doubt The Darkest Part of the Woods which has a quietly building horror to it. I know he's better-known for his sprawling (pun full intended) Cthulhu mythology writings but I never got into those preferring his other novels such as his Solomon Kane movie novelization which is quite superb.
Born January 4, 1958 — Matt Frewer, 65. His greatest role has to be as Max Headroom on the short-lived series of the same name. Amazingly I think it still stands thirty-five years later as SF well-crafted. Just a taste of his later series SF appearances include playing Jim Taggart, scientist and dog catcher on Eureka, Pestilence in Supernatural, Dr. Kirschner in 12 Monkeys and Carnage in Altered Carbon. His film genre appearance list is just as impressive but I'll single out Supergirl, Honey, I Shrunk the Kids, The Stand, Monty Python's The Meaning of Life (oh do guess where he is in it) and lastly Night at the Museum: Secret of the Tomb, a series of films that I really like.
Born January 4, 1960 — Michael Stipe, 63. Lead singer of R.E.M. which has done a few songs that I could say are genre adjacent. But no, I've got him here for being involved in a delightful project called Stay Awake: Various Interpretations of Music from Vintage Disney Films. Lots of great songs given interesting new recordings. His contribution was "Little April Shower" from Bambi which he covered along with Natalie Merchant, Michael Stipe, Mark Bingham and The Roches. Fun stuff indeed!
Born January 4, 2000 — Addy Miller, 23. She is on the Birthday List for being Sarah in Plan 9. Really? They remade that movie? Why? And yes, she played A Walker in that other show. My fav role by her is because of the title, it was a short called Ghost Trek: Goomba Body Snatchers Mortuary Lockdown, in which she was Scary Carrie Carmichael. And yes, you can watch it here.
(11) COMICS SECTION.
Speed Bump turns a miraculous moment into a mundane complaint. (And yet it's not about social media…)
(12) BRACE YOURSELVES. Oghenechovwe Donald Ekpeki will be part of HWA New York's "Galactic Terrors" online reading series on January 12, along with Meghan Arcuri and Nathan Carson, with co-hosts Carol Gyzander and James Chambers. The writers will read their stories live and take questions.
(13) CONTINUED NEXT ROCK. Atlas Obscura has pictures of a "Hidden J.R.R. Tolkien Quote – Natural Bridge, Virginia".
VIRGINIA'S NATURAL BRIDGE IS a wonder in and of itself. It's no surprise that North America's largest natural land bridge has been drawing people to it for centuries. But those who visit Natural Bridge State Park just to see the enormous stone structure miss risking one of its hidden gems.

Head to Cedar Creek, and you'll find a literary surprise. There, etched into the side of a large rock, is a J.R.R. Tolkien quote….
(14) HISTORIC SOUND RECORDINGS PRESERVED. "Wax Cylinders Hold Audio From a Century Ago. The Library Is Listening." And the New York Times eavesdrops.
The first recording, swathed in sheets of distortion, was nonetheless recognizable as a child's voice — small, nervous, encouraged by his father — wishing a very Merry Christmas to whoever was listening.

The second recording, though still noisy, adequately captured the finale of the second act of "Aida," performed by the German singer Johanna Gadski at the Metropolitan Opera House in the spring of 1903.

And the third recording was the clearest yet: the waltz from "Romeo and Juliet," also from the Met, sung by the Australian soprano Nellie Melba.

Accessed by laptop in a conference room at the New York Public Library for the Performing Arts, the recordings had been excavated and digitized from a much older source: wax cylinders, an audio format popularized in the late 19th century as the first commercial means of recording sound. These particular documentations originated with Lionel Mapleson, an English-born librarian for the Metropolitan Opera, who made hundreds of wax cylinder recordings, capturing both the turn-of-the-century opera performances he saw as part of his job and the minutiae of family life….

…These particular cylinders were previously available to the library in the 1980s, when they were transferred to magnetic tape and released as part of a six-volume LP set compiling the Mapleson recordings. After that, they were returned to the Mapleson family, while the greater collection stayed with the library. But, Wood said, "there's people all over the world that are convinced that a new transfer of those cylinders would reveal more audio details than the previous ones."

Wax cylinders were traditionally played on a phonograph, where, similar to a modern record player, a stylus followed grooves in the wax and translated the information into sound. The Endpoint machine uses a laser that places less stress on the cylinders, allowing it to take a detailed imprint without sacrificing physical integrity, and to adjust for how some cylinders have warped over time. The machine can retrieve information from broken cylinder shards that are incapable of being traditionally played, which can then be digitally reconstituted into a complete recording.

Within the next few years, the library hopes to digitize both the cylinders and the diaries, and make them available to the public. The non-Mapleson cylinders in the library's collection are also eligible to be digitized, though Wood said that process will be determined based on requests for certain cylinders. The library's engineers are shared across departments, and with a backlog of thousands, she said, "We have to wait our turn."…
(15) TAILS OF CLI-FI. The Scientist Magazine says "Animals Are Shape-Shifting in Response to a Warming World".
At the South African nature preserve where Miya Warrington and colleagues study Cape ground squirrels (Xerus inauris), the maximum daily temperature has increased by about 2.5 °C in just 18 years. The animals have evolved a quiver of tactics to tolerate the region's sweltering heat, says Warrington, a conservation ecologist at the University of Manitoba. Sprawling flat on the ground in a pose called splooting, for example, helps the animals shed heat from their less furry undersides. The squirrels also take shady respites under their bushy tails, which they curl above their heads like tiny parasols. When it's really hot, the fossorial mammals retreat to their burrows to cool off. But Warrington warns that, even with all these options for keeping cool, "still they could be at the limits of their tolerance" due to such a rapid climactic shift.

That intense pressure could be why their bodies have begun to change shape, Warrington says. She found that, over the course of just under two decades, the squirrels' already incredibly large hind feet, which may help dissipate heat, have grown relative to their body sizes by about 11 percent. Meanwhile, their spine lengths have become about 6 percent shorter….
(16) THE NEXT CRISIS. "'Foundation' Season 2 Release Date on Apple TV Plus, Trailer" discussed at TV Line.
Apple TV+ has unveiled a sneak peek at the upcoming season, which you can check out above, featuring Gaal making her way home and Brother Day bracing for a potential war. New episodes will arrive this summer, the streamer has announced.
[Thanks to Mike Kennedy, John King Tarpinian, Chris Barkley, SF Concatenation's Jonathan Cowie, Andrew Porter, Michael Toman, and Cat Eldridge for some of these stories. Title credit belongs to File 770 contributing editor of the day Brown Robin.]