(1) CHICON 8 SITE SELECTION OPENS 8/6. Site Selection Administrator Warren Buff wrote to members today that voting for the location of both the 2024 Worldcon and the 2023 NASFiC will open August 6.
Also that day there will be a Q&A session with the bidders over Zoom (Saturday, August 6, at 12:00 p.m. Central). The public is welcome to view the Zoom event, however, the committee asks that they request the link by emailing [email protected].
Electronic/online voting will be a new option, alongside paper voting, this year. Chicon 8 has selected ElectionBuddy for this service. An explanation will be given during the Q&A session on the 6th. Members will also be provided documentation online.
(2) FUTURE TENSE. Here is the July 2022 entry in the Center for Science and the Imagination's Future Tense Fiction series, published this past Saturday: "All That Burns Unseen," by Premee Mohamed, a story about the future of fighting wildfires.
The plane had no pilot. Vaughn, who had wandered into the cockpit to find someone to talk to, found herself more startled than shocked by this—after all, her boss had said about half the flights going up to the fires were self-flown—but there had certainly been a pilot when she'd boarded. He must have disembarked in Cold Lake, where they had stopped so briefly that Vaughn hadn't even bothered unfastening her seat belt. Either way, the Hercules was now, undeniably, flying itself….
It was published along with a response essay by Meg Duff, an expert in environmental politics and climate law. "Firefighting chemicals are dangerous for the environment. Can that change?"
(3) WELLER OUT. Columbia College Chicago professor Sam Weller has been terminated following an investigation of accusations of sexual assault reports The Columbia Chronicle. He is a four-time Bram Stoker Award nominee for his work as a Bradbury biographer.
Tenured professor Sam Weller, who was accused of sexual assault by a former faculty member in February, has been terminated by the college.

In an email statement, President and CEO Kwang-Wu Kim announced that Weller, who was an associate professor in the English and Creative Writing Department, was issued a Notice of Dismissal earlier today as a result of the investigation conducted by the law firm Mayer Brown LLP.

"Based on Mayer Brown's findings that Professor Weller engaged in conduct that violated the college's sexual harassment and other policies, Provost Marcella David concluded that the conduct warranted termination," the statement read.

Cara Dehnert, a former associate professor of instruction in the Business and Entrepreneurship Department, accused Weller of sexually assaulting her in her office in 2018 in an article published to Medium Feb. 12.

Dehnert said she spoke with Human Resources in a February 2020 meeting where she told then-Associate Vice President of Human Relations Norma De Jesus "everything," and provided texts, emails and Facebook messages between her and Weller, but never heard from Human Resources again following the meeting.

De Jesus resigned from her position at the college two weeks ago on June 24….
(4) A REACH THAT EXCEEDS. "'I can't do superheroes, but I can do gods': Neil Gaiman on comics, diversity and casting Death" – the Guardian profiles the Sandman creator. Here's what he thought when he started out:
…"Bear in mind, at this point I've written and sold maybe four short stories and [comic miniseries] Black Orchid. And now I'm going to have to do a monthly comic," he says. "And I have no idea whether or not I can do it. I don't think I have the engine to write a superhero comic. I've watched what Alan Moore does, what Grant Morrison does. These guys have superhero engines, they can do them; I don't have that."

Gaiman needed another way in, and it came via a US science-fiction author. "Roger Zelazny did a book called Lord of Light, where he did science-fictional gods who feel like superheroes," says Gaiman. "It's set in a world in the future where a bunch of space explorers have given themselves the powers of the Hindu pantheon. I thought: I can't do superheroes, but I could do god comics. I bet I could get that kind of feeling to happen, and it might feel enough like a superhero comic to fool people."…
(5) TESTING THE TURING TEST. Mohanraj and Rosenbaum Are Humans podcast episode 39 is about "Ted Chiang and the Metrics of Personhood".
Surprise! It's a bonus season 1 episode we've been keeping on the back burner! Ted Chiang comes onto the show to have a discussion with Ben about what it means to be a person, whether Alan Turing's test for artificial intelligence still holds up, and the persistent themes of parenting and religion in Chiang's work.

Content warning for a potentially ableist use of a congenital disease as an example of the theological problem of innocent suffering.
(6) TRIAL BEGINS. "Penguin Random House-S&S Acquisition Case Goes to Court" – an update from Publishing Perspectives.
It was on November 25, 2020, when it was announced that Penguin Random House's parent company Bertelsmann had struck a deal to buy Simon & Schuster for US$2.175 billion. And it was nine years and a month ago—July 1, 2013—when another merger was completed, the one that brought Penguin and Random House together.

Oral arguments are scheduled to begin today (August 1) in the antitrust suit filed by the United States Department of Justice, a case with which the government proposes to block the merger of PRH and S&S.

The case, being heard by Judge Florence Pan at Washington's US District Court for the District of Columbia (the Prettyman Courthouse), brings home the fact that those who object to consolidation among the book business' biggest players aren't wrong that things actually are moving quite quickly. These two major inflection points are occurring in under a decade.

That's one reason that this American antitrust trial has a lot of interest for our international readership, of course. The case in Washington is focused on Penguin Random House as the States' biggest publisher and Simon & Schuster as one of PRH's sisters in the US "Big Five"—which could become the "Big Four," if Bertelsmann and Penguin Random House are successful the bid to buy S&S. These industry-leading companies, however, have profound presence in many markets of world publishing, and so, in fact, does an issue on which the government's case turns very heavily: author compensation.
Author Stephen King is expected to testify at Tuesday's session: "Stephen King is star witness as government tries to block publishing giants' merger" reports the Portland Press Herald.
… The government's star witness, bestselling author Stephen King, is expected to testify at Tuesday's session of the weekslong trial in U.S. District Court in Washington, D.C. King's works are published by Simon & Schuster.

At Monday's opening session, opposing attorneys for the two sides presented their cases before U.S. District Judge Florence Pan.

Justice Department attorneys called the merger "presumptively wrong" because it would shrink competition and, inevitably, the vital public discourse that books help engender. Penguin Random House countered that the new company would "enhance" competition because the combined company could turn out books more efficiently….
(7) LABORING IN THE VINEYARD. Sharon Lee's post "In which the authors are working" includes some Trader's Leap spoilers, should you be in the market for some.
Much like being a Liaden Scout, being a writer is 98% mucking around in the mud, and 2% excitement.

And, after a brief period of excitement, we're back to Business as Usual, which is exciting enough for those doing the work, but makes for poor telling….
(8) SOMEBODY OWES HIM MONEY. Cory Doctorow explains why he won't let his books appear on Audible in "Pluralistic: 25 Jul 2022". The long saga includes this bit of comic relief:
…We're going to be rolling out a crowdfunding campaign for the Chokepoint Capitalism audiobook in a couple of weeks (the book comes out in mid-September). …And it won't be available on Audible. Who owe me $3,218.55.

But you know what will be available on Audible?

This. This essay, which I am about to record as an audiobook, to be mastered by my brilliant sound engineer John Taylor Williams, and will thereafter upload to ACX as a self-published, free audiobook.

Perhaps you aren't reading these words off your screen. Perhaps you are an Audible customer who searched for my books and only found this odd, short audiobook entitled: "Why none of my books are available on Audible: And why Amazon owes me $3,218.55."

I send you greetings, fellow audiobook listener!

…In the meantime, there is now a Kindle edition of this text:
I had to put this up, it's a prerequisite for posting the audio to ACX. I hadn't planned on posting it, but since they made me, I did.
Bizarrely, this is currently the number one new Amazon book on Antitrust Law!
(9) MEMORY LANE.
1977 – [By Cat Eldridge.] Now I'm feeling old as I clearly remember watching this episode, the next-to-last one of the series. Holmes & Yoyo's "The Cat Burglar" aired forty-five years ago on this date on ABC. Someone is stealing well loved felines for ransom from wealthy ladies, and Holmes and Yoyo set out to catch the cat stealer.
Look no one is ever going to accuse Holmes & Yoyo, which lasted a mere thirteen episodes, of being deep or meaningful because it wasn't. Was it good SF? Not really? Was it a decent detective series? Oh no, but despite that, it was fun to watch.
And this story was proof of that in, errrr, the number of cats under foot. It's lightweight and no one but one gets hurt, it's got John Schuck at his very, very comic best and it's got cats in it. None of which get hurt.
I don't think that series could've gone any further than it did as there just wasn't anything there to build off, was there? To say to the premise was thin would be an understatement.
I hold that John Schuck is best in his comic roles and that includes his role as Draal on Babylon 5 which had a measure of comedy the way he presented himself. Herman Munster on The Munsters Today may have been his best role ever, and the Lt. Charles Enright character on the McMillan & Wife series (which yes, I watched and liked a lot) had more than a bit of comic relief in it. And I adore his take on M.A.S.H. as Capt. 'Painless' Waldowski. I've watched that film at least a half dozen times now.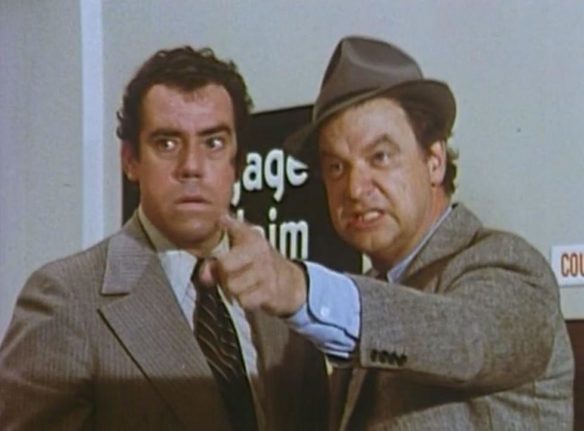 (10) TODAY'S BIRTHDAYS.
[Compiled by Cat Eldridge.]
Born August 1, 1862 — M.R. James. Writer of some of the best ghost stories ever done. A Pleasing Terror: The Complete Supernatural Writings, released in 2001 from Ash-Tree Press has forty stories which includes the thirty stories from Collected Ghost Stories plus the 3 tales published after that, and the seven from The Fenstanton Witch and Others. It's apparently the most complete collection of his stories to date. Or so I though until I checked online. The Complete Ghost Stories of M.R. James, over seven hundred pages, is available from the usual suspects for a mere buck ninety-nine! (Died 1939.)
Born August 1, 1910 — Raymond A. Palmer. Editor of Amazing Stories from 1938 through 1949. He's credited, along with Walter Dennis, with editing the first fanzine, The Comet, in May 1930. The secret identity of DC character the Atom as created by genre writer Gardner Fox is named after Palmer. Very little of his fiction is available from the usual suspects. Member, First Fandom Hall of Fame. He was nominated five times for a Retro Hugo for Best Editor, Short Form, and once as Best Professional Editor, Short Form. (Died 1977.)
Born August 1, 1914 — Edd Cartier. Illustrator who received the World Fantasy Award for lifetime achievement, the first artist to receive that honor. His artwork was first published in Street and Smith publications, including The Shadow, to which he provided many interior illustrations, and Astounding Science Fiction, Doc Savage Magazine and Unknown as well. (Died 2008.)
Born August 1, 1930 — Geoffrey Holder. You'll likely best remember him for his performance as Baron Samedi in Live and Let Die but he's also the narrator in Tim Burton's rather awful Charlie and The Chocolate Factory. He was also Willie Shakespeare in Doctor Doolittle but it's been so long since I saw the film that I can't picture his character. And he was The Cheshire Cat in the Alice in Wonderland that had Richard Burton as The White Knight. Weird film that. (Died 2014.)
Born August 1, 1932 — Paddy Chayefsky. In our circles known as the writer of the Altered States novel that he also wrote the screenplay for. He is the only person to have won three solo Academy Awards for Best Screenplay. The other winners of three Awards shared theirs. He did not win for Altered States though he did win for Network which I adore. (Died 1981.)
Born August 1, 1941 — Craig Littler, 70. His main genre role was as space adventurer Jason in Jason of Star Command which of course James Doohan was in as well. If you look closely, you'll spot him briefly in Blazing Saddles as Tex and Rosemary's Baby as Jimmy as well. And he has one-offs in The Next Beyond, AirWolf and Team Knight Rider. Team Knight Rider? Really, they didn't know when to stop?
Born August 1, 1942 — Jerry Garcia. Lead vocalist of the Grateful Dead. The Dead did some songs that were SF as SFE notes. The song "The Music Never Stopped" (on Blues for Allah, 1975) borrows its title from a sentence in Alfred Bester's The Stars My Destination (1956) and was possibly inspired by that novel. And SFE notes that the band was hired to compose and perform some appropriately outré music for the first revival of the Twilight Zone television series. There's lots more connections to SF but I'll stop by saying that Garcia played the banjo heard in the first remake of Invasion of the Body Snatchers. (Died 1995.)
Born August 1, 1948 — David Gemmell. Best remembered for his first novel, Legend, the first book in his long-running Drenai series. He would go on to write some thirty novels. The David Gemmell Awards for Fantasy were presented from 2009 to 2018, with a stated goal to "restore fantasy to its proper place in the literary pantheon". (Died 2006.)
Born August 1, 1955 — Annabel Jankel, 67. Director who was first a music video director and then the co-creator and director of Max Headroom. She conceptualized Max. She and her partner Rocky Morton first created and directed The Max Talking Headroom Show, a mix of interviews and music vids which aired on Channel 4 (where it was sponsored by Coca-Cola) and HBO. Jankel and Morton would go on to direct Super Mario Bros. And they're both responsible for the Max Headroom movie and series. I haven't heard if she has a role in the forthcoming rebooted Max Headroom series.
(11) COMICS SECTION.
(12) DEJA VIEW. That NPR is a radio network doesn't keep them from reaching for this optical analogy: "Seeing double: Near-identical films that came out at the same time". Surely you've noticed yourself that this happens. And many of the movies are genre.
They are showdowns that didn't need to happen — rival studios staring each other down, refusing to blink.

In 1998, Earth-snuffing asteroids got blown up in the nick of time by nuclear warheads, not once but twice, in Armageddon and Deep Impact. That same year, animated insects skittered onto movie screens in Antz and A Bug's Life — and just a year earlier, dueling lava flows erupted in Dante's Peak and Volcano.

And in 2013, Jesse Eisenberg starred in The Double, and Jake Gyllenhaal in Enemy, each as a man tormented by his doppelganger (and wouldn't you know that Enemy was based on a novel called…wait for it… The Double.)…
(13) ACT NOTABLE AWARDS. [Item by Dann.] A.C.T. (Australia Capitol Territory) Writers presented their awards for 2020 and 2021 over the weekend. Covid caused them to not have an awards ceremony for 2020.
T.R. Napper's collection of science fiction stories called Neon Leviathan won in for fiction in 2020 under the Small Press category. The collection was published by GrimDark Magazine.
(14) MORE MUNROE DOCTRINES. Randall Munroe has a new book coming out in September. "Randall Munroe – Sixth & I". At the link you have the option to buy in-person or virtual tickets to see Munroe in conversation with Derek Thompson on September 14 at 7:00 p.m. Eastern.
Planning to ride a fire pole from the moon back to Earth? The hardest part is sticking the landing. Hoping to cool the atmosphere by opening everyone's freezer door at the same time? Maybe it's time for a brief introduction to thermodynamics. For the answers to the rest of the weirdest questions you never thought to ask, "xkcd" creator and former NASA roboticist Randall Munroe is back with What If? 2: Additional Serious Scientific Answers to Absurd Hypothetical Questions.
(15) IN THE BEGINNING. Bill jumped in his TARDIS and returned with a clipping of this early advertisement for Nichelle Nichols when she was a nightclub singer. From the Honolulu Advertiser, Aug 4, 1960.
(16) SUPER CLEAN. WLKY captures the scene as "'Superhero' window washers scale Norton Children's Hospital again".
It's a bird. It's a plane. No, it's superheroes outside of patient windows at Norton Children's Hospital again!

That's exactly what kids and their families at Norton Children's Hospital in downtown Louisville got on Monday morning as window washers traded in their cleaning uniforms for capes and masks.

The goal is to give sick children a surprise several stories high as a crew from Pro Clean International dress as superheroes to wash the exterior windows of the hospital.

CEO of Pro-Clean International, and 'Iron Man', Joe Haist says, he got the idea from personal experience. "I have a special needs child that was born blind with special needs" said Haist, "I know that sometimes you go to the hospital, you're there for a long time and there's not a lot to see or do and there's not a lot of happiness. So it's really a great moment to really kind of bring people with some happiness."

They have done this at least the past few years.
(17) VIDEO OF THE DAY. [Item by Martin Morse Wooster.] This video from Alasdair Beckett-King dropped today. "Every Internet Video From 2003 (not literally)".
[Thanks to John King Tarpinian, Andrew Porter, Chris Barkley, Bill, Warren Buff, Dann, Michael Toman, Cat Eldridge, Mike Kennedy, Martin Morse Wooster, and JJ for some of these stories. Title credit belongs to File 770 contributing editor of the day Jeff Smith.]