(1) DARMOK AND JALAD AT THE TIKI BAR. ThinkGeek invites you to get your "Star Trek The Next Generation Geeki Tikis".
Allow us to raise a toast to your taste in housewares with these Star Trek The Next Generation Geeki Tikis. A set of six, these tiki mugs let you drink with Captain Picard, Geordi La Forge, Worf, a Cardassian, a Ferengi, and the Borg. Yes, all of the Borg since they're a collective consciousness. Best not to play trivia against that one. These tiki mugs hold around 14 oz. each, and they'll look great next to your Horga'hn fertility statue.
(2) BOOK DONATIONS REQUESTED. John Joseph Adams posts:
Got any books you'd like to donate to a good home? My sister's looking for donations for her school's library:
In "Nothing to Read", teacher Becky Sasala explains the need.
I recently assigned my juniors to independently read a book every nine weeks. We took part of a class period and visited the media center to ensure that every student had access to a variety of books. I was absolutely floored by the emptiness of the building. I guess I shouldn't have been surprised; the county that I work (and live) in is a poor rural county. The average wage in Hoke County is $18,421. Most households' combined income is less than $50,000. Less than 15% of adult residents hold a degree beyond high school. I also discovered that the library has not had any money to purchase new books since 2009. 2009!

Books appropriate for high school students can be sent to the following address:

Hoke County High School
c/o Rebecca Sasala
505 Bethel Rd.
Raeford, NC 28376
More information at the linked post. There's also a related Amazon wish list.
(3) HEINLEIN UNBOUND. Farah Mendlesohn, a historian, critic and fan who is a Hugo, BSFA, and BFA winner, and WFA, Mythopoeic, and Locus Award finalist for her scholarly non-fiction works on science fiction and fantasy, is crowdfunding the publication (by Unbound) of her critical study of the writings of a giant of the SF genre.
Dear Friends,

As you all know, I had to withdraw my book on Heinlein from the original publisher due to length. As I explored other options it became clear that no academic publisher could take it without substantial cuts, and no one who read it, could suggest any. So I am utterly delighted to be able to say that Unbound, a crowdsourcing press, have agreed to take the book.

Robert A. Heinlein began publishing in the 1940s at the dawn of the Golden Age of science fiction and carried on writing until his death in 1988. His short stories contributed immensely to the development of science fiction's structure and rhetoric, while his novels (for both the juvenile and adult markets) demonstrated that you could write hard SF with strong political argument. His vision of the future was sometimes radical, sometimes crosswise, and towards the end in retrenchment. He continues to influence many writers whether in emulation or reaction. Recent controversies in science fiction have involved fighting over Heinlein's reputation and arguing about what his legacy is and to whom he belongs…

The key thesis of the book is a challenge to the idea of Heinlein as a libertarian and resituating him as a classical Liberal in the terms he understood; a man who prized the individual highly but understood the individual as at their best when enmeshed in the complex structure of a nurturing society.
Support levels start at £12 for the e-book, and higher levels include hardback copies, critiques of supporters' non-fiction, workshops, and afternoon tea plus a tour of the personal library of Mendlesohn and SF critic Edward James.
(4) THE STORIES YOU WANT. Like everyone, Liz Bourke has her own specific set of interests, however, most readers have privately asked themselves the question in the title of her latest column, "Sleeps With Monsters: Why Can't More Books Pander To Me?" at Tor.com.
I'm a queer woman (bisexual, and to a degree genderqueer, if precision matters). Much of my reading experience, particularly with new-to-me authors, and even more so with male authors, involves bracing for things that are tiresome, wearying, and/or hurtful. Whether it's active misogyny, background sexist assumptions, gratuitous sexual assault of women (which may or may not be used to motivate the character arc or development of male protagonists), Smurfettes, women without communities that include other women, transphobia, Buried Gays, or just the general sense that the world the author's created has no room for people like me in it, there's frequently a level of alienation that I need to overcome in order to be able to enjoy a new book—or film, or television show, or videogame, etc.—and constantly being braced for that alienation is exhausting.

And that's even before we get to books that are outright badly done, alienating in ways that aren't aimed at me (but fuck racism), or just aren't to my tastes (a lot of comedy, most horror, certain themes that need to be really well done to work for me).

But I'm so used to experiencing this alienation, or to expecting it, that it's a wrenching shock when I find books that just… welcome me in. That don't place any barriers in my way. I don't notice the amount of effort overcoming this alienation requires until I don't have to make that effort—like not really knowing how much pain you were in until it stops.
(5) THE HOME STRETCH. Artist Gary Gianni's Kickstarter to publish Hellboy: Into the Silent Sea, Gianni's book with Mike Mignola, has gotten a great reception – in fact, they've just added their FOURTH stretch goal reward –
FOURTH STRETCH GOAL ANNOUNCED! Free all-new fully illustrated The Call of Cthulhu book by Gianni with 100 pencil drawings to all Kickstarter supporters who pledge $50 or more if we reach our Stretch Goal #4, 80K goal!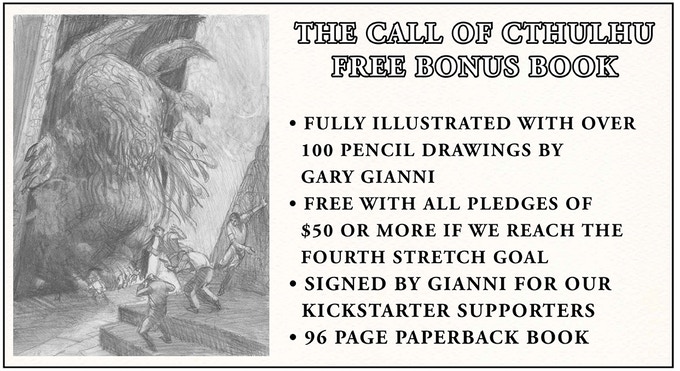 Gianni's many credits include illustrating George R.R. Martin's A Knight of the Seven Kingdoms.
(6) 21ST CENTURY AIR TRAVEL. The title promises "WorldCon 2017, aka The Best, Most Tedious Disaster Story Ever" and Anaea Lay delivers. And yet I read it all. Highly illogical!
When that broke up and it was time to head home, several of the people I'd been hanging out with very kindly and English-ly refused to go on to their hotel before making sure I could find where I was staying, despite my insistence that this was unnecessary.  The joke was on them, though, because I managed to have a fail-tastic adventure anyway.  You see, I knew the address of where I was staying, and I had the keys for getting in.  What I didn't have was the apartment number.  In a building with eight floors.
(7) MARKETING TECHNIQUE. RedWombat explains a new piece to her agent:
AGENT: ….
ME: That was a terrible elevator pitch, wasn't it?
AGENT: Just send it to me.

— The Wombat Resists (@UrsulaV) September 18, 2017
(8) HE LOOKS BEFORE HE LEAPS. Arnie Fenner interviewed John Fleskes at Muddy Colors earlier this week. How many bungee-jumping publishers do you know?
People don't normally equate daredevils with art books: how does doing death-defying stunts segue into becoming a publisher?

Well, the risk of doing a stunt and that of running a business is very similar, really. So, people have the tendency to call us "extreme" or "daredevils" but in reality each stunt is very calculated and planned far in advance. It's not like we would just hook up a random bungee cord to anything and just jump off. I worked for a pair of brilliant engineers who would include us in the planning stages and I really learned to appreciate the analytical process of working for those who set up highly complicated stunts where peoples lives were on the line. By the time the actual stunt would happen, sure, if you went off script you could die, but there really wasn't anything to seriously worry about. Oh, man, jumping out of a hot air balloon at 500 feet and falling 300 feet, now that is a feeling of absolute freedom to fly like that!

But, my real point is that it is a calculated risk when doing a stunt. Days, or weeks, or months of planning can go into what we did. It's exactly the same with Flesk. Everything that I do is a risk. Instead of risking my life, I'm risking all of my finances, my company, and my livelihood.

…The Call For Entries for Spectrum 25 will go out in a few weeks: can you share some of your perspective after having led the competition, judging, and annual for the past 4-going-on-5 years?

The greatest part of Spectrum, without a doubt, has been its community. It's the people that make it worthwhile year after year. We're all in it together, it's here because of the generosity, the support and the downright goodwill of everyone involved. It's so much bigger than me, it's not about me whatsoever, but like I've mentioned before, it lets me play a role in doing for others. If I do things right, my name never comes to the front or is in the spotlight. I want it to be about the artists. That's the part at the end of the day that satisfies me the most. That's my drive. I prefer to work in the background as much as possible, only coming out when absolutely necessary and only when it is to serve others. This community, these artists, it's one of the greatest things I've ever been a part of. That you and Cathy would tap me on the shoulder, that they would see something in me, I'm forever grateful. You've treated me like family. I'm truly blessed to know you both and be a part of Spectrum. You know, I'm still a bit shocked by where I am today? I never would have expected any of this.
(9) TODAY'S DAY
Talk Like A Pirate Day
(10) TODAY IN ALLEGED HISTORY
September 19, 1961 – Betty and Barney Hill were abducted for two hours by a UFO.
(11) TODAY IN REGULAR OLD HISTORY
September 19, 2000 – Michael Chabon's Amazing Adventures of Kavalier & Clay, a novel about the glory years of the American comic book, was published. It won the 2001 Pulitzer Prize for fiction.
(12) TODAY'S BIRTHDAY WIZARD
Born September 19, 1979 — Hermione Jean Granger
(13) TODAY'S BIRTHDAY CAPED CRUSADER
Born September 19, 1928 – Adam West
(14) TODAY'S BIRTHDAY U.N.C.L.E. AGENT
Born September 19, 1933 – David McCallum
(15) LIVING PROOF. Remember when the Worldcon's new YA Award couldn't be called the Tesseract out of courtesy to an existing Canadian anthology series? If you weren't already acquainted with it, now's your chance. Compostela (Tesseracts Twenty) edited by Spider Robinson and James Alan Gardner will be released in the U.S. on October 9. (It's already available in Canada.)
Compostela (Tesseracts Twenty) is an anthology of hard and soft science fiction stories that best represent a futuristic view of the sciences and how humanity might be affected (for better or worse) by a reliance in all things technological.

The stories contained within the pages of Compostela are a reflection of the world we live in today; where science produces both wonders and horrors; and will leave us with a future that undoubtedly will contain both. Journeys to the stars may be exhilarating and mind-expanding, but they can also be dangerous or even tragic. SF has always reflected that wide range of possibilities.

Featuring works by these Canadian visionaries:

Alan Bao, John Bell, Chantal Boudreau, Leslie Brown, Tanya Bryan, J. R. Campbell, Eric Choi, David Clink, paulo da costa, Miki Dare, Robert Dawson, Linda DeMeulemeester, Steve Fahnestalk, Jacob Fletcher, Catherine Girczyc, R. Gregory, Mary-Jean Harris, Geoffrey Hart, Michaela Hiebert, Matthew Hughes, Guy Immega, Garnet Johnson-Koehn, Michael Johnstone, Cate McBride, Lisa Ann McLean, Rati Mehrotra, Derryl Murphy, Brent Nichols, Susan Pieters, Alexandra Renwick, Rhea Rose, Robert J. Sawyer, Thea van Diepen, Nancy SM Waldman.
(16) THE EIGHTIES WERE STRANGER. Adweek is enthusiastic: "Netflix Is Making Stranger Things Versions of Classic '80s Movie Posters, and They're Amazing".
Netflix is pulling out all the stops on social media in the weeks leading up to Season 2. Last month, the show's official Twitter account began giving fans more of what they want by launching a weekly recap of each episode of the first season under the hashtag #StrangerThursdays, and tying each episode to a classic '80s film.

Even more impressive, the art team at the show has paid homage to each film's original poster art while placing the Stranger Things cast members in its universe. The tweets also include copy referencing the movies that inspired them.
The post has all of them, but here's one example.
#StrangerThings recreated 7 classic movie posters for s2!

Via @EW https://t.co/UmtX3k2xCH pic.twitter.com/zXIMSf0L8i

— Nerd Fu (@TheNerdFu) September 19, 2017
A fan has been inspired to make another —
Seeing the 80s retro posters for Stranger Things Season 2 inspired me to make my own. Name the 80s movie poster. pic.twitter.com/jegTsFdaIT

— a-wop (@CAVargas23) September 15, 2017
(17) UHHH. A comic linked from File 770 prompted Steve J. Wright to refer to his Lego-playing days as "Grotesque Sexual Deviancy".
At least, we thought we were just having fun.  It turns out, though, that we were transgressing the boundaries of gender as laid down by God and marketing departments.  We should never have engaged in the heinous perversion of unsegregated Lego.  Our Lego should have been sorted into strong, potent, manly Lego (mine) and soft, gentle, feminine Lego (my sister's), and the division should have been rigorously maintained.  All these years I thought we were just playing with Lego, and instead we were promoting an insidious non-binary genderqueer agenda that subverts all the established notions of masculinity and femininity, that causes confusion and actual harm to children who are too young to handle the idea of boys playing with girls' Lego, that will probably pollute our precious bodily fluids and hasten the downfall of Western civilization.

I thought we'd just got a sensible arrangement, so that if, say, my sister wanted to hold a state funeral for one of the Crater Critters, she could grab a bunch of black Legos and build a hearse without any arguments.  Now I know that we were, in fact, undermining the very foundations of all that is good and decent and true.
(18) FRESH OUTBREAK OF TROLLS. Gwynne Watkins of Yahoo! Movies, in "'Star Wars' fan petition seeking removal of J.J. Abrams from 'Episode IX' picks up steam", writes that 3,000 people have signed a petition demanding that J.J. Abrams be removed as director of Episode IX because they feel that Disney promised a fresh director for every installment.
The petition at Change.org begins:
Star Wars fans abroad were upset with the result of J.J. Abrams' directing of Star Wars Episode VII: The Force Awakens. Although not reflected in the box office sales, most fans agree that Abrams' vision for Episode VII resulted in a rehash of Star Wars Episode IV: A New Hope. There was virtually no creativity, and no risks taken. Such complacency cannot be the trajectory of this sequel trilogy. More specifically, the metric for success in a Star Wars movie cannot be box office sales. Lucasfilm and Disney *need* to listen to fan criticism. Star Wars fans deserve better. They demand better.
Almost 3,500 people have signed it so far.
(19) BONES. New books by the late Michael Crichton continue to appear. Fantasy Literature's Ryan Skardal renders a verdict on one that came out this past May in "Dragon Teeth: Palaeontologist wars"
Johnson is stranded in Deadwood with his bones, which everyone assumes is a cover for gold. Some readers may be pleased to learn that the Bone Wars between Cope and Marsh are drawn from history. Robert Louis Stevenson and Wyatt Earp also appear.

I did not find very much information on how finished Dragon Teeth was before publication, but, unlike Micro, there is no mention of another author who finished this work. It's tempting to point out that this novel about fossils seems more skeletal than most of Crichton's novels. The characters are flat, their interactions seem rushed, and every chapter is very short. There are moments of historical detail that are a bit more developed, such as when devout Christians express doubt about fossils and whether a perfect god could create something flawed — let alone something so flawed that it might go extinct. Even these details, however, feel like sketches.
(20) CON CEASES FOR SAFETY REASONS. The staff has put an end to an Ohio convention in the wake of the chair's criminal conviction. Nerd & Tie has the story: "Anime Punch Disbands After Con Chair Michael Beuerlein Pleads Guilty to Sexual Battery".
Columbus, OH based convention Anime Punch has been disbanded and will no longer hold any more events. The convention staff announced that they would be ceasing all future operations on in a statement on their official Facebook page on September 14…
The crime was prosecuted in Virginia, so probably was not committed at the convention.
(21) A SPECIALIZED NEED. Erika Satifka, in "Difference of Mind" at the SFWA Blog, points to a problem with most fictional treatments of mental illness.
According to the World Health Organization, one out of every four people will be affected by mental illness at some point in their lives. Considering this, it's important that when characters with mental illness are featured in one's writing, the subject is treated with sensitivity and accuracy. Novels that portray such disorders well can make a huge difference.

Em Kalberg, the protagonist of my debut novel Stay Crazy, has paranoid schizophrenia. As I researched the novel, I found that there were very few positive representations of people with schizophrenia, and not just in speculative fiction, but everywhere. The vast majority of the time, characters with psychotic disorders are monsters or killers….
Besides her own Stay Crazy, Satifka recommends fourteen other novels, novellas, and short story collections that prominently feature characters with mental illnesses or trauma.
(22) TIS THE SEASON. Time to be reminded about "The REAL Legend Behind the Halloween Tree at Disneyland":
Learning about Disneyland's storied history is as fun as spending a day getting your thrills on at all of the attractions. From true tragic stories inspiring haunting legends to secrets and facts only the biggest park fans know, there's always something else to discover about the Happiest Place on Earth – the legend of the Halloween Tree included.

Now, fans are probably familiar with the tree. The oak is located in front of the Golden Horseshoe Saloon in Frontierland. Every Halloween since 2007, the tree is decorated in a special way with jack-o'-lanterns hanging from its branches – but have you ever wondered why? The story goes that author Ray Bradbury, famous for Fahrenheit 451 and countless other fantasy, science fiction, mystery, and horror works, loved Halloween – and had a long history with Disney. Bradbury was a huge proponent of the Walt Disney Company and made his support for it clear throughout the years.
(23) SETTING THEM STRAIGHT. Camestros Felapton has been dismantling "Vlad James'" attack on the science in an Ursula Le Guin novel The Lathe of Heaven.
James wrote:
Unfortunately, she was less self-aware than [Harry Harrison], and injected phenomenally idiotic, pseudo-scientific explanations in her stories constantly.
Also:
She also claims that it would take the atmosphere "several hundred years to get rid of the CO2". While I understand Le Guin found math difficult, if humans completely stopped producing CO2, it would take 9-12 days for the atmosphere to rid itself of the amount presently there. Or, if you believe global warm…err "climate change" hysterics, it will take…several years. A few hundred years is baseless ignorance.
But young Felapton, in "Science and Le Guin Part 2", shows —
The quote from Le Guin is genuine and from The Lathe of Heaven published in 1970. It is also scientifically correct (more or less) whereas the criticism is scientific nonsense – indeed it is error piled on error….
A thorough takedown follows.
(24) THE SMELL IS OUT THERE. This is pretty damn funny – Anime Conventions: An Honest Guide.
(25) A MAGICAL TIME. IMDB says Andy the Talking Hedgehog is up 778% in popularity this week. Articles like The Guardian's are the reason.
When Reid tweeted the Andy the Talking Hedgehog poster on Friday, the internet went nuts. That was partly because the poster featured a hedgehog, two cats, Dean Cain, Tara Reid's Twitter profile pic manipulated to look slightly more wholesome and an unattributed quote calling it "a magical good time". But it was also because the IMDb plot summary for the film read "Tara Reid brings her Oscar award-winning prowess to this documentary about a hedgehog that Dean Cain farted on giving it the ability to talk. It's a fun-loving family movie that will for sure make you say "WOWZA. That's a stinky fart!"' That summary, incidentally, was attributed to Scott Baio.

Obviously, like the rest of the world, I desperately wanted to know the story behind Andy the Talking Hedgehog. Although we can rule out the summary as nothing more than internet high jinks, it would appear that the film is real. Back in November actress Maria Wasikowski tweeted a photo from the Andy the Talking Hedgehog set, alongside Dean Cain and, one month later, Tara Reid Instagrammed a shot of her character, Fairy BFF.
[Thanks to John King Tarpinian, Hampus Eckerman, JJ, Arnie Fenner, Martin Morse Wooster, Andrew Porter, Karl-Johan Norén, and Cat Eldridge for some of these stories. Title credit goes to File 770 contributing editor of the day Daniel Dern.]