(1) AKO CAINE PRIZE. Kenyan writer Idza Luhumyo has been awarded the 2022 AKO Caine Prize for African Writing for her short story "Five Years Next Sunday", published in Disruption (Catalyst Press and Short Story Day Africa, 2021). The story is about "a young woman with the unique power to call the rain in her hair. Feared by her family and community, a chance encounter with a foreigner changes her fortunes, but there are duplicitous designs upon her most prized and vulnerable possession."
Okey Ndibe, Chair of the 2022 AKO Caine Prize Judging Panel, announced the winner at an award ceremony at London's Victoria and Albert Museum. Luhumyo's story was described by Ndibe as 'an incandescent story – its exquisite language wedded to the deeply moving drama of a protagonist whose mystical office invites animus at every turn.'

Judging the Prize alongside Ndibe this year were French-Guinean author and academic Elisa Diallo; South African literary curator and co-founder of The Cheeky Natives Letlhogonolo Mokgoroane; UK-based Nigerian visual artist Ade 'Àsìkò' Okelarin; Kenyan co-founder of the Book Bunk Angela Wachuka.
Luhumyo takes the £10,000 prize, beating 267 eligible entries in a record year of submissions. She will be published in the 2022 AKO Caine Prize anthology later this year by Cassava Republic Press. She is the fifth Kenyan writer to win the award after Binyavanga Wainaina (2002), Yvonne Owuor (2003), Okwiri Oduor (2014) and Makena Onjerika (2018).
(2) AUCTION RESULTS. The "Hollywood Legends" event organized by Julien's Auctions rang up some big numbers for these items of genre interest:
…Other top sellers included the red, white and blue shield handled by Chris Evans' Captain America in the 2012 superhero blockbuster "The Avengers," which went for $200,000.

A Stormtrooper helmet used in 1977′s original "Star Wars" movie sold for $192,000, while a hammer wielded by Chris Hemsworth's titular superhero in 2013′s "Thor: The Dark World" made $51,200….
(3) BUZZ LIGHTYEAR FOREVER. The USPS invites postal service users to "'Go Beyond' Your Typical Forever Stamps with Buzz Lightyear". The first day of issue will be August 3. There will be a ceremony that day at the El Capitan Theatre in Hollywood.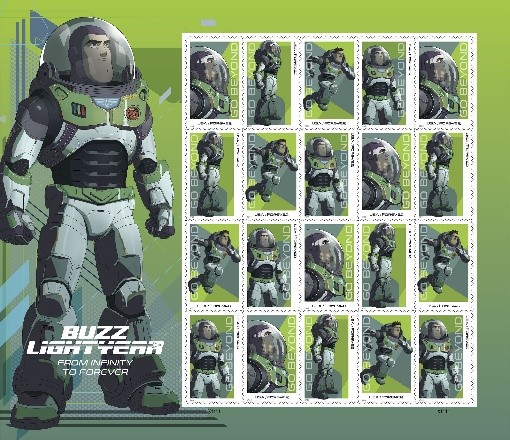 The iconic image of Buzz Lightyear has been captured in the newest Forever stamps from the U.S. Postal Service and Disney and Pixar.

Go Beyond is a colorful pane of 20 stamps arranged in four horizontal rows of five stamps featuring the image of Buzz Lightyear, a Space Ranger marooned on a planet 4.2 million light-years from Earth.

Greg Breeding was the stamp art director using illustrations from Pixar Animation Studios.
The release joins the Charles M. Shulz (and the gang) and James Webb Space Telescope stamps coming this year, and the already available Shel Silverstein stamp.
(4) ALONG CAME JONES. Stephen Jones, the British editor, had some things to say about pronouns yesterday that have since been taken private (or offline), therefore cannot be quoted here. However, some of the knock-on discussion he had about them was screencapped.
Hillary Monahan doesn't name the person they light into in this thread, but everybody knew who it was. Thread starts here.
The Midnight Society thought the situation called for a satire. Thread starts here.
The social media discussion also reminded people of some of Jones' history, such as:
(Jones' remarks can be viewed on the 2021 Bram Stoker Awards ceremony video around the 1:23 mark.)
(5) PERSONAL DEFINITIONS. [Item by Martin Morse Wooster.] Contributors to the horror anthology Other Terrors explain what they think "other terrors" means to them. "A Roundtable Discussion on The Meaning of 'The Other'" at CrimeReads.
…Eugen Bacon: As an African-Australian author who is black, female, migrant and a single mother, I have struggled with identity and being 'different'. I think, as humans, intrinsically, we want to belong, to be integral to the worlds we live in.

'Other' is anyone who looks different, feels different, thinks different, acts different, lives different, owns different (possessions), is perceived different—there's a whole spectrum of othering, which is what makes the theme of Other Terrors very relatable and easy to respond to. More so in the safe space that speculative fiction offers for engaging with difference, even in acts of subversive activism….
(6) WESTERCON 74 EVENTS ONLINE. [Item by Kevin Standlee.] All of Westercon 74's Events — anything that happened in the Main Hall or on the Main Stage of the Tonopah Convention Center, as distinct from Programming that happened in function rooms of the TCC or the other convention buildings — are now online on a newly-minted Westercon 74 YouTube channel in the Events playlist:
This includes, in the order that they happened:
Friday: Opening Ceremony
Saturday: Match Game SF
Sunday: Westercon Business Meeting, Committee of the Whole on Site Selection, Kuma's Korner Stuffed friends gathering
Monday: Closing Ceremony
In addition, the channel includes separate recordings of the opening and closing title videos that we played during the opening and closing ceremonies.
Programming will post those online and hybrid items that we recorded to a separate playlist on this channel when they are able to do so. The head of online/hybrid programming, Michelle Weisblat-Dane, came down with COVID-19 immediately after the convention, which has slowed production.
(7) MEDIA BIRTHDAY.
1965 – [By Cat Eldridge.] Forty-seven years ago, The Tenth Victim premiered in Ireland. An international co-production between Italy and France, it is based on Robert Sheckley's 1953 short story "Seventh Victim" which was nominated for a Retro Hugo at Noreascon 4. No, I've no idea why it became the Tenth Victim.
It was directed and co-written by Elio Petri who had spent five years trying to get this filmed. In filming it, he made some major changes. Sheckley told his story from the point of view of a man hunting his seventh target, a woman, whereas in the movie she is the hunter. And as most reviewers note, the film is largely a chase story. It's been a very long time since I read it so I don't know how much it deviates from the original text.
The French-Italian production was fairly expensive to make at a cool million. That's ten million now. Absolutely no idea what they spent that much money on making what was a chase film. Very expensive cars? Crates of champagne? Caviar?
The movie company insists that it lost money, some ten million. They needed to have drank a lot less champagne.
Coming full cycle, there's a Sheckley novelization of the film. Algis Budrys in his June 1966 Galaxy Science Fiction review said it was "a reasonably good chase novel".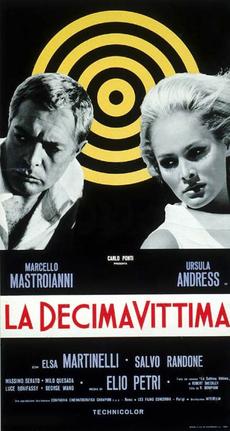 (8) TODAY'S BIRTHDAYS.
[Compiled by Cat Eldridge.]
Born July 19, 1883 — Max Fleischer. Animator, film director and producer. He brought such animated characters as Betty Boop, Popeye and Superman to the screen and was responsible for a number of technological innovations including the Rotoscope and Stereoptical Processes. You can see Betty's first screen appearance here in the 1930 Cartoon, "Dizzy Dishes". (Died 1972.)
Born July 19, 1904 — Groff Conklin. He edited forty anthologies of science fiction, one of mystery stories. His book review column, "Galaxy's Five-Star Shelf", was a core feature in Galaxy Science Fiction from its premiere issue in October 1950 until the October 1955 issue. He was nominated at NyCon II for a Best Book Reviewer Hugo, and at Millennium Philcon, he was nominated for a Retro Hugo for Best Professional Editor. (Died 1968.)
Born July 19, 1927 — Richard E. Geis. I met him at least once when I was living out there in Oregon. Interesting person. He won the Hugo Award for Best Fan Writer twice; and whose science fiction fanzine Science Fiction Review won Hugo Awards for Best Fanzine four times. The Alien Critic won the Best Fanzine Hugo (once in a tie with Algol), and once by himself. And yes, I enjoyed reading the Science Fiction Review. I've not any of his handful of genre novels, and certainly haven't encountered his soft-core porn of which there's a lot. (Died 2013.)
Born July 19, 1938 — Jayant Vishnu Narlikar, 84. He and Fred Hoyle developed the Hoyle–Narlikar theory, which Stephen Hawking would prove is incompatible with an expanding universe. He would write two genre novels, The Return of The Vaman (translated from Marathi) and The Message from Aristarchus. His autobiography is My Tale of Four Cities: An Autobiography.
Born July 19, 1950 — Richard Pini, 72. He's half of the husband-and-wife team responsible for creating the well-known Elfquest series of comics, graphic novels and prose works. They are also known as WaRP (as in Warp Graphics). It's worth noting that characters based on works by the Pinis appear in the first issue of Ghost Rider.
Born July 19, 1963 — Garth Nix, 59. Writer of children's and young adult fantasy novels, to wit the Keys to the Kingdom, Old Kingdom, and Seventh Tower series. The Ragwitch which I read quite some time ago is quite excellent and being a one-off can give you a good taste of him without committing to a series.
Born July 19, 1969 — Kelly Link, 53. First, let me note that along with Ellen Datlow, she and her husband Gavin Grant were responsible for the last five volumes of The Year's Best Fantasy & Horror. They all did an absolutely magnificent job. All of her collections, Pretty Monsters, Magic for Beginners and Get in Trouble are astonishingly good. And she's much honored having three Nebula Awards, a World Fantasy Award, an Otherwise Award, a Sturgeon Award and received a MacArthur Genius Grant. She was a finalist for a 2016 Pulitzer Prize. And Hugos. She won a Hugo at Interaction for her "Faery Handbag" novellette, her "Magic for Beginners" novella was nominated at L.A. Con IV, and finally Lady Churchill's Rosebud Wristlet was nominated at Nippon 2007 for Best Semi-Prozine (her husband Gavin Grant was also nominated).
(9) HARD TO KEEP CURRENT. Goodreads lists "The 72 Most Popular Fantasy Novels of the Past Three Years" based on reader info. I've actually read three and expect to read two more of these. I was sure my score would be zero.
Fantasy literature is arguably the single oldest genre in all of storytelling. Contemporary fantasy has its roots, overtly or not, in world mythology and folklore, which in turn have their roots in oral traditions that extend back beyond recorded history. Old!

But today we're interested in new fantasy. Gathered below are the most popular fantasy books of the past three years, as determined by reader shelvings and reviews. All books listed here were published in 2019 or later, in the U.S., and for fantasy series with multiple titles (Armentrout! Butcher! Maas!) we've listed the first series book published in that time period.
(10) FUTURE ERIC FLINT TITLES COMING FROM BAEN. [Item by Andrew Porter.] Toni Weisskopf wrote to me, "His last email to me was the delivery of revision of THE TRANSYLVANIAN DECISION; that's already on the schedule. There's a few more, which I expect collaborators will finish. Credit will vary, depending on how much input Eric had already given."
(11) FUNDRAISER FOR FLINT FAMILY. The GoFundMe set up for Eric Flint's wife Lucille – "Eric Flint" – has already made its $10,000 goal, having raised $11,627 at this writing.
My name is Debbie and my sister, Lucille Robbins, just lost her beloved husband of 21 years, Eric Flint. For the last six months Eric has been fighting the fight of his life, but unfortunately his body could no longer sustain the battle and he succumbed to the infections that robbed him of the final years of life. Eric had so many plans, right up to the end. He wanted to live and to keep writing and to keep reaching out to everyone in the Science Fiction community, but here we are. Unfortunately Eric has not been able to write while he has been sick and Lucille lost many hours of work taking care of Eric. As you know writers have to keep writing to make money and right now Lucille and family could use some help financially with the costs of memorial services. Any donation will be greatly appreciated.
(12) VIDEO OF THE DAY. [Item by Martin Morse Wooster.] In "Honest Trailers: Hulk v. Thor (1988)" the Screen Junkies narrator notes, "no one wanted this. You've got to trust us." The movie isn't even called "Hulk v. Thor," it's "The Incredible Hulk Returns," the first of three made-for-TV Hulk movies. This ripe piece of '80s cheese has Bruce Banner hiding out as "Bruce Banyon" when he isn't turning into Lou Ferrigno and "gruntflexing." But Hulk DOES fight Thor. They even dance around a sparkly machine while fighting. And Thor has a drinking problem. "I'm thirsty," Thor says in the laboratory. "Is there nothing to drink in this alchemist's den?"
[Thanks to Cat Eldridge, Mike Kennedy, Martin Morse Wooster, JJ, Daniel Dern, Kevin Standlee, John King Tarpinian, Andrew Porter, Chris Barkley, and Michael Toman for some of these stories. Title credit belongs to File 770 contributing editor of the day Daniel Dern.]