(1) BAD DOG. "No Doctor Who spoilers will adorn future Pixel Scrolls," promised Mike Glyer, after spending the day being chastised by File 770 commenters.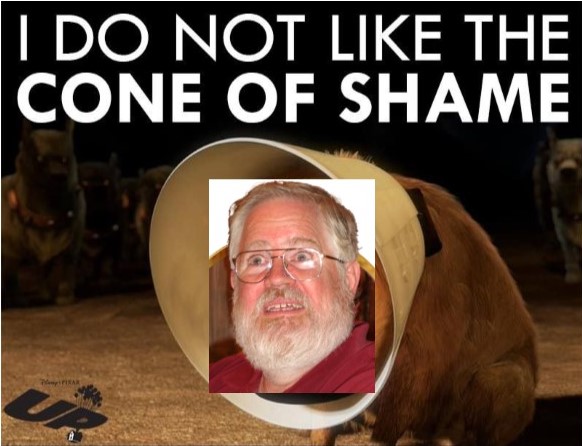 (2) BAD IDEA THAT'S DESTINED TO HAPPEN? Alex Kurtzman says it's crackers to slip a rozzer the dropsy in snide…or something like that: "The Future of 'Star Trek' and Why the 'Doors Are Just Opening' for a Film-TV Crossover" at The Wrap.
Now that "Star Trek" has beamed Jean-Luc Picard back up into its universe, the sci-fi franchise's captain is already plotting its next course. And that may include mind-melding the film and TV universes after more than a decade apart.

When Viacom and CBS agreed to re-merge, after spending the past 14 years as separate companies, the film and TV rights to "Star Trek" once again came under the same corporate roof. CBS TV Studios controls the TV side, while Paramount has steered the Enterprise on the film part of the universe.

Alex Kurtzman, who oversees "Star Trek" for CBS TV Studios, believes it's only a matter of time before the film and TV worlds of "Star Trek" collide.

 "The ink has just dried on the merger and the doors are just opening. So I think anything is possible at this point," he told TheWrap. "I can't imagine that CBS and Paramount, in their infinite wisdom, would say lets create two 'Star Trek's and have them be separate. That doesn't seem like it would be a good strategy to me."
(3) MONEY? GONE IN A FLASH! "DC Comics has its own super hero-themed credit cards" at CNET. The Justice League says, "Charge! it."
If you've ever wanted to show off your love of DC Universe super heroes with a themed credit card, now's your chance. DC Comics has teamed up with Visa to launch a series of credit cards with entertainment rewards. 

You can choose between seven different designs: animated Batman images for the character's 80th anniversary; the Batman symbol; an animated Superman opening his shirt to the logo underneath; the Wonder Woman symbol; The Flash's symbol; an animated Harley Quinn; and the whole Justice League in animated form. 
(4) LIST OF THINGS THAT WOULD BE BAD. CrowdScience asks "Could we survive an extinction event?" – available at BBC Sounds.
Super-sized volcanic eruptions and giant asteroids crashing in from outer space are the stuff of disaster movies. They have listener Santosh from South Africa slightly concerned. He'd like to know what's being done in real life to prepare for this kind of event.

Although the chance of these events occurring is low, Santosh isn't entirely wrong to be worried: Earth has a much longer history than humans do, and there's evidence that several past extinction events millions of years ago wiped out the dominant species on the planet at the time, as we've heard before on CrowdScience. The kind of extraordinary geological and extra-terrestrial hazards thought to be responsible for the death of millions of lives do still exist. So is there really any way that humans could survive where the dinosaurs – and plenty of other species – have failed? 

Presenter Marnie Chesterton finds out by meeting experts who are already preparing for the remote but real possibility of the biggest disaster we could face. It turns out that in real life most things we can think of which could cause an extinction event are being watched closely by scientists and governmental agencies. 

How worried we should really be by the possibility of a sudden super-volcanic eruption at Yellowstone in the USA, or one of the other enormous volcanoes dotting our planet's surface? Marnie heads into an underground bunker near the remote Scottish coast to find out if hiding out is a viable survival option. Now a museum, Scotland's Secret Bunker, formerly RAF Troywood, is one of a network of nuclear shelters built by nation states during the Cold War. 

And she hears about one of the combined space agencies most ambitious projects yet: NASA and ESA's Asteroid Impact and Deflection Assessment mission to crash an impactor into an asteroid's moon to find out whether we could knock any potentially problematic collisions off-course well before Earth impact
(5) PAUSEWANG OBIT. [Item by Cora Buhlert.] Gudrun Pausewang, a German YA author who occasionally ventured into SFF, died on January 24 at the age of 91. Ms. Pausewang's forays into science fiction were mainly dystopian such as the 1983 novel The Last Children of Schewenborn, a story about life and death (but mainly death) after a nuclear war, and the 1987 novel The Cloud about the fallout from a nuclear disaster, which sits on the reading list of many German schools. She also wrote less gloomy fare on occasion such as the 1972 modern fairytale "The Merman Behind the House". I wasn't a huge fan of her work – way too gloomy for my tastes – but she was certainly an important voice. Here is an English language obituary: "Anti-nuclear author Gudrun Pausewang dies".
(6) TODAY IN HISTORY.
January 27, 1980 — Galactica 1980 premiered on ABC. A spin-off from the original Battlestar Galactica series, it was the result of a massive letter writing campaign in the days before email which made the network actually pay attention. Alas it performed quite poorly and was canceled after the initial order of ten episodes. I remember Lorne Greene as Commander Adama was the only major returning cast member, but I'll freely admit I've not seen either series in decades so that could be inaccurate. The DVD release twenty seventy years later would be carry the tagline of "The Original Battlestar Galactica's Final Season".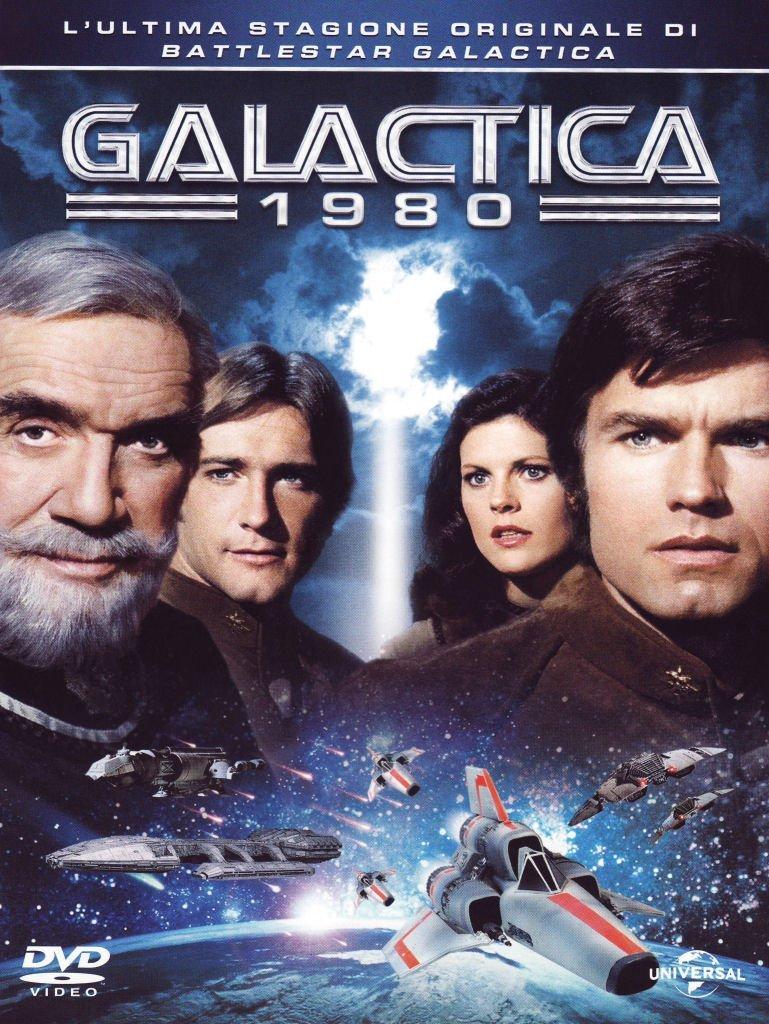 January 27, 1998 — The Warlord: Battle for the Galaxy premiered on UPN. Written by Caleb Carr, author of The Alienist, it was directed by Joe Dante. It starred  John Corbett, Carolyn McCormick, Rod Taylor, John Pyper-Ferguson, Elisabeth Harnois and J. Madison Wright. It was intended as a pilot for The Osiris Chronicles series but that never happened though similar concepts can be seen in Roddenberry's Andromeda series. It is available for viewing here.
January 27, 2008 — Attack of the Gryphon premiered on the Sci-Fi Channel. It was directed by Andrew Prowse, with a cast led by Amber Benson, Jonathan LaPaglia, and Larry Drake. It was one in a series that included a film called Mansquito. Really. Truly. Like most of the Sci-Fi Pictures original films series, neither critics or reviewers were impressed with the story, SFX or acting. It's got no rating at Rotten Tomatoes and the scant number of Amazon ratings are all over the place.
January 27, 2008 — Journey To The Center Of The Earth premiered. It was directed by Eric Brevin. It starred Brendan Fraser, Anita Briem, and Josh Hutcherson. Surprisingly, at least to me, it received positive reviews from critics, and was a huge box office success. It currently holds a 51% rating among reviewers at Rotten Tomatoes.
(7) TODAY'S BIRTHDAYS.
[Compiled by Cat Eldridge.]
Born January 27, 1756 — Wolfgang Amadeus Mozart. On the strength of The Magic Flute. (Died 1791.)
Born January 27, 1940 — James Cromwell, 80. I think we best know him as Doctor Zefram Cochrane In Star Trek: First Contact , which was re-used in the Enterprise episode "In a Mirror, Darkly (Part I)".  He's been in other genre films including Species II, Deep Impact, The Green Mile, Space Cowboys, I, Robot, Spider-Man 3 and Jurassic World: Fallen Kingdom. He played characters on three Trek series, Prime Minister Nayrok on "The Hunted" episode of Star Trek: The Next Generation and Jaglom Shrek in the two part "Birthright" story, Hanok on the "Starship Down" episode of Deep Space Nine and Zefram Cochrane once again as noted before on Enterprise. 
Born January 27, 1950 — Michaela Roessner, 70. She won the Astounding Award for Best New Writer for Walkabout Woman. Her The Stars Dispose duology is quite excellent. Alas, none of her fiction is available digitally. 
Born January 27, 1956 — Mimi Rogers, 64. Her best known known SFF role is Professor Maureen Robinson in the Lost in Space film which I did see in a theatre I just realized. She's also Mrs. Marie Kensington in Austin Powers: International Man of Mystery, and she's Orianna Volkes in the Penny Dreadful hitchhiker horror film. She's got one-offs in Tales from The Crypt, The X-Files, Where Are You Scooby Doo? and Ash v. Evil Dead.
Born January 27, 1957 — Frank Miller, 63. He's both an artist and writer so I'm not going to untangle which is which here. What's good by him? Oh, I love The Dark Knight Returns, both the original comic series and the animated film, though the same not no true of Sin City where I prefer the original series much more. Hmmm… What else? His runs on Daredevil and Electra of course. That should do. 
Born January 27, 1958 — Susanna Thompson, 62. She played Dr. Lenara Kahn in Deep Space Nine's "Rejoined" episode and was the Borg Queen in three episodes of Voyager. Back here on Earth, she was Moira Queen on Arrow. She's also had roles in Alien Nation: Dark Horizon, The Lake, Bermuda Triangle, Dragonfly, Kings, The Gathering and she had two different one-offs on Next Gen before being cast as the Borg Queen. 
Born January 27, 1963 — Alan Cumming, 57. His film roles include his performances as Boris Grishenko in GoldenEye, Fegan Floop In the Spy Kids trilogy, Loki, god of Mischief in Son of the Mask (a really horrid film), Nightcrawler In X2 and Judas Caretaker in Riverworld. 
Born January 27, 1966 — Tamlyn Tomita, 54. I'm fairly sure I first saw her in a genre role on the Babylon 5 film The Gathering as Lt. Cmdr. Laurel Takashima. Or it might have been on The Burning Zone as Dr. Kimberly Shiroma. And she had a recurring late on Eureka in Kate Anderson, and Ishi Nakamura on Heroes? She's been in a number of SFF series in one-off roles including Highlander, Quantum Leap, The Sentinel, Seven Days, FreakyLinks, Stargate SG-1 and a recurring as late as Tamiko Watanabe in The Man in The High Castle.
Born January 27, 1969 — Patton Oswalt, 51. He gets his Birthday Honors for voicing Remy in Ratatouille, a truly lovely and rather tasty film. He also played Eric, Billy, Sam and Thurston Koenig in a recurring and fascinating role on the Agents of S.H.I.E.L.D. series. And let's not overlook that he's been Max for the part several years on Mystery Science Theater 3000. Damn, I almost forgot he voiced Space Cabbie on Justice league Action!
(8) COMICS SECTION.
B.C. has an unlikely solution to arachnophobia.
Pearls Before Swine shows that space aliens can be part of really bad puns.
(9) HATCHET TO PRATCHETT. The Guardian's Alison Flood thinks "Discworld fans are right to be nervous about the BBC's 'punk rock' The Watch".
We Terry Pratchett fans have been lucky in recent years. We were given Good Omens, which thanks to co-author Neil Gaiman's shepherding and incredible performances from David Tennant and Michael Sheen, was a joy to watch. And we were told that BBC America was developing The Watch, a series based on Pratchett's stories about Ankh Morpork's City Watch. Yes, we were a little nervous to read that Pratchett's fierce, dark, sardonic stories were to become a "startlingly reimagined … punk rock thriller" that was "inspired by" the books. But we stayed faithful, for it was promised that the show would "still cleav[e] to the humour, heart and ingenuity of Terry Pratchett's incomparably original work".

But nerves were jangling even more fiercely on Friday as the first glimpses of the forthcoming show were shared by the studio. They look … kind of cyberpunky? Is that electricity? Where is their ARMOUR? Should we have been more wary about that "inspired by"?
(10) A PLANET STORY. Cora Buhlert, in "Retro Review: 'The Jewel of Bas' by Leigh Brackett", discusses another 1944 work eligible for CoNZealand's Retro Hugos.
… "The Jewel of Bas" is a glorious pulpy adventure story that manages to offer up plenty of twists and turns,…
(11) JEOPARDY! Andrew Porter sometimes finds the wrong questions more amusing than the right ones on this game show:
Category: Novels by Chapter Title

Answer: From a Verne work: "Boldly down the crater"

Wrong Question: "What is '20,000 Leagues Under the Sea'?"

(Right question: "What is 'Journey to the Center of the Earth'?")
And they weren't finished —
Final Jeopardy: Poets.

Answer: A Dartmouth dropout, he received 2 honorary degrees from Dartmouth — in 1933 & 1955

Wrong questions: "Who is Whitman?" and "Who is Thoreau?"

Right question: Who is Robert Frost?
(12) PARENTAL SUPERVISION. On Facebook, Worst of Tumblr shows photos of kids who are crying, with parents' explanation of what incited the tears.
(13) TRADITION. "Photographing One Of America's Oldest Tofu Shops" on NPR.
Growing up in Portland, Ore., in the '90s, tofu could be hard to find. It would be a long time before ramen joints spread across the city, before national chains like Trader Joe's and Whole Foods had their own store-brand tofu.

But like soba noodles, nori, rice and fish, tofu is a staple of Japanese home cooking. So my parents regularly made a 15-minute drive west, across the Willamette River, to stock up at Ota Tofu.

The old-school company still makes its tofu by hand in small batches, navigating a growing demand for plant-based foods. But what I didn't realize then is that it's also a cultural institution — the oldest tofu producer still operating in the country, Ota Tofu has fed Portland's Japanese American community for more than 100 years.

Eileen Ota, a former owner of Ota Tofu, notes that other tofu producers existed earlier in the United States, but many ceased operations because of one event: the internment of Japanese Americans during World War II.
(14) MYTH FULFILLMENT OR METAL FATIGUE? As The Week put it: "A brawny visitor to Disneyland managed to pull a model of Excalibur out of a model stone, thus arguably revealing himself as the future king of England. A friend fo the future king, whom he identified only as 'Sam,' says he's 'a pretty buff dude." Also at CinemaBlend: "A Disneyland Guest Literally Pulled The Sword Excalibur From The Stone".
A few days ago the sword, which sits in front of the carousel, went missing, and while it was believed to have something to do with an upcoming refurbishment of the attraction, it seems that's not the case. WDWNT reports that the site has been told by somebody in the know, that the hilt of the sword was actually pulled, or more accurately, broken, by a guest who pulled on it so hard that it came out.
(15) VIDEO OF THE DAY. In "Obst" on Vimeo, Jan Eisner asks the question, "If fruit could move, what would they do?"
[Thanks to JJ, John King Tarpinian, Chip Hitchcock, Cat Eldridge, Andrew Porter, Martin Morse Wooster, John Hertz, and Mike Kennedy for some of these stories. Title credit goes to File 770 contributing editor of the day Kip W.]