(1) MARVEL SNAPSHOTS. Kurt Busiek is overseeing a Marvel showcase series featuring history-making characters.
This March, prepare to see the greatest moments of Marvel's 80-year history told like never before! In MARVEL SNAPSHOTS, industry legend Kurt Busiek will bring together incredible creative teams for eight standalone, double sized issues showcasing Marvel's most beloved characters from the golden age to today. Like 1994's critically acclaimed MARVELS series, MARVEL SNAPSHOTS will be tales told through the eyes of ordinary people, offering unique insights on the legendary mythos of the Marvel Universe. MARVELS SNAPSHOTS also reunites Busiek with renowned MARVELS co-creator Alex Ross who will be providing the series with his iconic painted covers.

It all begins with SUB-MARINER: MARVELS SNAPSHOT #1 when best-selling novelist and Emmy Award-winning TV writer Alan Brennert (L.A. LAW, TWILIGHT ZONE) and superstar artist Jerry Ordway (ALL-STAR SQUADRON, CRISIS ON INFINITE EARTHS) unite to tell an unforgettable story about Marvel's original antihero: Prince Namor!

Set circa World War II, things kick off with an action-packed tale featuring Namor, Betty Dean, and the All-Winners Squad–a dream come true for Brennert. "I can honestly say that I enjoyed working on this story more than any comics story I've done in years. I grew up reading (and loving) Marvel's Golden Age heroes in the 1960s, in reprints in FANTASY MASTERPIECES. But I never thought I'd have a shot at writing them–especially the All-Winners Squad!–and I'm grateful to Kurt Busiek and Tom Brevoort for providing me the opportunity, and to Jerry Ordway for bringing it all to glorious life," Brennert says. "I'm enormously proud of 'Reunion' and honored to be the first story published in MARVELS SNAPSHOTS."

Artist Jerry Ordway is just as passionate about bringing this tale to life. "When I was offered this project, I jumped at it, being a big fan of the original MARVELS book by Kurt Busiek and Alex Ross. Getting to draw a Sub-Mariner story set in the 1940s, with appearances by the All-Winners Squad, lets me connect with Marvel's World War II era history, and the work of Subby's creator, Bill Everett," says Ordway. "I've been a Marvel maniac from the age of 10, so this is pretty cool! Alan Brennert wrote a great script which fits neatly into the bigger tapestry that is the Marvel Universe. I'm thrilled to get to play in this sandbox after so many years as an artist."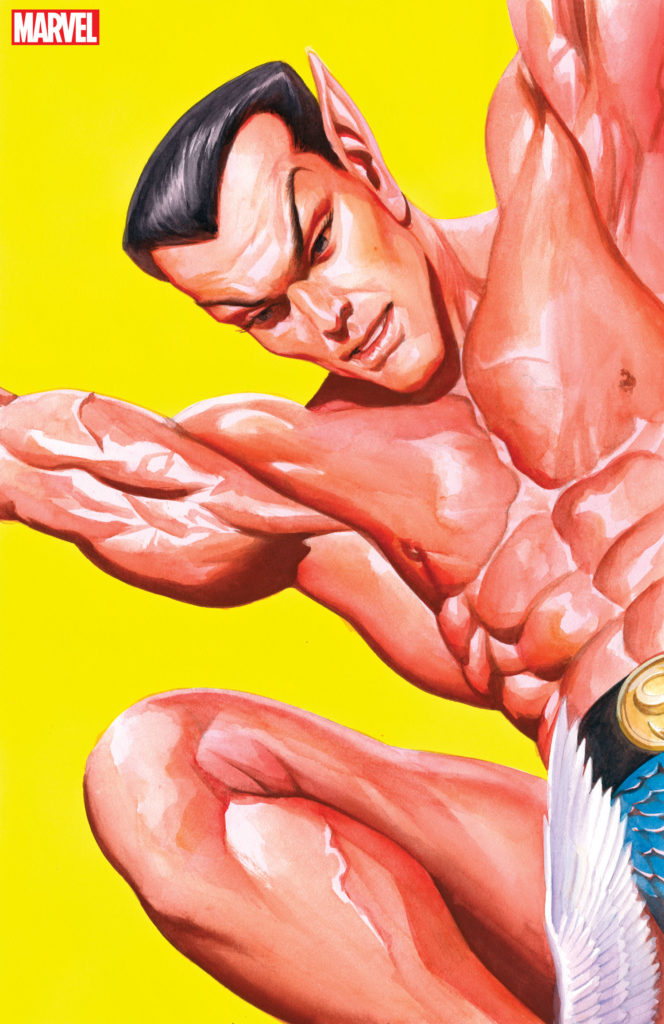 (2) EATING THE FANTASTIC. Listeners are invited to join host Scott Edelman and Elsa Sjunneson-Henry for lunch in Little Italy on Episode 111 of the Eating the Fantastic podcast.
My guest this time around is Elsa Sjunneson-Henry, who was a winner of the Best Semiprozine Hugo Award earlier this year for her work as a Guest Editor of Uncanny Magazine's Disabled People Destroy Science Fiction Special Issue. She was also a 2019 Hugo Award finalist for Best Fan Writer. Her fiction has appeared in such magazines as Fireside and Uncanny, as well the anthologies Ghost in the Cogs and Upside Down: Inverted Tropes in Storytelling. She's written non-fiction for The Boston Globe, Barnes & Noble, Tor.com, and other venues. She is a feminist scholar and disability rights activist (which I knew), but also a burlesque historian (which I did not know).

We lunched at La Tavola, where I'd previously joined Marv Wolfman during the 2017 Baltimore Comic-Con. We discussed her roller coaster of emotions the night she won a Hugo Award earlier this year during the Dublin Worldcon, how that editorial gig increased her empathy, the way writing roleplaying games and being a Sherlock Holmes nerd taught her about world-building and led to her first professional fiction sales, the dinosaur-themed Twitter feed that gave birth to her most recently published short story, the novel she's working on which she describes as The Conjuring meets The Stand, her expertise in obscenity law and fascination with the history of burlesque, why she felt the Bird Box novel handled blindness better than the movie, her background in competitive improv and the way that helped her within science fiction, advice on how not to let Internet trolls get you down, and much more.
(3) PILE PELION ON OSSA. John Scalzi chronicled the results of his Twitter poll which asks: "Would Baby Yoda eat a porg?" (Is it cannibalism if one cute thing eats another cute thing?) Thread starts here.
(4) JUST PLAIN FOLKS TALES. RS Benedict has released another episode of the Rite Gud podcast, "No More Heroes with JR Dawson". In this interview with sff short fiction author JR Dawson, they talk about writing fiction that doesn't focus on Big Important Heroes of Destiny. It's called No More Heroes.
Much of speculative literature focuses on superheroes and Chosen Ones. But what about ordinary people or flawed people who don't save the world? Do they matter?

Sci-fi/fantasy author JR Dawson joins us to talk about why she writes about ordinary people, and how privilege and inequality warp our idea of whose story deserves to be told. She also talks about being a Midwestern writer, her favorite literary losers and that time Hans Christian Andersen got really weird with Charles Dickens' family.
(5) BEST SFF. Andrew Liptak chimes in with "The best science fiction and fantasy books of 2019" at Polygon. (It's interesting to see that several of the year's most-discussed books only made his Honorable Mentions.)
Here's one that made the list —
The Waste Tide by Chen Quifan

Cixin Liu might have become the best-known science fiction writers to come out of China, but he's far from the only one. Chen Qiufan's Waste Tide is a far cry from Liu's epic science fiction tales, taking a grim look at the near future of China, where impoverished workers struggle to make a living from the world's electronic waste.

Waste Tide follows a series of people who come together in Silicone Isle: Mimi, a worker who heads there for work; Scott Brandle, an American who is trying to arrange a contract; and Chen Kaizong, a translator, all of whom find themselves wrapped up in a greater plot for control. It's a book that reminded me quite a bit of Paolo Bacigalupi's The Windup Girl, with a pointed commentary on class warfare and the lifecycle of the devices we use.
(6) HAPPY BLANDINGS. At Tor.com, James Davis Nicoll wryly claims "SFF Needs More Incompetent Autocrats". This turns out to be a Wodehouse tribute as much as anything.
One of SFF's grand traditions is carefully filing the serial numbers off historical events (the American Revolutionary War, perhaps, or the Napoleonic Wars), or famous and classic works (Lord of the Rings, the Hornblower series, Zulu), and re-purposing the result as SFF. This is usually known as "research" (See Tom Lehrer on this point). Examples abound—my disinclination to deal with crowds of irate authors protesting at my door precludes naming them here….
(7) HOLLYWOOD HISTORY. Profiles in History's "Hollywood: A Collector's Ransom Auction" has all kinds of genre movie props, models, and figurines. It even has examples of correspondence between director Sam Peckinpah and Ray Bradbury. "Ray and Sam would lunch (hoist a few pints) at the Formosa Café," recalls John King Tarpinian.
(8) A PYTHON SPEAKS. Leonard and Jesse interviewed Terry Gilliam for their Maltin on Movies podcast.
The Man Who Killed Don Quixote completes a quest that has consumed Terry Gilliam for thirty years, but as Leonard and Jessie learned, he bears his burdens lightly. He made his name supplying unique animated sequences for Monty Python's Flying Circus and his films include Monty Python and the Holy Grail, The Adventures of Baron Munchausen, Brazil, and The Fisher King. He's a delightful man with stories to tell (about everyone from Robin Williams to Heath Ledger) and a great outlook on life.
(9) MICROLOAN. Rachel Swirsky signal-boosted an "Opportunity to Support a Palestinian Library" and so will we.
I've been making microloans through Kiva.org through years, and this project caught my eye. A Palestinian woman is looking to convert an old house into a library and bookshop:
Check it out at Kiva: https://www.kiva.org/lend/1893559
Duha is a nice girl who lives with her family in a small humble house near Ramallah. Duha has an amazing idea: she decided to restore an old house to make it a library and a place to sell books and other stationery.

She went to Palestine for Credit and Development (FATEN) to request a loan to help her to cover all restoration expenses to convert the old house into a library. Duha hopes that all the students and residents of the area will benefit from the library.
(10) OVERCOMING REJECTION. Alex Woolf advocates "Seven Ways to Grow Your Resilience as a Writer" at the SFWA Blog.
Study the nuances of rejection
In the miserable miasma of reading a fresh rejection, it can be easy to miss the nuggets of positivity and constructive feedback that are often contained in the message too. Some messages are form rejections, but it's well-known that many venues have form messages that vary according to their take on the writer. A writer a venue wishes to encourage, for example, may get a standard message that's quite different from the standard message that's sent to a writer that for whatever reason they are never likely to publish.

So once the initial disappointment has subsided, make a point of going back to the message and seeing what you can learn from it for your next project or submission. Sometimes there is a valuable nugget in there (e.g. Try to use fewer adverbs or We felt we wanted to know more about what was happening from the protagonist's perspective.) These are valuable insights that you can work with.

However disappointing the message, always send an acknowledgment – stay polite and professional. And if a venue says you should submit again, then do so, once or twice more at least. They didn't have to say that, after all.
(11) YIKES! Bloomberg confirms "Silicon Valley Is Listening to Your Most Intimate Moments".
Amazon declined interview requests for this story. In an emailed statement, a spokeswoman wrote, "Privacy is foundational to how every team and employee designs and develops Alexa features and Echo devices. All Alexa employees are trained on customer data handling as part of our security training." The company and its competitors have said computers perform the vast majority of voice requests without human review.

Yet so-called smart devices inarguably depend on thousands of low-paid humans who annotate sound snippets so tech companies can upgrade their electronic ears; our faintest whispers have become one of their most valuable datasets. Earlier this year, Bloomberg News was first to report on the scope of the technology industry's use of humans to review audio collected from their users without disclosures, including at Apple, Amazon, and Facebook. Few executives and engineers who spoke with Bloomberg Businessweek for this story say they anticipated that setting up vast networks of human listeners would be problematic or intrusive. To them, it was and is simply an obvious way to improve their products.

… Several of the big tech companies tweaked their virtual-assistant programs this year after a steady drip of news reports. While Google has paused human transcriptions of Assistant audio, Apple has begun letting users delete their Siri history and opt out of sharing more, made sharing recordings optional, and hired many former contractors directly to increase its control over human listening. Facebook and Microsoft have added clearer disclaimers to their privacy policies. And Amazon has introduced a similar disclosure and started letting Alexa users opt out of manual reviews. "It's a well-known thing in the industry," Amazon's Limp recently said about human transcription teams. "Whether it was well known among press or customers, it's pretty clear we weren't good enough there."
(12) TODAY'S BIRTHDAYS.
[Cat Eldridge emailed that he needed urgent care for some physical problems – I hope they are able to get him feeling better soon. Go ahead and mention birthdays you know about in the comments.]
(13) STAR TREK SHIP IN A BOTTLE. So is there a teeny-tiny Kirk and Spock in there somewhere?
On this episode of Ben's Worx I make a ship in a bottle with epoxy resin and Australian burl.
(14) RABID IN THE NORTHWEST. Theodore Beale, aka Vox Day, was referenced by the Guardian in a story about a Washington state representative: "Report on far-right Republican Matt Shea in hands of Washington legislators"
Outside investigators have submitted a report to the Washington state house about the activities of the far-right Republican state representative Matt Shea, but legislators on both sides of the aisle remain tight-lipped about its contents.

…Last Monday the independent investigator, the Rampart Group, presented their findings to the chief clerk of the Washington state legislature . He in turn delivered the findings to the executive rules committee, composed of leaders of both parties in the house.

…Shea, meanwhile, was interviewed last week on Infowars' David Knight Show, where he attacked perceived critics.

Shea then quoted Theodore Beale, whom the Anti-Defamation League (ADL) describes as a "champion of the alt right movement", and whose blog is described as a home of "misogynistic, white supremacist diatribes".

"Social justice warriors always lie, they always double down on their lie, and they always try to project on to you how they really are themselves," Shea said.
(15) HIGH-STAKES COMICS AUCTION. Heritage Auctions brought home the bacon again: "Marvel Comics #1 Brings Record $1.26 Million to Lead Heritage Auctions' Comics & Comic Art Auction Beyond $14.9 Million".
The finest known copy of Marvel Comics No. 1, sold for $1,260,000 to lead Heritage Auctions' record-setting Comics & Comic Art auction to $14,936,295 Nov. 21 in Dallas, Texas.

The second-largest comic auction of all time, trailing only the $15,121,405 realized in Heritage Auctions' Chicago Comics & Comic Art Auction in May 2019, this sale included 15 lots that sold for at least $100,000.

…The issue, with famous cover art by Frank R. Paul and interior art by a group of illustrators that included Bill Everett, Carl Burgos and Paul Gustavson, was purchased by a Pennsylvania postal carrier who bought every No. 1 issue he could of both comic books and magazines, beginning in the 1940s. It's grade of 9.4 on a scale of 1-10 makes it the best copy of the issue ever found, according to Certified Guaranty Company (CGC).

More than two dozen collectors made bids for Robert Crumb Your Hytone Comix #nn "Stoned Agin!" Inside Back Cover Original Art (Apex Novelties, 1971) before it closed at $690,000, breaking the record for the most ever paid for an interior piece of comic art. Created at the height of the artist's popularity, the image is instantly recognizable, even by many who don't know the work of Crumb, who is revered for his contribution to the underground comics movement in the 1960s. This iconic image was reproduced countless times, including on a blacklight poster, on pinback buttons, postcards and t-shirts.

Neal Adams Batman #251 Cover The Joker Original Art (DC, 1973) sold for $600,000, the most ever paid through Heritage Auctions for a piece of DC art. The spectacular image of one of the most famous Joker covers of all time debuted a new version of the villain, trumpeting the return of the Joker after a four-year hiatus from Batman comics….
(16) HE CREATED THE UBIQUITOUS MARKS. NPR reports "IBM Engineer Who Designed The Universal Product Code Dies At 94".
On a June morning in 1974, a Marsh Supermarket cashier in Troy, Ohio, rang up a 67-cent pack of Juicy Fruit chewing gum using something novel — the black and white stripes of a universal bar code.

The Universal Product Code is now a packaging mainstay on everything from cereal boxes and produce to electronics and airplane tickets, but it might not have worked without IBM engineer George Laurer.

Laurer, who died this month at 94 in North Carolina, had been given an assignment by his manager: Write a proposal for grocery executives explaining how IBM would take a previously invented bar code pattern, in the shape of a bull's-eye, and make it work in supermarkets across the country.

But when that manager returned from a vacation, Laurer was there to meet him. "I didn't do what you asked," he said.

Instead, Laurer had created something else — the bull's-eye was gone and in its place was a linear bar code. Laurer had deemed the bull's-eye design unworkable. The circular code, inspired by Morse code and patented by N. Joseph Woodland and Bernard Silver in 1952, was too small, and it would smear when run through the poor-quality printing presses used for most food labels at the time.
(17) SIMMERING. Kotaku discovered that "Baby Yoda Can Be Bought In The Sims 4".
Because EA owns The Sims, and because EA also has the rights to Star Wars video games, we finally have a digital tie-in with the new live-action Mandalorian series. It's not a Carl Weathers outfit. It's not a "Bounty Hunter" job for your Sim. It's a Baby Yoda statue you can buy and put in your yard.
(18) IN SEARCH OF REPRODUCIBLE RESULTS. They hope a tool will make them easier to come by. "Can A Research Accelerator Solve The Psychology Replication Crisis?"
In 2008, psychologists proposed that when humans are shown an unfamiliar face, they judge it on two main dimensions: trustworthiness and physical strength. These form the basis of first impressions, which may help people make important social decisions, from whom to vote for to how long a prison sentence should be.

To date, the 2008 paper — written by Nikolaas Oosterhof of Dartmouth College and Alexander Todorov of Princeton University — has attracted more than a thousand citations, and several studies have obtained similar findings. But until now, the theory has been replicated successfully only in a handful of settings, making its findings biased toward nations that are Western, educated, industrialized, rich and democratic — or WEIRD, a common acronym used in academic literature.

Now, one large-scale study suggests that although the 2008 theory may apply in many parts of the world, the overall picture remains complex. An early version was published at PsyArXiv Preprints on Oct. 31. The study is under review at the journal Nature Human Behavior.

The study is the first conducted through the Psychological Science Accelerator, a global network of more than 500 labs in more than 70 countries. The accelerator, which launched in 2017, aims to redo older psychology experiments but on a mass scale in several different settings. The effort is one of many targeting a problem that has plagued the discipline for years: the inability of psychologists to get consistent results across similar experiments, or the lack of reproducibility.
(19) THEY LIE, YOU KNOW. "How 'dark patterns' influence travel bookings" – BBC will explain.
If you've wondered whether there were actually 30 people trying to book the same flight as you, you're not alone. As Chris Baraniuk finds, the numbers may not be all they seem.

Ophir Harpaz just wanted to get a good deal on a flight to London. She was on travel website OneTravel, scouring various options for her trip. As she browsed, she noticed a seemingly helpful prompt: "38 people are looking at this flight". A nudge that implied the flight might soon get booked up, or perhaps that the price of a seat would rise as they became scarcer.

Except it wasn't a true statement. As Harpaz looked at that number, "38 people", she began to feel sceptical. Were 38 people really looking at that budget flight to London at the same exact moment?

Being a cyber-security researcher, she was familiar with web code so she decided to examine how OneTravel displayed its web pages. (Anyone can do this by using the "inspect" function on web browsers like Firefox and Chrome.) After a little bit of digging she made a startling discovery – the number wasn't genuine. The OneTravel web page she was browsing was simply designed to claim that between 28 and 45 people were viewing a flight at any given moment. The exact figure was chosen at random.

Not only that, the website's innards were surprisingly blatant about what was going on. The bit of code that defined the number shown to users was even labelled "view_notification_random".
(20) MECHANICAL BULLS***. "General Election 2019: How computers wrote BBC election result stories".
For the first time, BBC News published a news story for every constituency that declared election results overnight – all written by a computer.

It was the BBC's biggest test of machine-generated journalism so far.

Each of nearly 700 articles – most in English but 40 of them in Welsh – was checked by a human editor before publication.

The head of the project said the tech was designed to enhance the service provided rather than to replace humans.

"This is about doing journalism that we cannot do with human beings at the moment," said Robert McKenzie, editor of BBC News Labs.

"Using machine assistance, we generated a story for every single constituency that declared last night with the exception of the one that hasn't finished counting yet. That would never have been possible."
VIDEO OF THE DAY. In Quail on Vimeo, Grant Kolton explains that if you want to be a quail, it's hard work!
[Thanks to John King Tarpinian, Hampus Eckerman, Cat Eldridge, JJ, Mike Kennedy, Chip Hitchcock, Martin Morse Wooster, Michael Toman, Contrarius, and Andrew Porter for some of these stories. Title credit goes to File 770 contributing editor of the day Bill.]