(1) KRUGMAN'S RINGING ENDORSEMENT. "'Dune' Is the Movie We Always Wanted" says Paul Krugman. After pausing to tell us why he hates Apple TV's Foundation series, he tells why he loves the Villenueve Dune adaptation.
… Now on to "Dune." The book is everything "Foundation" isn't: There's a glittering, hierarchical society wracked by intrigue and warfare, a young hero of noble birth who may be a prophesied Messiah, a sinister but alluring sisterhood of witches, fierce desert warriors and, of course, giant worms.

And yes, it's fun. When I was a teenager, my friends and I would engage in mock combat in which the killing blow had to be delivered slowly to penetrate your opponent's shield — which will make sense if you read the book or watch the movie.

What makes "Dune" more than an ordinary space opera are two things: its subtlety and the richness of its world-building.

Thus, the Bene Gesserit derive their power not from magic but from deep self-control, awareness and understanding of human psychology. The journey of Paul Atreides is heroic but morally ambiguous; he knows that if he succeeds, war and vast slaughter will follow.

And the world Herbert created is given depth by layers of cultural references. He borrowed from Islamic and Ayurvedic traditions, from European feudalism and more — "Dune" represents cultural appropriation on a, well, interstellar scale. It's also deeply steeped in fairly serious ecological thinking…
(2) SILICON VOLLEY. Did you have any doubts? "'Dune: Part 2′ Officially Greenlit" reports Variety. But you have to wait 'til 2023 to see it.
… Legendary Entertainment announced the news in a tweet on Tuesday, ensuring that the spice will continue to flow on screen. Warner Bros. will distribute the film and help finance it, though Legendary is the primary money behind the movie and owns the film rights to the book series. The film is expected to have an exclusive theatrical run, and Legendary will likely make that point iron-clad after "Dune" debuted simultaneously in theaters and on HBO Max last week. The unorthodox distribution pattern was a pandemic-era concession by Warner Bros., but one that caused an uproar when it was unveiled in 2020. "Dune: Part 2" will hit theaters on Oct. 20, 2023….

When interviewed by Variety at the Toronto Film Festival, Villeneuve said, "I wanted at the beginning to do the two parts simultaneously. For several reasons, it didn't happen, and I agreed to the challenge of making part one and then wait to see if the movie rings enough enthusiasm… As I was doing the first part, I really put all my passion into it, in case it would be the only one. But I'm optimistic."
(3) DISCON III BUSINESS MEETING DEADLINE. Meeting chair Kevin Standlee reminds all that the deadline for submitting proposals to the 2021 WSFS Business Meeting is November 16, 2021. Any two or more members of DisCon III (including supporting and virtual members) may sponsor new business. Submit proposals to [email protected]. See "A Guide to the WSFS Business Meeting at DisCon III" [PDF file] for more information about the WSFS Business Meeting.
Reports from committees of the Business Meeting and financial reports from Worldcon committees are also due by November 16, 2021. Send reports to [email protected].
(4) RED ALERT. Remember when you had half a year to do all your Hugo reading? Okay, now's time to panic. DisCon III today posted a reminder that the Hugo voting deadline is just a few weeks away.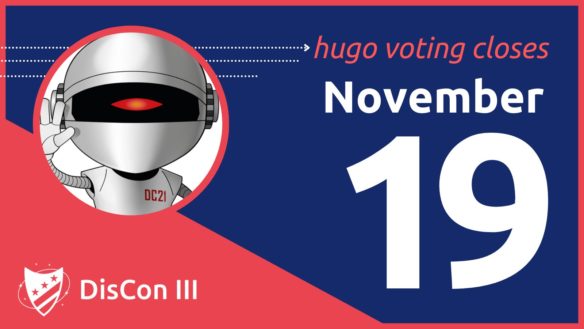 (5) 6TH ANNUAL CITY TECH SF SYMPOSIUM. The Sixth Annual City Tech Science Fiction Symposium on Access and SF has extended the submission deadline of its call for papers until October 29. See full guidelines at the link.
The Sixth Annual City Tech Science Fiction Symposium aims to explore the broad theme of "Access and SF" as a way to understand the relationship between access and SF, identify what's at stake and for whom, foster alliances between those fighting for access, and discuss how improving access for some improves access for all.
The Sixth Annual City Tech Science Fiction Symposium is a virtual event that will be held online Thursday, December 9 from 9:00 a.m.-5:00 p.m. Eastern at CUNY in New York.
(6) HORROR TRIUMVIRATE Q&A. Goodreads invites fans to "Meet the Authors of Today's Big Horror Novels".
Stephen Graham Jones, author of My Heart Is a Chainsaw
GR: What's your definition of a perfect horror novel?

SGJ: One that changes your daily behavior—makes you afraid of the shower, afraid of the dark, suspicious of the people in your life. One that leaves you no longer certain about yourself or the world you live in. A perfect horror novel is one you forget is a book at all. It's one that lodges in your head and your heart as an experience, a little perturbation inside you that you only snag your thoughts on when alone. But when those thoughts start to seep blood, you place that cut to your mouth and drink. This is the nourishment you need, never mind how drained it leaves you feeling. Nothing's for free.
Caitlin Starling, author of The Death of Jane Lawrence
GR: What's your definition of a perfect horror novel?

CS:  I want to drown in atmosphere. That doesn't mean I want only slow-moving horror but books that feel like the movies The Blackcoat's Daughter or A Dark Song—something in that vein. I also want characters that I can live inside, that even if I question their decisions, I don't just hate or want to suffer. It's more fun for me to watch a character I enjoy struggle.
Grady Hendrix, author of The Final Girl Support Group
GR: What sparked the idea for your latest book?

GH: Growing up, I wasn't allowed to see R-rated movies, so after Boy Scout meetings when our Scoutmaster took us to the gas station for snacks, I convinced him that I was allowed to buy issues of Fangoria with my snack money instead. I'd pore over Fango's deeply detailed plot breakdowns and photo spreads so that I could pretend to have seen all these horror movies. The first one I remember was their feature on the opening of Friday the 13th Part 2, in which the final girl from Part 1, played by Adrienne King, gets murdered by Jason. The casual cruelty of that blew my mind. This woman had seen all her friends die, decapitated the killer, and survived, but she still couldn't let her guard down. I always wanted to write her a happier ending.
(Fun fact: Adrienne King is the audiobook narrator for The Final Girl Support Group.)
(7) CLASSISM IN SESSION. In "The Potterization of Science Fiction", The Hugo Book Club Blog decries a prevalent type of sff story, and the distortions it has wrought on the TV adaptation of Foundation.
…One of the fundamentally troubling assumptions behind the born-great protagonist is the anti-democratic idea that the lives of some people simply matter more than the lives of other people. If we accept that Harry Potter is destined to be the only one who can do the thing that's important, then why should we care about the life of Ritchie Coote? Likewise, if Aragorn is destined for the throne then we have to accept that all other Men of Gondor would be incapable of managing the kingdom (let alone Women of Gondor). There is a direct link between the idea that one person can be born great, with the ideas that underpin racism, classism, and sexism. See also: the equally flawed "great man" theory….
(8) DEATH FROM ABOVE. In the latest episode of Phil Nichols and Colin Kuskie's Science Fiction 101 podcast, "Fly Me To The Moon", they review The Apollo Murders.
The author, Chris Hadfield, has flown on the Space Shuttle and on Soyuz, worked on the Russian Mir space station, and commanded the International Space Station. You can't get more astronaut experience than that.

….If you've been tempted by The Apollo Murders, listen to our review to see if it's the kind of thing that appeal to you. But do be warned: here there be spoilers!
(9) FRIENDLY LOCAL GAME STORE DOCUMENTARY. [Item by Olav Rokne.] Here's a trailer for an interesting Kickstarter documentary about the largest independent games store on Earth. Now, I might be biased, since I worked there in the 1990s, but Sentry Box is great. One of the best SF book selections anywhere (Gord, the owner handed me my first copy of Lest Darkness Fall … and Steve Jackson and Judith Reeves-Stevens used to visit the store semi-regularly.)
(10) MEMORY LANE.
1984 – Thirty-seven years ago, The Terminator said "I'll be back" as the first in that franchise was released. It was directed by James Cameron who wrote it along with Gale Anne Hurd who also produced it. (She would marry Cameron in 1985.) It starred Arnold Schwarzenegger, Michael Biehn and Linda Hamilton. Almost all the critics at the time really liked it, though the New York Times thought there was way too much violence. You think? One critic at the time said it had, and I quote, "guns, guns and more guns." Huh. Audience reviewers at Rotten Tomatoes give it a very high score of eighty-nine percent. I was surprised that it did not get a Hugo nomination.
(11) TODAY'S BIRTHDAYS.
[Compiled by Cat Eldridge.]
Born October 26, 1942 — Bob Hoskins. I'll insist his role as Eddie Valiant in Who Framed Roger Rabbit? is his finest genre role though I suppose Mario Mario in Super Mario Bros. could be said… Just kidding! He's the Director of The Raggedy Rawney which he also had a role, a strange might be genre film, and he's Smee in Hook as well. (Died 2014.)
Born October 26, 1954 — Jennifer Roberson, 67. Writer of of fantasy and historical romances. The Chronicles of the Cheysuli is her fantasy series about shapeshifters and their society, and the Sword-Dancer Saga is the desert based adventure series of sort, but the series I've enjoyed is her Sherwood duo-logy that consists of Lady of the Forest and Lady of Sherwood which tells the Robin Hood tale from the perspective of Marian. Her hobby, which consumes much of her time, is breeding and showing Cardigan Welsh Corgis. 
Born October 26, 1960 — Patrick Breen, 61. He's Redgick, a Squid, a minor character that appeared in Men in Black. In beloved Galaxy Quest, he's Quelled, a Thermian who forms a bond with Alexander Dane. It's a wonderful role. And he has a recurring role as Larry Your-Waiter, a member of V.F.D. on A Series of Unfortunate Events series. 
Born October 26, 1962 — Faith Hunter, 59. Her longest running and most notable series to date is the Jane Yellowrock series though I've mixed feelings about the recent turn of events. She's got a nifty SF series called Junkyard that's been coming out on Audible first. Her only award to date is the Lifetime Achievement award to a science fiction professional given by DeepSouthCon. 
Born October 26, 1962 — Cary Elwes, 57. He's in the ever-so-excellent Princess Bride which won a Hugo at Nolacon II as Westley / Dread Pirate Roberts / The Man in Black. He also shows up in Dr. Lawrence Gordon in the Saw franchise, and was cast as Larry Kline, Mayor of Hawkins, for the third season of Stranger Things. And no, that's hardly all his genre roles. 
Born October 26, 1963 — Keith Topping, 58. It being the month of ghoulies, I've got another academic for you. He's published Slayer: The Totally Cool Unofficial Guide to Buffy, Hollywood Vampire: An Expanded and Updated Unofficial and Unauthorised Guide to Angel, The Complete Slayer: An Unofficial and Unauthorised Guide to Every Episode of Buffy the Vampire Slayer and one and one for horror film fans in general, A Vault of Horror: A Book of 80 Great British Horror Movies from 1956-1974. He's also written some novels in the Doctor Who universe, some with Martin Day, and written non-fiction works on the original Avengers, you know which ones I mean, with Martin Day also, and ST: TNG & DS9 and Stargate as well with Paul Cornell. 
Born October 26, 1971 — Jim Butcher, 50. I really don't know how far I got in the the Dresden Files, at least though Proven Guilty, and I will go back to it eventually. Who here has read his other series, Codex Alera and Cinder Spires? I see he won a Dragon this year for his Battle Ground novel, the latest in the Dresden Files series.
Born October 26, 1973 — Seth MacFarlane, 48. Ok, I confess that I tried watching The Orville which he created and it just didn't appeal to me. For those of you who are fans, why do you like it? I will admit that having it described as trying to be a better Trek ain't helping. 
(12) COMICS SECTION.
Garfield shows we need some better way to handle giant robots. (I imagine Slim Pickens delivering the line in the comic.)
(13) DIOP WINS NEUSTADT. Boubacar Boris Diop is the 27th laureate of the Neustadt International Prize for Literature, which recognizes outstanding literary merit in literature worldwide. Diop is not a genre writer so far as I'm aware, but this major literary award news came out today.
Francophone writer Diop (b. 1946, Dakar, Senegal) is the author of many novels, plays and essays. He was awarded the Senegalese Republic Grand Prize in 1990 for Les Tambours de la mémoire as well as the Prix Tropiques for The Knight and His Shadow. His Doomi Golo was the first novel to be translated from Wolof into English. Toni Morrison called his novel Murambi: The Book of Bones "a miracle," and the Zimbabwe International Book Fair listed it as one of the 100 best African books of the 20th century.

…The Neustadt Prize is the first international literary award of its scope to originate in the United States and is one of the very few international prizes for which poets, novelists and playwrights are equally eligible. Winners are awarded $50,000, a replica of an eagle feather cast in silver and a certificate.
(14) SCIENCE FICTION IS ALWAYS ABOUT THE PRESENT. Ali Karjoo-Ravary's article about the Dune novel and movie's use of culture is much more nuanced than the headline Slate gives it: "Is HBO's 2021 adaptation of Frank Herbert's book a white savior narrative?"
…Part of this is also Herbert's fault. By writing a story in which he intended to critique "Western man," Herbert also centered Western man. Often when critiquing something, one falls into a binary that prevents the very third option that so many have been looking for since decolonization. Herbert's greatest shortcoming can be seen in his analysis of T.E. Lawrence and the deification of leaders in an interview he gave in 1969. He said, "If Lawrence of Arabia had died at the crucial moment of the British … he would have been deified. And it would have been the most terrifying thing the British had ever encountered, because the Arabs would have swept that entire peninsula with that sort of force, because one of the things we've done in our society is exploited this power."

Herbert's shortcoming is not his idea that "Western man" seeks to exploit the deification of charismatic leaders but that Arabs (or any other non-Western) would fall easily for it. This notion, in fact, builds on a stereotype that motivated European powers to fund propaganda among Muslims during the world wars in the hope that they could provoke a global jihad against one another. Needless to say, that didn't happen, because Islam isn't a "warrior religion" whose followers are just waiting for the right trigger to go berserk. Islam's followers are human and are as complicated and multifaceted as other humans. Herbert should have seen that more clearly….
(15) PILE THESE ON TOP OF MT. TBR. CrimeReads' Rektok Ross recommends some compelling YA horror and sf novels: "9 YA Survival Thrillers To Get Your Heart Pounding This Fall".
Life As We Knew It by Susan Beth Pfeffer

During a catastrophic natural disaster, high school sophomore Miranda takes shelter with her family in this heart-stopping thriller. After a meteor knocks the moon closer to earth, worldwide tsunamis demolish entire cities, earthquakes rock the world, and ash from volcanic explosions block out the sun. When the summer turns dark and wintery in northeastern Pennsylvania, Miranda, her two brothers, and their mother are forced to hideout in their sunroom, where they must survive solely on stockpiled food and limited water. Readers will find themselves completely riveted by this story of desperation in an unfamiliar world although there are small slivers of hope, too.
(16) UNCOVERED. Tenth Letter of the Alphabet, in "Inspiration: The Reflection", compares Will Bradley's 1894 art with the science fictional cover by Mike Hinge it inspired, published by the 1975 fanzine Algol. Editor Andrew Porter commented there —
…This issue was the first with a full color cover. Working with the artist, Mike Hinge, was a challenge. He was a stickler for details, even demanded that his copyright appear on the front cover, in the artwork! This was also the first issue with the covers printed on 10pt Kromecoate, so the image really bumped up.

I forgot to mention that Hinge also did interior artwork, for the Le Guin piece. Also, all the type on the cover, and the headlines inside was done using LetraSet, which I still have dozens of sheets of, though I haven't used it in decades.
(17) TOCHI ONYEBUCHI AND NGHI VO. At Essence of Wonder with Gadi Evron, Nghi Vo and Tochi Onyebuchi joined Alan Bond and Karen Castelletti to talk about their 2021 Hugo Awards nominated works, Empress of Salt and Fortune and Riot Baby.
(18) FAMILY TREE. Joe Abercrombie's response to Nina Melia's tweet is, "Holy shit I'm Frodo in this metaphor?"
(19) THE WEED OF CRIME. In the Washington Post, Hannah Knowles says that federal prosecutors have charged Vinath Oudomzine for fraudulently obtaining a pandemic-related Small Businsss Administration loan. Prosecutors charge that Oudomosine spend $57,789 on a Pokemon card, which they did not identify. "Vinath Oudomsine used covid-19 business relief to buy a Pokémon card, federal prosecutors say".
… On July 14, 2020, according to prosecutors, Oudomsine sought a loan for a business that he said had 10 employees and revenue of $235,000 over a year. The next month, court documents state, the SBA deposited $85,000 into a bank account in Oudomsine's name.

Court filings give few details about the alleged Pokémon card purchase — such as which "Pocket Monster" it carried — simply stating that Oudomsine bought it "on or about" Jan. 8 of this year.

Collectible gaming cards can fetch big sums — this year, one unopened box of first-edition Pokémon cards sold for more than $400,000.…
(20) VIDEO OF THE DAY. [Item by Martin Morse Wooster.] In "Halloween Kills Pitch Meeting" on Screen Rant, which has spoilers, Ryan George says Michael Myers managers to escape from the cliffhanger of the previous Halloween movie, even though he's "an eight-fingered 60-year-old with smoke inhalation." Also, Jamie Lee Curtis, despite her billing, is barely in the movie and about half the script is various characters saying, "Evil dies tonight!"
[Thanks to Cat Eldridge, Mike Kennedy, Martin Morse Wooster, JJ, Chris Barkley, Lise Andreasen, Jennifer Hawthorne, Rob Thornton, Michael J. Walsh, Dann, Gadi Evron, Daniel Dern, John King Tarpinian, Andrew Porter, and Michael Toman for some of these stories. Title credit belongs to File 770 contributing editor of the day Danny Sichel.]