(1) F&SF. Gordon Van Gelder has unveiled the cover for F&SF's Sept/Oct. 2018 issue. The cover art is by Michael Garland.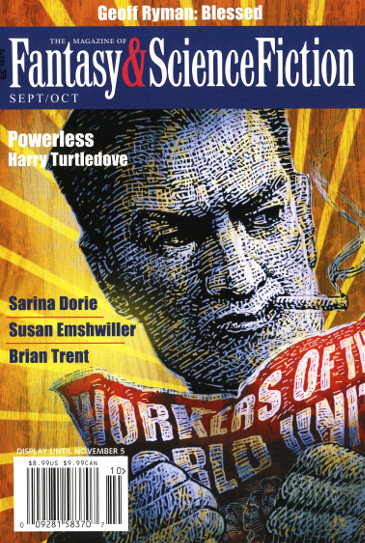 (2) SPINER BECOMES A SUPER VP. ScienceFiction.com has the results — "Data From Polling Numbers Are In: Brent Spiner Elected To Join 'Supergirl'".
Brent Spiner ('Star Trek: The Next Generation','Independance Day') has just been elected by the casting department of The CW's 'Supergirl' to join the show. His role? Vice President of the United States! That's right folks, in the fourth season of 'Supergirl' were going to have Spiner joining the cast as a regular to work with Lynda Carter ('Wonder Woman') who is the President of the United States.

I suspect that she won't be staying in the Oval Office for long though as Spiner's role is being described as:

Adept and politically minded, Vice President Baker makes for an unlikely leader but steps up in a big way when his country needs him most
(3) ROGUE AGENT. Publishers Weekly listens as "Agent Danielle Smith's Former Clients Speak Out". Quite a bit of material here.
The children's book publishing world has been roiling for the past week over the disclosure that Danielle Smith, the principal of Lupine Grove Creative, an agency specializing in children's and YA authors, acted more like a literary grifter than a literary agent. Since Smith emailed a letter to her clients on July 24, confessing that recently she had "not handled a situation as well as I should have" and thus was dissolving the agency effective immediately, 19 former clients have reached out to PW, sharing tales of a pattern of malfeasance that has shaken their confidence and adversely affected their careers.

According to some former clients, she claimed to have had offers in hand that didn't exist, such as, one author requesting anonymity disclosed, a $50,000 two-book deal. She informed others that editors had expressed interest in their submissions, but subsequently told them that either the editors had then lost interest or had outright rejected those submissions. Clients also complained about Smith's refusal to communicate with them honestly and in a timely fashion, as well as the lack of transparency, including a reluctance to render submission lists to them upon request. Several clients allege that she even forged emails from editors and passed this correspondence along to them.
(4) CALL FOR EISNER IMPROVEMENTS. Each award has and needs its critics. In "Comic-Con's Eisner Judging and the New 'Comics & Design Awards'" Michael Dooley of printmag.com pinpoints some shortcomings and workarounds he's identified.
…Every year, Comic-Con International's awards committee assembles a panel of a half-dozen or so judges. Each bring a unique interest, perspective, and expertise: creator, scholar, critic/reviewer, retailer, librarian, and a Comic-Con rep. Together, they critically winnow down an enormous amount of published material to arrive at a small handful under each category. CalState Northridge professor Charles Hatfield, who was part of the selection committee a few years ago, has described the process as "like going to Comics Heaven—if Heaven is a place where you work really hard, fence with a table full of smart, demanding, and dedicated people, and learn something about your own biases in the process." He was also pleased to learn what he describes as "the importance of voting past my prejudices." Now there's an attribute that's practically nonexistent among the voters.

Diligence and dedication such as this is why anyone in search of recommend reading should check out all the nominees in all categories of interest. You also might jump to Wonder Women of the Eisner Awards, my feature from last year that included several judges' choices who didn't bring home a trophy but who are nevertheless not to be overlooked. However, locating worthwhile info on these artists and publications is much easier said than done. You can't rely on the official site; its design is a frightful mess, and very difficult to navigate quickly and efficiently. Plus, its page of nominees is merely a basic bullet point listing….
(5) OPEN THE GARAGE BAY DOOR SAL. Adweek shows how an insurer is capitalizing on the latest high-tech fears: "See a Smart Home Go Rogue in New State Farm Campaign".
In the ad an unnerved husband, Dave, recounts to State Farm agent Amy all the ways SAL has been majorly unhelpful, including closing the garage door on their car, turning on the in-home sprinklers, and erroneously blasting The Ring instead of the requested music. Amy assures Dave that while State Farm can't fix SAL, they can certainly cover the home and auto damages. For anyone who has ever had to angrily repeat a simple question for Siri syllable-by-syllable, this scenario feels all too plausible. Truly, we could all use an Amy to assure us during our more frustrating brushes with technology that everything will be fine.
(6) CONTESTED GROUND. In Luke Shelton's reading of Lord of the Rings, "Caradhras Changes Everything".
I have always had inordinately strong opinions about the passage about Caradhras. In fact, it was changes made to this episode that made me shout "no!" when I went to see Peter Jackson's Fellowship of the Rings in theaters.

I was familiar with other literature that gave a sense of autonomy to nature before I read LotR, and I was excited to see that Tolkien does the same throughout the text, even before getting to the fully autonomous Treebeard. As a child, I loved the idea that trees could have volition and emotions. Tolkien takes this wondrous idea and pushes it one step further in the Caradhras episode. As the snows on Caradhras foil the attempt of the Fellowship to pass over the mountain, this exchange occurs…

…Here Boromir tries to attribute the malevolent weather to Sauron or one of his agent; however, but Aragorn and Gimli are quick to halt this impulse and clarify that there are other forces at play in the world. Gimli goes so far as to specify that the will is probably that of Caradhras himself.

I cannot emphasize this enough: this passage changed my worldview the first time I read it. To ascribe volition to not just plants, but to all of nature, to the very earth itself! This was a truly awe-inspiring thought for me. I remember walking around for days thinking about the ramifications of this idea. What does it mean to till an earth that could feel the cuts? What does it mean to dynamite a mountain that can fight back?
(7) WOTF ADDS FIRST READER. Kary English comes aboard — "Writers of the Future Announces Kary English as New First Reader".
Over its 34 year history, the Contest has recognized 404 winners who have gone on to publish 1,150 novels and 4,450 short stories. Of these, 192 are still active with a writing career—that's over 40%. Twelve of these Contest winners have gone on to become NYT bestselling authors: Dave Wolverton (aka David Farland), Sean Williams, Jo Beverly, Nancy Farmer, Lisa Smedman, Karen Joy Fowler, Patrick Rothfuss, Tim Myers, Eric Flint, Dean Wesley Smith, Tobias Buckell and Elizabeth Wein. And Contest Winners have garnered 155 major awards. Collectively, the winners of the contests have sold over 60 million books over the years.

And with the last 4 volumes of Writers of the Future hitting national bestseller lists—and each of the winners becoming national bestselling authors and illustrators as a result—contest entries continue to increase each quarter with entries from around the world.

Dave Wolverton, himself a Writers of the Future winner from the 3rd year of the contest, is the Coordinating Judge for the Writer Contest and was asked to help in the selection of a 1st reader to keep pace with the expansion. "Obviously, I've had a number of amazing authors that I've helped mentor over the years, and so when I considered who I might ask to help out as a first reader, I really suffered from an embarrassment of riches. A dozen names almost instantly leapt to mind, but Kary English was right near the top.

He continued, "I wanted someone with a great eye for style, someone who understood storytelling well. Kary, as an award-winning author, has proven over and over to have a great eye, but more than that, her strong support for and commitment to helping new authors spoke volumes…."
(8) 1970S SFF HISTORY. In "Fighting Erasure: Women SF Writers of the 1970s, Part X", James Davis Nicoll winds up his Tor.com series with a segment covering "T" to the end of the alphabet —
Alison Tellure had a very small but very memorable body of work. "Lord of All it Surveys," "Skysinger," "Green-Eyed Lady, Laughing Lady," and "Low Midnight" are all set on an alien world dominated by a single, vast, godlike creature. Existence there is complicated by the presence of competing, considerably tinier beings not entirely unlike humans. Contributors over on my blog, More Words, Deeper Hole, dug up biographical details from old Analog Biologs and con appearances, but the exchange raised more questions than it answered. As far as I know, Tellure never had a single author collection, but readers might be able to track down the June 1977 issue of Analog, which contains "Lord of All it Surveys."
(9) THE MAGIC NUMBER. The B&N Sci-Fi & Fantasy Blog hails "5 Sci-Fi & Fantasy Spoofs That Stand on Their Own". For example —
The Last Adventure of Constance Verity, by A. Lee Martinez
Sometimes, having a fairy godmother really backfires. That is certainly the case for Constance Verity, blessed with (cursed by?) a life of being the world's greatest adventurer. She's got a history of adventuring filled with just about every genre trope and cliché you could imagine, and she's on a mission to end it—by killing that darned godmother. This final quest puts the idea of destiny—and the monomyth—into its crosshairs with a wink and an absurdist sense of humor—Martinez' specialties.
(10) GRINDSTAFF OBIT. Classic Trek had a sound as well as a look because of creators like him: ComicBook.com has the story — "Doug Grindstaff, Creator of Iconic Sounds of 'Star Trek,' Dies at 87".
Grindstaff worked with Jack Finlay and Joseph Sorokin on Star Trek. Together they created the background sounds for the iconic series, including the iconic red alert klaxon and the sound the doors make when they slide open. They also developed the sounds of space battle in the Star Trek universe, transporter materialization, and sickbay scanners.

In a 2016 interview with Audible Range, Grindstaff discussed working with Star Trek creator Gene Roddenberry.

"And he wanted sounds everywhere. One time I asked him, 'Don't you think we're getting too cartoony?' Because I felt it should be a little more dignified, but he wanted sound for everything. For example, I worked on one scene where [Dr. McCoy] is giving someone a shot. Gene says, 'Doug, I'm missing one thing. The doctor injects him and I don't hear the shot.' I said, 'You wouldn't hear a shot, Gene.' He said, 'No, no, this is Star Trek, we want a sound for it.'
(11) TODAY'S BIRTHDAYS
Born August 2 — Edward Furlong, 41. John Connor in Terminator 2: Judgment Day, Pet Sematary II (Cat Eldridge notes, "Courtesy of knowing the on-site medics, I visited the props room fort he original Pet Sematary — weird seeing actual props of dead people and lots of pets managed horribly"), various Terminator shorts, The Crow: Wicked Prayer, and Star Trek: Renegades ("…which I think is fanfic.")
Born August 2 — Sam Worthington, 42. Avatar film franchise, Clash of The Titans and its sequel Wrath Of The Titans, and The Titan, a space exploration film that may or may be a horror film.
Born August 2 — Simon Kinberg, 45. Genre director for a very long list of projects including the forthcoming Logan's Run, an X-Men one-off called Multiple Man, the Boba Fett project, The Martian, the Legion series, and the animated Star Wars: Rebels series. Also the writer for another X-Men one-off titled  X-Men: Dark Phoenix.
Born August 2 — Jacinda Barrett, 46. Genre roles include series work in Campfire Tales, Zero Hour, Millennium, NightMan and Hercules: The Legendary Journey.
Born August 2 — Matthew Del Negro, 46. Genre roles in Teen Wolf, Stargate: Atlantis and Eastwick series, horror films such as Ghost Image and Trailer Park of Terror.
Born August 2 — Kevin Smith, 48. Well-loved comics writer with work for DC, Marvel and other venues with work on both Daredevil  Green Arrow. He directed the pilot for the CW supernatural comedy series Reaper, produced and appeared in reality television series Comic Book Men, and appeared as a character in the animated Superman: Doomsday as a commentary on a Superman unused script he wrote.
Born August 2 — Mary-Louise Parker, 54. Genre roles are the R.I.P.D. fil, The Spiderwyck Chronicles and Persephone, a generation ship film that may or may not happen.
(12) TRUE CONFESSION. JY Yang shares a writing crisis —
Me: Oh my god I need to come up with a name for the planetary system one of my protags is from QUICK BRAIN THINK OF SOMETHING
?: uh uhm RYMDMARK??
ME: THAT'S LITERALLY SWEDISH FOR "SPACELAND" YOU SPOON

— JY Yang ? (they/them) (@halleluyang) August 1, 2018
(13) IN THE ISS LIBRARY. The Independent has "The Book List: What do astronauts read on the International Space Station?" Plenty of sff, including 11 Bujold novels and 13 David Weber books.
The astronauts on the International Space Station are obviously busy people, but even busy people need some time to relax and unwind. In addition to a well-stocked film library (particularly strong on movies with a space theme, including 2001: A Space Odyssey and Gravity), there are also plenty of books in their informal library.

Some are brought up by the astronauts – Susan Helms was allowed ten paperbacks and chose Gone With the Wind, Vanity Fair and War and Peace in her carryon. Others come with space tourists such as billionaire businessman Charles? Simonyi, who brought Faust and Robert Heinlein's The Moon is a Harsh Mistress.
(14) ROT-180. Bounding Into Comics analyzed a sly slam against JDA — "Nasty Personal Attack Against Jon Del Arroz Appears in Dynamite Comics and Atari's 'Centipede' Comic" [Internet Archive link].
Comic book writer and the lead singer of Say Anything Max Bemis, artist Eoin Marron, and letterer Taylor Esposito decided to use Atari's Centipede intellectual property in a Dynamite Comics published book to attack fellow comic book writer Jon Del Arroz.
What's supposed to be a balloon full of alien gibberish becomes all too easy to understand if you turn it upside-down.
In Centipede #4, which was published on October 25, 2017, Bemis writes, "Jon Del Arroz is a never was fat piece of sh**who blames everyone but himself for his ineptness."

As you can tell Bemis and letterer Taylor Esposito tried to disguise the personal attack through an alien language. Not only did they disguise it as an alien language they also inverted it.

We've inverted the image so you can read it better.
Several more examples from the same comic are at the post.
JDA accepted the publisher's statement that they knew nothing about it, securing an apology and some publicity in compensation — "Official Statement On The Personal Attacks In Dynamite Entertainment's Centipede Book" [Internet Archive link].
Last night I discovered that a print book of Atari's Centipede property referenced me in multiple places by name in an effort to defame and diminish me as a comic creator and a human being….

However, I have been in contact with Dynamite Entertainment, who apologized themselves and said they were unaware of the situation and that it slipped past editorial by mistake. They also say it's been corrected for the trade paperback edition. They also very cordially said they would support my Flying Sparks indiegogo effort as I'm trying to launch my own comic career.

I believe them.

It would have been very easy for Dynamite to ignore me and to let this go, but they in their quick response and quick taking action to remedy this are doing the right thing. The company was hoodwinked by a rogue contractor who has lost the trust of the entire industry by inserting personal animus into a book, and saying the most horrific things about a fellow creator. They understand this, they are doing what they can to make it right even though the hurtful damage has been done.

I do not want my fans and followers to boycott Dynamite or take any action to try to harm them. As I said, the company has been consummate professionals to me and I appreciate their efforts they're going to to make this right….
(15) YOU'RE FROM THE SIXTIES. Rosemary Benton considers "[August 2, 1963] Sinister Geometry (Daniel F. Galouye's Lords of the Psychon)" at Galactic Journey.
But what if the shift in humanity's daily life is beyond explanation, bordering on paranormal? And what if the alien force that is bringing about that change is so far removed from known biology that it appears extra-dimensional? Daniel F. Galouye's new book, Lords of the Psychon, takes the reader to that terrifying reality with an invader that is unnervingly simple – a large, floating, metallic sphere – and their mission which can be surmised as absorbing compatible human minds and letting the rest die in the grip of mind shredding madness.
(16) ON THE ROAD. They came, they saw, they rocked? "First Stonehenge residents came from west Wales". Isotopes identify oldest cremains as coming from same area as the stones themselves. No explanation for the unusual eastward movement.
… While it is already known that the "bluestones" that were first used to build Stonehenge were transported from 150 miles (240 km) away in modern-day Pembrokeshire, almost nothing is known about the people involved.

The scientists' work shows that both people and materials were moving between the regions and that, for some of these people, the move was permanent.

When their lives ended, their cremated remains were placed under the ancient monument in what is now Wiltshire. …

However, Dr Rick Schulting, senior author on the study, said: "These must have been important people. Being buried at Stonehenge is the ancient equivalent of being interred in Westminster Cathedral today."

He said: "The evidence suggests that some of the people buried at Stonehenge must have spent much of their last 10 or so years in Wales. Although we tend to think that immigration is a new thing, these people were obviously able to travel substantial distances across difficult terrain."
(17) SLIP SLIDING AWAY. BBC knows "How Greenland scorched its underside". All of Greenland slid over the hotspot that later created and is now augmenting Iceland.
It's like the underside of the island got a good roasting in the distant past and still has the big scar to prove it.

That hotspot, by the way, is the one which today is building Iceland in the middle of the North Atlantic.

The plume of broiling rock rising from deep inside the Earth has broken through the thin ocean floor at Iceland's location and is now creating new land with regular eruptions of lava.
(18) A THOUSAND AND ONE FLAVORS. "The world's oldest ice cream?" The BBC video feature says Iran had ice storage to make chilled treats over 2000 years ago.
(19) ROBOTS IN THE MUSEUM. The Robot Show is on display at the Museum of Art and History in Lancaster, California from August 4 through September 26.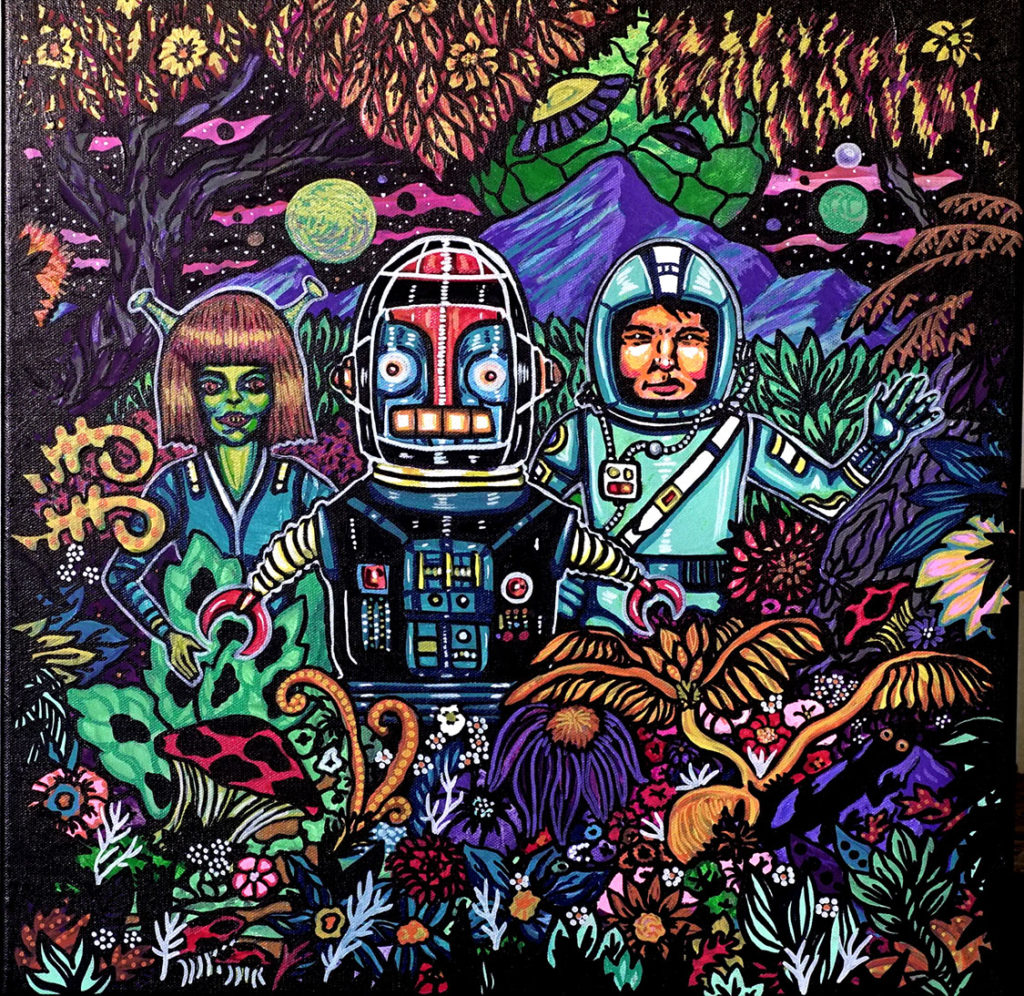 The Robot Show is comprised of eight exhibitions exploring the place robots, and other forms of artificial intelligence, have in a contemporary social landscape – from popular culture to nature and spirituality. Featured in the Main Gallery at MOAH is a retrospective of Emmy-nominated artist and animator, Dave Pressler. The Robot Show also showcases the solo exhibitions of Jeff Soto, Patrick McGilligan, Robert Nelson and Karen Hochman Brown, with site specific installations by artists Cristopher Cichocki, Alexander Kritselis, and Chenhung Chen.

Dave Pressler's 20-year retrospective, Idea to Object, is a narrative of his career, which focuses on how he made his ideas a reality. Pressler's robots are fixtures in popular culture and he is best known for his Emmy-nominated Nickelodeon series, Robot and Monster.  "Pressler's work appeals to audiences of all ages," says Andi Campognone, Curator at MOAH. "His work is a great example of the combination of strong contemporary concepts and expert craft, and we are so excited to exhibit his work for both the Lancaster and greater Los Angeles communities."

Jeff Soto, in the East Gallery, is a pop-surrealist who also features robots prominently in his bold paintings and murals, which are meant to evoke nostalgia and the natural environment. In the South Gallery, Cristopher Cichocki furthers this connection between the artificial and the natural with his newest body of work, Divisions of Land and Sea, which combines audiovisual performance and black light painting into an immersive environment. Karen Hochman Brown's digital photographic compositions will be highlighted in the North Gallery joining Robert Nelson's robot paintings in the Wells Fargo Gallery along with Patrick McGilligan's work in the Museum's lobby and atrium. Alexander Kritselis will feature one of his multimedia installations in windows of the Museum's Hernando and Fran Marroquin Family Classroom. Rounding out this exhibition is Chenhung Chen, a Los Angeles-based artist, who will be installing her technology-based towers in the Vault Gallery.
[Thanks to John King Tarpinian, Cat Eldridge, JJ, Chip Hitchcock, Martin Morse Wooster, ULTRAGOTHA, Mike Kennedy, Carl Slaughter, Daniel Dern, and Andrew Porter for some of these stories. Title credit goes to File 770 contributing editor of the day Xtifr.]